Hutchinson is the biggest city in McLeod County, Minnesota, and lies along the south fork of the Crow River. At the last census, the population was 14,100. Hutchinson is the "quintessential" small Minnesota town. Here are 14 Things To Do In Hutchinson MN when you visit!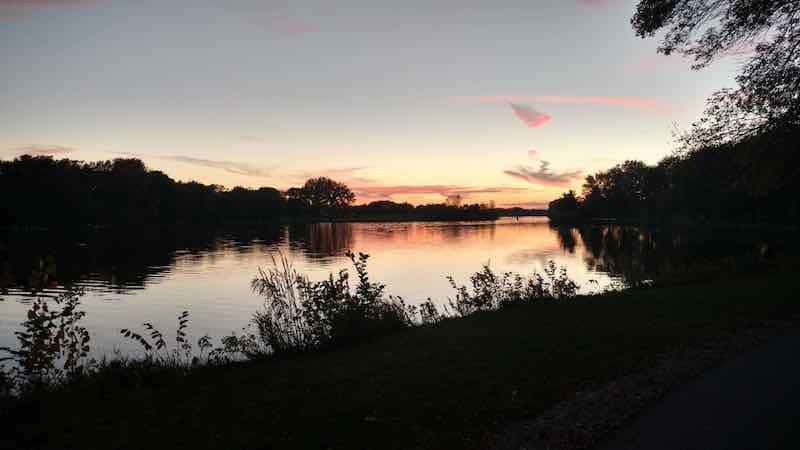 14 Things To Do In Hutchinson MN
Crow River Winery
The Crow River Winery and vineyard is located two miles east of Hutchinson, in the middle of the Crow River Watershed on the edge of the great Minnesota prairie region and is one of our favorite things to do in Hutchinson, MN.
Since their beginning in 2004, they have become one of the premiere Minnesota farm wineries. Their staff has lovingly care for five vineyards near Hutchinson, growing cold-climate grapes. In addition, they grow hard-neck garlic and pumpkins while practicing sustainable agriculture.
The winery has become a favorite celebration venue for locals and visitors. The facilities are beautiful for weddings, anniversary parties, fundraisers, corporate events, and all types of community events.
They offer a tasting room which is open seven days a week and a bistro that serves the perfect food to complement the wine. They have delicious starters and Artisan pizzas made from scratch that are about 10″ and perfect for two to share. They also have a gluten-free option available.
In the tasting room, you can sample their wines whenever they are open. Build a wine flight and enjoy five wines at your leisure. When done, enjoy a glass or a carafe of your favorite. The tasting room offers a selection of tap beers as well.
For those a little more daring, try their Loaded Bloody Mary made with hot spot pepper wine or smoked garlic wine, which is their signature drink.
Main Street Antiques
They have a wide variety of collectible and antiques covering 40,000 square feet, on two levels, and 65 dealers. They have furniture, glassware, primitives, tools, and more. This store is an antique lovers' delight!
Bobbing Bobber Brewery
Are you a beer lover? The brewery is proud of its setup in Hutchinson. It consists of five fermenters with the option to add more. They have the capability to produce 600 barrels of beer annually.
Presently, their lineup contains ten different brews. They are working toward an 18-day brewing cycle, meaning the beer moves to kegs about that often. They will have a rotating lineup of beer throughout the year.
The owners decided to fill their taproom with fishing artifacts, hence the name. The taproom is filled with fun collectibles, from the boathouse-inspired back bar to the fishing-inspired walls – all with a fishing theme.
They chose to go with dock sections rather than typical tables. There is no seating for one or two. It is a beer hall-style setup, tables for 8 or 10 to encourage social interaction. Following typical beer hall style, there is no table service. To order a beer, just belly up to the order area at the bar.
Currently, there are 17 taps set up to serve Bobbing Bobber beer, with a dedicated nitro tap and a root beer tap for the future.
Although they do not serve food inside the brewery, Thursdays through Sundays there are different food trucks out front for the convenience of beer lovers.
McLeod County Veterans Memorial Park
There is a selection of 23 vacation rentals at the McLeod County Veterans Memorial Park that would make the perfect getaway. Whether traveling with family, friends, or your four-legged companion, they have rentals with the best amenities for hanging out with friends and family. The cabins and houses are popular options, having air conditioning and WiFi. You'll find a rental that will suit everyone.
Clay Coyote Gallery and Pottery
Clay Coyote Pottery open in 1994. In 2016, the new owners moved from Harlem in New York City and bought the business. Since their purchase, the new owners hired a group of potters to continue with their family's Baking Line and Chef's Line of cookware pottery. They make over 7,000 pots yearly and are growing.
They have a wide variety of cookware, baking dishes, pizza stones, sushi trays, pie dishes, grill baskets, and so much more! For those who love the "things of the earth," clay pottery is for you. And what they have to sell is absolutely stunning. Stop in if you are in Hutchinson. You will be glad you did.
Hutchinson Center for the Arts
Their goal is to broaden and deepen the arts experience for Hutchinson and surrounding areas. The Hutchinson Center for the Arts was built on creative collaboration. From arts programming to arts advocacy, they create pathways for audiences and artists to connect through the arts.
The center has year-round exhibitions featuring the work of Minnesota visual artists from all stages of their careers. The gallery is free and is open to the public during regular business hours or by appointment.
The Lamb Shoppe and Wellness Center
Besides finding remarkable herbals, organic produce, natural foods, and grass-fed meats, you will have the opportunity to enroll in classes, workshops, field trips, seminars, and herb walks. Their goal is to share knowledge to help empower others to build vibrant health to enjoy a self-sufficient lifestyle.
They opened in 1996 as a very small retail spot. In 2010, they added a separate building to offer more products on health and wellness. Then in 2019, they expanded again to include a full-service Wellness Center, classroom space, and sleeping accommodations.
In addition to healthy meats, they have a greenhouse where they grow their own produce. They love to carry locally grown and made items to create a sense of community in Hutchinson.
Educational Categories include:
Herbal Medicine
Nutrition & Healthy Living
Foraging Wild Edibles
Healthy Cooking
Natural Pet Health
Sustainable Farming
Niche Marketing
and more!
Wheel and Cog Children's Museum of Hutchinson
If you are in Hutchinson and would like your children to experience something unique, take them to the Wheel and Cog. It is a place where children playing can inspire problem-solving, creativity, science, collaboration, leadership, life-long learning, and experimentation.
They offer open play time and private party rentals with limited hours, and are located in the Hutchinson Mall.
Treasure Shed
The Treasure Shed is like 50 mini shops under one roof. They have antiques, collectibles, repurposed home items, garden décor, vintage items, dishes, furniture, and records.
There are over 50 vendors who each rent a space in the store and decorate it with a display, sometimes using an artistic approach, made to look like a cabin, shed, or living room.
This store would be fun for an unusual shopping experience and worth investigating.
Restaurants
After exploring Hutch and taking in the sights, you may need a meal. How about trying one of the good eateries found in town. Here are a few.
Tokyo Grill
They offer a range of Japanese dishes, such as miso soup, edamame, avocado roll. The portions are large and served with rice and steamed vegetables. They have steak, chicken, shrimp from which to choose. They also have a sushi bar where you can get appetizers, order a la carte, or order an entrée.
They have daily lunch specials at both the sushi bar and dining room. The food is excellent, and if you enjoy Japanese or Asian food, this restaurant is worth the visit.
McCormick's
McCormick's was born in 1997 when Emmet McCormick decided to create a friendly, family-style restaurant serving homemade style comfort food. Everything is homemade with fresh ingredients, and it is a comfortable place where family and friends can gather for a unique dining experience. The portions are generous, the prices fair, and it is obvious the employees are treated well. Last summer, they added an outdoor patio seating area to enjoy on balmy summer days and evenings.
And if the writer can interject an opinion – they have the best banana cream pie on the planet!
Main Street Sports Bar
Like this writer, are you a pizza lover? If so, you would love Main Street Sports Bar. They have 20 different specialty pizzas on the menu, or you can create your own. They also have a large menu featuring burgers, appetizers, flatbreads, wings, salads, and baskets. They offer a full bar. Lunchtime weekdays, they have a pizza buffet, with soup and salad, and a non-alcoholic beverage for a very fair price.
Large HD TVs surround the bar and dining room. They sell pull tabs and provide live music on the weekends. The food is excellent, the prices reasonable, and the ambiance very comfortable. Definitely worth trying.
Buffalo Wild Wings
Do you know what it's like to be in the stadium on game day? That is what it is like to be at Buffalo Wild Wings – fun and fast-paced. They have TVs all over the restaurant. Some very large, some smaller, but different sports games are on all of them.
Their specialty is wings and sauces, both boneless and traditional. Their 26 sauces range from very mild to OMG! They also have great burgers, salads, wraps, nachos, and desserts. They have a rotating tap list with all the favorites plus craft beers.
They also have an outdoor seating area, which is enjoyable during the summer and fall months.
Buffalo Wild Wings is fun for the entire family.
Squeaky's Bar and Grill
Last on our list of things to do in Hutchinson, MN is a visit to Squeaky's Bar and Grill. Don't let the name fool you – Squeaky's is a comfortable, casual, family-friendly restaurant with great food! Whether you want a burger and a glass of beer or pasta with a glass of wine, you will find it here. The menu is extensive and good.
They have a full bar, eight flat-screen TVs, and a great party room for events.
After you have dinner, why not bowl a game at Hutch Bowl, which is right next door. Open bowling is available daily.
What Things To Do In Hutchinson, MN Did We Miss?
Hutchinson is a great small town, with lots of parks, walking trails, shopping, restaurants, and much more. With all of the wonderful things to do in Hutchinson, MN, It is worthy of a visit!