Minnesota is known for its fierce winters and record breaking snowfalls. However, during the spring and summer months, it's one of the most exciting places to be. There are numerous beaches and lakes to bask in the summer sun. There's no need to travel to the ocean for a dip in the tranquil waters, you can have the same experience right here in Minnesota. Here are the top 20 beaches for you to explore.
Lake Itasca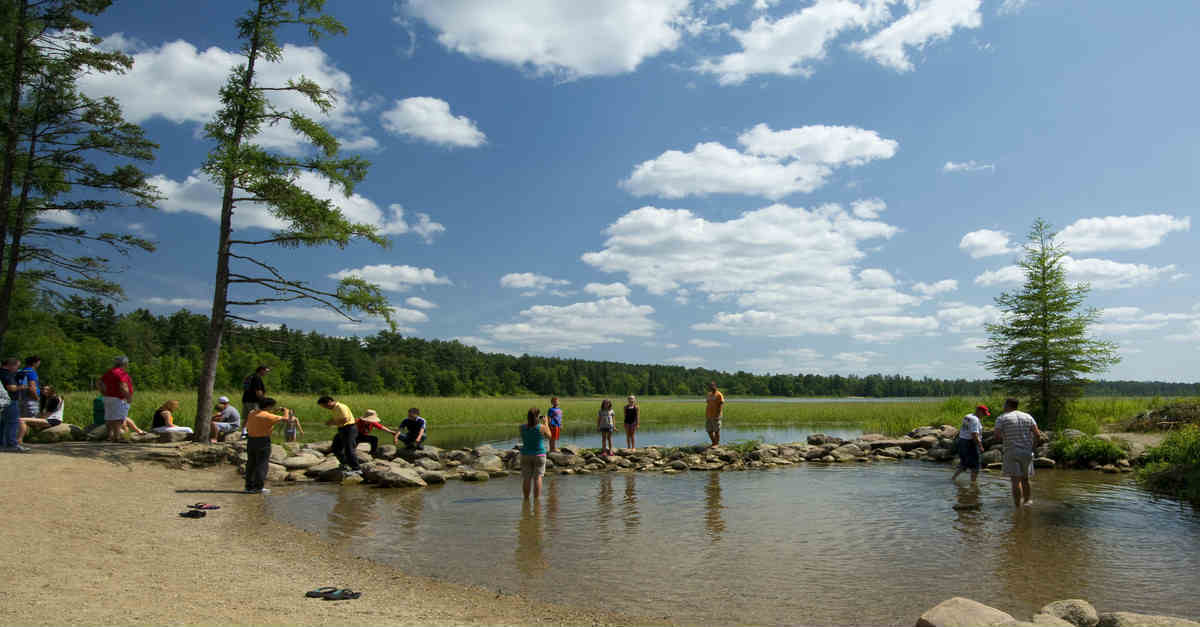 Lake Itasca is one of the coolest lakes, state parks and campgrounds in Minnesota. But the coolest thing about this great place is that it is the source of the Mississippi River. Around the Mississippi source you will find one of the most interesting and fun beaches around. It includes rocks sticking out of the water which allows you and your kids to walk across the river without getting wet, a bridge to walk across and dip your toes in and plenty of sand the enjoy.
Nokomis Beach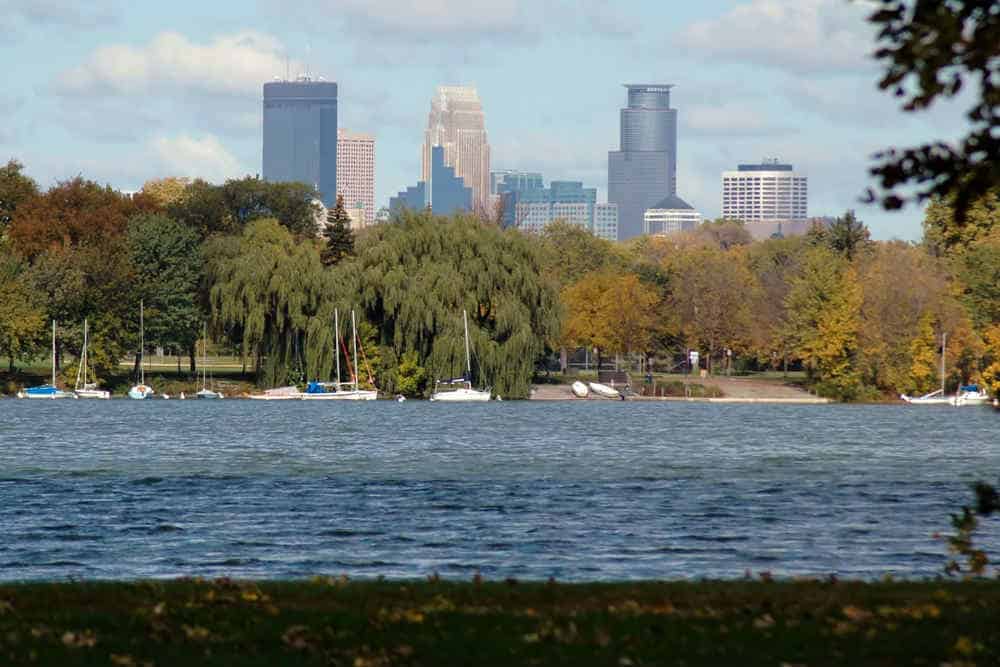 There are several beaches in this area connected by The Ground Round. The larger beach is also the main one that most people visit. Nokomis beach has a dock that floats for swimming. There is a parking lot that has ample spots for parking, and the Sandcastle is a local bistro serving up great foods. There are lifeguards posted at this location, as well as a bathhouse. However, there is a smaller beach on the other side that has no lifeguards and is pretty much deserted. With all the beaches in this little area, there is most certainly a spot where people can be alone.
Lake Harriet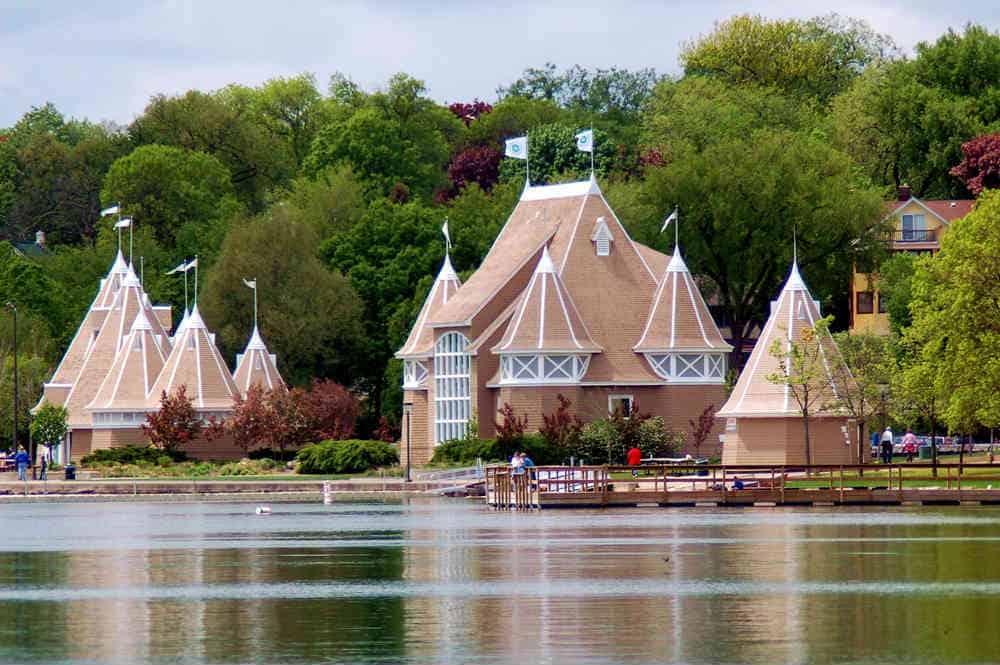 Lake Harriet is known as a family area where two small beaches are welcoming for children. There is a floating swimming dock, as well as a playground and concession stands. The Bread and Pickle is a favorite eatery located on site with scrumptious foods. The parking lot beside the lake charges to park there, but visitors can park in the neighborhood for free. The parking lot is often full, so be sure to get there early for good spots. It's a highly trafficked area and one that is often busy.
Lake Calhoun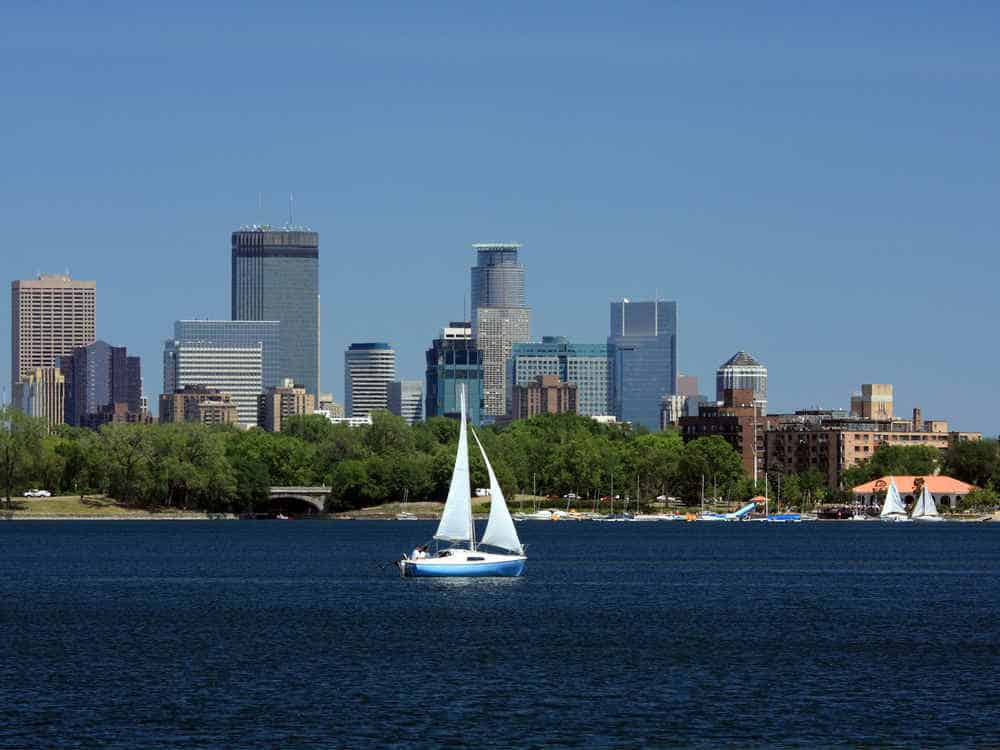 Lake Calhoun attracts people from the Uptown area. It is more of a hangout for the local singles. The South end of the lake is where the action is. Thomas Beach has sand-volleyball courts, as well as a swimming dock. Canoes and Kayaks may be rented at the Tin Fish concession stand on the Northern end. The only parking is over by North Beach and 32nd Beach, but it's always crowded, so carpooling is recommended.
Cedar Lake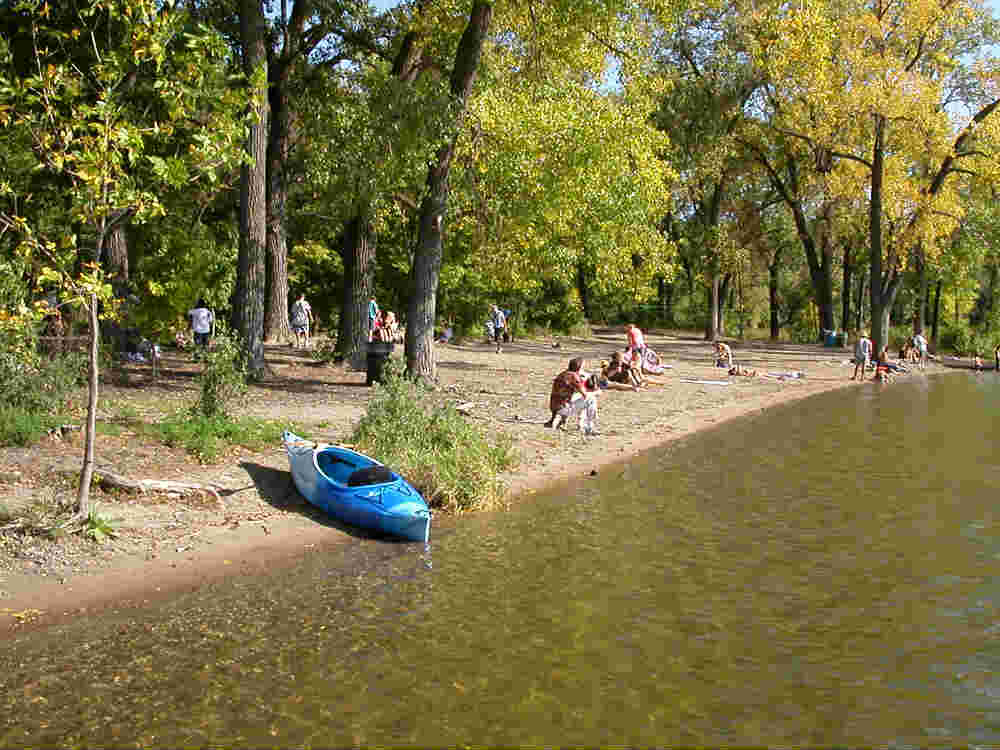 By Oneconscious at English Wikipedia, CC BY-SA 3.0
Located in a picturesque park, Cedar Lake is home to a hidden gem. From June till August, lifeguards are on duty from 12-7 during this time. Because this park is a bit off the beaten path, it's often called a hidden gem. It's not super crowded, and the water is always gorgeous.
Long Lake
Located in Hennepin County, Minnesota, this Lake is breathtaking. The beach is located at the Nelson Lakeside Park, which also has hiking trails, picnic areas and plenty of things to explore. There are only 1,700 people that live in this area, so it's pretty much a getaway that many people enjoy instead of the most crowded beaches in the state.
Lake Hiawatha

By Runner1928 – Own work, CC BY-SA 3.0
Lake Hiawatha is located in the Minneapolis vicinity. The lake takes up 54 acres and there are no lifeguards on duty. There is a fishing dock, pool and plenty of tennis courts to entertain. The lake sits right alongside a golf course, which makes the entertainment factor of this area incredible. The park really draws a crowd in the winter too. They set up ice and hockey rinks for the locals to enjoy. The Lake has bike and walking paths, and an incredible falls that make for exceptional photography shoots.
Pelican Lake
Pelican Lake is located in Otter Tail County, Minnesota. This is an area where the most affluent hang out, as they have a place to dock yachts. This massive lake is 3,986 acres wide, and it got its name because of its pelican like shape. The Fair Hills Resort is located on the lake and brings a great deal of traffic to the area. There are no lifeguards on duty, and this highly developed area is a fishing hot spot too.
Square Lake
Located near Stillwater, Minnesota this lake is in a country area near the Twin Cities. Many people head here to learn how to scuba, as it is a favorite spot of teachers. There is a nice sandy beach area that has a grassy area perfect for picnics. It's on the East side of the Gateway State Trail, which makes it a nice spot for bicyclists. It costs $5 to park here, and there are no lifeguards on duty. Still, it's a great spot right in the middle of the city area that serves as a great getaway.
Park Point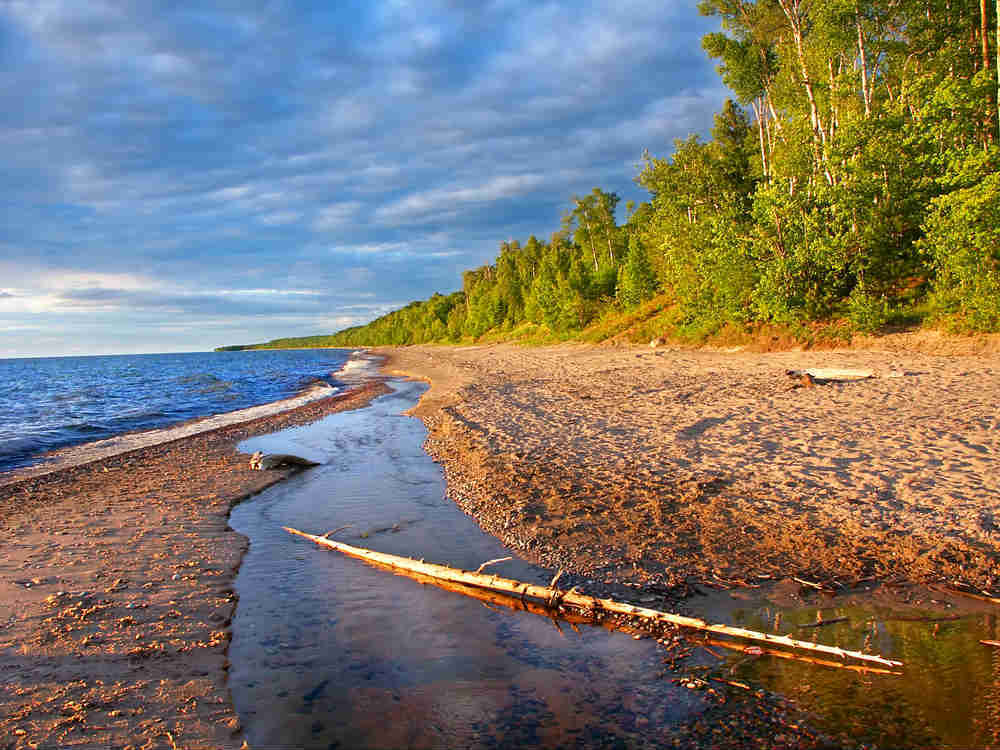 Duluth, Minnesota's Lake Superior Beach, also known as Park Point is stunning. The sand dunes here are mesmerizing and the Aerial Lift Bridge is entertaining to watch. One sand bar is over six miles long. This public beach has restrooms and a view of the beautiful Duluth hillside. There is free public parking and it fills up quickly. The cool water temperatures feel great on a hot day. There are lifeguards on duty during peak season.
Father Hennepin State Park

Just a couple hours north of the twin cities is this little gem. The Lake within the park is known as Mille Lacs. The beach is small but pristine. The water is always good and clean here. Bicyclists frequent this area to ride the eleven mile Soo Line Trail. There are no lifeguards on duty here.
Zippel Bay on Lake of the Woods

The cool Canadian waters of this lake feel amazing on a hot day. Sitting in the park, guests can see 80 miles over into Kenora, Ontario. There are two miles of white, pristine beaches. The flowers are another attraction here. They have lady's slippers and orchids. The stone jetty is also a big attraction which dates back to the turn-of-the-century.
Green Lake
Green Lake is home to Spicer's big Saulsbury Beach. This active area attracts people from all over the state. Enthusiasts line up to jump from the massive towers into the water. There is always a beach volleyball game going on, and they have lifeguards during peak seasons.
Medicine Lake

In Hennepin County, Minnesota is Medicine Lake. This lake area is only home to over 300 people. It's considered a hidden gem because it is not crowded and a great place to relax. There are yacht clubs, as well as some of the best fishing in the state. It isn't the best area for swimming, though.
Bayport-Lake Side Park
Washington County has one of the most happening waterfront areas in the state. Lake Side Park is home to festivals, horseshoes rings, volleyball, playgrounds and ample swimming areas. It's free to park and there are lifeguards on duty. Children will love the beaches here, as well as the playgrounds. The water quality if always good and there are numerous activities to keep all age groups busy.
Excelsior Common Beaches
Lake Minnetonka is home to the Excelsior Common Beaches. It's just 12 miles South of Minneapolis. The sandy beaches are inviting in the warm summer months. There are no lifeguards on duty, but there is plenty of shorelines to enjoy. Lifeguards are on duty from 12 to 6 pm daily. There are many things to do in this area, like taking a ride on the Minnetonka steamboat.
Long Lake
Long Lake is the hidden getaway that most people long for in Minnetonka, MN. When the other beaches are crowded, this beach usually sets deserted. There's usually not another soul in site, and that makes this area special. It's a special place to enjoy the sunshine without buildings blocking the gorgeous country view. No lifeguards and no facilities, it's nature at it's best.
Bryant Lake Regional Park
It has a golf course, dog park, canoe rental and plenty of sandy beaches. It's one of the best areas to visit in the summer. There are 170 acres to explore, and the beaches are voted one of the cleanest in the state. It's just the kind of friendly place you want to bring children for a summer excursion.
Bonus For Wisconsin Readers
Big Bay State Park

We couldn't leave Big Bay State Park off this list, it's just too cool! Situated on the beautiful Madeline Island, this State Park has 1.5 miles of beach area that is perfect for a day of fun. Not only is there a family campground and shelter houses for picnics, but there are hiking trails and plenty of untouched nature to observe. The picturesque sandstone bluffs make picture taking an essential. This park is located right on the border of Wisconsin, so the park is actually located in both states. This Lake Superior beach is always clean and voted one of the best spots to see in the state.