If you're looking for a fun, all-day activity in the St. Paul area, the Science Museum of Minnesota is the place for you. This spot is a super interesting educational attraction for visitors of all ages, and you're bound to learn something while enjoying yourself, too!
Keep reading to learn more about all that this museum has to offer.
---
Best Times to Visit
When planning your visit to the Science Museum of Minnesota, it's important to consider how crowded the museum might be during different seasons or at different times throughout the week.
During a typical week, the museum is generally open:
Tuesday, Wednesday & Thursday, 10 a.m. – 5 p.m.;
Friday & Saturday, 10 a.m. – 8 p.m.;
Sunday 10 a.m. – 5 p.m.
In addition, the museum is open on a limited number of Mondays. Check their website for more specific information about these days!
For visitors who might not be comfortable with the overwhelming sights and sounds of the typical museum experience, there's also an option for you!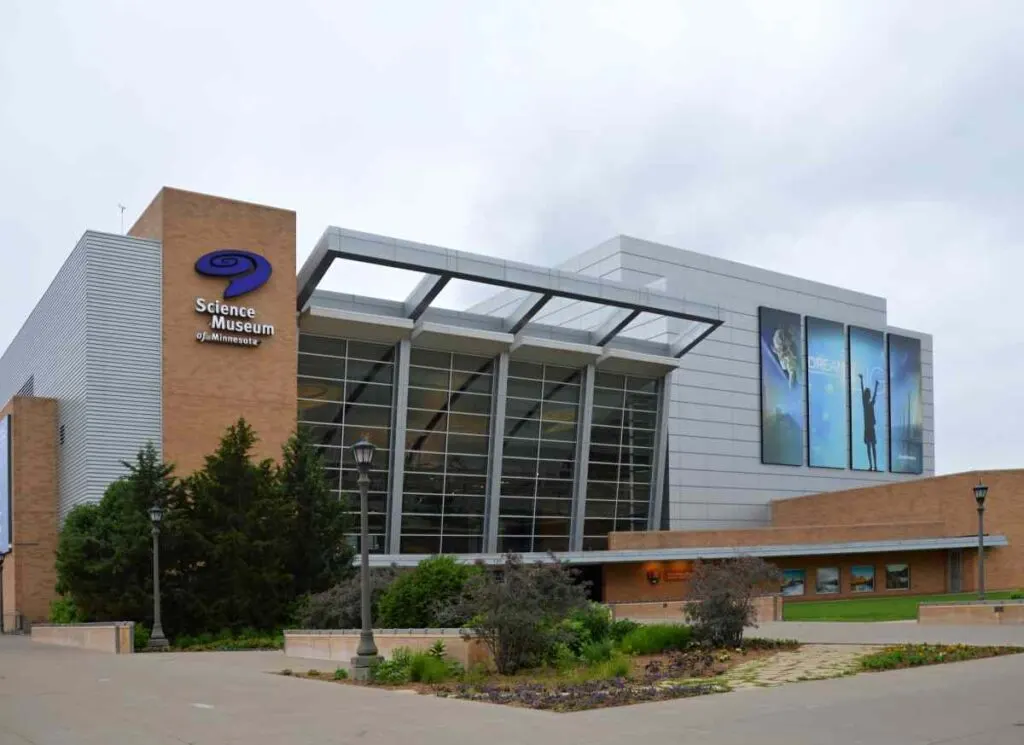 Sensory Friendly Sundays are scheduled on the first Sunday of every month for museumgoers with sensory needs.
One piece of information to keep in mind is that the Science Museum of Minnesota is a popular destination for school field trips, so there might be slightly larger crowds if you go on a weekday during the middle of the school year.
---
How to Access the Museum
Whatever way you like to travel, this museum is easy to get to! You can reach the Science Museum of Minnesota by car, by bike, and via public transportation.
If you plan on riding your bike, the museum has bike racks and lockers that you can rent at the museum's parking office.
For those who drive cars, there's also plenty of parking for you! The museum has a parking ramp that's usually open from 6 a.m. to 10 p.m.
Parking typically costs $10 per day. However, parking costs $20 per day when there's an event taking place in downtown St. Paul close to the museum.
If you're worried about higher parking costs, there's a calendar on the museum's website that lists every single event day and what time of day the higher parking rate goes into effect.
Check out this resource if you're looking to plan your visit when parking may be less crowded and a little cheaper!
Finally, the museum is also right near the Green Line as well as being located close to multiple local bus routes.
---
Cost of Tickets
The Science Museum of Minnesota has a ticket option for everyone! They have a range of ticket prices, and how much you pay for admission depends on a variety of factors.
Typically, adults (ages 18 and up) are $29.95 each, and children ages 4-17 are $19.95 each. Children younger than four years old get into the museum for free.
If you're a Minnesota resident and might have difficulty paying the full price of admission, there's another ticket option for you.
Specifically, the Science Museum of Minnesota also has a Great Tix program for low-income individuals and families who are enrolled in certain state and federal programs. Those eligible for the Great Tix program can purchase museum tickets for $3 each.
In addition, the Science Museum of Minnesota also has a fantastic program that offers free tickets for Indigenous visitors.
Finally, it's important to note that the museum only offers separate tickets for general admission and admission to their Omnitheater. If you're hoping to catch a film and check out the exhibits, you'll have to buy two different tickets!
---
Memberships
If you live in the area or just plan to visit the museum multiple times per year, it might make sense for you to purchase a membership to the Science Museum of Minnesota!
There are six membership levels, starting at $95 per year all the way up to $2,500 per year, depending on how much you want to pay for additional amenities.
All levels of memberships offer free admission, and many offer various discounts for things like parking, guest passes, and food.
---
What to Expect
One of the first things you'll notice when visiting the Science Museum of Minnesota is that there's so much going on! There are so many lights, sounds, and colors that will grab your attention.
Whether you're paying a visit to the vibrant Light Gallery or passing through the touch-based Experiment Gallery, your five senses are in for a treat!
If this is your first time visiting the museum, make sure to be on the lookout for another sight that's out of this world. As you enter the staircase that connects all of the exhibit floors, you'll be greeted by a giant astronaut!
Thinking about the individual exhibits themselves, some exhibits are extremely interactive, while others are better suited for hands-off observation.
In other words, there are plenty of options for museumgoers who want an incredibly hands-on experience, but there are also just as many opportunities for visitors who want a more laid-back visit!
In addition, while most of the exhibits are permanent, there are a couple of exhibits that feature temporary displays and experiences, so everything might not be completely the same if you visit more than once over multiple months.
Most importantly, you should know that this museum is not a boring, stuffy, old museum!
While the exhibits at the Science Museum of Minnesota are meant to show you certain inventions and theories, they're also meant to help you ask questions about what science is and how we use it in everyday life. Everything at the museum encourages active participation and engaged thinking.
---
Activities for All Different Ages
The Science Museum of Minnesota has activities for visitors of every age! While the museum has a great offering of learning opportunities for young people, it's definitely not just for kids.
Exhibits
The Sportsology exhibit is great for younger visitors who may want to get some energy out. In this experience, you can run, jump, kick things, and throw things to learn all about how the science behind sports and the bodies that participate in them.
If you have any budding biologists in your group, definitely make a stop at Human Body Gallery. This attraction is interesting for visitors of all ages! Just keep in mind that some sections of the exhibit, particularly the areas that feature real human body parts, might be better suited for older children and adults.
Located on the first floor of the exhibit area, the Dinosaurs & Fossils Gallery is the perfect destination for the young dinosaur-lover in your life.
Looking for an exhibit that's sure to please your entire group? Check out the Weighing the Evidence exhibit, which features debunked "scientific" products and ideas from throughout American history.
Older visitors might find it interesting to see products that were marketed to them growing up while younger visitors might find it fascinating to learn about scientific and medical misinformation from years past.
Omnitheater
For those who would rather sit down and take a break instead of running around the museum, catch a show in the Omnitheater!
In this immersive experience, watch one of the many documentaries that the museum features on a massive, dome-shaped screen. If you want a good look at the constellations, the Science Museum of Minnesota even offers a live digital telescope show on Saturdays and Sundays.
Virtual Options
If you can't make it to the museum in person but still want a similar experience, there's an option for you, too! The Science Museum of Minnesota offers some online resources that you can explore from the comfort of your own home.
For example, you can peruse the "Real STEM Stories" page on the museum's website that introduces you to just a few of the many scientists who are doing important work every day in STEM!
You can also check out the museum's "Online Science Resources" page, which features activities, videos, and lesson plans.
---
Dining and Shopping Experiences
After you've worked up an appetite exploring your way through the museum, stop at the GINGKO Coffee Bar & Deli! This eatery has a ton of delicious breakfast and lunch options. They also offer a full range of coffees and teas as well as a rotating selection of desserts and other pastries.
For those who may want a super quick and easy lunch, pizza by the slice is sometimes offered on the sixth floor of the museum near the designated eating area.
When the weather is nice, look for food trucks parked directly outside the museum!
If you want to end your visit with a souvenir to remember your time at the Science Museum of Minnesota, check out the museum's store! Here you'll find a variety of museum-branded merchandise as well as lots of other fun gifts like stuffed animals, games, and science kits.
---
Visiting the Science Museum of Minnesota
The Science Museum of Minnesota is full of engaging and exhibits informative that make science cool! You should absolutely pay the museum a visit the next time you're in the area.
If you want to read about other fun opportunities that are close to the museum, read our post about 20 of the Best Things to Do in St. Paul Minnesota.
Still looking for more fun adventures? Then checkout all the great things to do in the Twin Cities!
Looking for more autumnal activities? Then visit our Minnesota Fall page to find inspiration for sweater weather fun!