There's nothing quite like a flaky croissant, perfectly sweet and crumbly tart, or a warm piece of bread fresh out of the oven. There's something about a great baked good that is more than just food for the belly— it's food for your soul. While there are nearly countless bakeries in Minneapolis, we've done the work of finding the best ones for you. We've narrowed it down to the very best and compiled all of the best things to try at each.
Let's dive into the best bakeries in Minneapolis.
1. Isles Bun & Coffee
First on our list of best bakeries in Minneapolis is Isles Bun & Coffee. In operation for over 30 years, Isles Bun & Coffee offer all the usual bakery items like cookies, cakes, and scones. But what's the specialty? Cinnamon buns!
Sticky, fluffy, swirly, and sweet cinnamon buns are what Isles Bun & Coffee is known for. They've got flavors like cinnamon, caramel, and caramel pecan that are rich while being delightfully fluffy. If an entire cinnamon bun is more than you want to eat at the moment, they offer mini versions, too.
For a truly unique experience, order a Puppy Dog Tail! These trademarked treats were named by the preschoolers next door. They're small, twisted versions of the bigger cinnamon buns and the perfect size for any pint-sized pal in your life.
The best part is that if you can't get enough of their cinnamon buns, you can buy them frozen and make them at your own home later!
2. Black Walnut Bakery
Known for all things bread and pastry, Black Walnut Bakery definitely deserves a spot in the top 9 bakeries in Minneapolis. Owner and baker, Sarah Botcher, was inspired to open a bakery while she was on a trip to France and it shows!
She's mastered the croissant and has plenty of sweet and savory pastry items, ranging from chocolate banana croissants all the way to ham and gruyère croissants. The almond croissants are to die for and don't have a bit of fake almond paste in them. The flavor comes from the real stuff—almonds ground by hand, lending just the right amount of sweetness.
Black Walnut Bakery also has delicious cakes, with flavors rotating between whatever juicy fruit is in season at any given moment. Custom order cakes, sized up to 9″, can be ordered for all of your special occasions.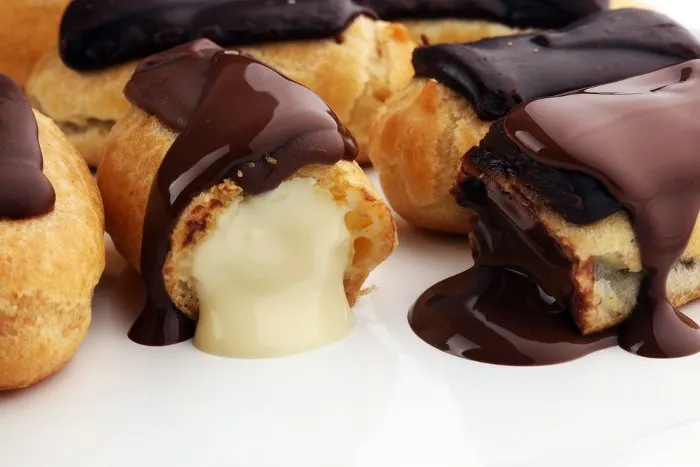 3. Bellecour Bakery @ Cooks
Named after the town center of Place Bellecour in Lyon, France, Bellecour Bakery has partnered with Cooks of Crocus Hill to create a one-stop-shop experience. Bellecour Bakery brings the expert bakers and tasty French pastries while Cooks of Crocus Hill provides the neighborhood, space, and community which makes Bellecour Bakery one of the best bakeries in Minneapolis and a delicious combination.
If you love croissants, this bakery offers some of the best of the best. They're buttery, flaky, and come in a ton of varieties. Plain is always delicious, but if you've got a sweet tooth, it's hard to beat the pain au chocolat, stuffed with rich dark chocolate. It goes great with their coffee!
If you're there for lunch and looking for something a little heartier and more filling, the BLT croissant is the way to go. It's stuffed with ripe tomatoes, romaine, thick-cut bacon, and mayonnaise and is off the charts delicious.
There's even something for you to enjoy if you're gluten intolerant! The frangipane is an amazing tart made with ground almonds and topped with berries. There's not a bit of gluten in sight!
4. Patisserie 46
Kentucky-born John Kraus, the pastry chef at Patisserie 46, says, "Bakers wake up in the early morning in the hopes of giving people a better day, and that's all we really care about," and he seems to mean it. With the desire to help our culture slow down and connect with each other through the mutual love of baked goods, Kraus helps make every day a special occasion.
Patisserie 46 is the bakery to go to if you're looking for a sweet treat out of the box that's almost too beautiful to eat. Notice we say "almost," because, in actuality, these gorgeous treats are too decadent to not enjoy! There's a huge variety of treats to choose from; salted caramel brioche, ganache-covered tiramisu, almost pistachio sponge cake with a strawberry litchi filling, lemon tart, and even a chocolate lava cake.
Are you not feeling something sweet? That's ok! Beyond being one of the best bakeries in Minneapolis, Patisserie 46 has plenty of savory options; quiche, fresh-baked bread, savory croissants, and baguette sandwiches. There's something for everyone here!
5. Sun Street Breads
Sun Street Breads is the bakery to visit if you're looking for a good quality bread item. It's one of the best places in Minneapolis to get buttermilk biscuits, sourdough, fresh baguettes, baklava, and challah. There's also a full breakfast and lunch menu available with pancakes, soups, and salads.
One of the must-try items Sun Street Breads makes is the Fyrstekake. It's a Norwegian cake also known as Royal or Prince's cake. Fyrstekake is a loaf cake with a perfectly crumbly shortbread crust and an almond cardamom filling. This European treat isn't available in many places, but pastry chef Solveig Tofte likes to share treats from her heritage.
Another special Norwegian treat is Bergen bread. This is a hearty bread chock full of pumpkin seeds and topped with sunflower seeds and steel-cut oats that originated in Bergen, Norway.
Sun Street Breads uses the finest ingredients and you can find a list of every ingredient used in their treats listed on their website!
6. Angel Food Bakery and Coffee
Next on our list of best bakeries in Minneapolis is Angel Food Bakery and Coffee. The winner of Food Networks Donut Showdown, Angel Food Bakery and Coffee knows how to make some sweet treats! At this one-of-a-kind bakery, everything is made from scratch using only the best ingredients available. Donuts are their specialty, but they also offer plenty of other sweet treats!
When you enter Angel Food Bakery, you're walking into a real, live working bakery. You can jump on a coveted counter seat and watch the magic happen. Watch as the bakers roll out donut dough, pull fresh cookies out of the oven, and mix up some cake batter. Sometimes life happens, something doesn't work the way it should, and you'll even see them dump it out and start over. They don't put out anything but the best!
One of this bakery's best, and most unique sellers is their Happy Birthday Donuts which literally spell out "Happy Birthday". If you want to celebrate someone with these donuts who live outside of driving distance from Minneapolis, you can! Angel Food Bakery now ships nationwide!
7. A Baker's Wife
While they may not be the fanciest, free of sparkle and extra special crushed toppings, the donuts at A Baker's Wife are simple, tried and true, and delicious. What they may seem to lack in creativity, they make up for in flavor! The cinnamon sugar cake donuts are a breakfast staple in their neighborhood and have been for years.
Despite its downtown location, A Baker's Wife has a totally small-town feel. It's been opened since the early '90s and customers swear by their buttery lemon bars and American tea cakes. You can order cake by the slice or an entire tart or cake to take home to celebrate a special occasion. They also offer a huge variety of seasonal treats, all available to order online and then pick up in the store.
8. Rustica Bakery
Next on our list of best bakeries in Minneapolis is Rustica Bakery. Housed in a warm, casual space, Rustica offers award-winning European bread. They don't believe in shortcuts and make sure to not cut any corners when laboring over the processes that come along with baking. They embrace long dough fermentation times, hand-shaping, and baking on a hearthstone. The end result is an amazing variety of breads that have rich, full, complex flavors and an incredible range of textures.
While known for their breads, their bittersweet chocolate cookies have been named some of the best in the entire country by Food & Wine magazine! Rustica Bakery focuses on "people, process, and ingredients." There's no such thing as a bad choice of treat at this bakery!
9. Aki's BreadHaus
Last, but not least on our list of best bakeries in Minneapolis is Aki's BreadHaus. Specializing in German baked goods, Aki's BreadHaus is unlike anything else offered in the area! After moving to the United States Aki, the owner and baker realized they missed the delicious breads they enjoyed growing up in Germany. Using family recipes and memories, they've spent every day since opening in 2010 perfecting German treats and helping memories come to life and be created for new customers.
One of the best treats available at Aki's is the Berliner Bun. Unlike traditional American treats that are sometimes all sugar all the way, this is a bread roll that's gently moved towards becoming a jelly-filled donut. Sounds crazy, but it's true. The roll is sparingly filled with delicious fruity jelly and lightly sprinkled with sugar. The sweet outside is balanced out by the yeasty interior, leaving a one-of-a-kind pastry you've just got to try!
Visit the Best Bakeries in Minneapolis
Now that you know nine of the very best bakeries Minneapolis has to offer, which one will you be trying? Which one has you most excited— German bread? Delicious donuts? Flaky Croissants? Cinnamon buns? There are so many treats to try and so many more bakeries out there we don't even know about yet. Let us know in the comments if there's a bakery we've just got to know about! We love hearing from you!
If you're searching for more great bakeries, check out our article on 10 of the Best Bakeries in Minnesota.
Still hungry? Then continue exploring Minnesota food and drinks for a complete culinary adventure!
Still looking for more fun adventures? Then checkout all the great things to do in the Twin Cities!