There's nothing like relaxing on a Friday night – or any night! – with a cold beer in your hand. Minneapolis has a ton of incredible breweries that can supply that cold beer for you, and keep more coming. There's an excellent brewpub with a quality kitchen on just about every corner and a taproom with fresh beer flowing on every other block. Some offer pizza, barbeque, Latin food, or even the option to bring in your own food or order in from another restaurant.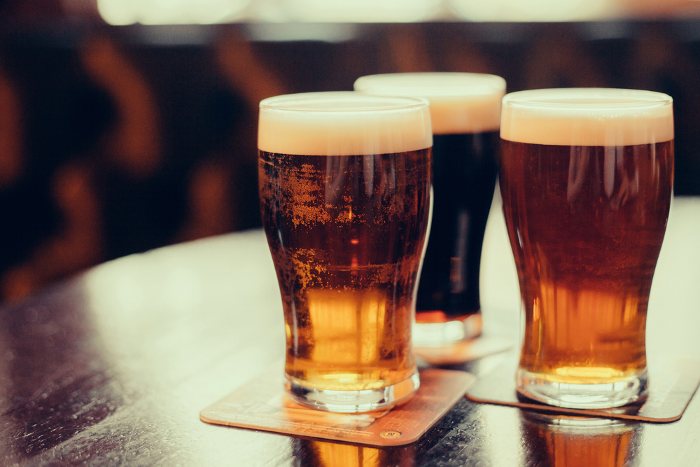 Whether you're looking for some classics or some new bold flavors to try, check out this list of the best breweries in Minneapolis to narrow down your options and choose the best brewery for you.
Best Brewpubs in Minneapolis
1. Northbound Smokehouse and Brewpub
The first on our list of the best breweries in Minneapolis is a neighborhood brewpub that was established in 2012 with the concept of "upscale blue-collar" at the forefront of the owners' minds. Northbound Smokehouse and Brewpub has earned several awards for their beer and their food, and has even made two separate appearances on Food Network's Diner's, Drive-ins, and Dives TV show.
There is no "Order Here" sign at Northbound like you might see in some other breweries. This is a full sit-down-and-be-served restaurant. With southern BBQ, an 18-hour porketta sandwich, smoked wings, and more award-winning dishes, there's something here for everyone to enjoy. In addition to their recently expanded brewery program, they also offer excellent whiskey, spirits, and craft cocktail selections.
2. StormKing Brewpub and Barbeque
There are always ten to twelve house-brewed beers on tap at StormKing Brewpub and Barbeque, and Texas-style barbeque is their specialty. Choose from pulled pork, brisket, chicken, and ribs plates as well as meat-by-the-pound options if you're really hungry or want to take home some leftovers for later. If you're just feeling a little snacky, their smaller menu items consist of bean and cheese tostadas, brisket nachos, chili cheese fries, or barbeque chicken chimichangas.
If you want some beer with your Texas-style BBQ (who wouldn't?) give yourself a minute to chuckle at their beer names before choosing which one you'd like to start with. I'm talking about names like brisket's best friend, two toasted nuts, Bauhaus Wonderstuff, steel toe size seven, and more hilarious titles. If beer isn't so much your style but you're there for your beer-loving partner or some killer BBQ, check out their list of cocktails including classics like a mai tai, long island iced tea, and whiskey sour. A few wines are also available as well.
3. La Doña Cervecería Brewpub
This Latin brewpub made it onto this list of the best breweries in Minneapolis thanks to the Latin flair of its delicious beer. Located on the north side of Minneapolis, La Doña Cervecería proudly brings Latin influence to the Minneapolis area and accentuates the Latin community.
Their most popular beers, or cervezas, are the Doña Fría, big mama, Café Dorado, ¡Fiesta!, top dog IPA, and Oc?l?tl. If you're on the hunt for some tasty Latin food to complement your cervezas, consider sampling their quesadilla, shrimp skewers, yuca fries, tacos, and/or chips with guac, queso, or salsa. The flavors at this place will delight your pallet!
Best Taproom Breweries in Minneapolis
4. Fulton Beer Taproom
Like so many of the best things, this taproom's origin story began in a garage. A couple of beer lovers brewed their own beer with the dream of creating a thriving taproom of their own successful enough to enable them to leave their day jobs in 5-10 years. And a mere three years later, they have the Minneapolis location and another in Wisconsin. You only get away with that kind of awesomeness if your beer is really spectacular.
In 2012, this team opened Minneapolis's very first taproom. The Sweet Child of Vine, an India pale ale and one of the original brews from the early 2000s, is currently on tap at the Fulton Beer Taproom, as are the Lonely Blonde, War and Peace, St John's Abbey Ale, Moon Howler, Thunder God, New Boots, and Chill City Chugger, just to name a few.
They now also have a kitchen in the taproom that offers items such as a brewhouse beef sandwich, chipotle chicken tacos, Bavarian pretzel sticks, pasta salad, and more. Make sure to check their website for times before you head over though because the kitchen has shorter hours than the taproom and you don't want to miss the chance to enjoy delicious snacks with your Fulton Beer. They got a spot on our list of the best breweries in Minneapolis for a reason!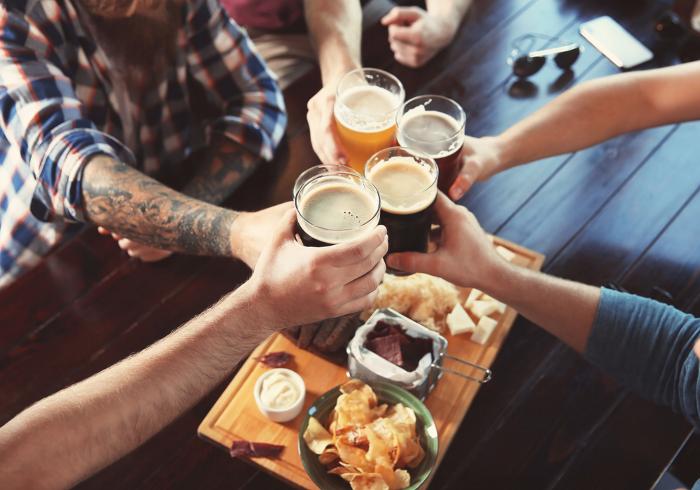 5. Indeed Brewing Company and Taproom
Indeed Brewing Company is known for its love and devotion to its local community. Net proceeds from every Wednesday night go to a different charity chosen and sponsored by one of Indeed's awesome employees. The actions this team takes to give back to the community and do some good is only a part of what landed them a spot on our list of the best breweries in Minneapolis.
When it comes to beer, they have a huge selection with multiple options under each category including core beers, IPAs, seasonal, specialty, wooden soul, and barrel-aged. Some of their most popular beers include Mexican honey, flavorwave, white glove, Baltic porter, cherry dust, and neon mango. They also have a delicious blueberry basil kombucha.
And if you want to see where all of these delicious drinks are made, just ask and you'll get a personalized guided tour of the brewing facilities. As for food, there is no kitchen here, but there are a few pre-packaged snacks like potato chips available for purchase and sometimes there are food trucks outside. Fortunately, guests are also welcome to bring their own food to enjoy with a pint of Indeed's beer.
Best Craft Breweries in Minneapolis
6. Town Hall Brewery
Town Hall Brewery is another amazing brewery on our list of the best breweries in Minneapolis because it is famous for its house-made craft beers, and they always have at least twenty on tap at a time. In addition to their own beer, they also offer featured guest beers, wine, cocktails, and one of the finest selections of whiskey and tap cider in all of Minnesota. Some of their most famous beers include twisted trace, vine's eye, Masala mama, west bank pale ale, parkway java porter, motley mole, and Belgian crush just to name a few.
Since Town Hall Brewery is a craft brewery as well as a full-blown restaurant, you can rest assured that you won't go hungry here. Try their roasted pork nachos, blackened chicken caesar, sweet potato fries, brewer's double burger, chicken pesto penne, or ragtop fried chicken for some great appetizers and meals to drink a beer or two with.
7. Surly Brewing Company
As their website states, Surly Brewing Company beer is "brewed aggressively in Minnesota." Their man's man beer names are creative and on-brand. With titles like controlled chaos, axe man, havoc machine, sconic distortion, age of leviathans, and double furious, this is clearly the place to go out with the guys, get loud, and let off some steam.
As for food items, pizza is their specialty, with crust that is charred but not burned. Their pizzas have great menu names as well – I'm your daddy, mama Fratelli, four minutes late, I'm in love, and finger-licking good are just a few of them. This is the most man-cave-like brewing company on our list of the best breweries in Minneapolis. They also have an upstairs for hanging out, plenty of free parking, and a bike rack just outside.
8. Lakes and Legends Brewing Company
Lakes and Legends Brewing Company proudly use as many fresh, locally farm-sourced ingredients as they can in their beer, and the focus of their taproom is on serving the community by providing a space to slow down, enjoy a pint, and make the kind of memories that last a lifetime.
Because Lakes and Legends serve only beer and not food, guests are welcome to bring in their own food or order in from another restaurant. Well-behaved, house-trained dogs are welcome inside the taproom at all times as long as they are leashed and calm. If you have an event coming up, consider renting out the taproom so you and your guests can enjoy it all to yourselves.
Wrapping Up the Best Breweries in Minneapolis
So how about some taproom treasures like Indeed or Fulton, or maybe some local craft beer from Town Hall? Whether you're looking for new beers to try, some great food to eat with beer, or some of both, you'll find the spot for you on this list of the best breweries in Minneapolis.
If you're more into cocktails, or you'll be going out with someone who is, check out 18 of the Best Bars in Minneapolis for a range of options with alcohol selections that expand beyond beer (though many still include beer on their menu).
Still thirsty? Then continue exploring Minnesota food and drinks for a complete culinary adventure!
Still looking for more fun adventures? Then checkout all the great things to do in the Twin Cities!