Kids are known to create a stir-crazy environment and sometimes you don't have enough space to house it all in. We have pulled together a list of the best indoor playgrounds In MN, so you can plan a full day of fun for everyone that will wear them out.
What Makes Indoor Playgrounds Fun for Kids?
We believe when it comes to providing the best indoor playgrounds in MN there are essentials that need to be in place to be considered truly fun for a kids' play area.
First and foremost, the indoor play area needs to be safe. There are a lot of moving parts when children are at play, and the last thing anyone wants is a safety issue. If there are any red flags about a location, we won't include it on our Best Indoor Playgrounds In MN list.
Secondly, the environment must clearly be inviting. It should be fun-looking. Somewhat like a kaleidoscope. Kids love color, lots of colors. Some indoor playgrounds have a kid-friendly theme like a jungle, treehouse, or zoo animals. We have visited a Twin Cities indoor playground that used outer space as its theme! Kids want to use their imaginations and there's nothing better than the environment providing a kickstart to bring them there!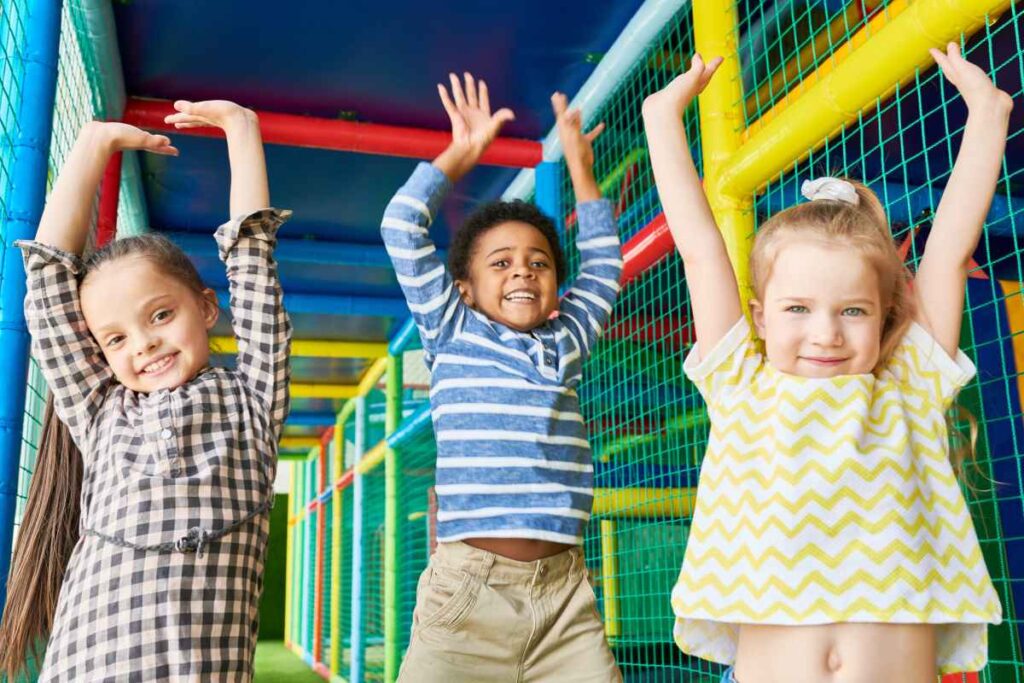 In general, people are limited on time these days, so one main item we look for is how much can a person do at the play place mentioned. We want the visitor to be able to pack in as much fun as they can with their kids no matter how much time they have to play.
Most importantly, we need to be mindful of the whole family, the mixed usage of the environment, the balance of playable building tools like foam blocks and water elements, and the variety of amenities beyond play components that we include to make the space useful and give children and families a variety of engaging activities.
Overall, it needs to help children build a broad range of physical and emotional skills, including motor skills, physical fitness, social interaction, and time with their family.
This list is great for those bitter Minnesota winters. But of course, no matter which season we are experiencing, it's always nice to have a place to burn off their extra energy!
Indoor Slides and Jungle Gyms
1. Edinborough Park's Adventure Peak
If you need a little green back in your life during the long winter days we suggest visiting Edinborough Park's Adventure Peak. Adventure Peak's kid play area is quite the family fun experience within the Twin Cities! We voted it one of the best winter indoor playgrounds for kids because it offers entertainment in one complete package. This indoor playground is free to stroll through and the park hosts kids entertainment every Thursday at noon in the amphitheater. We should warn you, the Adventure Peak play structure is amazing and it will be a struggle getting your children to stop playing once it's time to go LOL! Edinborough Park has been named the "Best Kids' Play Area in Minnesota!" by many.
7700 York Avenue South Edina, MN 55435
952-833-9540
Hours: Monday – Thursday: 9:00am – 8:00pm, Friday and Sunday: 9:00am – 7:00pm, Sunday: 10:00am – 5:00pm
$9 plus tax/child over 1 year of age to age 17, adults free
2. Eagles Nest Indoor Playground
"I'm bored. What's there to do?" says every kid at least once in the winter. Your answer? The Eagles Nest, a creative play wonderland in the heart of New Brighton, Minnesota. This play space is loaded with things to do designed for the little ones, from the high Web Tower Challenge, long Quadruple Wave Slide, Walk-on Piano Keys Player, Tight Rope Walk, Trolley Challenge, and Hanging Foam Forest, a Ball Pit, and a one-of-a-kind Eagles Nest and Tree Climb.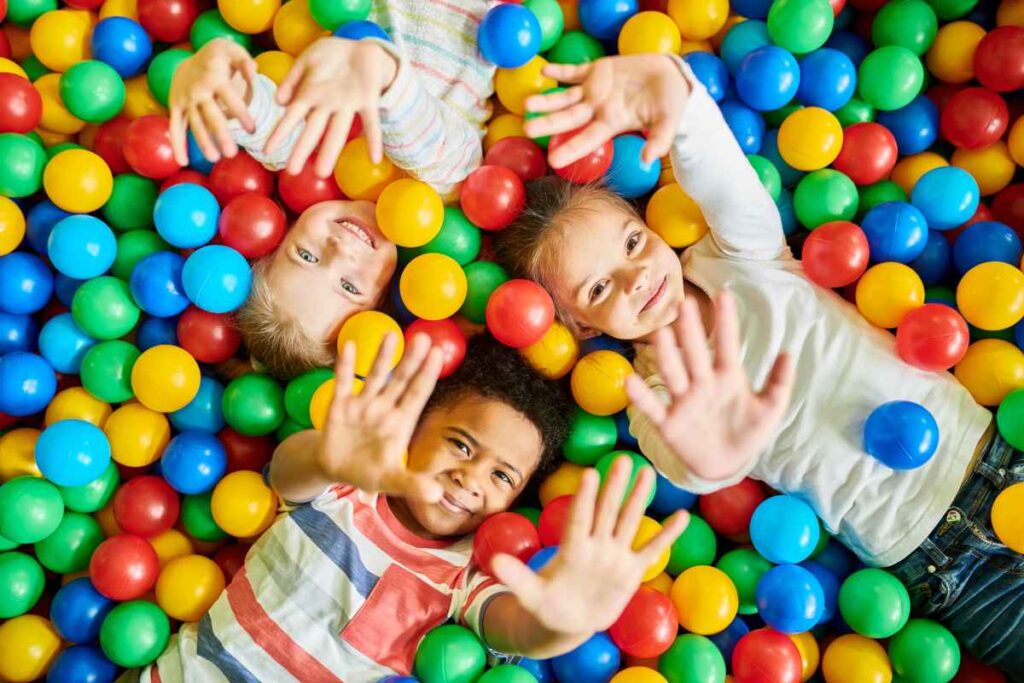 400 10th Street NW, New Brighton MN 55112
651-638-2130
Hours: Monday – Saturday: 9:00am – 8:00pm and Sunday: 11:00am – 5:00pm
$7 per day for kids, adults are free
3. Good Times Park
There are many climate-controlled indoor playgrounds popping up throughout the Twin Cities. Good Times Park is one of the best! It offers an impressive unstructured family play area for all ages. Located in a commercial-sized space, this playground offers over 25 separate inclusive play pieces, an inflatable family "jumping pillow", a supreme sports court, a turf field, an imagination foam building, as well as an arts and crafts section.
3265 Northwood Circle, Suite 100 Eagan, MN 55121
651-454-5736
Hours: Open Daily 7:00am – 9:30pm
Order all passes online with the link to their website below.
$8, plus tax/child adults free daily pass; memberships start at $22 monthly or $150 for the year.
4. Maple Maze
The Maple Grove Community Center prides itself on it's epic indoor Maze and recreation options. The Maple Maze ascends to the ceiling as a tree house boasting with a rock wall, pogo stick, four slides, tubes to climb through and Hoover rings. The best part is you can let your older kids explore the maze while you enjoy your little one in the toddler area. Once the fun is over in the maze you can continue your adventure in the indoor zero-depth pool! The Maple Grove Community Center zero-depth pool has water spray activities, a 130-foot waterslide, as well as a tot slide.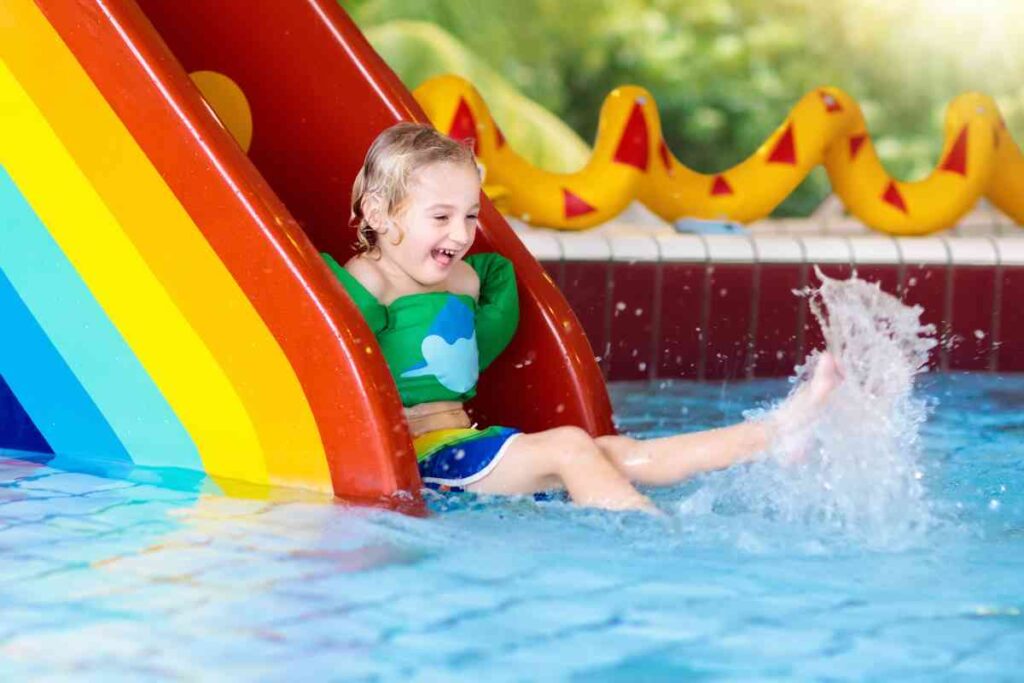 12951 Weaver Lake Rd, Maple Grove, MN 55369
763-494-6500
Hours: Monday – Saturday: 9:00am – 8:00pm and Sunday: 10am – 6:00pm
$5.50/child Resident $6.50/child Non-Resident – pool is an extra cost
5. Brookview Backyard
The Brookview Backyard won us over with their tagline "Go on a safari, or to outer space, or on a pirate cruise in search of treasure—the only limitation is your imagination."! Brookview Backyard indoor playground spans over 3,000 sq. ft. and loaded with super slides, twisty tubes, cargo climbs, bumper balls, log rollers, and cave crawls.
316 Brookview Parkway S Golden Valley, MN 55426
763-512-2345
Hours: Monday – Saturday: 9:00am – 2:00pm & 3:00pm -8:00pm and Sunday: 9:30am – 5:00pm
$4.50/child Resident $5.50/child Non-Resident – 2 and under Free
6. Lookout Ridge
The Lookout Ridge Indoor Playground brings the outdoor adventure indoors. Explore through the forest, explore a treehouse and climb inside cliffs, all replicating the St. Croix River Valley. Discover a cave with a large spiral slide and zoom down a 30-foot superslide. Lookout Ridge is located on the lower level of Woodbury's Central Park.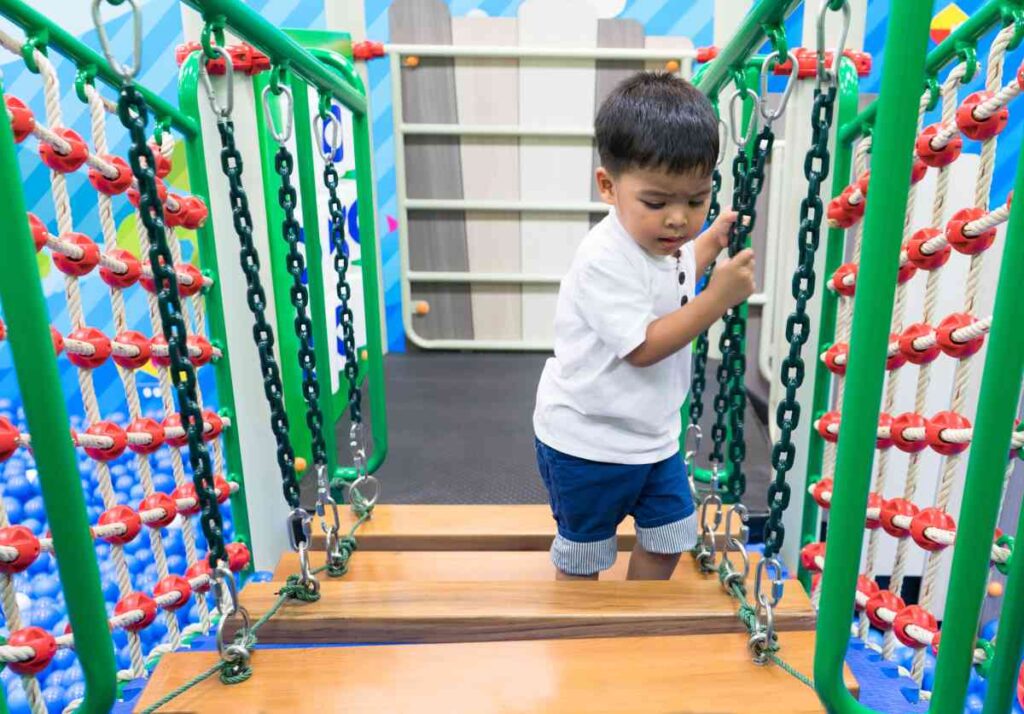 8595 Central Park Pl, Woodbury, MN 55125
651-714-3799
Hours: Monday – Thursday: 10:00am – 7:00pm, Friday: 10:00am – 2:00pm, Saturday: 10:00am – 4:30pm, Sunday: Closed $5.50/child, Adult chaperones are free
Indoor Bounce Houses and Trampolines
7. Mini Play Land
Opened in 2018 by a local mom, Mini Play Land is fashioned after similar play spaces she saw in Asia. Measuring 3,000 square feet, the Long Island City, Queens play space features several moving play structures (a small dolphin carousel, for example), as well as stuff to climb, soft bouncy surfaces for exploring, mazes, a trampoline, slides, and yes, a ball pit.

5-28 49th Ave, Long Island City, MN
929-208-2886
8. Rockin Jump Trampoline Park
Rockin Jump Trampoline Park is popular among the kids, who are big fans of the trampolines, ninja course, and rock climbing wall. Additional activities such as a laser maze, bubble soccer, and a large soft play structure can be added on for a fee. Socks must be purchased to play in the park and are yours to keep.
2015 Silver Bell Road, Suite 195 Eagan, MN 55122
651-419-9020
Hours: Wed-Fri, 4-8pm; Sat, 10am-8pm, Sun, 11am-7pm plus special Rockin' Tots hours
$14/60 min, $19/90 min, $24/120 min – includes admission to the ninja course.
Wrapping Up the Best Indoor Playgrounds in Minnesota
Whether your kids are looking for a chance to go swimming or climb as high as they can in a jungle gym, there are plenty of opportunities for indoor fun in Minnesota. And there are enough indoor playgrounds in the state that you can experiment with several of them so your kids never get bored from visiting the same one too many times. Have fun exploring these great play places with your kids!
And if you're on the lookout for more fun things to do with your kids in Minnesota, check out Archery Opportunities in Minnesota!
Ready for more Minnesota advice, info, and guides? Whether you're a local or a passerby, discover the best of Minnesota that our great state has to offer!
Looking for Minnesota winter inspiration? Check out our Minnesota winter guide for activity ideas, winter apparel suggestion, and endless ways to enjoy the snow!
Looking for more autumnal activities? Then visit our Minnesota Fall page to find inspiration for sweater weather fun!
About the Author
Latest Posts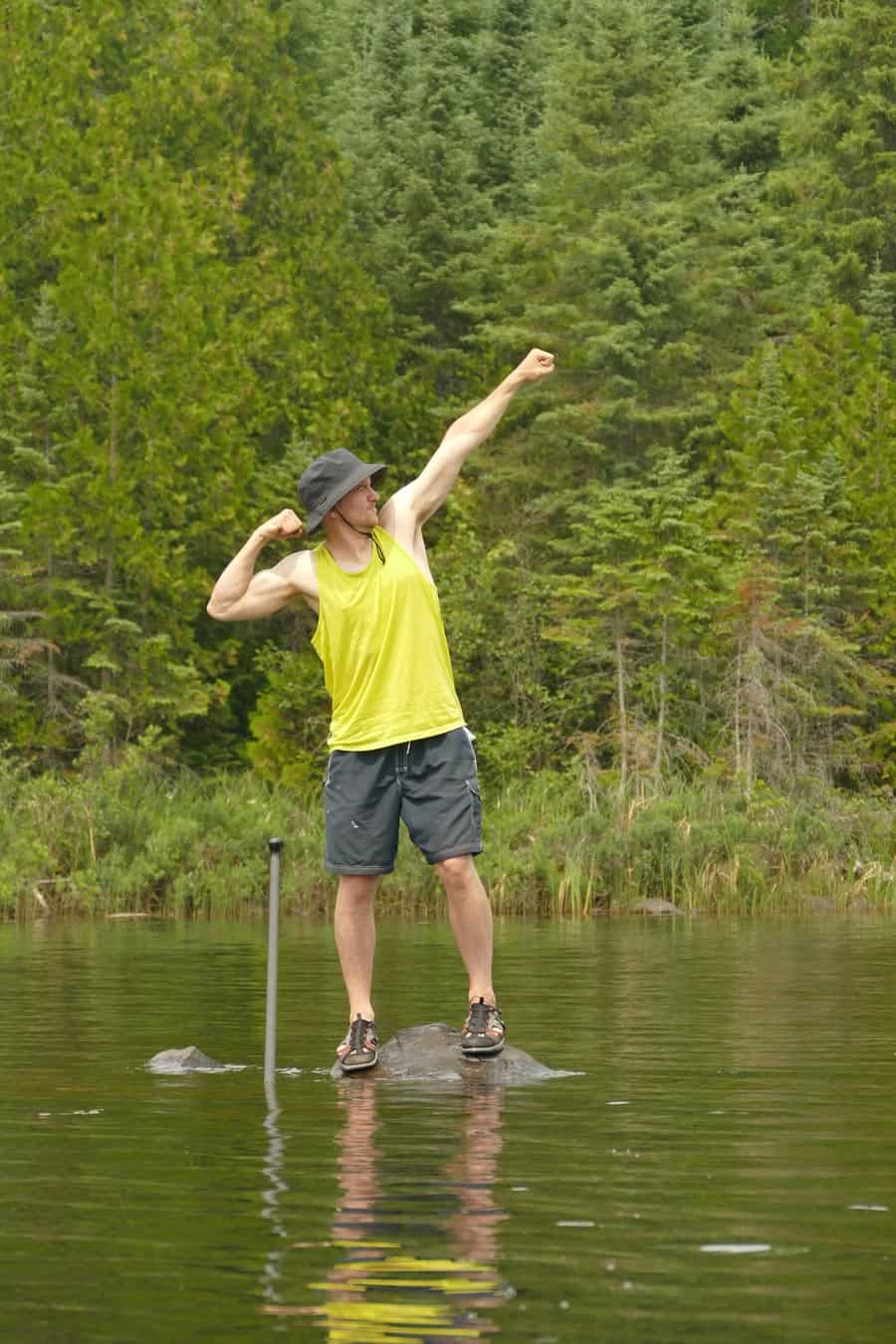 Born in Madelia, MN, to a now 5-generation Minnesota family, Ryan's MN roots go deep.
A painter by day, Ryan founded Life in Minnesota in 2013 with his wife Kelly to chronicle their musings on everything Minnesota. Ryan and Kelly are raising their 7 kiddos in Maple Grove, MN.
When he's not shuttling his kids around to hockey practice, you might find him in the shop working on his leatherwork. Undoubtedly, there will be a family trip to the Boundary Waters Canoe Area every summer, and of course weekends at Grandpa's cabin up north in the summer.