As you already know, archery has been around for ages. It began as a skilled art of survival, evolving into today's world as a competitive sport and a way to enjoy outdoor leisure time. If you have been searching for a way to connect with your child, archery could be what you have been looking for. Archery is on the rise, mainly due to the popularity of the children's movie Brave and The Hunger Games series. These movies have been the fuel driving the growing interest for younger archers, particularly among girls.
Getting Your Child Started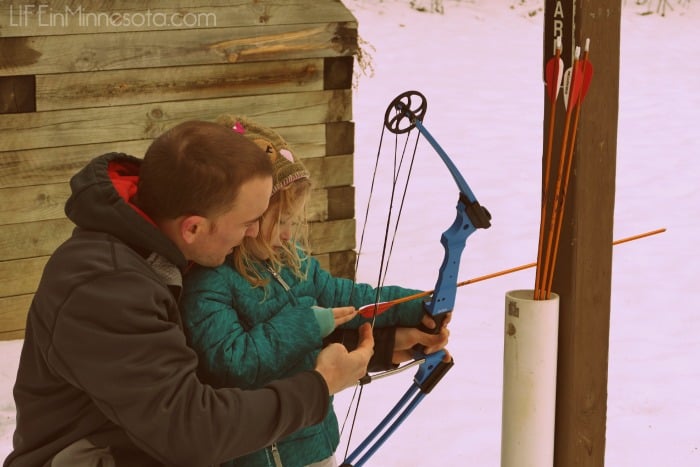 Our family started with a Genesis™ Original Bow built for kids, beginners and adults. This bow style has what is called a "zero let-off" with a light draw weight, making it easy to shoot for virtually everyone. Each member of our family was able to test their target skills without having to adjust settings. You can find the right bow for your needs on their website.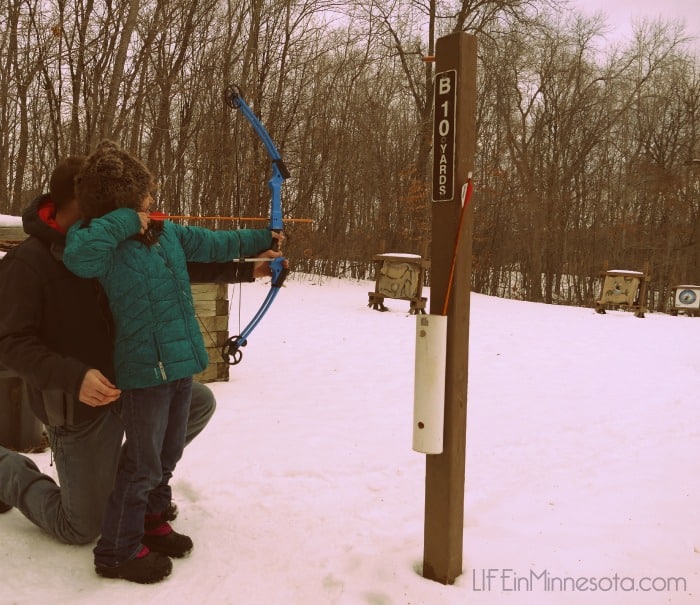 Helpful Tips Before Using A Bow
Do not draw the string back and release it without an arrow. This is called a "Dry Fire" and can be extremely harmful to the shooter, plus it can damage the bow.
Aim only at archery targets.
Do not shoot arrows straight up in the the air.
Do not wear loose fitting clothing while operating your bow and arrow.
Do not draw the bow beyond it's maximum draw length.
Wait to be sure the area is clear before retrieving your arrows.
MN Archery Locations
Minnesota offers archery clubs, competition leagues and many locations to exercise your accuracy. Here is a list of locations where you can work on your aim around the Twin Cities. In most cases you must provide your own bow and arrows, however if you are signed up for a class there is the chance they will provide items needed.
Open year round Stationary ranges offer targets at a variety of distances, as well as a shooting tower. You can also test your marksmanship by using Elm Creek's archery loop. It's a simple walk–through range featuring multiple shooting stations.
This facility uses a pay box located at the entrance based on the honor system.
Three Rivers Park District – 763-694-7894
13387 129th Avenue North
Dayton, MN 55327
Carver range is open April 1st–November 15th. You will find stationary ranges that offer targets at a variety of distances, as well as a shooting tower. Like Elm Creek this Three Rivers Park also provides a walk–through range featuring multiple shooting stations.
$5 daily pass or $35 season pass required for archery range.
Three Rivers Park District – 763-694-7650
7025 Victoria Drive
Victoria, MN 55386
Bunker Hills Archery has indoor and outdoor ranges. They also offer leagues, lessons, and tournaments. The outdoor range is open from 6 a.m. to 30 minutes after sunset in March – November. The outdoor range is closed during the cross-country ski season (December – February).
$3 per visit, per person for indoor or outdoor.
Bunker Hills Regional – 763-757-3920
550 Bunker Lake Blvd. NW
Andover, MN 55304
Lower Spring Lake Park is available through the Dakota County Park. It has six practice targets, two 14-station trail loops and handicap accessible targets! You can expect to see 4–80 yards with wooded, fan and elevated shot opportunities. They are open May 1st–November 30th, 8 a.m. to sunset each day.
Daily Pass: $5 Each user age 18 years and older needs to purchase a pass.
Dakota County Park – 952-891-7000
8395 127th Street East
Hastings, MN 55033
Marsden Archery Range is a part of Ramsey's County Park and Recreation program. It's located in the northwestern part of Ramsey County in the city of Arden Hills. The 8-acre site is entirely fenced in and contains 15 archery lanes. Lengths of lanes vary from 10-40 yards.
Ramsey County Park & Rec – 651-633-5676
5101 Lexington Avenue
Arden Hills, MN 55126
Family Archery Events/Classes
Baker Park
Baker Park is hosting a family archery day on April 26th, 2015. Experts will teach the basics of shooting a bow and elements of safety. Equipment will be provided for you to shoot traditional and 3D animal targets. Children 17 years and younger must be accompanied by a registered adult. Reservations are required. Save 20% if you have a group of four+ people.
Cost is $7.00 per person with an option to donate $1 to Wonder Fund.
Baker Park – 763-694-7856
4001 County Road 24
Maple Plain, MN 55359
Minnesota DNR
The DNR has the I Can! program, which includes archery for kids. The entry level class is geared towards children 8 years old and above. Equipment is provided for the students. The kids will receive hands-on instruction from certified instructors. This event is free, however you must have a $5.00 parking permit to enter the parks.
There is a class starting at Cleary Lake Regional Park in Prior Lake on April 17th, 2015. Call for more details: 763-559-6700.
Archery Headquarters
Archery Headquarters is located in Rochester, MN. They offer beginners courses through more experienced level classes for kids and league shooting (starts in January) opportunities. You can also book your child's next Birthday party at the range!
(800) 282-3507
3440 Northern Valley Place N.E.
Rochester , MN 55906
Watch An Archer In Action
Perhaps, you have seen the modern day Robin Hood archery video, however if you have not I encourage you to watch it. This man has spent endless hours perfecting his skills and he is quite impressive to watch.
This post was sponsored by Genesis™ Original Bow.