If you're looking for a nice getaway, look no further than the great state of Minnesota. Minnesota is blessed with an abundance of beautiful lakes and four incredible seasons. And if you are looking to enjoy a beautiful vacation near one of these fantastic lakes, look no further.
We have compiled a list of the best lake resorts in Minnesota to help you plan your next getaway. Whether looking for that perfect family-friendly vacation spot or the best golf stay-and-play packages, you will find many beautiful options in our list below.
Our choices for the best lake resorts in Minnesota are listed in no particular order. We hope you will get out and explore the beautiful lake regions and find your perfect, action-packed or peaceful Zen vacation. Any way you like it, a getaway in the lakes region of Minnesota is good for your soul.
---
9. Ludlow's Island on Lake Vermillion, Cook
At Ludlow's Island on Lake Vermillion, you will be immersed in the wooded lakefront vacation style. This private island has everything you expect to find for a family fun getaway at one of the best lake resorts in Minnesota.
Stay in a classic, Northwoods-style cabin that offers wood-burning fireplaces, decks, screened porches, and a water's edge view. To experience a tree house feel, reserve top-floor accommodations. You will feel like you have stepped back into summer camp – albeit a luxury version of summer camp, but it will bring the kid out in you nonetheless.
Some activities at Ludlow's Island include boat rentals, zip lines, water slides, paddle boats, stand-up paddle boards, kayaks, canoes, hydro-bikes, and more. Feel like a kid again and explore lakefront living as an adult with amped-up activities and tons of fun.
---
10. Kavanaugh's Sylvan Lake Resort, Brainerd
The Kavanaugh's Sylvan Lake Resort in Brainerd is the quintessential lakefront resort. Rustic and charming, you will find all the lakefront activities you desire. Beaching, boating, paddle boating, kayaking, canoeing, paddleboarding, pontoon boating, and more. In the winter you can enjoy classic Northwoods activities like snowmobiling, snowshoeing, cross-country skiing, and more, then head on for your favorite hot beverage.
When you stay at Kavanaugh's Sylvan Lake Resort you will be wrapped in a lakefront camp-like adventure with all the amenities at your fingertips. It will bring out the kid in you, and you will love how it feels.
---
11. Fair Hills Resort, Detroit Lakes
When you stay at Fair Hills Resort, you will be steps away from all the on-the-water fun and games you desire from a lakefront vacation. The family-friendly atmosphere is apparent in the wealth of activities Fair Hills offers. From treasure hunts for the kiddos to tennis, golf, and classic on-the-water fun, you will love your stay at Fair Hills Resort.
Every day there is a list of join-in activities including yoga, fishing, tubing, water aerobics, and so much more. The robust daily activities schedule is one of the things that makes this resort one of the best lake resorts in Minnesota.
---
12. Breezy Point Resort, Breezy Point
At Breezy Point Resort guests will feel they have entered a private lakefront community. With the bustling marina, beautiful lodging and championship golf, and great dining options, you can see why Breezy Point has been one of the best lake resorts in Minnesota for 100 years.
Three golf courses: Deacon's Lodge, Whitebirch Course, and Traditional Course will have your golf getaway options covered. If you prefer a more relaxing vibe, head over to the Serenity Spa for a massage or treatment. Dine at one of their four onsite restaurants including Antlers, their signature dining location.
And don't hesitate to visit them in the winter, when guests can enjoy snowmobiling, ice skating, and cross-country skiing, just to name a few activities.
---
13. Eagle Nest Lodge, Deer River
When you stay at Eagle Nest Lodge, you better be ready for traditional lakefront fun. The fishing is world-class and a great family activity. Catch of the day – Walleye, Northern Pike, Largemouth Bass, and more.
Of course, you can also enjoy all the lakefront fun like paddleboards, hydro bikes, sailboats, canoes, and more.
Eagle Nest Lodge also offers several scheduled activities during peak season, from arts and crafts to BINGO, nature hikes, and beach volleyball. Sporting enthusiasts will not only enjoy the great fishing, but Duck, Goose, Grouse, and Deer Hunting expeditions are available. With all these amenities and activities is it any wonder why Eagle Nest made our list of the best lake resorts in Minnesota?
---
14. Boyd Lodge, Crosslake
When you think of rustic, lakefront stays, you think of Boyd Lodge. Stone fireplaces, timber-framed log cabins, and beautiful wooded views take you away from the daily hustle to a peaceful and relaxing lakefront resort stay.
Activities offered at Boyd include hanging at the beach, volleyball, hiking trails, water sports, fishing, and, of course, campfires. In the winter, you can enjoy cross-country skiing and snowmobiling, along with outdoor hockey and ice fishing.
Relax, sit back, and enjoy some quality family time at Boyd Lodge and you'll understand why it rounds out our list of the best lake resorts in Minnesota.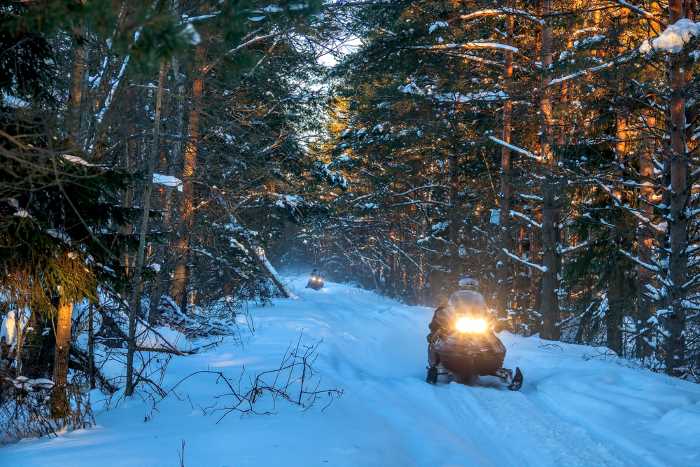 ---
Conclusion
Whether you are looking for a fun time on the water, a relaxing spa day, or a round of golf, these resorts have exactly what you are looking for. We hope you enjoyed our list of the best lake resorts in Minnesota and have found one or two that will work for your very best vacation. We pride ourselves in bringing the best of the best to the people of our great state.
Have you stayed at one of these resorts before? What was your favorite experience there? Tell us about it in the comments.
Still haven't found your perfect getaway? Then keep learning about unique places to stay in Minnesota to book the perfect reservation for your next trip!
Can't get enough of Minnesota lakes? Then keep living the Minnesota lake life with the help of my info posts and guides!