If you want to make fishing a year-round activity, there's plenty of ice fishing to be done in Minnesota. While there are many different types of fish that you can target with ice fishing, perch are one of the most popular. They love to swim to deep depths during the winter months but are still active enough to be on the prowl for food near the surface.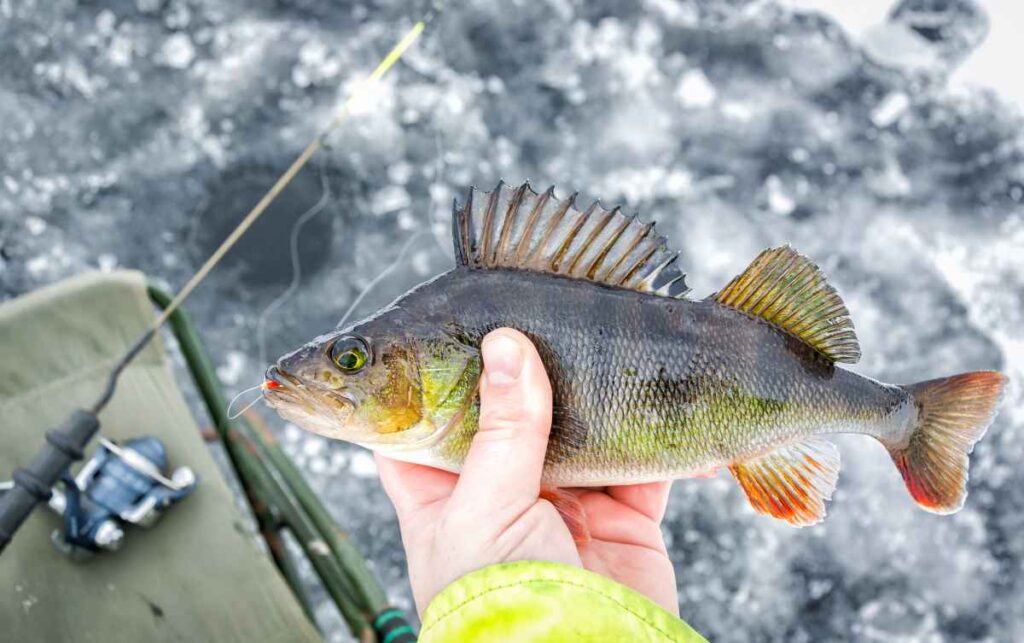 If you're wondering which lakes and rivers offer the best perch ice fishing in Minnesota, you've come to the right place. We'll go over the complete list of hotspots and give you a few ice fishing tips if you're new to the sport.
Best Perch Ice Fishing in Southern Minnesota
1. Lake Harriet
It only seems right to start our list of lakes with the best perch ice fishing in Minnesota with a lake for beginners. Lake Harriet is a small, 335-acre lake in the heart of Minneapolis. It's very accessible, not very crowded, and small enough for beginners to feel safe on.
While Lake Harriet is most popular for beginners, it's also a great spot for seasoned ice fishing veterans. There are enough yellow perch and walleye to go around for everyone no matter what your skill level is. Be advised, however, that you can't rent any ice houses or vehicles to take onto the lake so dress warm and bring your snowshoes!
2. Lake Elmo
Lake Elmo isn't in the middle of a major city, but it's close enough to Minneapolis and St. Paul to be readily accessible to most of the state. It's also a great option if you're entering Minnesota from the south and are looking for some of the best perch ice fishing in Minnesota near the border.
While Lake Elmo is a good lake for perch ice fishing, it's not a good option for beginners. The waters are very deep near the shoreline on this lake, which is slightly unusual for Minnesota. As such, there's a trick to being successful with your perch ice fishing excursions that you'll only learn with experience.
3. Big Stone Lake
No matter who you ask, Big Stone Lake is always at the top of the list when it comes to the best perch ice fishing in Minnesota. Big Stone Lake is on the western border of the state and runs partially into South Dakota, so you'll have to share the lake with them. However, sharing the lake is well worth it when you're ice fishing for perch on Big Stone Lake.
Big Stone Lake is considered by the Minnesota Department of Natural Resources to have some of the best perch ice fishing in Minnesota. So, if you don't want to take our word for it, you can definitely take theirs!
Best Perch Ice Fishing in Central Minnesota
4. Mille Lacs Lake
When it comes to any type of fishing, there are few lakes more famous or renowned than Mille Lacs Lake. Not only is it home to some of the biggest bass in the state, but it also has some of the best perch ice fishing in Minnesota.
One of the reasons that Mille Lacs is so popular is because it's the second-biggest lake that's entirely in Minnesota. It covers over 200 square miles of area and is conveniently located within two hours of the Twin Cities.
It's not unusual to see more than 5,000 ice houses covering the lake at any given time throughout the winter, with many of these ice anglers targeting yellow perch.
5. Lake Minnetonka
Lake Minnetonka is another lake that's conveniently located within an hour of the Twin Cities that also happens to have some of the best perch ice fishing in Minnesota. Lake Minnetonka is very broken up and divided, so there's a good chance you can get an entire corner all to yourself.
However, even if you're sharing the lake with hundreds of other ice anglers, you're sure to scare up a few perch. There are tons of different nooks and crannies around this lake so it's tough to pinpoint the best exact location. However, as long as you pick a spot with plenty of depth, you're sure to have a good time ice fishing on Lake Minnetonka.
6. Gull Lake
One of the main reasons that Gull Lake has some of the best perch ice fishing in Minnesota is because it often isn't the main target of anglers that hit up this lake. In most cases, they're going after walleye or northern pike, which means they return perch when they accidentally catch them.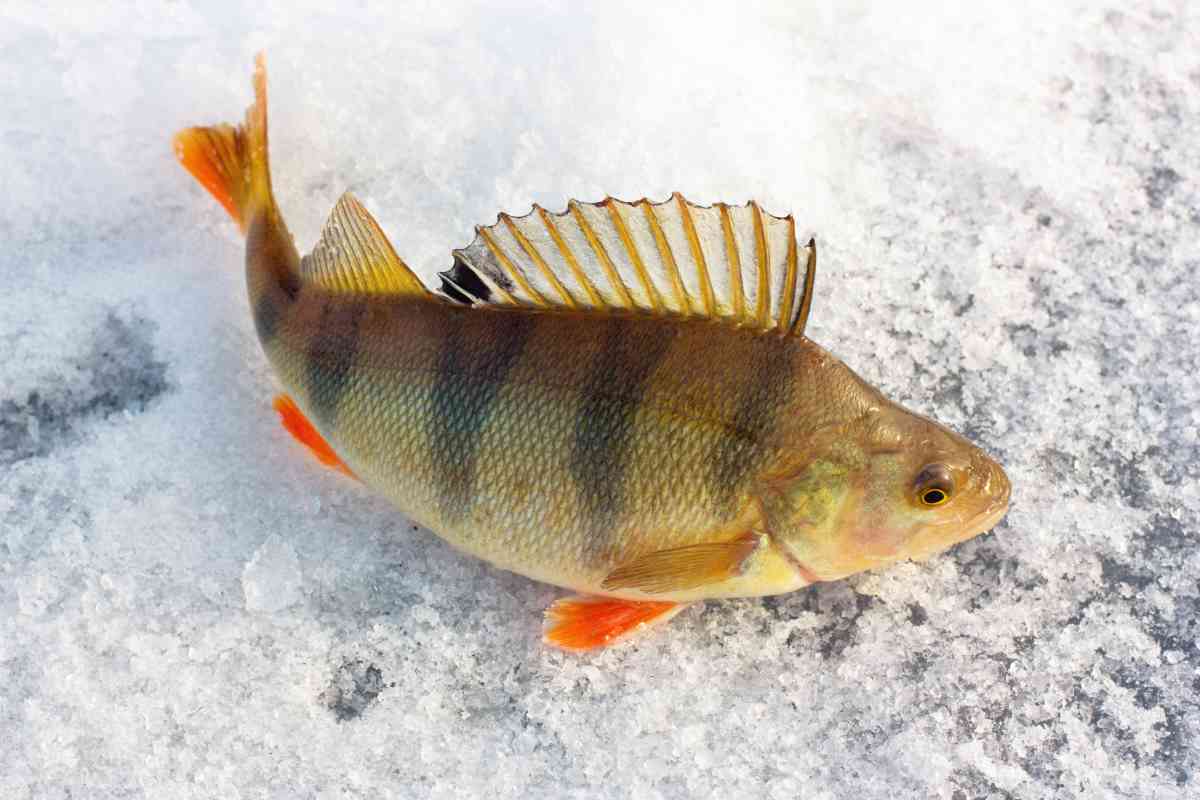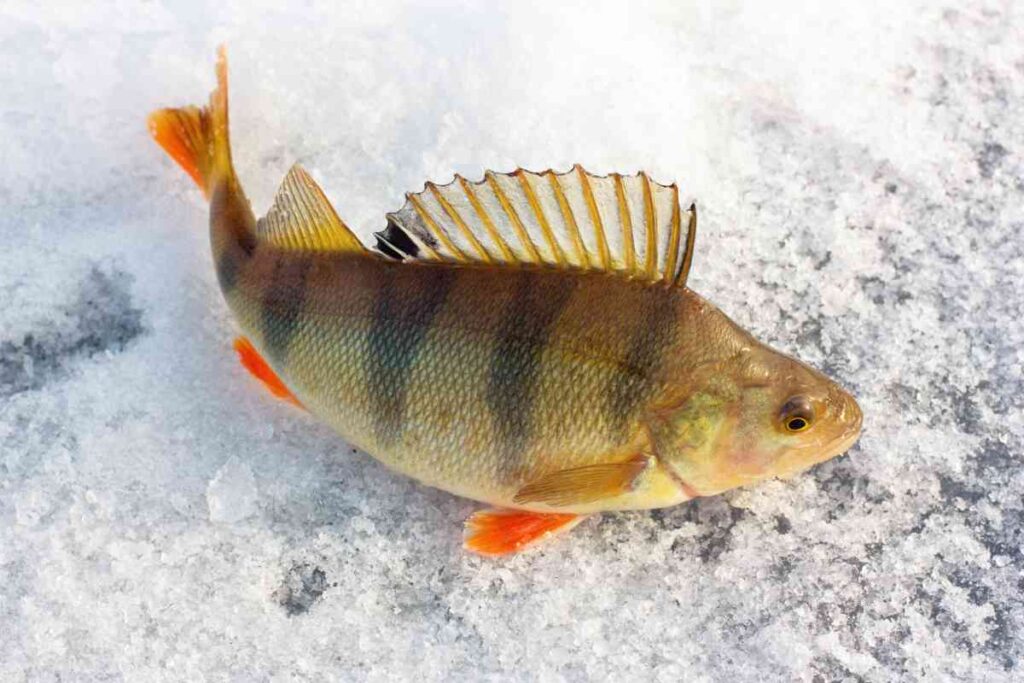 Because of this, the perch in Gull Lake are big and plentiful and love to make appearances during the winter. Gull Lake is also one of the biggest and deepest lakes in the Brainerd area, so there's plenty of space for everybody.
It's so popular, in fact, that there are occasional ice fishing tournaments held on the lake that bring in more than 10,000 ice anglers at a time.
Best Perch Ice Fishing in Northern Minnesota
7. Lake Winnibigoshish
Lake Winnibigoshish, also known as Lake Winnie, is consistently known for having some of the best perch ice fishing in Minnesota. There are numerous resorts located around the lake that offer guided fishing tours and ice shack rentals so that you can try your luck at ice fishing. It's a great place to learn the sport and gain a love for it.
Not only is Lake Winnie a good place to learn how to ice fish. You also have the chance to pull in yellow trout that are more than a foot long, which is fairly sizeable for the ordinarily small fish.
8. Lake Bemidji
To those outside of Minnesota, Bemidji is best known for being the hometown of Marshall Erickson from the television comedy, How I Met Your Mother. However, to fishermen and women, Bemidji is much more than a television icon. It's home to Lake Bemidji, which has some of the best perch ice fishing in Minnesota.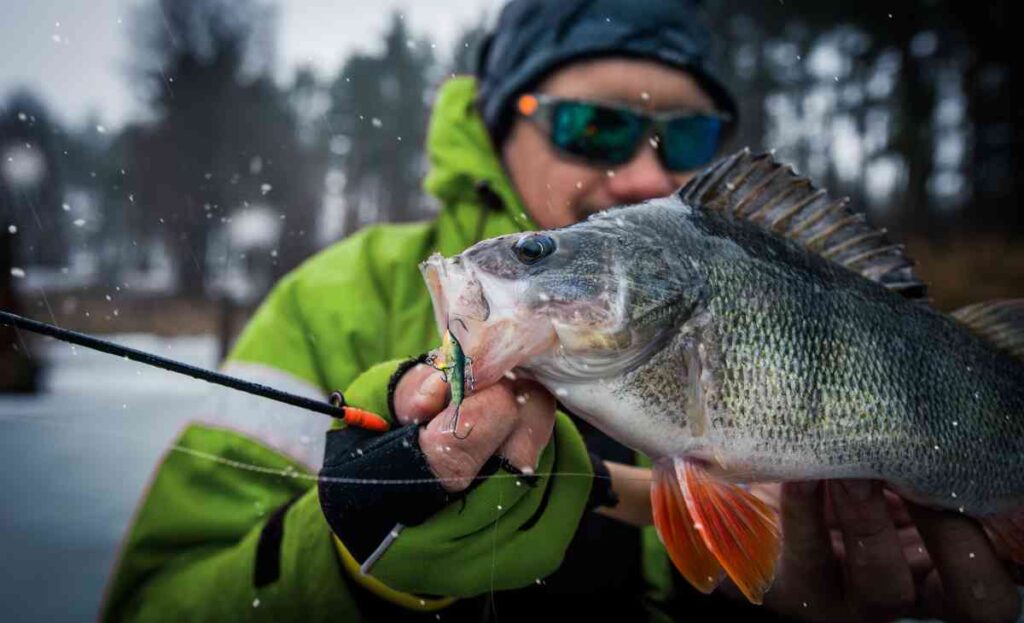 Lake Bemidji isn't just a hotspot for locals, but it's also a favorite for ice anglers coming from outside of the state. It's also extremely popular for family ice fishing outings, thanks to the homey feel that the city of Bemidji offers.
Its popularity is also because Lake Bemidji is part of Lake Bemidji State Park where you can do lots of snowmobiling, cross-country skiing, and snowshoeing.
9. Zippel Bay (Lake of the Woods)
Zippel Bay is part of the much larger Lake of the Woods in the far northern reaches of the state. Part of Lake of the Woods runs into Canada, which means that if you're looking for some of the best perch ice fishing in Minnesota, you should stick to southern Zippel Bay.
While walleye is usually the number one target when it comes to ice fishing at Zippel Bay, perch are a close second. This bay isn't as accessible as many of the other lakes we've looked at so far, which means that it's ripe for perch picking.
Zippel Bay is also a great place for families and group outings because of the many other winter activities you can do and the lodging options you have near the bay.
10. Leech Lake
Another lake that's highly recommended by the Department of Natural Resources as having some of the best perch ice fishing in Minnesota is Leech Lake. Leech Lake is absolutely massive at 112,000 acres big, and yellow perch are one of the main fish species that the lake is restocked with annually.
In fact, from the years of 2021 to 2025, the DNR is making a conscious effort to keep plenty of perch within its waters. As a result, Leech Lake is going to get even more popular than it is already, which means you had better set up shop soon! While Leech Lake is the third-largest lake in Minnesota, it's also one of the most popular, so you'd better hurry.
11. Cass Lake
The final entry on our list of lakes with the best perch ice fishing in Minnesota is arguably the best – Cass Lake. It's so popular, in fact, that there are resorts around the lake that remain successful largely because they provide lodging to ice anglers. Many of these resorts will even drill holes into the ice for you so that all you have to do is show up and start fishing!
You'll also have the opportunity to rent out four-wheelers, ice houses, and any equipment you need to make your perch ice fishing trip a successful and memorable one. Many of the perch in this lake are more than a foot long, so bring plenty of bait and wear your warmest clothing.
Things to Keep in Mind to Enjoy the Best Perch Ice Fishing in Minnesota
Safety First
The only way you'll enjoy success on these lakes with the best perch ice fishing in Minnesota is if you stay safe. Make sure that you check with local guides and ice fishing veterans to ensure that the ice is thick and stable enough to start fishing.
Choose the Right Bait
Perch feed primarily on small baitfish, insects, and shrimp, so make sure you try your luck with live bait or jig bait that's soft and strongly resembles an insect or shrimp.
Have the Right Setup
The key to having success while ice fishing is to be comfortable. You're going to be freezing your butt off on the ice if you don't wear the right clothing and have a decent ice house. Make sure that you have everything you need to stay warm and comfortable so that you can maximize your time on the ice.
Wrapping Up the Best Perch Ice Fishing in Minnesota
As you can see, there are plenty of options when it comes to lakes with the best perch ice fishing in Minnesota. By picking any of the options on this list and adhering to our "things to keep in mind," you're sure to enjoy your perch ice fishing experience.
While you're looking into your ice fishing options, consider the best places for walleye ice fishing in Minnesota.
Want to learn more about fishing, discover more fishing spots, and or read up on the best fishing gear? Then continue your fishing adventure with our comprehensive guides, info posts, and more!
Looking for Minnesota winter inspiration? Check out our Minnesota winter guide for activity ideas, winter apparel suggestion, and endless ways to enjoy the snow!
About the Author
Latest Posts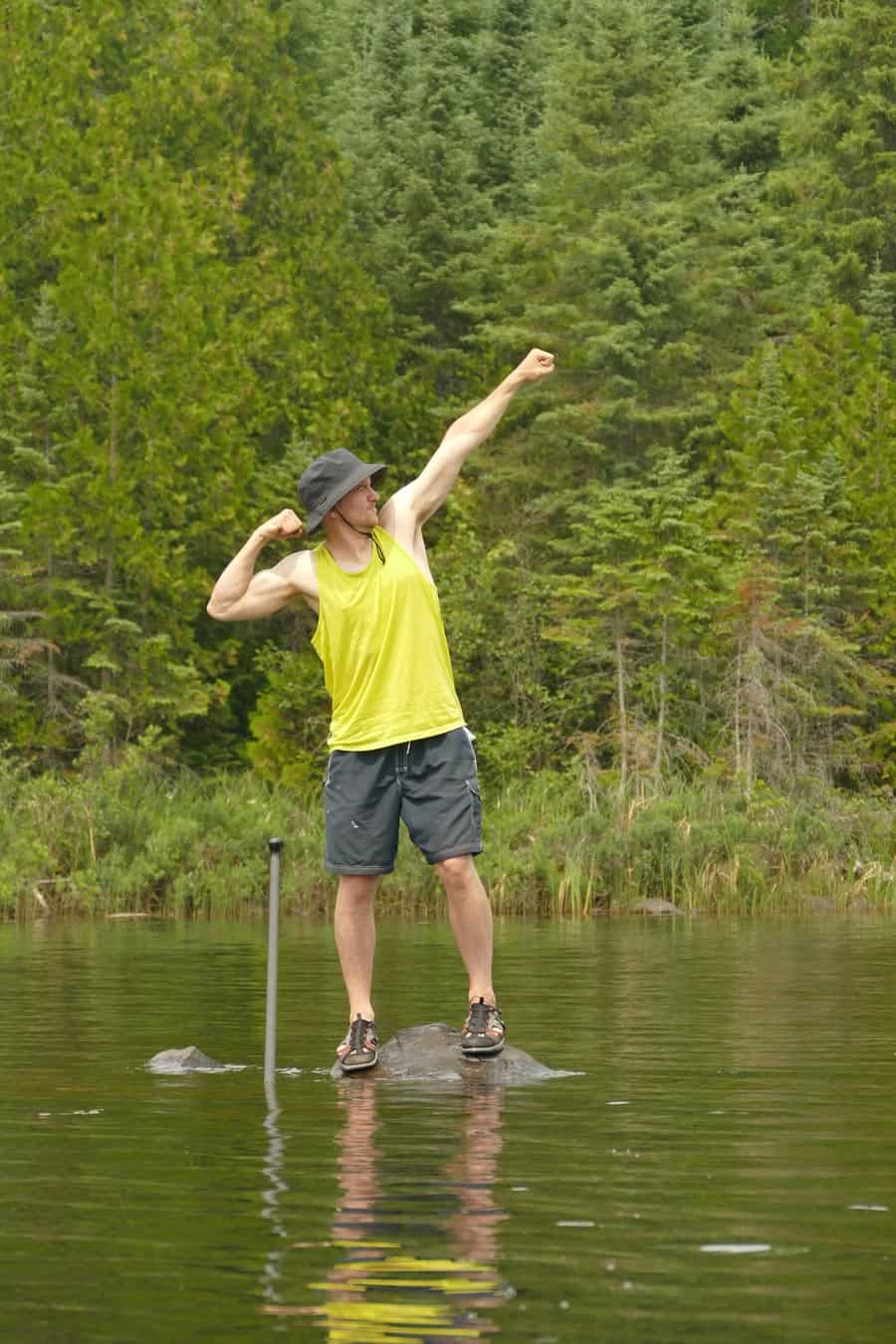 Born in Madelia, MN, to a now 5-generation Minnesota family, Ryan's MN roots go deep.
A painter by day, Ryan founded Life in Minnesota in 2013 with his wife Kelly to chronicle their musings on everything Minnesota. Ryan and Kelly are raising their 7 kiddos in Maple Grove, MN.
When he's not shuttling his kids around to hockey practice, you might find him in the shop working on his leatherwork. Undoubtedly, there will be a family trip to the Boundary Waters Canoe Area every summer, and of course weekends at Grandpa's cabin up north in the summer.