Minnesota receives plenty of visitors from other states throughout the year. But even if you're a resident, it's fun to explore your own backyard, take a day trip, or spend the weekend somewhere new. When you're looking for the best places to stay in Minnesota, one of these accommodations should be at the top of your list.
Campgrounds
Camping is one of Minnesota's favorite pastimes. It's a great way to get some sun and reconnect with nature while stepping away from the demands of daily life for a little white. In fact, some of the best places to stay in Minnesota are at campgrounds!
Silver Sage Guest Ranch – For the family that loves to get outdoors and try something new, Silver Sage has all you could hope for. Just under 20 miles east of Fergus Falls is the town of Battle Lake. Head another 11 miles to the southeast, and you'll end up at 427 acres of picturesque country fields.
Take advantage of the private lake and go boating, swimming, fishing, paddle boarding, kayaking, canoeing, or paddle boating. They even have a water slide, raft, and water blob for a little extra fun. If you prefer to stay on dry land, there's a volleyball court, hiking trails, a playground for the kids, golfing, and more.
The main draw of Silver Sage Guest Ranch is the horseback riding. Families return year after year to experience the beauty of the Midwestern countryside on horseback. Although you have to be at least 7 years old to ride the horses, there are pony rides available for the younger ones.
Lake Byllesby Campground – Take a quick drive 45 minutes southeast of Minneapolis to Lake Byllesby Regional Park. Set up camp along the shores of Lake Byllesby Reservoir and explore the three-mile-long paved trail. Kids can let loose on the playground while adults take turns at the horseshoe pits.
When you're ready for a dip in the water, head over to the sandy beach area. Children love building sandcastles or visiting the splash pad for a little extra fun. Every campsite includes a picnic table and fire ring, and there's a motorized and non-motorized boat launch to help get you on the water easily. Try fishing, swimming, or just cruising along to take it all in. In the winter, you can enjoy ice fishing, dogsledding, and skijoring. All of these amazing outdoor activities places Lake Byllesby Campground soundly on the list of the best places to stay in Minnesota.
Clear Lake Campground – In the town of Watkins, 90 minutes northwest of Minneapolis, is a 500 acre lake that's perfect for your weekend getaway. Call in advance to secure a seasonal RV spot and wake up to a lakeside view every morning. Docks and boat lifts are added to the water's edge every spring so you can make the most of your time at the lake.
A new playground has been installed for the kids that features packed sand underneath a structure which includes three slides, steps, and poles for climbing. For campers' convenience, a new bridge creates a more accessible path for golf carts and pedestrians over a small strip of water throughout the campground. Gather around the communal bonfire and make new friends. Join them for one of their yearly events for a potluck, bingo, and bags tournament.
Fox Lake Campground of Bemidji – Bemidji is well-known as a popular weekend vacation spot for those wanting to go "up north" and relax at one of the best places to stay in Minnesota. Lake Bemidji is the main attraction in town, though the Paul Bunyan and Baby the Blue Ox statues on the edge of the lake are the second most photographed roadside attraction in the US.
Travel just a few miles north of Lake Bemidji to Fox Lake and you'll arrive at a family-friendly destination that's perfect for making memories. Take some time to relax on the sandy beach or head out on the water to kayak or paddleboat. For the adventurous, hook up an inner tube or water skis to the boat and show off your skills! The 13-acre campground has plenty of room for everyone so feel free to make a family reunion happen! Anybody up for a game of volleyball, basketball, or tetherball?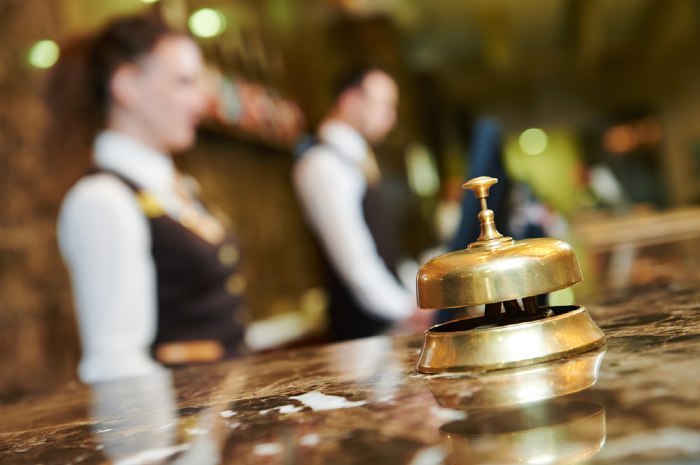 Unique Hotels
Have you ever woken up in a hotel and wondered where you are? They all kind of look the same, don't they? Well, you won't have any trouble remembering what city you're in when you stay at one of these unique hotels in Minnesota.
Fitgers Inn – Duluth is a popular choice for visitors to Minnesota, and for good reason! Set on the shores of Lake Superior, it has a beauty you just can't find anywhere else. When you visit, stay at Fitger's Inn. This 1880s building was once home to Fitger's Brewery. Despite making it through Prohibition, the brewery ceased operations in 1972.
The building was re-opened in 1984 and included the hotel, restaurants, and shopping. Today, they are again brewing beer to be served in one of the three on-site restaurants or two nightclubs. The addition of a salon and day spa makes Fitger's Inn an all-in-one destination.
Among the 62 rooms and suites, you can choose a city or lake view, queen or king-sized bed, and your preferred level of comfort with a standard room, deluxe, luxury, executive, or whirlpool suite. Regardless of which you choose, you'll sleep on a Serta Presidential Suite Pillow Top Bed which has been specially designed for the guests of Fitger's Inn.
Bluefin Bay – For a true Minnesota experience, stay at Bluefin Bay in Tofte. Halfway between Silver Bay and Grand Marais, right along the shores of Lake Superior, you'll be able to experience the best that the North Shore has to offer.
For a relaxing stay at one of the best places to stay in Minnesota, enjoy their spa services, sauna, or whirlpool. When you're ready to get active, rent a bike and take to the trails or head out on the water for some fishing, canoeing, or kayaking. And when the snow falls, enjoy snowmobiling, snowshoeing, or taking a dip in the indoor pool.
Rooms can include a fireplace, kitchenette, whirlpool tub, and air conditioning. Bridal suites are available for your big day and pets are always welcome!
St. James Hotel – In southern Minnesota, snuggled right in the middle of Minneapolis/St. Paul and Rochester is the city of Red Wing. Right on the banks of the Mississippi River, you're just a stone's throw from Wisconsin … literally!
At the historic St. James Hotel, each of the 67 guest rooms is uniquely designed so no matter how often you visit, you'll always experience something new! The blend of Victorian charm with modern touches gives a classic yet elegant feel. It'll make you want to put on your best dress and enjoy a dinner date with your sweetie! There are plenty of options for fun in town from unique gift shops, art museums, history museums, and theatres.
Hotel Crosby – For a weekend getaway that makes you feel miles from home, visit the town of Stillwater. Sitting next to the St. Croix River, this town is full of laid-back luxury. From bars and restaurants to parks and shopping, you'll feel relaxed and invigorated at the same time, especially when you stay at Hotel Crosby.
The warm, cozy atmosphere will take all your stress away. Enjoy a delicious meal at their on-site tapas restaurant or try some exotic and rare whiskeys at the bar. Treat yourself to some time in the rooftop hot tub or take advantage of the rejuvenating services at the spa and salon. And if you feel like being a little adventurous, you can rent a boat or motorcycle to get your adrenaline pumping. When it comes time to check out, you'll already be thinking about your next visit.
Luxury Resorts
When you want the complete package for your vacation, resorts are the way to go. You don't have to worry about parking, navigating strange roads, or ending up somewhere that's a little less appealing than advertised. These all-in-one resorts are the best places to stay in Minnesota.
Grand View Lodge – Since 1916, guests have enjoyed memorable vacations at Grand View Lodge Spa & Golf Resort in Nisswa. Located on 750 acres of rich pine forest, the property boasts five distinct areas for lodging, depending on what you plan to do and how many rooms you need. Book a tee time on one of the two golf courses.
Enjoy a different meal every night at each of the eight restaurants. Renew yourself with the 70+ services from the Glacial Waters Spa. If the 2,500 feet of sandy beach aren't enough for you, there are also two indoor pools. Get active with a variety of activities including biking, horse riding, tennis, zipline, bingo, lawn games, volleyball, yoga, and so much more. There's plenty of fun to be had all year long, no matter what you or anyone else in your group is into!
Woodland Beach Resort – For a resort with a true taste of Minnesota, head to Bay Lake and stay at Woodland Beach. At this fishing resort, you'll have access to 2,392 acres of water for catching bass, walleye, crappie, sunfish, and northern pike. Bring your own boat or pontoon, or rent one from the property. You can also rent a canoe, paddleboat, paddleboards, or kayak for other ways to get out on the water.
This is a great family resort thanks to the variety of available amenities. Take a dip in the pool or hot tub. Kids can bounce around on the 25 foot trampoline. There's also a playground, ping pong table, horseshoes pit, volleyball court, tetherball, and basketball.
This resort offers 20 different cabins with one to four bedrooms. All cabins include air conditioning, kitchens, microwaves, cable TV, free WiFi, a deck with picnic table and Weber grill. The classic cabins are available from May through October, while seven others are available year-round. These seven also include a gas fireplace, and in-floor heating on the main level to keep you cozy throughout winter.
Temperance Landing on Lake Superior – Capture the feeling of a ski vacation right here in Minnesota when you stay at Temperance Landing on Lake Superior. These 3,000 square foot luxury log homes have three levels with three bedrooms and three bathrooms and can accommodate groups of up to 8 people. With picturesque views, vaulted ceilings, fireplaces, a whirlpool tub, and a large porch for soaking in the sunset over the lake, you'll never have a reason to leave.
At the neighboring sister resort, Surfside on Lake Superior, you have full access to the pool and Waves of Superior Spa during your stay. Whether you're looking for a family vacation, a place to celebrate the holidays, or just a couples weekend away, you'll love your time at Temperance Landing.
Great Wolf Lodge – If you're looking for the most family-friendly resort in Minnesota, you'll want to stay at Great Wolf Lodge in Bloomington. Although it's well-known as an amazing, 75,000-square-foot water park, there's so much more to this resort! Kids can enjoy climbing through the ropes course, a bowling alley that's just their size, gaming at the arcade, reaching new heights at the rock climbing wall, and discovering treasure while mining in the paydirt.
Add some extra fun to your stay and join the MagiQuest! This virtual reality game starts by choosing a magic wand and filling it with extra powers. Then, start waving your wand throughout the resort to search for a treasure chest and glowing crystals.
Stay in one of the 404 spacious suites, grab a bite to eat at one of the five restaurants, or pick up some souvenirs and candy at the unique shops.
Ruttger's Bay – Although now operating under a new owner, Ruttger's Bay was family-owned and operated for 122 years. The Ruttger family still remains involved in operations, ensuring the continuation of their tradition. This resort has a full list of luxury amenities including two golf courses, a marina, salon & spa, three restaurants, two bars, boutique shopping, a coffee shop, and much more.
For some time outdoors, relax with a drink or s'mores by one of the nine bonfires spread throughout the property. Enjoy the water with fishing, boating, and water sports. You're also at the closest resort to the Cuyuna Country State Recreation Area which features mountain biking and hiking trails.
Ruttger's Bay Resort is ready to host more than just a vacation. You can also plan to have your wedding here, team building activities, meetings and retreats, or other social gatherings you want to celebrate.
Casinos
Try your luck at one of the best places to stay in Minnesota – our casinos! More than just gambling, these places also provide excellent food and drinks as well as live entertainment. Get your laugh on at a comedy show, or dance to the beat at a concert. There's plenty more fun to be had than just gaming!
Running Aces – Whether you're new to casinos or an old hand at it, you'll enjoy your time at Running Aces Casino & Racetrack. In the card room, you can play Blackjack, Pai Gow, EZ Baccarat, and more. There's also a poker room with live games including No Limit Hold 'Em, Omaha, and Stud. If you've got a great poker face, take part in one of their tournaments. You can start with the free buy-ins, or play with the high rollers for the $200,000 prize pool.
From late May to mid-September, you can watch the excitement of live harness horse racing on Tuesdays, Saturdays, and Sundays.
Grab a nice meal at the Trout Air Tavern where you'll find Minnesota classics that have been elevated with a new flair. You can even join the Trout Air Experience to catch your own fish and have it prepared for you in the restaurant.
Mystic Lake – Mystic Lake Casino Hotel offers two experiences in one. The Promenade Hotel Tower has 180 rooms with beautiful views of the golf course, modern amenities, and easy access to all the games, dining, and entertainment in the casino. The new Mystic Lake Center is a state-of-the-art meeting and events facility. With 70,000 square feet of event space and 766 well-appointed rooms, you can host a wedding, business conference, team-building retreat, and much more.
Relax and unwind at the on-site spa. Bring your clubs to enjoy the award-winning golf course. Take your special someone out for date night at Mystic Steakhouse. Meet up for happy hour at Drinx Bar. Be sure to check the latest events to see which musical and comedy acts are coming to town. If you plan to become a frequent visitor (and why wouldn't you?!), join Club M, their five-tier membership rewards program.
Jackpot Junction – In west central Minnesota, you can experience the excitement of a big win at the Jackpot Junction Casino Hotel in Morton. This facility offers over 440,000 square feet of gaming. There are 24 table games to play Blackjack, High Card Flush, and more. If cards aren't your thing, pull the lever on 1,250 slot machines. Don't forget your daubers for live bingo!
Start your day with a quick workout in the fitness center, and grab a tasty breakfast at one of the on-site restaurants. Head outside for your tee time at the golf course and make sure you have tickets to the top rock, country, pop, and comedy performers when they come to visit. There are 1,900 seats at the indoor concert theatre, and 5,000 seats at the outdoor amphitheater.
When you're done playing for the day, resign to one of the 378 deluxe rooms. You'll have access to free WiFi, a heated indoor pool and hot tub, a sauna, and a pool just for the kids.
Northern Lights – The city of Walker has one of the best places to stay in Minnesota because it gives you several options to indulge yourself. The ultimate relaxation awaits you in one of the 105 hotel rooms. We highly recommend the two-room suites since they have a Jacuzzi, king-sized bed, separate living area, fireplace, and dining area. You'll also be able to enter the zero clearance pool or large hot tub.
The event center boasts 9,000 square feet of convention and meeting rooms for hosting conferences, business retreats, weddings, and more. If needed, they also offer a full-service catering menu if you've got a large crowd to feed.
When you get hungry, there are several dining options including the all-you-can-eat buffet or fine dining restaurants with nightly specials and weekend brunch.
Of course, this is a casino; you came for the games. See what you can win at the 900 slot machines, blackjack tables, or poker room. There's also an arcade if you're into a different type of gaming.
Grand Portage – With gorgeous views of Lake Superior, you might not even care about the 15,000 square foot casino. But, in case you do, you'll have plenty of fun at the bingo hall, 450 slot machines, or blackjack tables.
Rest up in the lodge and enjoy the pool, sauna, gift shop, meeting spaces, lounge area, and dining with a view. Nearby, you can explore the Grand Portage State Park, Grand Portage National Monument, and Isle Royale National Park. Go for a summer hike along the 167 kilometers of trails, or get your adrenaline pumping on a snowmobile in the winter.
Turn your casino trip into a camping vacation at one of the best places to stay in Minnesota. Bring your RV to park at the marina or set up a tent. Wish on a star in the night sky, then try your luck tomorrow in the casino!
What Do You Think Are the Best Places to Stay in Minnesota?
We hope you're excited to get out and explore some of the places mentioned above. If we didn't list your favorite one, please tell us about it in the comments below! You can also subscribe to our newsletter to keep up with all the latest and greatest things Minnesota has to offer.
Still haven't found your perfect getaway? Then keep learning about unique places to stay in Minnesota to book the perfect reservation for your next trip!
Ready for more Minnesota advice, info, and guides? Whether you're a local or a passerby, discover the best of Minnesota that our great state has to offer!