While summertime is winding down in Minnesota, do outdoor activities really ever stop when it comes to your kids? No matter the season, they love to play outside, especially at parks and playgrounds. If you live in the North Star state, and you're looking for the best playgrounds in Minnesota to take your kids to, I'm happy to say that you have a lot of options.
All of the playgrounds on this list have what you'd expect (slides, jungle gyms, monkey bars, swings, etc.) but some even have swimming pools; making them perfect to end the summer season with. Here's some of the best playgrounds in Minnesota
Located in south Minneapolis, Powderhorn Park is a four season park. In the summer you can enjoy the grass or wading pool. In the winter try the ice rink with the kids! There is something here for everyone and can be enjoyed in any weather or season.
Round Lake Park was made for families! Kids love the play structures, merry-go-round and playgrounds.
On hot days enjoy the splash pads or enjoy a rented kayak on the lake. There is plenty of beach and picnic area as well as paths to explore. Lastly, you and your whole family can enjoy stand-up paddleboards (and it's only $8 an hour!).
Just a short walk from downtown Minneapolis this area offers a wide variety of activities for all ages. The playground offers two play structures for different ages and many trails to explore.
North Loop playground is near the Mississippi River, within walking distance of downtown Minneapolis, and surrounded by gorgeous walking trails, bike paths, and historical sights. In other words, after you let your kids play at North Loop, you have limitless options when it comes to activities you can try in the area.
Located in Maple Grove this park is beautiful and its large size offers something for everyone. The playground offers a comfortable rubber floor, large climbing tower, swings, and much more. It is divided up into several different play areas.
Central Park has fun splash fountains for the kids and relaxing gardens and trails for parents. In the colder months be sure to check out the ice loop that goes through the park. It is free for skating and lit with LEDs.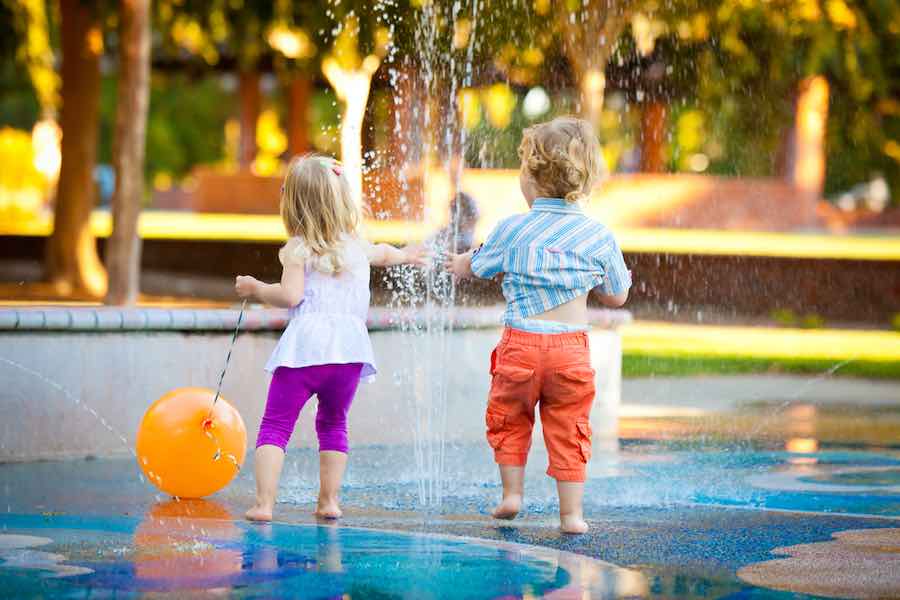 Madison's Place Playground is considered by many as one of the best playgrounds in Minnesota, mainly due to its sheer size. At 16,000 square feet, it's big enough for a lot of kids to enjoy!
It also features plenty of shaded areas that have been built into the play structures to protect kids from staying in the sun for too long. Your kids can also enjoy the splash pad at Madison's Place, which is free for everyone and open during the summer.
Kids love this playground for its bright colors and exciting play structures. There is a large covered fenced-in area to keep kids safe.
Elm Creek Park Reserve's Play Area offers lots for kids to climb and play on. They even have a sandy dino dig area where kids can make believe they're archeologists searching for dinosaur bones. For just $5, you can visit the swimming pond next door to the park, which is chlorinated and has a sand bottom.
Teddy Bear Park is in Stillwater and named after the large teddy bear statues located throughout.
The play structures feature different fun shapes for kids but also plenty of seating for parents. Teddy Bear Park gives peace of mind to parents as it is known for it is well known in the area for safety and cleanliness. Once your kids are done having a blast at the park, you can try an assortment of ice cream flavors at Leo's Grill & Malt Shop, which is nearby on Main Street.
Unlike the average play park Schaper Park actually offers things to interest older kids. They have a great challenge course featuring a variety of obstacles. Little kids like to explore the obstacles but teenagers can take it more seriously by using the provided clocks to compete in challenges.
Levin Triangle Park underwent a reconstruction in 2012 and is located in a beautiful neighborhood in Minneapolis. Only a block away from Lake of the Isles this small park has everything a park needs. There are swings, a sand pit, and climbing structures. After a day of playing in the park it is easy to head into town and grab lunch.
We love taking our kids to Wabun, as it features one of the best park pools in the area. It's a hybrid for kids and adults offering zero-depth entryway points and deeper ends for older kids and grown ups.
What's more Wabun also has some of the best playground equipment, some of which was just installed during a recent renovation of the park.
Ensuring Your Kids Are Safe
We all want our kids to be safe out there and to have fun when visiting one of these playgrounds. Use these tips to ensure nothing goes wrong:
Keep your child within eyeshot at all times and don't let them wander off.
Talk to your kids before you arrive about NOT speaking to strangers. You should also teach them techniques to use in case a stranger does try to speak to them. I tell my kids to find an adult immediately and scream as loud as they can.
Go Out & Have Some Fun!
What are you waiting for? You should plan out a day to visit one of the magnificent parks and playgrounds in Minnesota on this list.
Keep in mind, with the current pandemic, some of these parks and playgrounds may have limitations when it comes to their pools, along with strict social distancing guidelines to follow in order to visit. This is why you should research each of the options on this list before you visit them so you're aware beforehand.
Ready for more Minnesota advice, info, and guides? Whether you're a local or a passerby, discover the best of Minnesota that our great state has to offer!
Looking for some warm weather recommendations? Discover spring and summer in Minnesota for best destinations, travel recommendations, small (and big!) town events, and more!
Looking for more autumnal activities? Then visit our Minnesota Fall page to find inspiration for sweater weather fun!