Are you looking for lake activities to do with your family and friends this summer? Whether you want to be active and get some exercise, relax on the water, or spend some time on the shore, you're sure to find an activity on this list to enjoy. Keep reading for 31 lake activities to try this summer.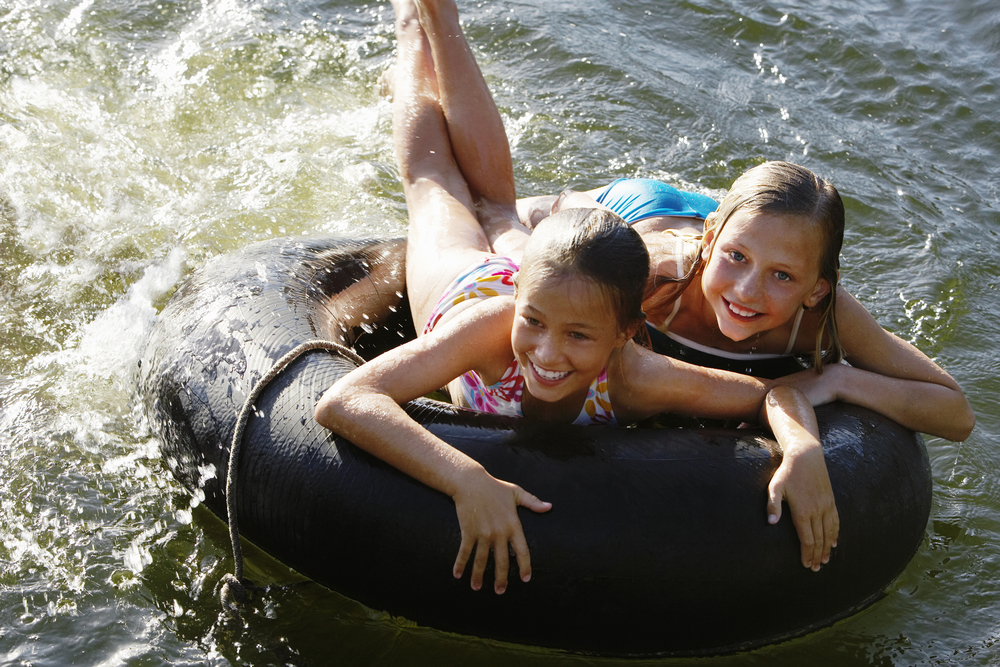 Active Lake Activities
If you like to stay active but it's too hot to work out on shore, active lake activities are a great way to get some exercise in while staying cool and having some fun.
1. Tubing
If you have a boat, riding a tube is tons of fun. Holding onto a tube while a boat pulls you around is an active lake activity that doesn't require any special skills. If you don't have a boat, you can still have fun floating around the lake on a tube.
2. Paddleboarding
If you've never used a paddleboard before, you can start out on your knees. After some practice, you'll be ready to try stand-up paddleboarding. You can rent a paddleboard to try it out before deciding if you'd like to purchase your own.
3. Canoeing
Canoeing is old-fashioned lake fun for adults and kids alike. If you don't have a canoe, you can easily rent one for the day to take out on the water.
4. Kayaking
Kayaking is a great way to stay active while you're out on the lake. You can rent a kayak or purchase one to use over and over again. Kayaking is easy to learn on a lake and great fun for kids and adults.
5. Water Skiing
Water skiing takes some practice but once you get the hang of it you'll love floating over the water on skis as a boat pulls you along.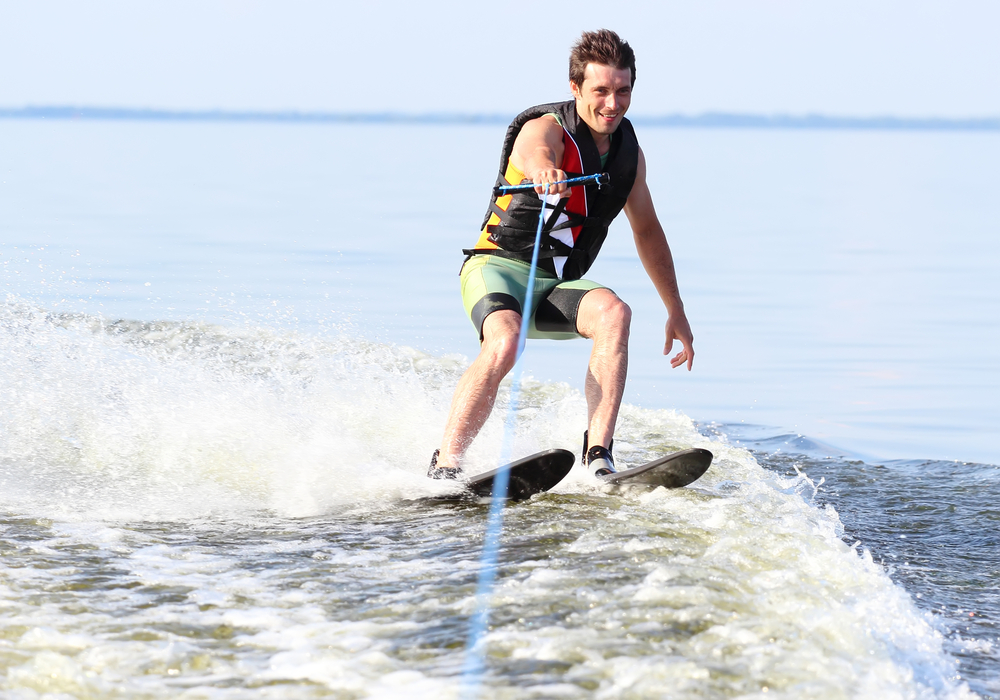 6. Wakeboarding
Wakeboarding takes some time to learn as well but it's also a lot of fun. If you've already had some practice you can try learning some new tricks.
7. Kite Surfing
If your lake gets a lot of wind why not give kite surfing a try? Kite surfing brings together several different water sports like wakeboarding, surfing, and windsurfing.
8. Jet Skiing
Riding around the lake on a jet ski is tons of fun. If you don't have your own, you can rent a jet ski for the day or a few hours.
9. Swimming
With all that water, why not hop in and take a swim? Whether you want to get some exercise or just splash around, there's no wrong way to enjoy a swim at the lake.
Relaxing Lake Activities
What better way is there to relax on a hot summer day than spending some time by the water. Check out these relaxing lake activities to get some quality R&R.
10. Take a Nap
Find a comfortable spot and let the gentle rocking of the boat lull you to sleep.
11. Read a Book
Reading a book is a great way to relax, both on and off the water. When you're on a boat, why not find a cozy spot to lounge and spend a relaxing afternoon getting lost in a good book.
12. Take some Photos
There are so many beautiful things to see when you're out on the lake. With gorgeous scenery all around you'll find no shortage of great photo opportunities when you're spending time on the water.
13. Watch the Sunset
Watching the sunset at the lake is one of the best ways to end your day. The sun shining on the water as it goes down is so beautiful and peaceful.
14. Watch the Sunrise
If you don't mind getting up early, catching a sunrise on the lake can be just as incredible as watching the sunset. Mornings on the lake are so calm and quiet, it's an amazing way to start your day.
15. Stargazing
Without all the city lights so close by, you can get an amazing view of the night sky. On a clear night take some time to look up and enjoy the beautiful sight of the stars.
Lake Activities on a Boat
Next up you'll find lake activities to do on a boat. If you don't have your own boat, you can rent one for a few hours or a whole weekend. Spending some time on a boat is one of the best ways to enjoy lake activities in the summertime.
16. Bird Watching
There are many interesting birds you can see near lakes that you might not find in other areas. Depending on where you live you might see swans, ducks, coots, cranes, geese, eagles, owls, and many more. Bring a pair of binoculars and see what birds you can find as you cruise around the lake.
17. Fishing
Fishing is one of the most classic lake activities. Whether you're an expert fisherman or just a beginner, you can have a great time catching some fish on the lake this summer.
18. Relax on a Pontoon
A pontoon boat is a lot of fun to take out with family and friends. Many pontoon boots have cool features like two levels or even slides. You can have a fantastic time spending the day on a lake with a pontoon boat.
19. Drive a Speed Boat
Speed boats are great for all kinds of water sports like water skiing, tubing, and wakeboarding. They're also a lot of fun to drive around! Take a speedboat around the lake and enjoy the scenery while you look for a good spot to swim.
Lake Activities at the Beach
Even when you're not on the water there are a lot of fantastic activities to enjoy at the lake. Here are some lake activities to try at the beach.
20. Take a Lakeside Yoga Class
If you like yoga, taking a class in the fresh air near a lake is a unique experience that you will definitely enjoy. Many yoga studios offer lakeside yoga classes in the summer. Check with your local yoga studios or city events page to find a yoga class by a lake near you.
21. Enjoy a meal by the water
Is there anything better than enjoying a meal with a beautiful lakeside view? Many lakes have picnic areas with barbecues and picnic tables where you can prepare a meal, or just bring a blanket and enjoy a simple picnic.
22. Have a bonfire
When the sun goes down you don't have to go home. Why not enjoy the lake a little longer with a bonfire on the beach? You can grill hotdogs and s'mores or just relax by the fire as you enjoy being outside in the evening.
23. Sunbathe
The beach by a lake is the perfect place to spend some time sunbathing. Work on your tan while you relax on the shore.
24. Hiking
Many lakes have hiking trails around the lake with beautiful views. If you're ready to spend some time on dry land, check out a hiking trail. You can always cool off afterward with a quick swim in the lake.
Lake Activities with Kids
Keeping kids entertained at the lake can be challenging. Try one of these lake activities with kids this summer.
25. Have a Cardboard Boat Race
Kids will have tons of fun designing their own cardboard boats and testing them out on the lake. All you need is some old boxes, trash bags, and duct tape. Get some friends together and have a race!
26. Have a Cannonball or Belly Flop Contest
Who doesn't like a little friendly competition? Kids and adults alike can both have fun showing off their skills in a cannonball or belly flop contest. If anyone doesn't want to play, they can be the judges!
27. Snorkeling
Snorkeling isn't just for the ocean, there are lots of interesting things to see under the surface of the lake as well. Kids will enjoy looking for fish and plants as they swim around with goggles and a snorkel.
Games to Play at the Lake
Traditional pool games can also work at the lake. You may want to designate boundaries for the playing area to keep everyone from spreading out too much.
28. Floating Cornhole
If you like playing cornhole on dry land, why not try it on the lake? This floating cornhole game comes with two goals and eight inflatable bean bags. You can find it on Amazon.
29. Marco Polo
In this classic game, whoever is "it" tries to find the other players in the water with their eyes closed by calling out "Marco". The other swimmers call out "Polo" in response while trying not to get caught. When someone is caught they become "it" and the game continues.
30. Chicken Fight
You need four people to play chicken fight. Two people stand in the water while two more people climb up on their shoulders, facing each other. The people on top of the shoulders try to knock each other off into the water.
31. Sharks and Minnows
To play Sharks and Minnows, choose a designated area and have the swimmers (minnows) line up on one side. Whoever is the shark will stay in the middle. At the start of the game, the minnows have to swim to the other side without getting tagged by the shark. Anyone who gets tagged becomes a shark for the next round. Keep playing until all the minnows are caught.
Time to Dive Into Some Lake Activities
On a hot summer day, there's nothing better than having some fun on the lake. Which of these lake activities are you looking forward to trying out first? If you're wondering which lake to visit first, check out 20 of the Largest Lakes in Minnesota and 21 of the Best Lakes in Minnesota for a Summer's Day.
If you enjoy lake fishing, explore our Fishing page for a great variety of Minnesota fishing information.
For the more adventurous angler, don't miss The Complete Boundary Waters Fishing Guide!
Can't get enough of Minnesota lakes? Then keep living the Minnesota lake life with the help of my info posts and guides!
Looking for some warm weather recommendations? Discover spring and summer in Minnesota for best destinations, travel recommendations, small (and big!) town events, and more!