While the beautiful state of Minnesota is known as the "Land of 10,000 Lakes", that's not all it has to offer residents and the millions of guests who visit every year. There is so much more to the Gopher State, and we're going to look at 11 Minnesota landmarks across the state that you should plan on visiting!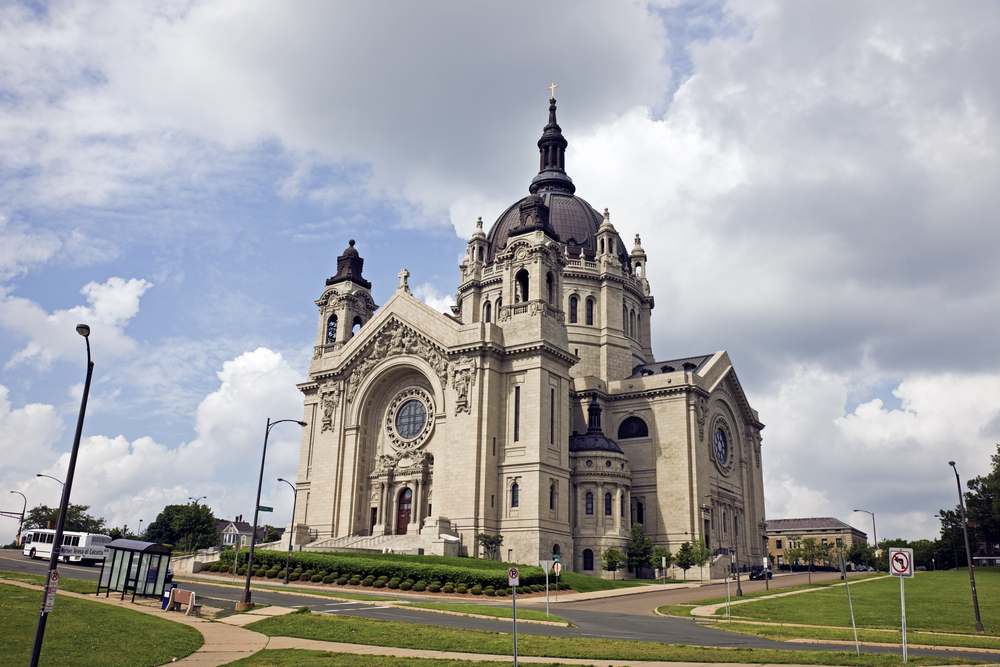 Historic Minnesota Landmarks
Minnesota is full of some amazing history and it's well preserved for you to visit!
1. Cathedral of St. Paul
The awe-inspiring building that now stands in the heart of the city is actually the fourth building to be called the Cathedral of St. Paul. What started as a humble log cabin in 1840 became one of the most distinguishing cathedrals in the country and a Minnesota landmark after the cornerstone was laid in 1904.
Known for its unique copper dome, you can visit this historic landmark any day of the week, with 10 opportunities a week to attend a mass. Guided tours are offered a few days a week and will give you the opportunity to take in the 76-foot tall dome and the 24 massive stained glass windows that depict choirs of angels.
While visiting the Cathedral of St. Paul, If you're looking for great things to do in the St. Paul area, check out 20 of the Best Things to Do in St. Paul Minnesota.
2. F. Scott Fitzgerald House
Next on our list of great Minnesota Landmarks is the F. Scott Fitzgerald House. If you love literature, especially the classics, you won't want to miss the opportunity to visit a true Minnesota landmark, the F. Scott Fitzgerald House. After the love of his life broke off their engagement, a heartbroken Fitzgerald moved back in with his parents at this house in 1918.
It was in this house that he wrote his very first novel, This Side of Paradise. This was the novel that started everything for him.
The house is now privately owned and doesn't offer tours, but it's still an amazing piece of architecture to enjoy looking at and you can see the balcony where Fitzgerald took his smoke breaks while writing.
3. Fort Snelling
Fort Snelling is actually older than the state of Minnesota. Completed in 1825, it acted as a community hub for years. Once the Civil War started, it became a training ground for the Union Army and continued to be a place used for training all the way through World War II.
Since 1960, Fort Snelling has been considered a historic Minnesota landmark and now offers people an opportunity to see what life was like in the pioneer days. They have self-guided and guided tours with many demonstrations to immerse you in history, including a school lesson, cooking over a fire, and blacksmithing.
Enjoy our article on Fort Snelling and discover why it was an important point in Minnesota history.
4. Frederick R. Weisman Art Museum
One of the most unique Minnesota landmarks, the Frederick R. Weisman Art Museum is located on the campus of the University of Minnesota and is open to guests, free of charge, daily.
While the art inside is rotating and a great way to spend an afternoon, make sure you save some time in your visit to really look at the outside of the building.
While it blends in and looks like a normal brick building on its south and east sides, the north and west sides are a wild abstract of shapes made out of shiny steel. It was designed by Frank Gehry in the early 90s. That was a time before many people used computers to assist in architectural designs, making it all the more impressive!
5. International Wolf Center
For close to 100 years, the information gathered about wolves from the area surrounding this landmark in Minnesota has taught the world most of what we know about them. Since 1993, the International Wolf Center has acted as an education center for all things wolves.
At the center, you can observe a local pack of wolves and learn all you could want to know: how they eat, how they hunt, how they learn, and how they grow. There are add-on experiences that allow you to watch their feedings and another one that will teach you about their vocalizations and give you the opportunity to try to get them to howl back.
6. Marjorie McNeely Conservatory
Since 1913, the Marjorie McNeely Conservatory has been a beautiful Minnesota landmark and retreat from the hustle and bustle of city life. This Victorian-inspired glass conservatory features amazing architecture and highlights many plants, including palm trees, bonsai trees, a butterfly garden, and orchids.
One of the most beautiful features is the sunken garden wing of the conservatory. Five times a year, it's redecorated with incredible and unique flowers to explore. The space can be rented as a fresh space for a corporate meeting or a dreamy wedding venue.
Natural Minnesota Landmarks
The water and land of the state also offer several Minnesota landmarks for you to enjoy.
7. Blue Mounds State Park
If you want to experience the magic of the prairie and imagine what the world was like hundreds of years ago, you've got to visit Blue Mounds State Park. This Minnesota landmark is home to many natural beauties to experience.
There is a 100-foot tall sheer cliff face made of Sioux quartzite where adventurous guests and rock climb, a 300-foot summit at Eagle Rock, where you can see both Iowa and South Dakota on clear days, as well as a Bison prairie that's over 500 acres big and home to many, many bison to watch.
The park also offers campgrounds as well as hiking and biking trails.
8. Devil's Kettle Falls
This Minnesota landmark has been full of mystery for years. Devil's Kettle Falls gets its name from a very unique geological anomaly. The Brule River splits in two at the top, and while one side flows down like normal, another goes straight into a hole in the ground and seemingly disappears.
Scientists thought the water must end up in nearby Lake Superior and would toss things in, like ping pong balls, road signs, and even huge logs, hoping to see them end up in the lake. None ever did.
No matter where the water ends up or how the falls formed, they're worth visiting. They're located inside Judge C.R. Magney State Park.
To discover more beautiful waterfalls, explore our article on the best waterfalls in Minnesota.
9. Headwaters of the Mississippi River
It's said that you should despise small beginnings, and that's certainly true for the Mighty Mississippi. Before it ends its 2,340-mile journey in the Gulf of Mexico, the Mississippi River begins at this Minnesota landmark, the Headwaters of the Mississippi River.
Starting at just eighteen feet wide and about eighteen inches deep, these headwaters will flow south and become one of the most famous rivers in the whole world. But this, this is where it all begins. Not only can you wade through the headwaters, but you can also take a leisurely float down the first few miles of the Mississippi!
10. Niagara Cave
Regularly rated among the best caves in the country, Niagara Cave is a must-see among the natural Minnesota Landmarks. This limestone cave, millions of years in the making, has been explored by guests for almost 100 years.
Niagara Cave offers guided one-hour tours of the caves, where you'll see prehistoric fossils, journey 200 feet below the surface, and experience an underground river and waterfall. The tour includes a total of 550 stairs at 48°F temperature year-round, so take that into consideration when planning on clothing.
For more cave explorations, check out our Complete Guide to the Caves in Minnesota!
11. Palisade Head
Palisade Head is a massive rock formation on the northern shore of Lake Superior. At its height, it's a whopping 300 feet of a sheer cliff face, overlooking the lake.
If you're a rock climber, you can test your skills at this Minnesota landmark. If you're not quite ready for that adventure, spend some time taking in the beauty surrounding you. Many birds of prey can be seen from on top of the cliff and you'll be surrounded by Minnesota forests.
Time to Explore Great Minnesota Landmarks
Minnesota has so much to offer, from incredible architecture to amazing natural wonders, there's something for everybody. Not sure where to begin your travels? Let our Minnesota Guides and Things to Do pages lead the way.
Also, If you're in need of overnight accommodations, check out our Places to Stay page for a variety of great options!
Ready for more Minnesota advice, info, and guides? Whether you're a local or a passerby, discover the best of Minnesota that our great state has to offer!
Looking for Minnesota winter inspiration? Check out our Minnesota winter guide for activity ideas, winter apparel suggestion, and endless ways to enjoy the snow!
Looking for some warm weather recommendations? Discover spring and summer in Minnesota for best destinations, travel recommendations, small (and big!) town events, and more!
Looking for more autumnal activities? Then visit our Minnesota Fall page to find inspiration for sweater weather fun!