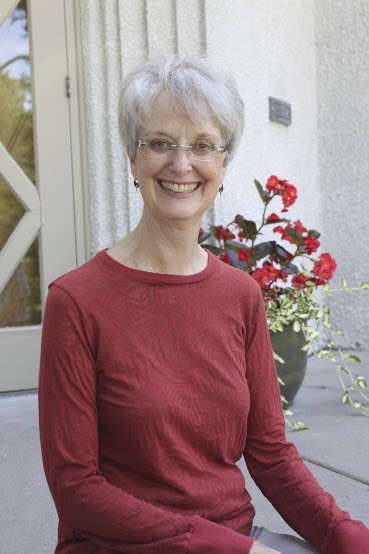 Small insignificant moments in time, when observed by the right person can reverberate through time impacting others in meaningful ways. Pamela Carter Joern is such an observer. Award winning author, playwright and instructor, Joern takes the simple bits of daily living and breathes new life into them through her craft as a writer.
Born in Nebraska and raised in the wide-open spaces of the prairie, Joren developed an appreciation for the simple things of life. She recalls her first home, humble, small yet sturdy. It was a beet shack, built to house migrant workers who would come to work the beet fields. It was to be only a temporary dwelling for her parents and two brothers; however times being what they were, the family lived there for nine years.
Joern talked about being a student at a one room schoolhouse with thirteen other children, one of which was a much older girl. The others were all boys. The school covered kindergarten through eighth grade. This small country school planted the seeds for a love of education in Joern. She was only there for a few years before the family moved to town. It was a small town, but it brought with it new challenges for her as she learned how to navigate the world of girls and friends and life in town.
Growing up on the prairie is an important part of Joern's life. She spent a lot of her time outdoors, enjoying the sights and sounds of the flat lands. "I don't remember feeling lonely, but I was alone a lot," she said. "I think for many people, the landscape that you were raised in is home like no place else is."
Yet, Minnesota has been home to Joern for over 35 years. "I love Minnesota," she says, "It's still part of the Midwest. There's open prairie and the sensibility isn't all that different." Among the things she appreciates about living in Minnesota are the writing culture, support for all the arts and intellectual freedom. However, it's the writing community that she finds particularly engaging. She's a recipient on a Minnesota State Arts Board Fellowship and a Career Initiative grant from the Jerome Foundation.
The writing journey did not begin for Joern until she was 30. The brevity of poetry attracted her and thinking because it was short it would be easy. It didn't take her long to realize that each word matters. Poetry was not as simple as it seemed so it went by the wayside. Next she took up playwriting. This art suited her well and six of her plays have been produced in the Twin Cities. In 2004 Illusion Theater chose Whatever Happened to Alice James to be part of their Fresh Ink Series. Joern then was bit by the novel bug and wrote a novel from beginning to end which is a feat in itself. This was her first step into fiction writing. Unhappy with the result, she put it in a drawer and made a decision that was to have a great impact on her life.
Though she had a finished novel, Joern knew that it had problems. She'd received a degree in English Literature but had never taken a creative writing course so she enrolled in the MFA program at Hamline University where she received a master's degree in creative writing. Armed with the knowledge she gained through education, she began writing short stories for the same reason she started with poetry. They were short. Again, she realized that short does not mean easy. "I forgot what I learned from failing at poetry; the fewer the words, the more they matter," she says on her website.
This time though, instead of giving up, she perfected the craft and ended up with two volumes of short stories. The Plain Sense of Things was published in 2008 and was a Midwest Booksellers' Connection Pick. In 2012 Karen Bair and Helena Webb adapted the story "Never Mind," into a one-act play which was performed at the Fringe Festival. In Reach, another collection of short stories, was a finalist for the 2015 Minnesota Book Award, won the 2015 Nebraska Book Award and two of the stories received a Tamarack Award sponsored by Minnesota Monthly Magazine.
"Writing is a way for me to deepen my compassion and my empathy because it helps me to understand other people," says Joern when asked about the discoveries she's made in her writing career. "It's a way for me to understand the great variety of ways people are in the world and how they cope." Writing has shown her that she has a great curiosity about others and a great capacity for caring.
Joern uses the five senses in her writings making them come alive. It's not just about seeing the story; it's smelling the baking grasses on the prairie and hearing the tripping of the water over the stones or feeling the icy water as it flows through your fingers while carrying autumn leaves downstream or tasting it's sweet goodness in your cupped hands. She's learned to be thrifty with words, making each one count so that the reader is surrounded by the story.
Book awards, Fellowships and grants are the rewards she's garnered through the years as she's honed her craft. For these she is grateful and speaks with humility when they are mentioned.
"And when they end or fade in importance, as they invariably do, I brew a cup of
English Breakfast tea, add milk and sugar, climb the stairs to my orange-walled
study, sit at my desk in this room of my own and start all over again. And with
a little thrill of recognition, like greeting an old friend who has not diminished
with age, I find that the work is still challenging." (Pamela Joern, Pam's Views on Writing)