The largest city in Minnesota is not short on tasty pizza places for the die-hard pizza lover, but the long list of great pizza options and suggestions can make navigating a headache.
Bring your appetite and dive in to our comprehensive list of 15 great places for the best pizza in Minneapolis. With this guide, you will discover delicious pizza in every part of this amazing city.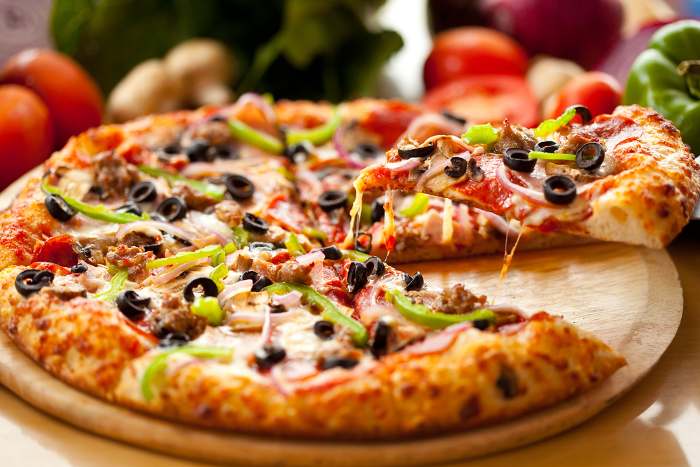 Northern Minneapolis
1. Element Wood Fire Pizza
First on our list of great places for the best pizza in Minneapolis is Element Wood Fire Pizza. Specializing in Neapolitan pizza, they bake their tasty pizza in an authentic wood fire oven using freshly made dough that elevates simple-sounding toppings.
Their menu consists of specialty or custom pizzas, appetizers, salads, and drinks. They are all available for take-out and delivery, so you can stay in and still get the best pizza in the city.
They also serve a range of basic veggie pizzas at affordable prices!
2. Wrecktangle Pizza
Craving Detroit-style pizza while in Minneapolis? Wrecktangle Pizza is where you should be headed!
Their perfect pizza is the star of the show. It is made from specialty dough baked in a rectangular Detroit-style pan (hence the name!), resulting in thick, crispy, and delicious slices.
Wrecktangle Pizza also offers gluten-free, dairy-free, and vegan options.
3. Punch Pizza Northeast
Another pizzeria that specializes in Neapolitan-style pies is Punch Pizza Northeast. They only use high-quality ingredients for their pies—from the pizza crust to the tomato, crispy cheese, and the dough, there's nothing they don't put their best into!
The Punch Pizza menu includes classic, custom, Neapolitan pizzas, salads and starters, and refreshing beverages. You will also find a unique dessert option on their menu: a chocolate hazelnut panini.
You can also place an order for pickup in their app!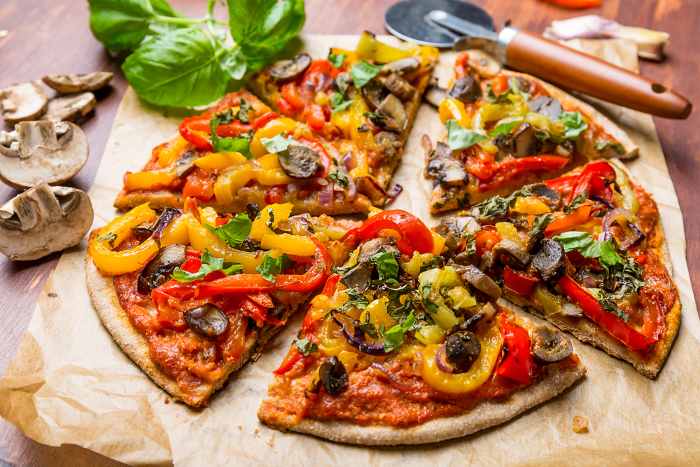 Eastern Minneapolis
4. Blaze Pizza
Next on our list of great places for pizza in Minneapolis is Blaze Pizza. If you favor crispy thin-crust pizza, Blaze Pizza is a perfect choice. Serving creative toppings and seasoned sauces arranged on top of the fresh dough at a crazy speed is what they're all about.
They also offer vegan pizzas, nutritional and allergen content transparency, and eco-friendly packaging. Need we say more?
5. Frank From Philly & Andrea Pizza
Frank From Philly & Andrea Pizza is a modern counter-serve restaurant known for its NYC-style of pizza making and Philadelphia cheesesteaks. If you're into large pizza slices, then this is a must-visit.
They serve a range of affordable pizzas, salads, sides, and beverages with gluten-free options. Their authentic cheesesteak made with ribeye steak, whiz, onions, and Amoroso rolls is a must-try.
You can dine in or order online for curbside pickup.
6. Davanni's Pizza & Hot Hoagies
Davanni's Pizza & Hot Hoagies is a Twin Cities original, one of the best pizza spots to take your pizza-loving family.
Their menu is not just limited to pizzas—they also offer hoagies, calzones, pasta, salads, and desserts made with authentic ingredients. They also provide gluten-free and vegetarian options and list nutritional and allergen facts with their offerings.
You can also order online for delivery from one of their twenty locations!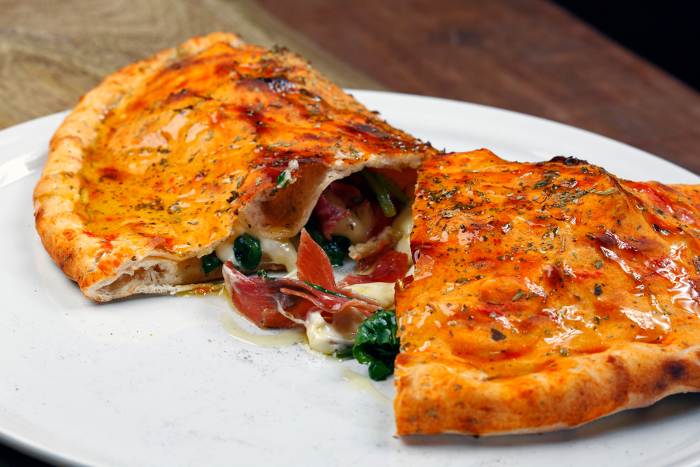 7. Pizza Lucé Seward
Do you want award-winning pizzas made with locally sourced ingredients? Pizza Lucé Seward is a casual dining restaurant with multiple locations across the Twin Cities.
One of the most popular elements of their menu is the whole-wheat light crust. You will also find various appetizers, hoagies, salads, and delicious desserts. They also offer vegan, vegetarian, and even gluten-free menu options.
You can contact them for customized menus to suit your preferences and dietary restrictions. They offer free delivery within the area, along with curbside pickup and dine-in reservations.
8. Mesa Pizza Dinkytown
There's nothing like satisfying late-night cravings with some of the best pizza in Minneapolis from Mesa Pizza Dinkytown.
Founded in 2006, Mesa Pizza serves over 50 varieties of pizza daily. They are a favorite staple among students at the University of Minnesota. Their menu offerings include specialty pizzas, salads, steaks, drinks, and more. They are also known for their top-notch hot sauce—your food adventure won't be complete without a taste.
Head over to this slice shop for a slice of pizza after a long day or for a late-night dinner—they're open until 2 AM on Fridays and Saturdays!
Southern Minneapolis
9. Fat Lorenzo's
Do you want to try out a nationally recognized, award-winning pizza place and one of the most loved establishments in South Minneapolis? Fat Lorenzo's is one of the best Italian family-friendly restaurants you can go to for delicious Italian fare including some of the best pizza in Minneapolis.
If you're an art lover, then you'll love the gorgeous murals that decorate this adorable restaurant. They were painted by Twin Cities artist Ed Charbonneau, perfect for the casual and intimate location.
Their menu includes must-try subs, pasta, beverages, and the classic Italian dessert—gelato. Fat Lorenzo's also accepts catering, take-out, and delivery orders.
10. Red Wagon Pizza Company
Not into thick and hearty crusts? Here's one for the New American thin-crust pie lovers. The Red Wagon Pizza Company, spearheaded by Peter Campbell, is famous for its wood-fired pizza and fresh pasta.
Are craft beers and pizza the best combination for you? Then here's a spot that holds the title of the best beer bar in the city.
And if you want to get Minneapolis's best pizza from out of state, they have got you covered. Red Wagon Pizza Company also ships frozen pizza all over the United States.
11. Pizzeria Lola
Pizzeria Lola is James Beard award winner Ann Kim's first restaurant. It is a casual, family-friendly eatery that serves signature pizzas baked in wood fire ovens.
Their in-house dough takes up to two days to prepare, which leads to a rich flavor that you can't find anywhere else. Their must-haves are the classic pepperoni pie, and soft serve topped with olive oil and sea salt.
Other options from their awesome pizza menu include Korean BBQ, Lady Zaza, and the Sunnyside. They offer par-baked pizzas that you can finish baking at home or standard takeout orders placed online or by phone.
Central Minneapolis
12. Pizza Lucé Uptown
This Pizza Lucé restaurant is located in central Minneapolis. You can enjoy their award-winning pizzas and innovative toppings made with local ingredients, such as The Big Enchilada pizza, Focaccia Katerina, Pesto Mock Chicken, and more.
Offering several locations in and around the city, pizza lovers can enjoy their renowned pizza throughout the Minneapolis area.
13. Jakeeno's Pizza & Pasta
In operation since 1975, Jakeeno's Pizza & Pasta is another must-visit Italian restaurant to put on your list. It is a family-owned and operated restaurant, so you can be sure of excellent service on top of their delicious menu.
This Pizza and Pasta restaurant have a nice cozy, home-like atmosphere, a courteous staff, and menu items at a decent price. Out of all their amazing pizzas, it is the simple pepperoni pie and traditional toppings that you must try.
Other menu highlights include antipasto salad, tangy cakes, pasta with white sauce, meatball subs, and French toast.
Thankfully, they accept online orders for pickup and delivery, which means you can enjoy the neighborhood's favorite pizza in the comfort of your home.
14. Black Sheep Coal Fired Pizza
Coal was burned in the first ovens used to bake pizza in the United States, and the great American pizzeria is a one-of-kind experience. Coal-burning is a practice that you can no longer find in contemporary pizza restaurants outside the East Coast, but it is one that every pizza lover must try.
Black Sheep Coal Fired Pizza is the first coal-burning pizza outlet in Minnesota. It opened in 2008, and they brought over the use of clean-burning Anthracite coal to cook their delicious pies. Even their plain cheese pizza is to die for.
Other than the coal-burning, Black Sheep Pizza is known for its blistered crusts and craft beer selection. They also offer grilled skewers and draft cocktails.
You can opt for a build-your-own 12- or 16-inch pizza with a basic cheese base for your favorite topping combinations, such as green peppers, white mushrooms, fennel sausage, and many others.
15. Godfather's Pizza Express
Are you looking for the best thick-crust pizza in Minneapolis? We are happy to recommend Godfather's Pizza Express.
They began in 1973 as an unassuming hole-in-the-wall spot and have since expanded with multiple franchise locations. It's their wide variety of size options that got us hooked—you can order 6-inch personal pizzas or go the full 18 inches for your party!
This family-friendly restaurant has traditional and express locations that offer amazing food, including top-notch specialty pies with various crusts, sides, and even dessert pizza.
Endless Variety for the Best Pizza in Minneapolis
Choosing a pizzeria can be a daunting task, especially when so many exciting pizza shops enter the pizza scene all the time! On this list of the best pizza in Minneapolis, you'll find unique and delicious pizza places that you must try when you're in the city. If you're in the city for several days or weeks, you have the opportunity to try as many of them as possible to enjoy their specialties and fantastic service.
You can also try our list of 16 best pizza places in Minnesota for options all over the state!
If you've had your fill of delicious pizza and you'd like to try some other great restaurant options, check out our list of The 22 Best Restaurants in Minneapolis.
Still hungry? Then continue exploring Minnesota food and drinks for a complete culinary adventure!
Still looking for more fun adventures? Then checkout all the great things to do in the Twin Cities!