If you look for things to do in Richfield, Minnesota, you may think that everything happens at the nearby Mall of America. Yes, this is a wonderfully diverse and exciting destination with many shops and other attractions, but it is not all that Richfield is about. Go further into the town and discover the many fun things to do in Richfield at destinations like Veterans Memorial Park, Augsburg Park, or the Wood Lake Nature Center. Richfield is full of great shopping, divine eateries, and much more.
1. Wood Lake Nature Center
Within Richfield, you will find the Wood Lake Nature Center, home to Wood Lake. You can walk around the lake on walking trails and boardwalks. A unique experience is the floating boardwalks across the cattail marsh. The park also features mixed lowland forest and prairie habitats that have been restored. When you want to take a break, you can sit on an observation deck and just take in the park, or have a picnic in the designated area.
To feed that inquisitive part of your brain, visit the interpretive center, where you will find the answers to your questions and can take a class year-round.
2. Augsburg Park
If you are looking for fun things to do in Minnesota, then Augsburg Park is a one-stop answer for you. You can take a walk along the paths, watch the kids play in one, or both, of the two playgrounds. If you are looking for some sport, then there are public tennis courts.
There is a pond in the center of the park, where you are likely to see some resident wildlife, including geese and possibly turkeys.
The park is also home to other, exciting and cultural attractions.
Richfield Skate Park
This is a one-tier park that skateboarders of all ages and abilities. Take your board and enjoy this recreation of a streetscape during daylight hours.
Augsburg Adventure Park
Your kids can play in the Adventure Zone, zoom along the Zip Line, enjoy a team swing or take a ride on the Spinners. These are only some options at the Augsburg Adventure Park. The playground caters to children with all abilities. It has wheelchair access and there are accessible play panels through the play structure. Children who prefer to play in a quiet area can use the Quiet Grove playhouse.
Richfield Community Center
The Community Center offers regular programs to the members of the community, which include opportunities for exercise and board games. It is also a popular venue for birthday parties.
Hennepin County Library
The Hennepin County Library offers superior library services throughout the county, including the Augsburg branch. There are facilities and culture grams for all your research and reading needs.
3. Richfield outdoor pool
The outdoor pool at Richfield is a popular destination during the warm months.
For the kids, there is a zero-depth entry wading pool, with play equipment. The main 50-meter pool has wheelchair access and is the perfect place for work and play. There are two 25 yard lanes n which to swim laps for those looking for exercise. For those looking for fun, then the double waterslide and diving board will call. You can also play water volleyball.
4. Richfield Art Center
To feed your cultural side, visit the Richfield Art Center, which aims to expose the community to more of the arts and to develop their appreciation. Apart from enjoying exhibitions throughout the year, there are also family events that are hosted by the center. Many of the artists whose work is featured are local.
5. Veterans Memorial Park
This park is a memorial to recognize all Richfield veterans from a number of conflicts. It is a peaceful place to spend time and houses some special features. Special events are also hosted at the park.
Richfield Farmers Market
The Farmers Market is held at Veterans Park every Saturday morning from May to October. You can purchase fresh fruit and vegetables for your table. You can also choose from beautiful flowers to take home or to brighten up someone's day.
Urban wildlife half-marathon and 5k
For runners and walkers of all fitness levels, Veterans Park hosts frequent half-marathon and 5k races. Run with us and have fun getting fitter.
Richfield red, white and blue days
What better way to celebrate July 4 than at a three-day celebration at Veterans Memorial Park. The annual event is organized and run by volunteers from the community since 1980 and gets stronger every year.
Richfield's largest picnic pavilion
This shelter is 120ft (36m) by 60ft (18m) and is used on a first-come, first-serve basis, although it can be rented in two-hour sessions – either as a whole or in sections. You are free to grill under the shelter, but no alcohol is permitted.
Richfield Ice Arena
In winter or summer, don your skates and take to the ice in an open session at the Richfield's Skate Arena. You can also take in a game of ice hockey, as the rink is home to Minnesota Magicians. If you want to learn to skate, then there is the Richfield Skating School that operates from the Arena.
Wheel fun rentals mini-golf and malt shop
Enjoy an 18 hole mini-golf course in an area of beautiful gardens and water features. Half of the course is accessible for those with mobility impairments. After the game, enjoy a malt or ice cream at the concessions.
6. The Bartholomew House
The Riley Bartholomew House is understood to be the oldest home in Richfield. When you visit the Richfield History Center, you can take a free tour of the house and take in the history of Richfield through its development from a small agricultural community to where it is today. This is an opportunity to get to the heart of Richfield.
7. Mall of America
A visit to Richfield just has to include Mall of America, where you will have an experience not to be forgotten. Given that the mall has hundreds of shops and many attractions, it will keep you busy for hours. Just two of the attractions take you under the sea and up in the air.
At Sea Life, you will be able to watch sea turtles, sawfish, jellyfish, stingrays, and sharks among the 1.3 million US gallon tanks. Then there are the seahorses and other submarine creatures. All of this is housed within the eleven exhibits. You can even walk 'under the sea' through the 300-foot tunnel.
Flyover America
If you have dreamed of soaring over the world, then this flight simulator game is definitely for you. In 4D experience, with sight, sound, and feeling of wind and mist, as well as the scents in the air. Imagine flying over famous locations in your suspended chair, with your feet dangling below you. Dive deep into valleys and climb high above mountain ranges. It's all in the experience.
8. Nickelodeon Universe
Nickelodeon Universal is the banner title of two theme parks, with rides and attractions based on Nickelodeon's fare. There are 27 rides and attractions, from Adventure Bay for the family to the Avatar Airbender for those thrill-seekers amongst you. Kids can take the wheel of a Big Rig or enjoy a trip on Diego's Rescue Rider. For the family, there is the Carousel and Crazy Cars, while the kids can have the time of their lives on Blue's Skidoo and the Guppy Bubbler.
Best you put aside a full day for Nickelodeon Universe because this might just be the best of the fun things to do in Richfield.
If you are looking for a place to hike in Richfield, there are five trails you can choose from. They all follow scenic routes and are easy enough for anyone to use.
This is a loop trail that is quite challenging, as it is 18 kilometers (11 miles) long. The Minnehaha falls at the end of the out-trail are worth all the effort of walking. Along the way, enjoy the natural beauty and wildlife. Keep your binoculars handy for birdwatching. The trail is open all year round, so don't think that the cold of winter is an excuse to miss it.
Wood Lake Nature Center Trail
This trail is a 3.1 kilometer (2 mile) loop, which is usually only sparsely used, so you will be out in nature by yourselves for just about all the hike. You can enjoy wildlife and birds along the way. The trail is suited to all fitness levels. In winter, take to the trail on skis or snowshoes.
Veterans Memorial Park Loop
This is a loop trail of 2.3 km (1.5 miles) that is quite popular. Take your dog on a leash and take a leisurely stroll or a brisk walk. The trail is suitable for the whole family, kids included, and takes you through the forest and along a lake. Take your camera to capture the beautiful views.
Taft Lake – Solomon Park – Lake Nokomis Loop
This is a very popular easy 8.4 kilometer (5 miles) loop trail. Everyone is welcome, as the trail is suitable for all skill levels. It is mainly used by walkers, runners, and bikers. It is best from March to November and gives access to spots for water activities.
Taft Park Loop
Take your dog on a leash and head off to walk the Taft Park Loop trail. It is a short trail of 2.1 km (1.3 miles) and is easy. The trail is popular with walkers and runners. Birdwatchers take advantage of the access to the lake to see if they can spot water birds. You can pause along the way to enjoy the beauty of Lake Taft.
10. Eateries
Of course, Richfield gives y6ou plenty of opportunities to find the perfect place to eat. You will always have your favorite, though.
Ciao Bella
At Ciao Bella, you can enjoy tasty, modern Italian food on the terrace, while enjoying some of the artwork around you.
Local Roots
Take the family for a quick breakfast or a light lunch at this friendly eatery. All food is prepared from local ingredients. Grab some freshly baked goods to take home with you.
Fireside Foundry
Curtained booths for some private dining, or out on the patio. Take your pick at Fireside Foundry. Enjoy the live music while you savor the tasty, thin-crust pizza.
Giordano's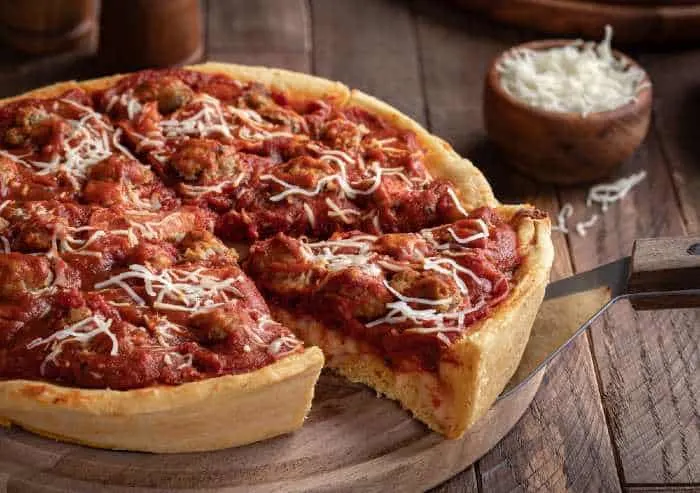 If it's deep dish pizza you prefer, then Giordano's will satisfy your taste. You can also enjoy other Italian food and a good bottle of wine.
Richfield is Calling
Once you have immersed yourself with all of the amazing things to do in Richfield, Minnesota, you will find other ways to occupy your time as the town starts to draw you in. Richfield is calling you, so dive in and answer the call.
After enjoying one or more of the great things to do in Richfield, let us know which activity or eatery you enjoyed most.