If you're looking for some of the best bass fishing on the planet, then you've come to the right place. Minnesota is renowned for its thousands of freshwater lakes, many of which are packed with all varieties of bass. If you're tired of missing out on all the bass-fishing fun, this article will give you some of the great bass fishing lakes in Minnesota.
Common Types of Bass in Minnesota
Minnesota is home to many different species of fish, and bass is one of the most popular. However, we can narrow bass down into several smaller categories so that you know exactly what you're fishing for.
Smallmouth Bass
Smallmouth bass is extremely popular in Minnesota, especially throughout their river system. However, smallmouth can also be found in over 500 Minnesota lakes, and several of them will be included on this list. As the name implies, the smallmouth bass is smaller than largemouth bass, often half their size.
Largemouth Bass
The largemouth bass is often considered the pride and joy of Minnesota's lakes. They can be found in over 2,000 different lakes and can grow to massive proportions. The largemouth is often larger than smallmouth bass and is considered one of the apex predators in Minnesota's freshwater system.
Rock Bass
Rock bass is less common and smaller than both largemouth and smallmouth bass. They often don't grow bigger than 10 inches and usually weigh less than one pound. However, if you have a bass bucket list and want to explore different species, rock bass can be found in several Minnesota lakes.
White Bass
The white bass, also known as the silver or sand bass, is slightly larger than the rock bass, but not as large as the largemouth or smallmouth. White bass is, however, fairly common in many Minnesota lakes and you shouldn't have trouble catching a few if you explore a bit.
Now that we know what kind of bass we're fishing for, let's dive in and find out which Minnesota lakes are the best for bass fishing.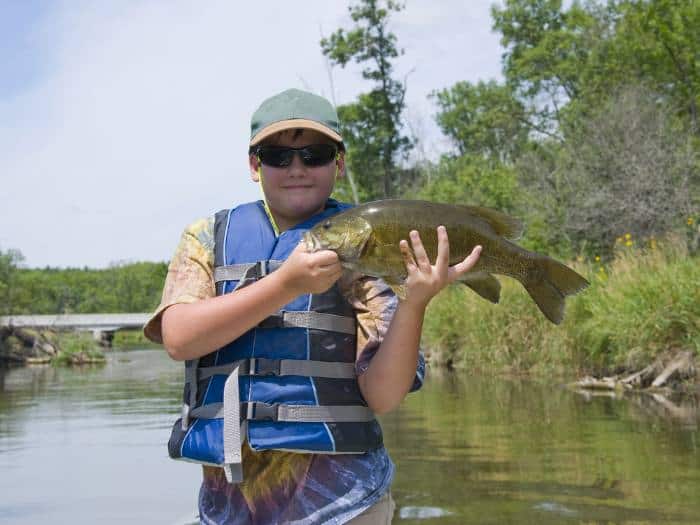 First, on our list of best bass fishing lakes in Minnesota is Mille Lacs Lake. As far as freshwater fishing in the central U.S. is concerned, you'll be hard-pressed to find a better spot than Mille Lacs Lake. Over 130,000 acres in size, Mille Lacs is a shallow, but extremely popular lake for bass fishing. In fact, it ranks fifth on the list of the top 25 bass-fishing lakes in the central United States. It's often considered the number one lake in Minnesota for bass and is also referred to as the smallmouth Mecca of Minnesota.
There have also been reports that smallmouth and largemouth bass weighing seven pounds or more are frequently caught in Mille Lacs Lake. It also features numerous bass fishing tournaments throughout the year.
Located in the heart of Minnesota, Lake Minnetonka comes in at number two on our list of best bass fishing lakes. Like Mille Lacs Lake, it was also included on the top 25 list of best bass fishing lakes in the central U.S. coming in at number 8. Lake Minnetonka is renowned for its massive largemouth bass and even hosted a Classic Bass Champions Tour tournament for the first time in 2018. It now hosts more bass tournaments than any other lake in Minnesota.
Located in Cass County in northern Minnesota, Leech Lake is the third-largest lake entirely within the state and lands soundly on our list of best bass fishing lakes in Minnesota. Ever since a major bass fishing tournament was held there in 1989, Leech has been one of the top bass lakes in the state. If you happen to be in the area during the fall months, Boy Bay is a hot spot for largemouth bass. No matter where you find yourself on the massive, 112,000-acre lake, however, you're bound to catch your fair share of bass.
Lake Vermillion is renowned as much for its beautiful scenery as it is for smallmouth and largemouth bass fishing. Vermillion is located in the northern part of the state and is said to have the most Canadian feel of any lake in the state. It's over 40,000 acres of fishing heaven and is known for having some of the biggest bass in the state.
Prior Lake isn't quite as popular as many other lakes in the state, but it's gradually becoming a hot spot for bass fishing. For whatever reason, the bass in Prior Lake seem to be getting bigger and bigger and they're not slowing down. It's located in Scott County in the eastern part of Minnesota. You'd better get there before word gets out about the giant bass lurking in its waters because Prior Lake could be the next lake of choice for bass fishers.
Another gem in northern Minnesota just north of Brainerd, Whitefish Chain of Lakes is known for both largemouth and smallmouth bass. It's a favorite spot for bass tournaments and consists of over 14,000 acres of the most diverse terrain that you'll see in Minnesota. Whitefish Chain of Lakes consists of a dozen or so lakes and is also a hot spot for vacationers.
Located just south of Leech Lake, Woman Lake is part of a four-lake chain known as the Woman Lake Chain. Out of the four lakes, however, it has the honor of being the best for bass fishing. Much like its neighbor Leech Lake, it's a local favorite for smallmouth bass tournaments and is known for having some of the biggest smallmouth bass in the state.
Outside of Lake Superior, only part of which is in Minnesota, Rainy Lake is the second-largest lake in the state. It's 245 miles of pure fishing heaven. Rainy Lake is in the northern part of the state and part of it actually runs into Canada. Smallmouth bass is a popular feature at Rainy, among dozens of other types of fish. It's often said of Rainy Lake that the only thing better than the smallmouth is the scenery.
Finally, we get to the southern part of the state, where Lake Washington is one of the biggest and best. Measuring out at just under 1,500 acres in size, Lake Washington is a favorite hot spot for bass fishing tournaments and features some of the biggest bass in southern Minnesota. You can expect to catch 5-pounders by the bunch at Lake Washington.
Snelling Lake is small but mighty when it comes to bass fishing. It's just over 100 acres in size and has a maximum depth of just 10 feet, but that doesn't stop the bass from growing. The lake also features a golf course and other attractions nearby if you get tired of catching giant bass.
Next on our list of best bass fishing lakes in Minnesota is Shagawa Lake. If you want to try your hand at fishing on one of the best rock bass lakes in the state, give Shagawa Lake a try. Shagawa Lake is located in the doorway to Superior National Forest and is known for having rock bass and smallmouth bass. It's a 2,300-acre lake and has depths of up to 48 feet, making it on the deep side of Minnesota lakes.
Located on the western border of the state, Big Stone Lake is a favorite for white bass, largemouth, and smallmouth bass. At 12,600 acres of water, Big Stone Lake definitely lives up to its name. It's also one of the top lakes in Minnesota for ice fishing if you simply can't get enough from spring to fall.
Auburn Lake is another small but mighty bass fishing lake in Minnesota. Sitting at under 300 acres in size, it still manages to pump out some monster bass of all varieties. In fact, the state record for the biggest largemouth bass ever caught in Minnesota belongs to Auburn Lake. It measured 23 1/2″ in length and weighed 8 pounds and 15 ounces.
Known just as much for its beautiful scenery as it is for its bass fishing, West Battle Lake is another favorite for fishermen and vacationers alike. Located in Otter Tail County, West Battle Lake is over 5,500 acres of vegetative water and is home to some of the biggest smallmouth bass in the state. The record for largest smallmouth bass in Minnesota was caught at West Battle Lake. While the exact length of the fish wasn't documented, it weighed in at 8 pounds, which is incredible for a smallmouth!
I know what you're thinking, the Mississippi River isn't a lake. If you're serious about your bass fishing, however, you'll definitely want to give the Mississippi a whirl. The Mississippi River runs the border of Minnesota between the North Star State and Wisconsin. It also runs near urban areas such as Minneapolis and St. Paul, which makes it readily available for more people to fish than any other body of freshwater in Minnesota.
While it's more well-known for its smallmouth bass in the 150 mile stretch between Monticello and Aitkin, it also features dozens of hotspots for both smallmouth and largemouth. The further south you go, the more likely you are to run into monster largemouth. No matter where you cast your line along the river, however, you're likely to encounter some bass.
Drop a Line in One of the Best Bass Fishing Lakes in Minnesota
While these are some of the best bass fishing lakes in Minnesota, we haven't even scratched the surface. We're known as the Land of 10,000 Lakes for a reason.
No matter where you're lucky enough to drop a line in our great state, you're bound to catch plenty of fish, see beautiful views, and make memories that last a lifetime!
Calling all anglers! Do you have a favorite bass fishing lakes in Minnesota that we didn't mention on our list? In the comment section, please share your bass fishing adventures!
Want to learn more about fishing, discover more fishing spots, and or read up on the best fishing gear? Then continue your fishing adventure with our comprehensive guides, info posts, and more!
About the Author
Latest Posts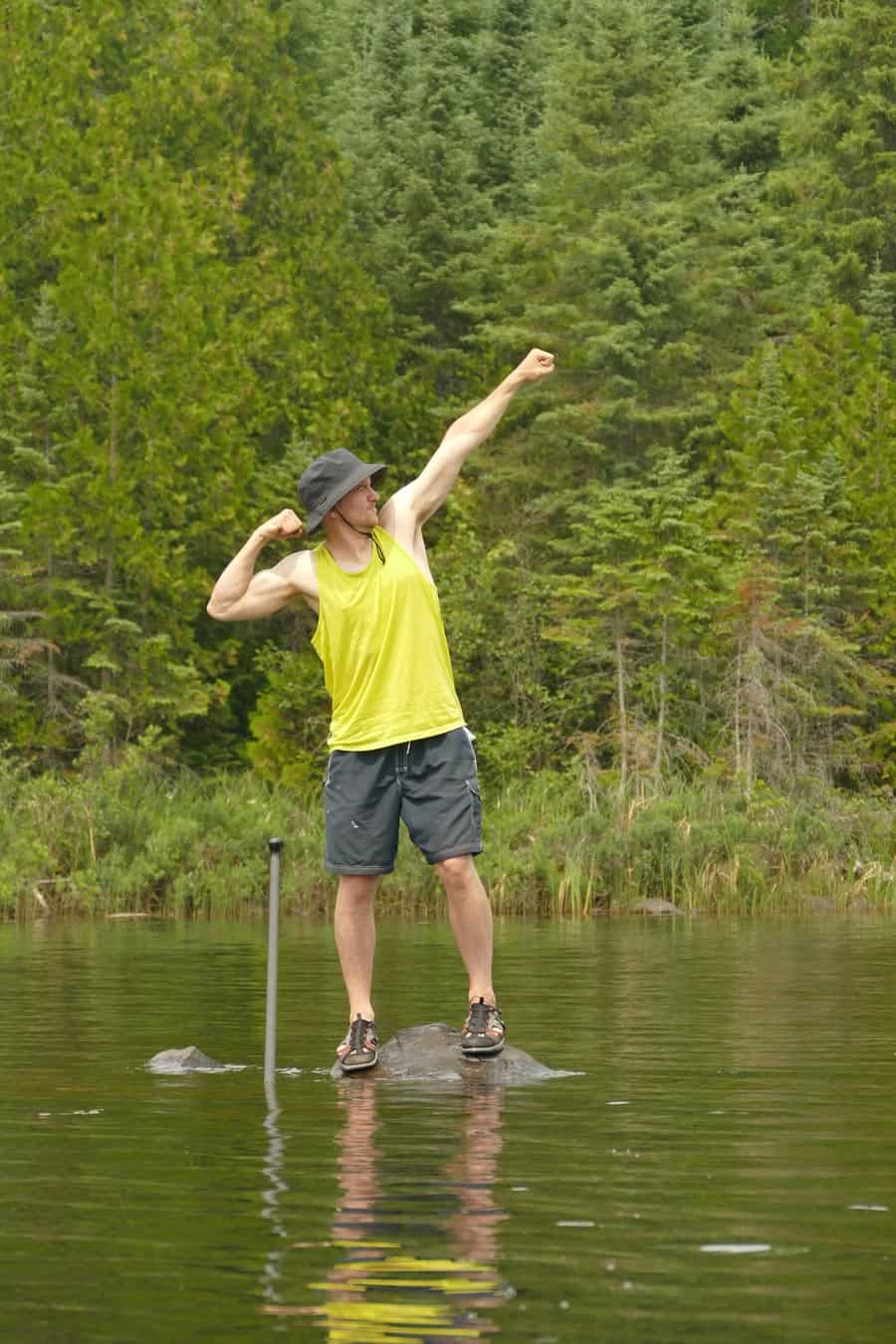 Born in Madelia, MN, to a now 5-generation Minnesota family, Ryan's MN roots go deep.
A painter by day, Ryan founded Life in Minnesota in 2013 with his wife Kelly to chronicle their musings on everything Minnesota. Ryan and Kelly are raising their 7 kiddos in Maple Grove, MN.
When he's not shuttling his kids around to hockey practice, you might find him in the shop working on his leatherwork. Undoubtedly, there will be a family trip to the Boundary Waters Canoe Area every summer, and of course weekends at Grandpa's cabin up north in the summer.