One of the best-kept secrets about the great city of Minneapolis is that it's the home to some of the best steakhouses in the northern United States. Minnesota features some of the best butcher shops and home-grown beef in the nation, and it becomes apparent when you sit down at one of the steakhouses on this list.
Even if you aren't a steak fanatic, you'll have a hard time turning down the mouth-watering taste of a steak prepared at one of the best steakhouses in Minneapolis.
1. P.S. Steak
We'll start our steak crusade at one of the finest establishments in all of Minneapolis. P.S. Steak is a swanky, upscale restaurant that features one of the most stunning dining rooms that you'll find in our great city. It's also a relatively new restaurant and is headed by steak extraordinaire Chef Mike DeCamp.
What sets P.S. Steak above most of the competition is that it isn't a one-trick pony. In addition to having a top-notch chef and a beautiful dining area, the food is second to none. They feature a seasonal menu that's full of delicious steak, BBQ pork, burgers, and so much more. P.S. Steak also has an extensive drink and cocktail menu to accompany your meal.
2. The Capital Grille
The Capital Grille is a capital idea when you're hungry in Minneapolis. Located in the downtown business district, the Capital Grille is a perfect spot to meet your co-workers for drinks or for a mouth-watering steak. You can choose from a NY Strip, Ribeye, Filet Mignon, or a host of delicious seafood dishes when you dine here. They also have some of the city's best lemon drop martinis and specialty cocktails!
3. Murray's
Murray's is one of the oldest family-owned and operated steakhouses in Minneapolis. It just so happens that it's also one of the best! Murray's is famous for its classic and unmatchable butterknife steak, which is so tender it falls apart in your mouth. They've been filling bellies and making mouths water since 1946, and they aren't looking to slow down any time soon.
Murray's is an excellent place for a lunch date, private party, or just to enjoy a steak and a cocktail. While there are undoubtedly top-dollar dining options, there are also plenty of options that will fit any budget.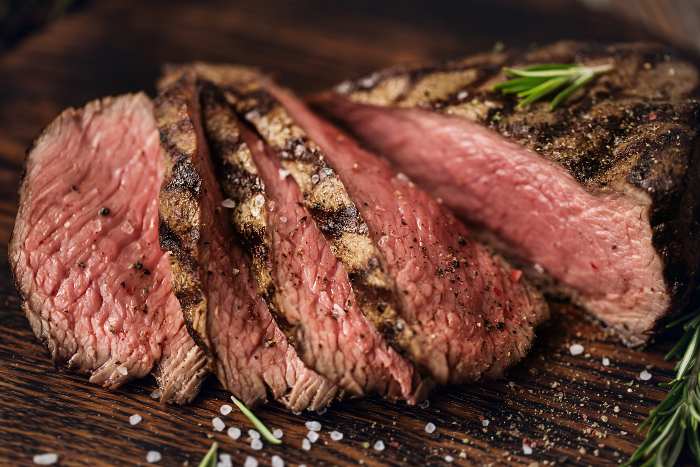 4. Manny's Steakhouse
Manny's Steakhouse is proud to call itself one of the top 10 steakhouses in the U.S. While they certainly have some of the state's biggest, juiciest, and tastiest steaks, they also offer a world of other options. It's hard to go wrong when choosing Manny's Steakhouse, from chicken to seafood to cocktails and dessert.
A few of their top sellers are the double porterhouse, the Bludgeon of Beef, Nova Scotia lobster tail, and the iconic Baseball Steak. You can wash it all down with a Maple Bacon Old Fashioned or one of the other countless cocktails offered at Manny's Steakhouse.
5. 801 Chophouse Minneapolis
Few steakhouses in the country have equal parts style, service, food, and drink, but 801 Chophouse Minneapolis fits the bill. 801 is one of the premier restaurants in Minnesota, and they serve only the finest USDA prime steaks and couple them with an award-winning wine selection.
If wine isn't your thing, they have plenty of high-quality scotch and bourbon and any number of delightful cocktails. In addition to steaks, 801 also has a Maine lobster menu and innovative side dishes. Take in all that 801 Chophouse has to offer in the swanky dining area or on the outdoor patio area.
6. J.D. Hoyt's Supper Club
Out of all the steakhouses in Minneapolis, J.D. Hoyt's Supper Club serves some of the biggest steaks with the largest portions. Each of their steaks is served with a slight Cajun flair and is paired with your option of cocktails, beer, or wine.
If steak isn't your thing, J.D. Hoyt's has a substantial menu that includes seven seafood dishes, ribs, pork chops, chicken, or a combination of several of them. No matter what you're in the mood for, J.D. Hoyt's has something that will satisfy your desires.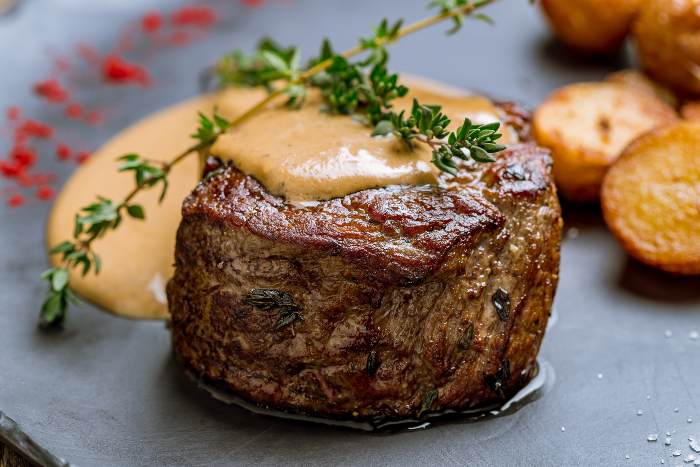 7. Seven Steakhouse Sushi and Rooftop
Seven Steakhouse Sushi and Rooftop is one of the leading dining and entertaining experiences in all of Minneapolis. All of their steaks are Certified Angus Beef, and there are six options to choose from, including the famous 40-ounce Ribeye Tomahawk. Seven Steakhouse has some of the most incredible seafood and steak combination dishes in the country.
These options include the King's Feast and the Queen's Feast, both of which are surf and turf and are absolutely incredible. Sushi, seafood, pasta, lamb, and anything else you can think of is an option at Seven Steakhouse Sushi and Rooftop. You'll be hard-pressed to find a better seafood and steak combo restaurant in Minnesota.
8. The Oceanaire Seafood Room
Speaking of epic seafood and steak combinations, don't miss out on your chance to dine at the Oceanaire Seafood Room. Some of their specialties include a 28-day dry-aged certified Angus beef ribeye steak and the Chesapeake Style Crab Cakes. If you're looking for a surf and turf combo, The Oceanaire Seafood Room is the place for you.
The dining is stylish and lively yet elegant, and the menu also includes Australia Lobster Tail, oysters, and whatever drink you desire to pair with your unforgettable meal.
9. Ruth's Chris Steakhouse
Ruth's Chris Steakhouse has been synonymous with mouth-watering steak and high-quality wine to match for over half a century. It just so happens that one of their establishments is located in Minneapolis and is one of the top steakhouses in the state. It seems like no matter where you go in America, Ruth's Chris is always one of the leading names in steak. True to form, each of their steaks is prepared the same way no matter where you go.
Seared in an 1800 degree custom broiler
Finished with butter and fresh parsley
Served on a 500-degree sizzling plate to keep it hot
Wash it down with Duckhorn wine or a custom cocktail, and your meal is complete at Ruth's Chris Steakhouse.
10. Fogo de Chao Brazillian Steakhouse
Fogo de Chao Brazilian Steakhouse is an upscale Brazilian-style churrascaria in the City Center of Minneapolis. They offer a rotating list of dinner options that the chefs keep warm and carve up beside your table. You know exactly where your meat is coming from when you enjoy an evening at Fogo de Chao.
You can even enjoy all-day happy hour, special wine dinners, and some of Minneapolis's most unforgettable meat dishes. Fogo de Chao is conveniently located in the famous Hennepin Theatre District within walking distance of numerous museums, shopping, and entertainment options.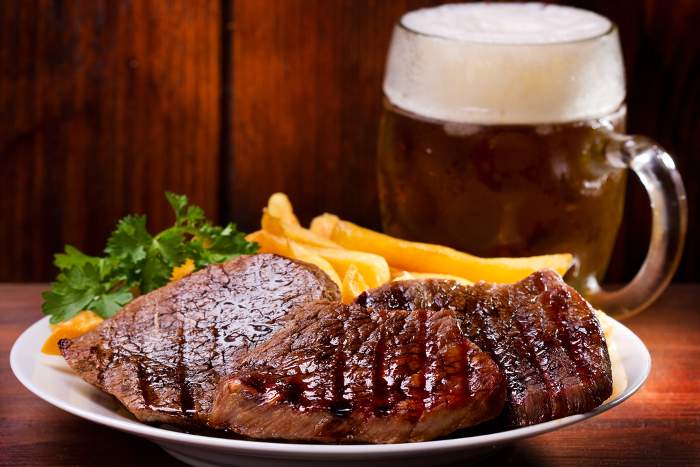 11. Jax Cafe
There are few steakhouses or restaurants in Minneapolis with roots deeper than those of Jax Cafe. Its origins stretch way back to 1910, before the days of prohibition, when fine dining was something different than that of today. No matter what era you visited Jax Cafe, you were likely blessed with a delicious steak, a custom cocktail, and a dining experience like no other. You can enjoy the classic interior or spend your evening on the gorgeous outdoor patio.
12. The Monte Carlo
When you want to combine steak with a retro diner setting, look no further than The Monte Carlo. Start your dining experience with appetizers such as Szechuan green beans or a shrimp cocktail. Continue on with the main dish of pasta, chicken, beef liver, seafood, or the Minnesota famous Charlie's Petite Filet.
Dessert options include scrumptious chocolate cake, cheesecake, or an ice cream sundae. If that isn't enough, The Monte Carlo offers custom cocktails, a vast beer selection, adult milkshakes, and so much more. You can enjoy this restaurant by yourself or with a party of up to 100 guests!
13. Erte & the Peacock Lounge
Last but certainly not least on the list of best steakhouses in Minneapolis is the Erte & the Peacock Lounge. The restaurant is headed by famous chef Adam Milledge, who specializes in French-American cuisine. The restaurant is located in the Historic Art District of Minneapolis and is the perfect place to stop by for stylish and delicious European-American-style cuisine.
Their menu includes the House Coulotte Sirloin, lobster mac and cheese, bacon-wrapped scallops, and so much more. They also offer over 20 cocktails, over 35 wine options, and a dozen different beers. If that isn't enough, Erte offers happy hour every day from 4 to 6 p.m. and live music on the weekends. Don't miss out on some of Minnesota's finest dining and entertainment experiences.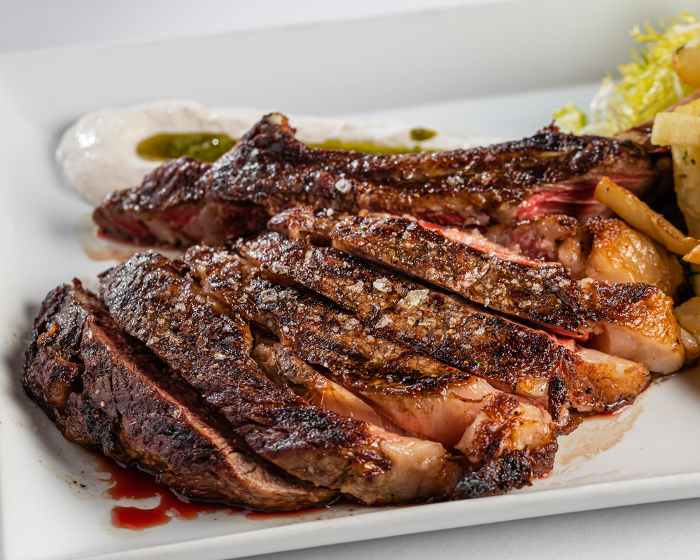 Divine Steakhouses in Minneapolis
Well, there you have it, all of the incredible steakhouses that you should put on your dining list in Minneapolis. Minneapolis has something for everyone, from French-American cuisine to cajun and with surf and turf to upscale dining. No matter where you go in the city, you're never far away from a top-notch steakhouse. If you're in the mood for a mouth-watering steak, unbeatable seafood, custom cocktails, or a fine bottle of wine, try one of these remarkable steakhouses in Minneapolis.
Have you dined at one of the best steakhouses in Minneapolis that's not on our list? Please let us know about it in the comments section.
If your travels take you outside of the city in search of more great steakhouses, try 10 of the Best Steakhouses in Minnesota.
Still hungry? Then continue exploring Minnesota food and drinks for a complete culinary adventure!
Still looking for more fun adventures? Then checkout all the great things to do in the Twin Cities!
About the Author
Latest Posts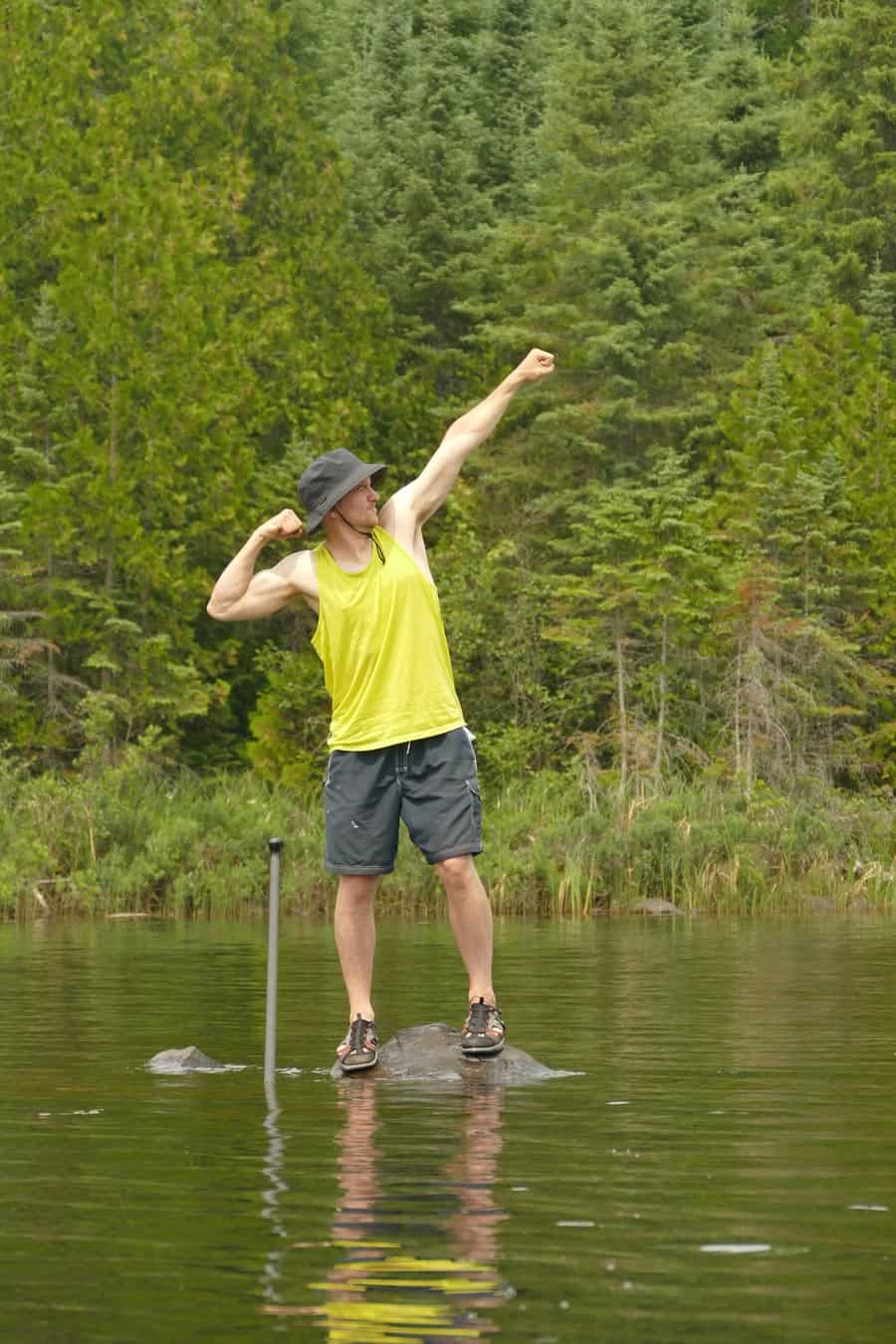 Born in Madelia, MN, to a now 5-generation Minnesota family, Ryan's MN roots go deep.
A painter by day, Ryan founded Life in Minnesota in 2013 with his wife Kelly to chronicle their musings on everything Minnesota. Ryan and Kelly are raising their 7 kiddos in Maple Grove, MN.
When he's not shuttling his kids around to hockey practice, you might find him in the shop working on his leatherwork. Undoubtedly, there will be a family trip to the Boundary Waters Canoe Area every summer, and of course weekends at Grandpa's cabin up north in the summer.