The state of Minnesota is known for many things, but tattoos aren't exactly one of them. But surprisingly, the state is home to dozens of amazing tattoo artists and studios! While many of these are concentrated in the larger cities, you can find talented tattoo artists anywhere throughout Minnesota. Here are some of the best tattoo artists in Minnesota to get an amazing tattoo.
1. Dragonland Inc Tattoo – Hopkins
First on the list of best tattoo artists in Minnesota is Dragonland Inc Tattoo. Founded in 1994, the tattoo studio continues to provide some of the best designs in the state. Dragonland Inc aims to bring a chic and high-quality feel to small-town Minnesota. To this end, it employs artists for every type of style, so every customer can get the tattoo they want, from small, tasteful designs to vibrantly complex ones.
2. Ink Tailor Tattoo Studio – Columbia Heights
Ink Tailor Tattoo Studio in Columbia Heights is the fruit of a decade of travel and learning about tattoo customs all around the world. Here, you'll find an experience like no other, complete with pen-to-ink sketches and even photos to get the perfect design before starting. Realism is the name of the game at Ink Tailor Tattoo Studio.
Before you book an appointment, you'll have a consultation with the owner to make sure he is the best fit for your vision. However, make sure to book early, as he is often scheduled up to three months in advance!
3. Leviticus Tattoo And Piercing – Minneapolis
Leviticus Tattoo and Piercing is one of the top destinations in Minneapolis for a great tattoo. Part tattoo studio, part art gallery, Leviticus is all about beauty, artistry, and creativity. The owners aim to provide a beautiful and relaxing place for you to get your tattoo so that the process is an overwhelmingly positive experience. With a full team of artists including several guest artists, Leviticus Tattoo and Piercing is guaranteed to have a great match for your vision.
4. Guns N Needles Tattoo – Minneapolis
Guns N Needles Tattoo in Minneapolis offers a relaxing atmosphere where you can see your vision come to life, whether this is your first tattoo or one of many! The studio features a team of experienced artists with different styles and talents to make sure you find the one that is perfect for your needs. They also offer a detailed care plan for maintaining and protecting your tattoo in the first days after application.
5. Jackalope Tattoo – Minneapolis
Jackalope Tattoo in Minneapolis is known far and wide to have some of the best tattoo artists in Minnesota. Founded in 2013, the studio aims to be a place where anyone can feel comfortable bringing their tattoo vision to life, no matter who they are or what they want. Jackalope Tattoo employs a team of talented artists from all walks of life, each with their own distinct style, to help clients get the tattoo of their dreams.
6. Ocean Blue Tattoo And Art Studio – Bloomington
Ocean Blue Tattoo and Art Studio in Bloomington is dedicated to all things creative and artistic. Founded by a renowned artist from New York City, the studio is a place for clients to view amazing artwork while becoming a piece of art themselves! With a full team of tattoo artists, Ocean Blue Tattoo offers every style you can imagine, from hyper-realistic to abstract designs and much more.
7. Beloved – Roseville
Beloved Tattoo and Removal in Roseville is a safe space where every client can feel comfortable making their vision come true. Here, the team of artists works with each customer to design a unique and beautiful tattoo, pushing the boundaries of what body art can be. They are always open to new ideas and techniques and strive to keep learning, no matter how many tattoos they complete!
8. Uptown Tattoo – Minneapolis
Uptown Tattoo in Minneapolis is one of the top places to get tattooed in the city. In fact, if you ask around for recommendations, this will probably be at the top of the list. The team of artists comes from all over the country, and so do their clients!
With the bulk of business coming through word of mouth, Uptown Tattoo has developed a strong rapport with customers who come back again and again. Once you visit Uptown Tattoo for your first consultation, you will understand why it has the heaviest traffic of any tattoo studio in the city.
9. Hung's Tattoo Parlor – St. Paul
Hung's Tattoo Parlor in St. Paul is the result of more than 25 years of experience. Starting in San Diego, the owner eventually moved to St. Paul, where the studio was founded in 2003. Hung's is unique in the sense that it is actually a family business! The resident tattoo artists are Hung and his daughter Trish, who trained under her father. They offer any style of tattoo, with a special emphasis on Asian art.
10. A-Town Tattoo – Annandale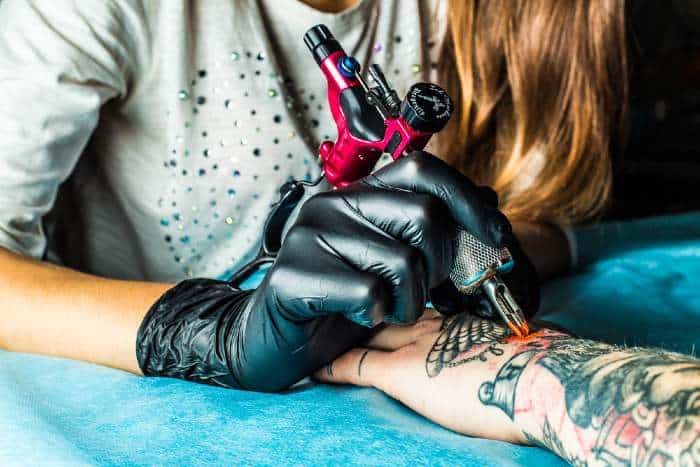 A-Town Tattoo in Annandale is a small tattoo studio prioritizing a quality experience to a small but dedicated clientele. Here, you can expect to have your artist's full attention as the two of you design your tattoo together. A-Town Tattoo brings an excellent quality experience to a small town (and has a lower price range to match!). With a team of experienced artists dedicated to their clients, A-Town Tattoo shows you don't have to go to the city to get a great tattoo.
11. Minneapolis Tattoo Shop – Minneapolis
Minneapolis Tattoo Shop is owned and staffed by a team of female artists providing some of the most top-quality tattoos in the city. They specialize in all art styles, including everything from watercolor to realism, fine line, and even cosmetic tattoos. Founded in 2013, Minneapolis Tattoo focuses on a clean and safe environment while working closely with each client to design their perfect tattoo. All the artists are certified by the Minnesota Health Department.
12. Timeless Tattoo – Minneapolis
Timeless Tattoo is located in a historic district of Minneapolis. Here, the team of artists is dedicated to creating tattoos that are just as lasting as the building in which they work. The artists have many years of experience and can provide whatever style you envision for your tattoo. The studio is designed to help clients relax as they undergo their appointment, so they have a positive experience with one of the best tattoo artists in Minnesota.
FAQ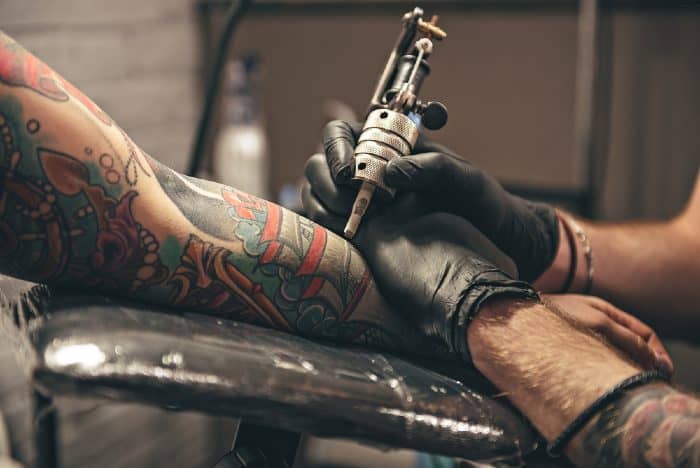 How Much Is a Tattoo In Minnesota?
It is difficult to estimate the cost of a tattoo, no matter where you are. It depends largely on the artist you choose. Tattoo artists generally have an hourly rate, which might be influenced by the size, placement, and intricacy of your tattoo and other factors. On average, you can probably expect to pay between $150 and $450 for a tattoo, with smaller tattoos being much more affordable.
How Much Does a Full Sleeve Tattoo Cost?
Tattoo sleeves are some of the most expensive tattoos you can get, mostly because they take so much time. You can expect to sit for at least two days (probably not consecutively) and pay between $1,000 and $2,000. The price will be even higher if you use an in-demand artist or want color, as that baseline price usually only covers black ink.
How Long Do Tattoos Take To Get?
The amount of time it takes to get a tattoo varies widely based on the size and complexity of that design. A small, simple tattoo might take less than an hour. Large tattoos might take days or even weeks of work to complete. Tattoo artists usually work in sessions for four to six hours for complicated tattoos, so expect to make multiple appointments.
Best Tattoo Artists in Minnesota
If you are looking for the best tattoo artist in Minnesota, you have plenty of choices! Although Minneapolis is a huge hub of popular tattoo studios, you can find dedicated artists anywhere throughout the state. No matter what kind of tattoo you are looking for, Minnesota is a great place to find it.
If you're looking for local restaurants or attractions while you are getting your tattoo work done, check out our page on Things To Do to learn all about the great Minnesota city or town you are visiting.
Ready for more Minnesota living advice, info, and guides? Whether you're a local or a passerby, discover the best of Minnesota that our great state has to offer!