Whether you're catching a casual dinner with friends or enjoying game day on TV, there's nothing quite like a plate of boneless or traditional wings. Of course, Minnesota is home to all kinds of restaurants, bars, pubs, and food trucks where spicy wings are the popular dish!
If you want the crème de la crème recommended by satisfied wing aficionados, however, you've come to the right place. Keep reading as we reveal the top 19 spots where you'll find the best wings in Minnesota!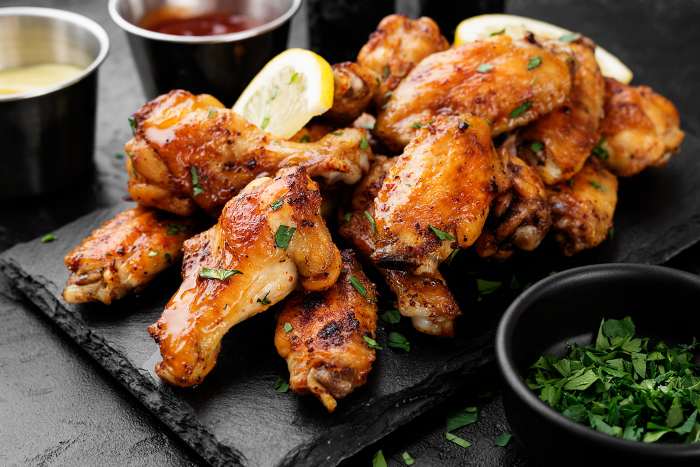 Metro Region
1. Ray J's American Grill
At either one of two Ray J's American Grill locations (Minneapolis and Woodbury), you can enjoy a plate of fresh, jumbo whole wings—voted the Best Wings in Minnesota by WCCO!
Ray J's signature flavors include bomba wings, nutty rooster, and the extremely hot habanero wings. Take your pick from a full order or half order, dine-in or takeout!
2. Tracy's Saloon & Eatery
A quaint bar and grill tucked away in the otherwise-busy Minneapolis, Tracy's Saloon & Eatery is somewhat of a hidden gem when it comes to chicken wings.
Tracy's killer wings come in a variety of wet sauces, including teriyaki, oyster sauce, buffalo, and more. Dry wing rubs include berbere, cajun, jerk, and Tracy's famous seasoning.
3. Runyon's
When it comes to traditional buffalo flavor, Runyon's bar and restaurant has some of the best wings in Minnesota. These crispy chicken wings were added to the menu in 1984 and have remained one of the restaurant's most popular orders since.
While a little pricier than the average wings, it's definitely worth splurging on this tasty appetizer!
4. Eli's Food & Cocktails
Noted as being "classy yet casual", Eli's Food & Cocktails is the perfect spot for a low-key lunch or a nice dinner out.
Across the two Minneapolis locations—Downtown and East—options include buffalo wings, Nashville hot wings, Cajun dry rub wings, and honey soy wings. If you have your heart set on a favorite flavor, be sure to check out each location's menu in advance!
5. D-Spot
Oakdale's own D-Spot has arguably the best wings in Minnesota—not only because of their quality but also due to the wide variety of 70+ sauces and rubs that cater to all types of wing enthusiasts!
Put your heat tolerance to the test with the Seppuku or Seizonsha sauces, or top your wings with a more left-field flavor—such as French toast or Reese's.
6. Wing Joint
Wing Joint is home to some of Minnesota's best whole, bone-in wings and BBQ smoked ribs. Order traditional buffalo wings with your choice of dipping sauce or opt for Wing Joint's famous seasoning.
There are all types of weekly deals and specials that make the restaurant's ever-popular wings equally affordable—including Tub Tuesdays, lunch specials, and sample platters.
7. Cedar Inn
If you're looking for a casual neighborhood bar where you and your friends can kick back and enjoy some of the best wings in Minnesota, look no further than Cedar Inn. In fact, City Pages voted the hot wing restaurant "Best Wings Minneapolis" in 2020!
Pair a tray of Cedar Inn's famous jumbo wings with one of six delicious wing sauces or three dry rubs.
8. HmongTown Marketplace
HmongTown Marketplace is one of Minnesota's must-see attractions, and not only because of its fresh produce and 100+ shops.
HmongTown's authentic stuffed chicken wings are equally noteworthy! Be sure to add the marketplace to your itinerary while visiting St Paul.
9. Mackenzie Pub
Mackenzie Pub, self-described as "an American bar with a Scotch flavor" is known for more than its wide selection of craft beers. Its smoky chicken wings are a Minneapolis staple!
Orders of 6 wings and 12 wings are available, with quality sauces ranging from bourbon BBQ and Carolina BBQ to Caribbean jerk and habanero BBQ.
10. The Monte Carlo
Founded in 1906, the Monte Carlo is one of Minneapolis's favorite lunch and dinner establishments. Don't let the restaurant's upscale appearance and fancy menu deter you from ordering a tray of Beijing-style wings.
While you might need to fork out a little more money than you would at your local pub, rest assured that these favorite chicken wings are worth every cent!
11. Spring Street Tavern
At Spring Street Tavern, you'll enjoy a generous craft beer selection and your choice of four award-winning wet wing sauces—including the bar's signature "Spring Wings."
In years past, Spring Street Tavern has been named both "Best Neighborhood Bar" and "Best Wings" by City Pages!
12. Red Rabbit
With a mortar location in both Minneapolis and St. Paul, Red Rabbit provides a friendly dining atmosphere for Twin Cities natives and visitors alike.
While Italian cuisine is the establishment's specialty, Red Rabbit's famous wood-grilled wings—complete with creamy Parmesan dip—are to die for!
13. Smoke in the Pit
At Smoke in the Pit, lunch and dinner menus feature smoked and fried wing combos that can be paired with BBQ ribs, fish, and other popular entrées.
While Smoke in the Pit's current location is temporarily closed due to changes that are being made, this local favorite will reopen on April 1, 2022. Mark your calendar!
14. Rock Elm Tavern
There are two Rock Elm Tavern locations—one in Plymouth and the other in Maple Grove—where you can sample some of the best wings in Minnesota.
Any plate of traditional and boneless chicken wings can be topped with your choice of bourbon BBQ, jerk, buffalo, sticky ginger, Nashville hot, or lemon ranch sauce!
15. Hickory Hut
Don't be fooled by Hickory Hut's hole-in-the-wall appearance. This St. Paul favorite is one of the most popular spots for chicken wings, BBQ, and seafood dinner combos.
Individual meals include 3–8 wings (with lots of choices for sauce, of course), Texas toast, and multiple sides. Rest assured, you won't be going home hungry!
16. Alary's Bar
Alary's Bar, "St. Paul's original sports bar", is one of the downtown area's best spots to catch a Chicago Bears sports game while throwing down a beer and tray of chicken wings.
Wet sauces include classic buffalo and sweet sesame, while dry rubs include cajun and Alary's signature seasonings!
17. Bunny's Bar and Grill
For more than 80 years, Bunny's Bar and Grill has been serving top-notch chicken wings to its St. Louis Park and Minneapolis natives.
While Bunny's stays open for breakfast, lunch, and dinner, be sure to visit in the afternoon or evening for a plate of delectable wings topped with your rub or sauce of choice. Bunny's Kings Royal dry rub is legendary!
Northeast Region
18. Canal Park Brewing Company
Canal Park Brewing Company is a local, family-owned restaurant that boasts six award-winning craft beers and some of the best wings in Minnesota.
Nothing beats an order of eight wings—topped with buffalo, beerbq, sriracha honey, or lemon garlic sauce—as you look out over Lake Superior at sunset!
Central Region
19. Lily's Wings
Lily's Wings (or Lily's Wings, Burgers, & Things) is a St Cloud hot spot that offers an array of bone-in and boneless wing options.
Place your order of 6, 12, 25, 50, or 100 non-GMO, organic, free-range chicken wings, and pair them with your choice of original Lily's sauce!
Order a Plate of the Best Wings in Minnesota Today!
So, are you itching to satiate your chicken wing craving with some of the best wings in Minnesota? Now that you have a handful of options, be sure to visit one of these top wing spots and treat your taste buds to a plate of the state's favorite wings!
If you have a favorite place where you love to get wings, and you feel it should be added to our list of best wings in Minnesota, please let us know!
Still hungry? Then continue exploring Minnesota food and drinks for a complete culinary adventure!