I can't believe I have never before seen Irving Berlin's White Christmas! It recently was on stage at the Orpheum Theatre. I attended the play opening night with my Mom. She got a real kick out of seeing me wide eyed and giddy during the whole play! If you haven't seen Irving Berlin's White Christmas the musical, you need to make a point to indulge yourself this Christmas. It's such a sweet story of friendship, honor and love.
Irving Berlin's White Christmas Comes To Life
First of all it was such a special night for me because I was able to spend time with my Mom. Life with five kids tends to be a bit busy and I don't have a ton of spare time on my hands. My Mom and I both enjoy seeing plays and this was a great treat for each of us. My Mom has watched the well known version with Bing Crosby, however I on the other hand have never seen anything that has to do with White Christmas. I know the song and that is about it. Looking back I think it was better to have experienced the story through stage before sitting in front of a TV screen.
The time period is set in one of my favorite frames, the late 1940's into the 1950's. The costume designs (Carrie Robbins) were fantastic and made me wish I could be a 1950's housewife spinning around in cute skirts with a little curl in my hair. I pointed out to my Mom during the break that none of the costumes seemed out of style for that time period. I was thrilled to see actual clothing I think I would have truly seen in that day of age. I almost want to send a Thank You letter to the costume designer!
Along with another letter for the set designer (Kenneth Foy). I understand the location is meant to feature a Vermont vacation, yet I felt as though I was right at home in the beautiful state of Minnesota. Expect for the section when an upset Betty (Trista Moldovan) throws a tantrum and takes off unexpectedly to New York. The set design for the background during this piece is stunning.
Train Rides Look So Fun!
The actual storyline of White Christmas is based off two young men, Wallace (James Clow) and Davis (Jeremy Benton), who once where in the 151st division in World War II together. After their service they make it big as entertainers. They happen to fall into the laps of two very talented sisters, Betty (Trista Moldovan) and Judy Haynes (Kaitlyn Davidson), who are heading on a train for Vermont. With a love at first sight fluid heart Davis and Judy plan a special surprise for Wallace and Betty. A couples trip to Vermont! Wait, they aren't a couple – in fact they sort of despise one another. This can't be good or is it a great idea! I am telling you this play keeps you engaged throughout the pasting minutes. I was laughing with tear filled eyes at just the slightest facial expressions! When the break came around I leaned into my Mom and told how I desired to continue with the play and skip the break!
No Ugly Sweaters Here!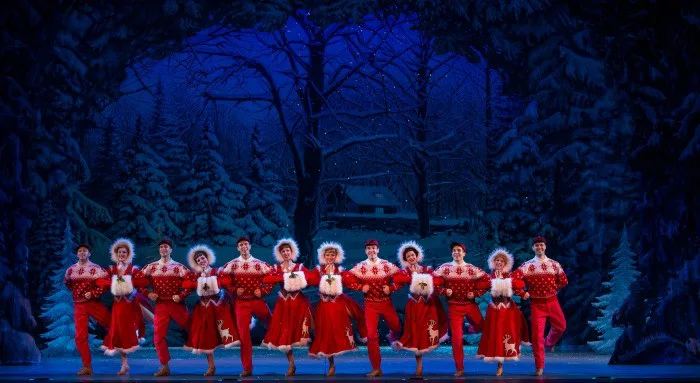 I can't even tell you the best part of the play due to the simple fact that the whole thing was outstanding. Kaitlyn Davidson and Jeremy Benton rocked the house with their phenomenal tap dance number. I wanted to stand up and shout you are awesome! Of course I didn't do that – it would be awkward, however I really was feeling it from my seat. I think my Mom could tell because she was laughing at me.
Once the happy group arrive to Vermont plans shift once they find out the inn keeper is the General from the 151st division. His inn is in the tank. Bottoms up and no light at the end of the road. That is until Wallace creates a huge idea to produce a musical revue at the General's barn! Emotions are tested and singing is how everyone expresses themselves as they inch closer to saving the Inn and even closer to falling in love. Oh La La La!! See I told you it is good! It's better than good – it's a must see.
I LOVE IT!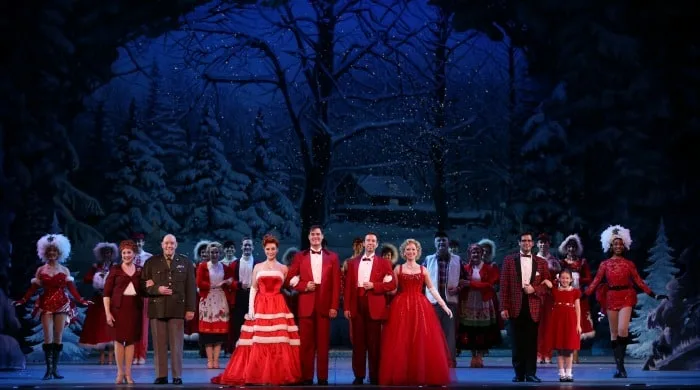 Irving Berlin, born as Israel Beilin in 1888, wrote the famous song "White Christmas" for the 1942 movie musical Holiday Inn starring Bing Crosby and Marjorie Reynolds. It won the 1942 Academy Award for Best Song of the Year. In fact, "White Christmas" is the most recorded Christmas song of all time with over 500 different "cover versions" to date. It's a wonderful way to begin your Christmas Cheer!
Thank you to the Orpheum Theatre for sponsoring LifeInMinnesota.com – photo credit to Kevin White