"Let me win. But if I cannot win, let me be brave in the attempt."
– Special Olympics Athlete Oath –
Steven Eull of Mahtomedi is a dedicated Special Olympic champion who began his athletic career when he was 7 years old. Recently, family and friends joined him in celebrating his 30th birthday at the Mall Of America. Steven lives with Down Syndrome, however that is not what defines this young man. Steven is a morning person, and everyday he rises at dawn ready to read the newspaper from cover to cover. Those who know him can attest to his charismatic personality. He is an honest, strong, caring, and very friendly person. Most of all, Steven is highly passionate about his involvement in Special Olympics and the success of his teammates.
Special Olympics brings over 4.4 million athletes together from more than 170 countries. It offers life skills to each participant through trials of winning, losing, being a part of a team, and the joys of reaching personal goals. For the past 23 years Steven has embraced his skill sets through sports offered in Special Olympics such as swimming, track and field, golf, softball, skiing, basketball, bowling, and flag football. Bowling is the favorite among most athletes because it is more of a social time for the players. His eyes light up as he eagerly announces the new sport being introduced to Special Olympics, powerlifting! "I just started powerlifting. My cousin helps as my coach. It's really exciting!" said Steven. He has been working hard training with his coaches and he is currently lifting 100 pounds! Steven has numerous medals hanging on his family room wall. In 2001 he was honored by being chosen as the Special Olympic Athlete Of The Year. Steven has quite the group in his corner cheering him on and in turn he continues to encourage the other athletes who are also his friends. As much as his life revolves around competitive sports, he also works two jobs (ESR and Target), goes to the gym daily, and takes part in additional outdoor activities, like the Northland 300 and the 2015 Polar Plunge!
Steven All Set For The Polar Plunge!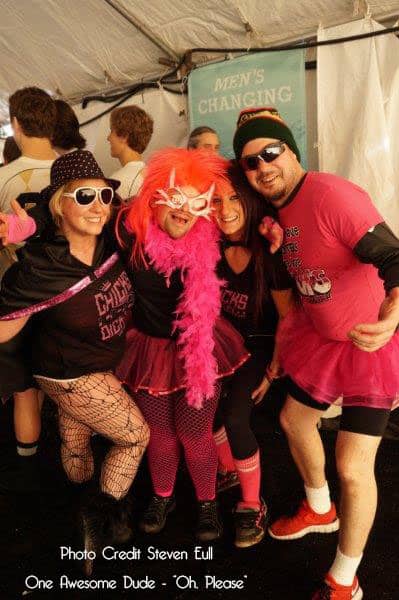 The Northland 300 is a 3-day, charitable snowmobile ride, made up of volunteer participants who raise funds to support the Special Olympics of Minnesota. In 2009, Steven was the first Special Olympic athlete to join the Northland 300 snowmobile trip. He describes the event, "It's a guys trip. We stay in a lodge and on our free day we drive around Ely". Although he proclaims this as his guy trip, his mother Patsy Eull volunteers for the Northland 300 as a care van aid. The trip begins in Two Harbors traveling North 150 miles for an overnight stay in Ely. After a day of fun they continue their journey back to Two Harbors, making an overall 300 mile trip. He looks forward to the adventure with his coach and dear friend Jason Reinsch every year. The ride has raised over $4 million dollars and 100% of the funds from the Northland 300 is given to support Special Olympics of Minnesota.
It doesn't take long to realize that Steven's life has been a series of adventures that have made him a man who is rich in relationships, a champion in physical endurance, successful in facing his fears, and willing to take risks. He lives a very special life that brings happiness to those who are blessed to be in his company.