After building a successful healthcare analytics company, which was sold to another business called Deloitte, and managing the Human Resources Department for Red Wing Pottery and Stoneware, Bruce and Irene Johnson became the proud owners of Red Wing Pottery and Stoneware at the end of 2013. We were excited to meet with Bruce during our stay in Red Wing because their pottery line has been a Minnesota trademark since the early 1900's. He shared the story regarding his business and the art of pottery that has been passed down for generations, while giving us a full tour of the Red Wing Pottery and Stoneware location.
Bruce commented that, "People are all about getting the word out about Red Wing; it's one of the top shopping destinations for Minnesota tourists." He went on to explain that the Red Wing Pottery and Stoneware building itself is iconic, and the history surrounding the company is phenomenal. In the 1850's, when Minnesota was becoming a state, Red Wing was one of the cities considered for the state capital.
During the settling of the West, being on the Mississippi River was critical for shipping and travel. In fact, the city was one of the few cities in the country that hosted a State Fair in 1864, during the Civil war. When German immigrants settled along the Mississippi River in Red Wing they found the clay around the area to be the perfect recipe for producing farmhouse-styled stoneware, as well as underground sewer piping that was later used all over the country.
Red Wing Pottery Original Sewer Pipe
Pottery can so often be used as a general term, however there are three different types of ceramics. One is a porcelain product, which is made from high quality white clay. Then there is the earthenware style, which is commonly seen in the form of terracotta pots Lastly, is stoneware, which is made from a mixture of unrefined clay. Stoneware is used for everyday needs, such as pots, bowls, jugs and food storage. The difference between stoneware and the other types of pottery is that stoneware is very strong and is resistant to cracking. Red Wing Pottery and Stoneware uses two different glazes on its pottery, resulting in two types of textures in the end product. They are the Salt glaze and the Zinc glaze.
Salt Glazed Pottery Kiln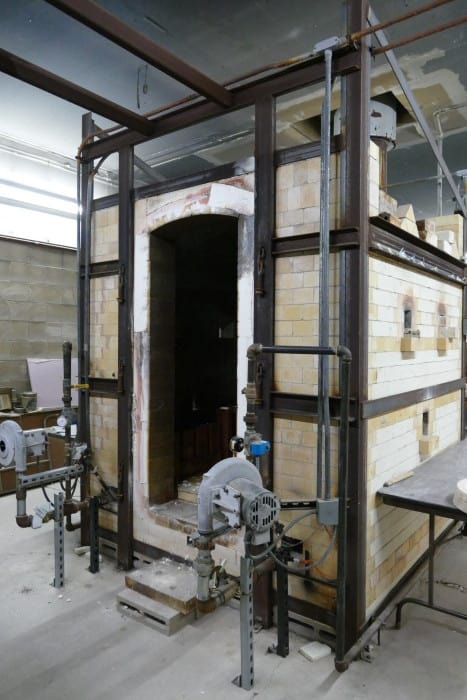 Salt Glaze
Most consumers recognize the red winged emblem placed on jugs, crocks, or butter churns as a traditional Red Wing Pottery piece because someone in their family, like a great Grandparent, had them on display in their homes. These products are typically made with a Zinc glaze. As famous as these items are, the original pottery, through the mid 1890's, was done with a salt glaze.
Salt glazing is extremely time-consuming, with an unpredictable result, yet worth the investment. Salt glazing requires potters to get the kiln to scorching temperatures (it takes about 30 hours to reach the ideal temperature) and then throw salt crystals into the burning kiln through a small hole located on the side of the kiln. Smoke and flames come roaring outward and great caution is in order. Quickly, the potter must contain the heat and replug each opening as it was before adding the salt. When the salt heats up it instantly vaporizes into a glass that reacts with the pottery, creating a textured salt glaze. On average, Red Wing Pottery and Stoneware fires its salt-glazing kiln every week for 3 to 4 weeks in a row during the summer; in the winter it's more like every few weeks. They can fit around one thousand pieces inside the salt-glazing kiln. They also make sure to contact the local fire department beforehand because smoke pours outside of the building as if it were burning down to the foundation. I mentioned to Bruce, "You need to upload this event onto Youtube," because it would be fascinating to watch.
Zinc Glazed Jug
Zinc Glaze
The Red Wing Pottery Company was one of the main employers in the late 1800's. The Mississippi river gave the company access to a shipping channel reaching across state lines. At one point it was the largest pottery company in the United States because of its ability to provide high quality products to a broad area. In the 1890's Zinc glaze was invented, opening the door to a faster production line at a lower cost. Red Wing Pottery and Stoneware's zinc-glazed pottery line is still made up the road at another building, by over twenty employees. Most people love the classic cobalt blue design of the Red Wing stamp, and it is a favorite not only in Minnesota, but is world-renown signature pottery. There is a secret formula that Bruce was unable to share with us that makes their clay stand out. Some of the items are hand thrown on a potter's wheel, whereas others are poured into a pre-made mold. Final touches are created by the employees to ensure each one retains the image so many people love about Red Wing pottery.
Evan Prescott, Featured RWPS Artist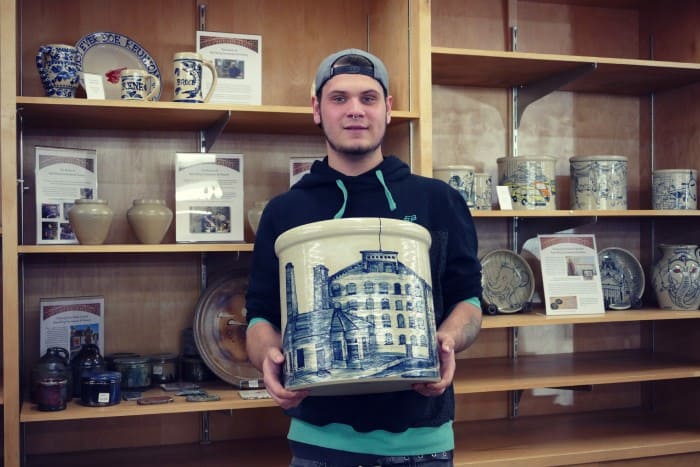 Pottery and Stoneware
Pottery is a skilled art. In fact, since Bruce noticed an original drawing on the desk of one of his shipping employees, Evan Prescott, he has been encouraging him to experiment with this artwork on all shapes and sizes of their Zinc-glazed pottery. Evan says he has always been one to draw and he really enjoys the challenges of putting his artwork on the pottery. Bruce has put a handful of Evan's finished products on the store floor and it doesn't take long before multiple customers claim them.
In 1910 the refrigerator was invented, eliminating the need for large storage crocks, so the pottery company changed its focus to designing more vases and planters. Once plastic was on the market in the 1930's they evolved into dinnerware. By the 1960's porcelain from China became popular and Red Wing Pottery and Stoneware had to work extra hard to keep up with competitive pricing. And, despite stopping production temporarily in 1967, due to a nasty employee strike, the company survived. Today, Red Wing Pottery and Stoneware is a retail store that offers the famous Red Wing Pottery, Stoneware, Fiesta Ware and custom shaped Minnesota mugs. The location also includes a coffee shop, a candy store, pottery classes, tours and a ton of fun!
And, of course if you have come here, especially in the fall, the views are absolutely gorgeous, another thing which makes Red Wing such an attractive destination.
About the Author
Latest Posts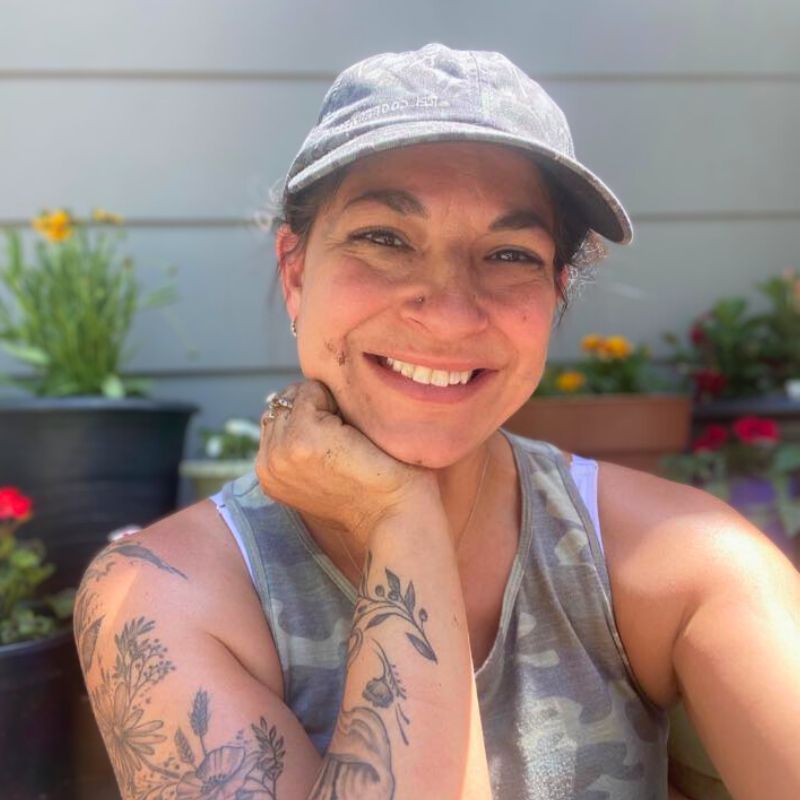 Hi! My name is Kelly and I run Life In Minnesota with my husband, Ryan.
My vision for LIM is that it shares engaging stories of unique Minnesotans and that it's considered a wonderful resource that helps make every life in MN more awesome!
I can be reached at kelly@lifeinminnesota.com
#LoveWhereYouLive #LifeInMN