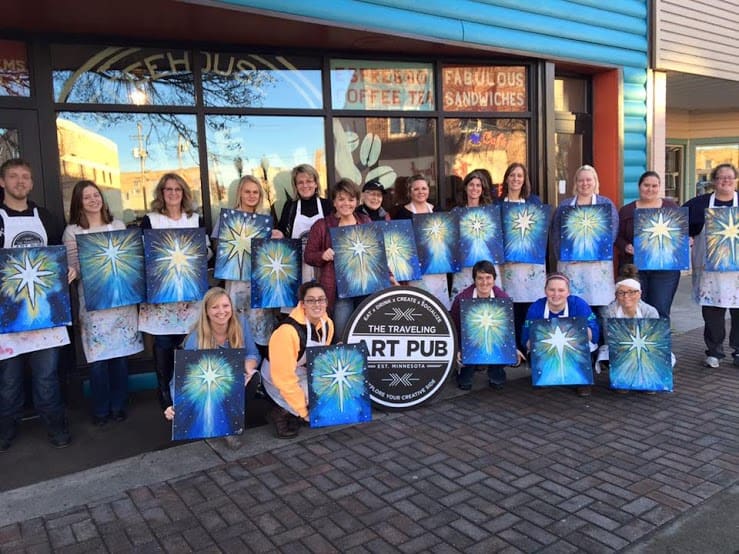 For owners Sara and Lisa Stawarski, meandering throughout the Midwest is an everyday experience. As this mother-daughter duo wander, they happily bring along inspiration, art, community and laughter. The Traveling Art Pub is based in Brainerd but has become one of the fastest growing trends in the Lakes area and beyond. With more than 5,000 Facebook fans, the owners, mother and daughter duo, have brought a unique way to explore your artistic side and celebrate local community through the creation of art. The Traveling Art Pub motto: To bring together individuals or groups for a unique and relaxed adventure, where you can eat, drink, create and socialize. Serial TAP goers refer to themselves as "Tappies" and often share how much they loved the experience on the TAP Facebook page.
The Traveling Art Pub brings an evening full of inspiration that leaves a lasting impression. As they wander throughout Minnesota, the Traveling Art Pub hosts 2.5 hour events with each session taking place at a different hot spot in the Brainerd Lakes area, Saint Cloud, and Bemidji. Each event includes a showcased artist, a featured inspiration art piece, all the materials you will need to create your very own masterpiece, food, music, drinks, and a relaxed atmosphere to socialize with newfound friends. The evening of art is lead by the showcased artist, providing step-by-step instructions on how to paint your very own masterpiece.
Owner, and half of the mother-daughter duo, Sarah Stawarski says, "I take pride in calling Minnesota home, but love my Colorado influence. I am inspired by nature, travel, culture and lifestyle; I can best be described as a creative-wanderer." As the trend continues to gain popularity, the Traveling Art Pub hopes to expand their locations and focus on adding local community influences. Each TAP session starts with a minimum of 12 people, with a maximum of 60, at a cost $35 per person. You don't have to be an artist or even good at painting to attend a TAP session, all you need is an open mind and the ability to have a good time.
The Traveling Art Pub events are perfect for celebrations, corporate team building, bachelorette parties, and baby showers or just a fun night out with the girls. The owners also provide private sessions out of their studio by appointment. These private event sessions are also a wonderful idea for a child or teen birthday party, or if you prefer, a one-of-a-kind art session that is focused on the individual rather than a large group. In addition to studio sessions, the dynamic duo also does private events for a variety of celebrations. They will travel to your home, workplace, summer cabin, or work with the local TAP hot spots to create your very own authentic experience.

If you are interested in learning more about the Traveling Art Pub, visit the TAP website to view the inspiration gallery, meet the TAP creators, artists and see first-hand the hundreds of people who have attended an event only to leave wanting more. You can also view the upcoming event calendar, purchase tickets, find unique items from their gift shop and learn about their other endeavor, Sole Adventures. Sole Adventures is a side effort that combines yoga, art and travel. This year the Sole Adventure truly includes a real live adventure with a trip booked for Isla Mujeres, Mexico this February.
With the holiday season encroaching, taking some time away from the hustle and bustle of the season is the perfect way to wind-down. Find your inspiration with the Traveling Art Pub and enjoy an evening full of nomadic art influence, good food, friends and wine.
Traveling Art Pub Studio
502 South 6th Street
Brainerd, MN 56401
Ph: 218.454.1888
E: travelingartpub@gmail.com