The other day I was going through my favorite sites and as I was reading Tori Spelling's fairly new site called ediTorial I came across the most beautiful KitchenAid Mixer ever. Tori got her KitchenAid Mixer custom designed from Un Amore by Nicole Dinardo. Check some of these designs out (the first one is Tori's mixer):
I love the details in the leaves. I can see this one sitting on a kitchen counter designed with a Tuscany flare.
$229.99 – Factory Refurbished KitchenAid Artisan Series Stand Mixers – shopKitchenAid.com (Affiliate)
I love the checkered black and white look. I told you they were the coolest KitchenAid Mixers Ever!
I feel head over heels for Nicole Dinardo's amazing designs. So much so that I contacted Nicole to ask if I could write up a post about her! I thought they were the coolest KichenAid Mixers ever and I wanted to share my new find with all of my readers. Crazy person level just went up two notches 🙂
Here's Nicole – When I grow up I want to be just like her xoxo.
Nicole Dianrdo is an amazing artist. Her natural talent has been a part of her since she was a child. Starting with pastels and paints then pen and ink and moving towards digital imagery, now she is mastering the airbrushing arena. I asked her how she got started with the airbrush:
"Curiosity, I thought I'd try it. I had been recovering from a surgery and was limited mobility for 6 months, so I needed something to occupy my time. I checked into tattooing first (before it was considered popular), but that fell through, so I picked up the airbrush."
I have never in all my life seen a KitchenAid Mixer designed with custom artwork. It is so unique that I had to ask where the idea came from. She respond with the following:
"My mom bought me a mixer for my birthday, so I painted it, then my friends, then my mom's and the rest is history. I enjoyed doing something different. I try to separate myself, to be unique and this just seemed to clicked for me. So I rolled with it."
It really worked for her, too. She is now a full time artist. I wondered if she did this in her garage or a studio, but no Nicole has her own shop scaling in at approximately 2,400 sq. ft. Let me tell you from Ryan having had a shop for Capstone Painting, running a shop is a huge commitment. Nicole said "Most people don't understand that I have a hefty overhead to cover each month." I understand all to well. Which lead me to ask her if she gets help. I was surprised to know she has a full staff helping her.
"We have a talented team of professionals that make what I do come to life. There's Mike, he was my mentor and is also my better half. He keeps me straight and if I ever need help, he's there. From therapy to advice LOL. Zach is our graphic designer. When I complete a design, Zach gets it ready for the mixer shape, prepares my artwork for each one. We work together to make the impossible, possible. Zach also helps me disassemble and preps mixers with me when he has time available. Abel is our finishing specialist. He adds that glossy beautiful finish that secures our artwork and makes it food safe. That way our work can be guaranteed to last generations. Erica is my personal assistant. She makes it possible for me to now focus on painting. She does the correspondence, shipping, invoicing, calls, etc…."
Now, you might be thinking a whole shop and staff to airbrush some KitchenAid Mixers. Well, she not only paints custom KitchenAid Mixers she also paints Handbags, Helmets, Guitars and other small objects. She is also able to custom make Instrument Cases. I can't wait to see her Pinstriped Heels with Bling she has coming out soon! With all her help behind the scenes I was amazed to find out she is the only one doing the actual artwork!
"I am the only artist that does the artwork for my business, but as stated above I have lots of help, without them I couldn't do it. period. It takes a team."
B-A-N-A-N-A-S
Nicole designed this for Gwen for a gift. She had another artist giving her a hand on the project.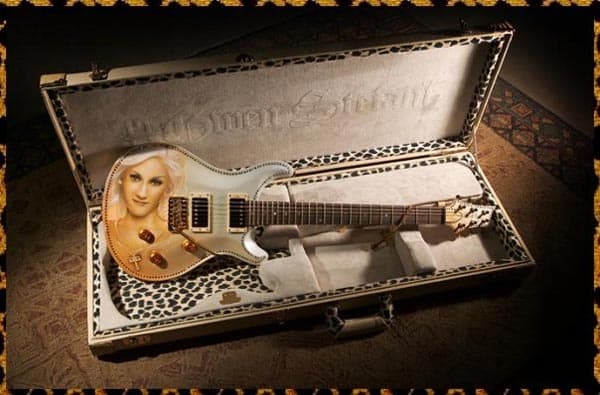 What a cool job Nicole has, but it isn't easy! I was curious how long it would take to finish a custom KitchenAid Mixer design.
"It depends on designs. Some weeks, some days. I work on artwork for several mixers at a time, they may be all different. Sometimes as an artist you need to step away and take a break from a design if it is very time consuming or difficult. You always want to give your best and it is easy to screw it up if you're not in the right mindset for a design."
All that work I wondered if she actually uses her mixer? It seems so pretty, I wouldn't want it to get dirty.
"Of course I do! I have for years and I will never repaint it. It was the first one, so I might retire her soon :)"
With my secret admiration for Tori Spelling I had to ask Nicole what it was like working on her "T" KitchenAid Mixer. Plus, if she could design one for anyone in the whole world who would it be for.
"Tori is awesome! Her's was a gift and she's a delight! I absolutely adore her."
get ready for this answer…
"Mr. Trump & Snoop Dogg. Yes, I know what you're thinking. ;)"
I don't know about you, but I wasn't thinking Snoop Dogg! Nicole already designed one for Tori so, I would put Sharon Osbourne on my wish list. With so many custom designs Nicole has a hard time choosing the one she is most proud of, but when asked she answered with the following:
"
I a

m proud of a lot of them. Once I pick a favorite, I find another. Too many to decide from. I guess I just love what I do. I try to make sure I put my own spin on each one, even if they're commissioned. But, if I can only pick one it would be the blue Car-Hop girl (Michael Elins shot the original photo). Faces that are 1inch big are not easy to do. So technically, this one thrills me. Also all the squares match up, even when the head is up or down."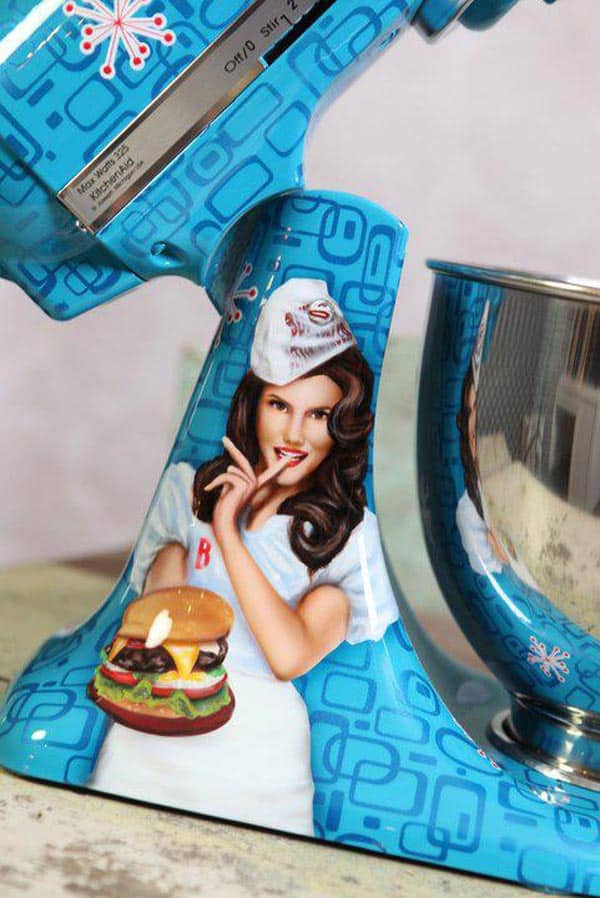 Factory Refurbished Stand Mixers Direct from KitchenAid! (Affiliate)
I love the strong bullet and Hot Pink hair!
I think this is my dream KitchenAid Mixer. Plus, it has a "K" on it.
I plan on going back every now and then to check out
Un Amore by NICOLE DINARDO
because I love art and she truly inspires me. Thank you to Nicole Dinardo for spending some time with us over here at Muddy Flowers.