There is no better place to go to get the summertime juices flowing during these last bit of cold months. Ryan and I took an afternoon off from Blogging to check things out. I was thrilled to have a first hand look at the most recent designs of all types of campers. We had the little ones with us which was fun.
We grabbed a muffin on our way into the camping show
This place was loaded with 2013 class A, B and C motorhomes, travel trailers, fifth-wheels, tent trailers and park models from all over the Twin Cities areas. However, I must admit my favorite camper was a fifth-wheel from Hilltop Trailer out of Fridley, MN. It's called The Pinnacle, by Jayco.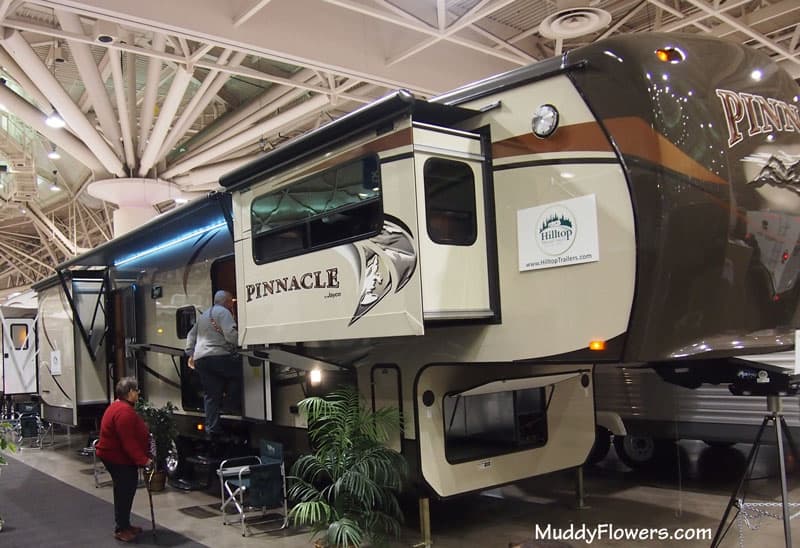 I now know what I want when Ryan and I get old and travel across the USA. It may be large in size, but it is so cozy on the inside.
Living it up by the fireplace ( I don't even have a fireplace in my house!)
What kind of camping would this be called? Not "TENT" camping.
The space inside a few of these were shocking to me. Traveling across the country would be really fun in a camping trailer. Heck, just going across town to a local campground in one of these things would be awesome!
I thought the kids might be a lot of extra work walking around the convention center, they were extra – yet they had a blast there. You should take your kids or grandkids when you go to the show.
Jadis made us a fake lunch in one of the campers.
Ruthie takes after her Grandpa and Grandma and enjoys the luxury of driving around in a golf cart!
This outrageous camper comes with it's own porch! How sweet would it be to sit on this porch, outdoors by a lake sipping on a cold glass of ice tea under the shade of your own camper awning. I wish I was there right now!

We moved along towards the middle of the convention center. There they have vendors from campgrounds, pots and pans, food, clothing and some more fun stuff. The girls had a good time spinning for a prize. I also noticed they had a beer stand in case you like to drink at 10am!?
The RV Camping Show is so much fun! It helps having all they options under one roof. If you can't afford the high class style you can find something very nice to fit your price range. I know Hilltop Trailer does financing. You can get monthly payments down to fit your needs pretty easily.

I would love to rock out with the outdoor radio system on my camper!
Isaiah was really into people watching not photo taking…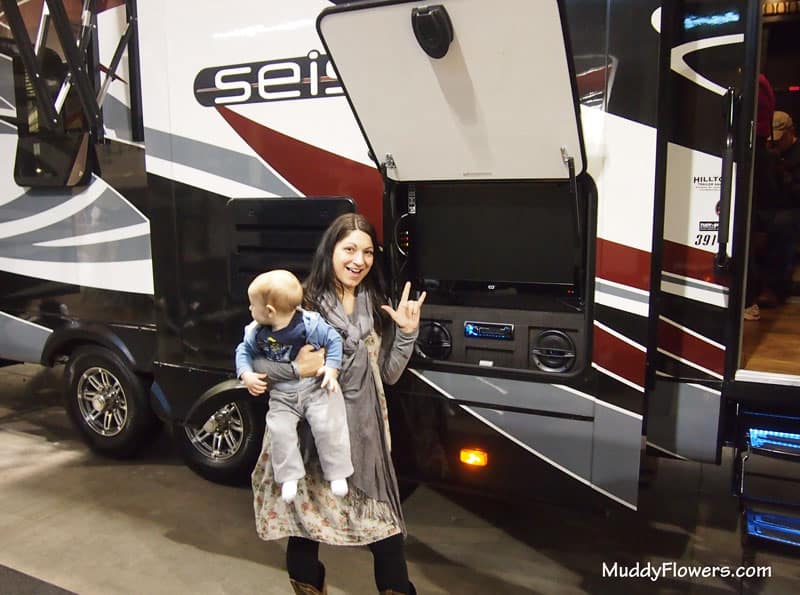 Our big question for the day was "Is there a camper that would fit a family of 7, without being ontop of each other?". The answer was "Yes, it's called The Eagle, by Jayco". Once again featured by Hilltop Trailer 🙂
Bunk Bed Bliss…
I was a big fan of the kids having their own space while the parent's bedroom was on the other end of the camper. Now, that is what I call a vacation!
The camping season is just around the corner. If you are thinking about purchasing a new home away from home I highly suggest you visiting the Progressive Insurance 46th Annual Minneapolis/St. Paul RV, Vacation & Camping Show this weekend!!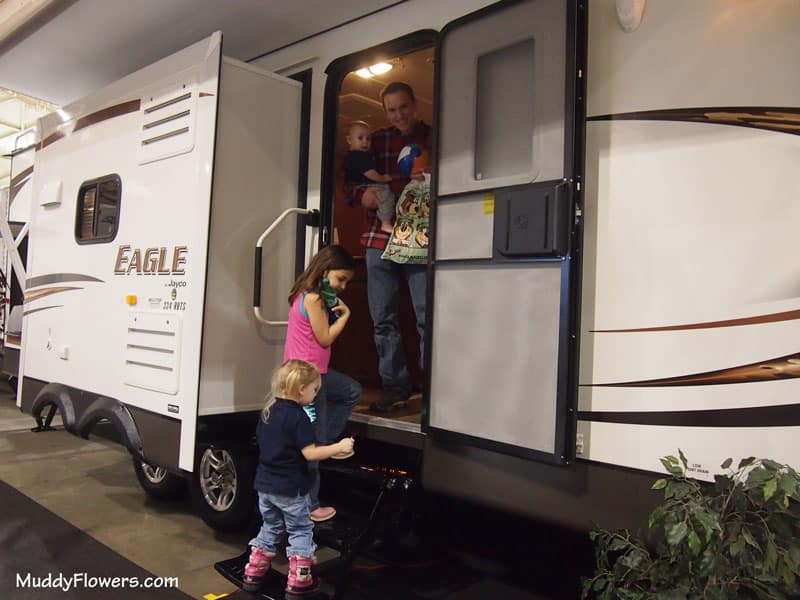 My family and I loved it even though we weren't buying anything:)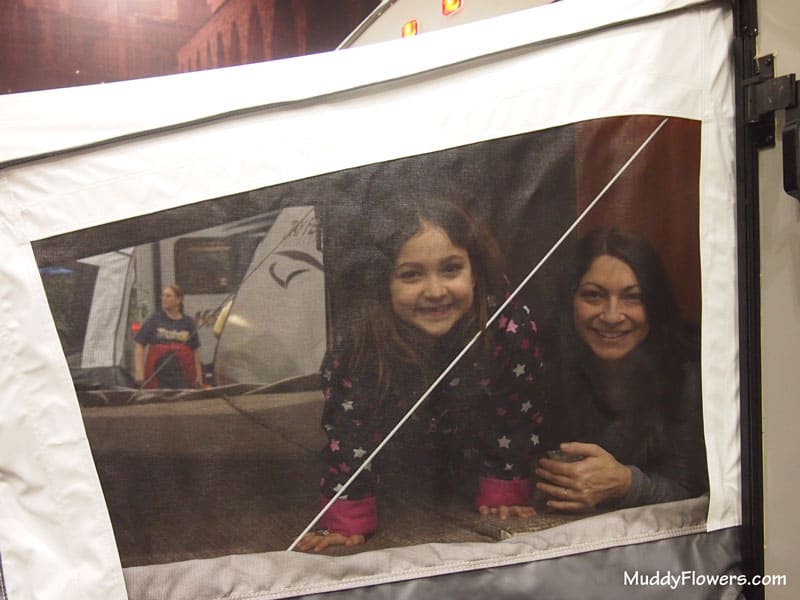 Thank you to GS Events for hosting our trip to the Progressive Insurance 46th Annual Minneapolis/St. Paul RV, Vacation & Camping Show. We had a wonderful time there.
Like I said it is going on this weekend at the Minneapolis Convention Center from 10am-9pm on Sunday they close at 5pm. Tickets are $10 for Adults, Children 6-12 are $4 and Kids under 6 are FREE!
xoxo Kelly