Get to Know My Friend and Brother in Christ
Steve Goold
I first met Steve through our Church. I have had the honor of listening to Steve play the drums there for a number of years now. I enjoyed watching him in his element so much I asked Steve and his family over for dinner one night. Our families have been friends ever since. So, when I hear Owl City on the radio it makes me think of my good friend Steve and about how I always have a good time around him, his wife and their cute little girls.
Steve is super down to earth. You would never guess how popular he is in the music world unless you follow such things. He is a follower of Jesus Christ, a family man, a good friend, great disc golfer and he can eat a ton of food!
I hope you enjoy my interview with the man currently on tour with Owl City
It looks like a really fun job!
What did you enjoy doing as a child? What was your favorite outdoor activity?
My mom says I spent a TON of time on the swings. I've always liked movement – almost to a fault. I'm always fidgeting and tapping my feet and moving my legs and stuff. And I guess when I was young I used to sit in the swing for literally hours and hours. Other than that, my family lived in SoCal when I was a kid, so I always loved going to the beach.
Describe your grandparents. What did you enjoy most about them?
The grandparents that I spent the most time with lived in Iowa, so I didn't see them a ton until we moved to MN when I was 10. But both before the move and after my favorite part of their house was getting to eat sugary cereal, which my mom didn't allow at our house. I also loved the tire swing that my grandpa hung in their backyard. As I got older my grandpa taught me to play golf and we golfed together a lot.
Do you have a childhood fear? I am scared of sharks in a pool, really I am.
I've always had arachnophobia… the fear of spiders.
Who were some of your friends growing up and did your parents like them?
Most of my friends when I was really young were from church, so no problems there. And then as I got older my buddies were all music people, and they were also trustworthy guys and not trouble-makers. It's amazing the way my friendships have been almost 100% defined by music since I started playing drums.
What were some of the crazy fads you or your friends went through?
I remember one specifically from 7th grade, where everybody bought these HUGE jawbreakers from the candy store. They were baseball-sized. And then everyday on the bus to and from school we would just be licking these jawbreakers. Everybody's tongues would be raw. It was a race to see who could get to the center of theirs first. Every layer of the jawbreaker was a different color, so the thing would start to look like a science project model of Saturn or something.
What mischievous prank did you pull on someone and how did it affect you?
I used to stack cardboard play blocks above my door when the door was opened slightly, and balance them so that as soon as someone walked in they would all fall on them. I would get my dad with that almost every week. It was pretty funny and viewed as a good-natured prank. It always made my dad laugh and I had fun with it.
Steve also plays the drums for the Jason Harms Sextet Band
What were some of your chores and did you get and allowance?
I always had to make my bed and clean my room, and then take out the garbage for the family. I also remember having to clean the bathrooms a lot, and shovel snow off the driveway. As I got older I started mowing lawns. I never got allowance, but I got paid for things like lawn mowing and shoveling snow.
What were some of your first jobs? How much did you make?
The first job I had was at Old Country Buffet. I was the meat carver. I was 15 years old and made minimum wage… which I believe was $4.60/hr. After that I worked for my friend's dad who was a chiropractor. I worked in his office doing odd jobs like filing and what not. I made a lot more money there… like $10/hr or something, which was really good for a 16-yr-old in 1996. I worked there all the way until college.
Have you ever been fired from a job?
I was fired from a dance band (playing bars and wedding receptions and private parties) 10 years ago. I was talking about the gig as if it was only a temporary thing (which it was) and not the goal for any musician. "Obviously this band is just a stepping stone toward a better gig"… or something to that effect. Someone who heard me saying that told the band leader who was really offended by it and called me and yelled at me and fired me. Turned out to be a really good thing in the end.
When did you start playing the drums?
Right when I turned 12, in the summer between 6th grade and 7th grade.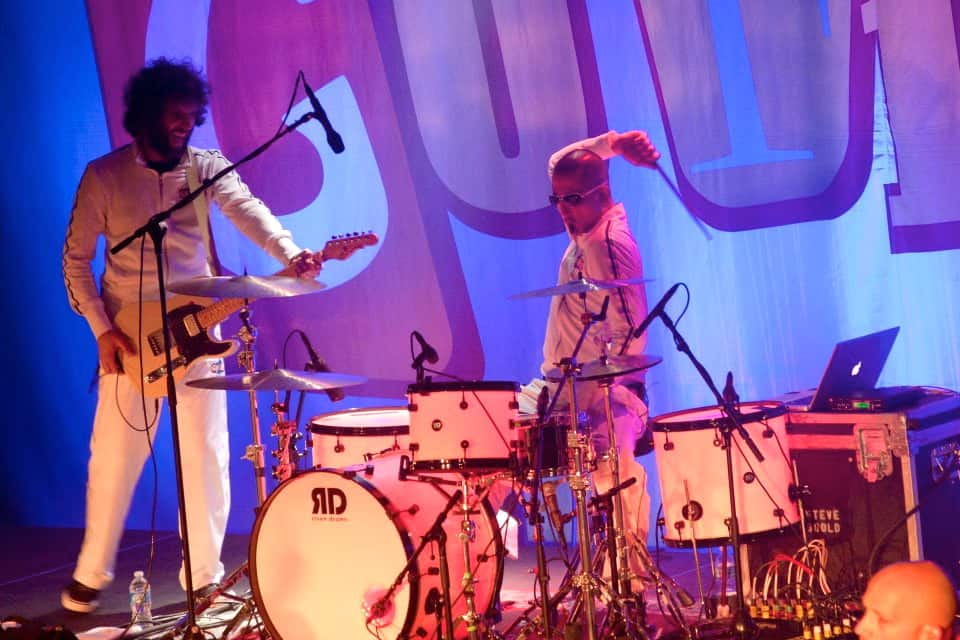 Does anyone else in your family have musical talent like yourself?
Yes. My dad was a music major for his undergrad and is a killing vocalist.
What made you decide to make drumming your career?
I had no intention of ever being a professional drummer. It just happened. I loved playing my instrument and so I played it all the time. Practicing on my own, playing for worship team at Church, playing in bands with my friends… I just played constantly. Through that I got good enough that people I didn't know started to contact me and ask me to drum with their bands or their church worship teams or whatever. Then these people started offering me money to persuade me to play with them. And it just turned into a career. Ha.
What did your parent's think about you wanting to be a drummer for life?
My parents were always VERY supportive of my music. They never made comments about my practicing in the basement being annoying or anything, and my dad often helped me financially when I needed a new cymbal or something. By the time I was making money playing drums they could see that things were heading the direction of professional music for me, and they were supportive of that too. My parents have always been more concerned with my heart and my character than with what I choose to do vocationally.
(Steve's parents are super awesome people!)
What was the best advice someone gave you about the ins and outs of the music business?
My dad, when I was first starting to get "gigs" (paid drumming jobs), told me that "there is no room in the middle of the music business." He said that there was room at the top only. Meaning, if I was an average player then I wouldn't matter to the professional music world, but if I was great then the music business would make room for me. He was spot on about that.
How many tours have you been on?
Hard to say. Dozens. But they have all been very different.
Best place you have been to on tour?
I really enjoy the UK. I love Scotland. I also really like Asia and very much enjoyed getting to spend time in Japan.
What part of the business would you change if you could change anything?
I don't like the way Christian music is labeled. A musician makes music that sounds exactly like "rock" but uses Christian lyrics, and all of a sudden it's not "rock" anymore and is instead filed under "Christian."
Who do you admire the most in your life?
My dad. I can't believe the stress and complex situations that his job constantly throws at him, and he handles it incredibly.
If you could play with anyone in the world live or not who would it be?
Well, there is a possible and an impossible answer for this. The impossible one is U2… I would LOVE to play with U2. But they are a band in the classic sense, where they would never play a show without the drummer that they've always had (who actually is the one that started the band). Bands like that don't hire sub drummers or replace their drummers. On the other hand you have artists like John Mayer or Pink or Justin Timberlake who use different drummers every year it seems. I think my dream gig at this point would be Carrie Underwood. That might sound strange but her band is full of really great players and the music is challenging. And the touring situation there would be ideal.
The most outrageous food you have eaten?
Baby octopus soup, when I was in Taiwan. It was literally a noodle soup with whole baby octopuses in it. They tasted like shrimp and were about the size of popcorn shrimp. It was good. 🙂
Tell me a little bit about a typical day for Steve Goold.
If I am home then I wake up and get help get my daughters ready for the day. Then I probably drive one of them to their day activity (and my wife drives the other) and then I head off to teach private drum lessons at either Bethel University or Northwestern College, or someone's home possibly. Then I'll probably have a rehearsal in the evening or maybe a live gig. Sometimes I'll also have a recording session at a studio somewhere. I usually get home pretty late. I also really value community and friendships so I'll inevitably have a lunch meeting or hang with a friend somewhere in there. But then again some days I'm home all day with my kids. I mean, it REALLY varies, which is one of the things I love about what I do.
What was the first CD you ever bought?
August and Everything After by the Counting Crows.
Who are some of today's artists that you enjoy?
I like most pop country artists, but I really dig more artsy bands like Radiohead and Bjork. Lately I've been listening to a lot of electronica, like Skrillex and Photek and Squarepusher.
What do you like to do when you are home during the tour?
Laundry. Ha. And I like to visit my daughter for lunch at her school. And my wife and I will have the kids sleep in our bed so we can all be together. We just cram the family time in really hard.
(I have a ton of laundry if you ever miss doing the wash on tour!)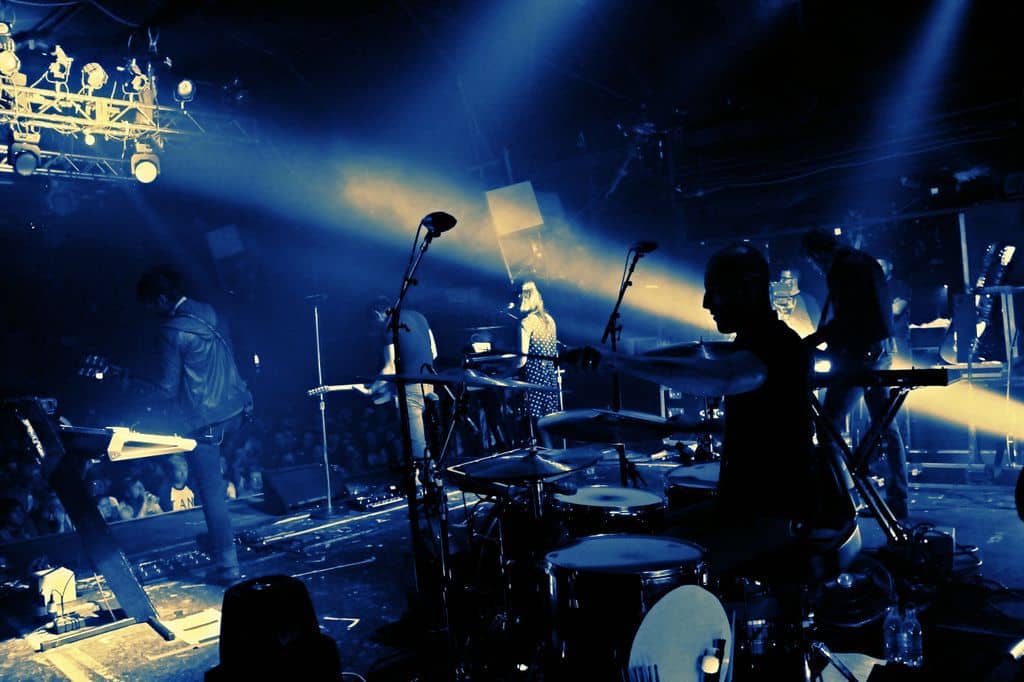 How do you define success?
Fulfillment. Happiness. And looking for those things in a job or a status won't ever work, so ultimately success is something that comes from outside my career.
If you could take your family anywhere in the world where would you all go?
I think we would all really enjoy going to Hawaii again (my wife and I went there for our honeymoon) or else maybe somewhere exotic like Australia.
Are your children more like you or Mom?
It's a dead even split. My oldest is basically a carbon copy of me, and my youngest a copy of my wife. It's pretty fun.
(Steve has such a cute family – not kidding!)
Best book you have read in your life?
Notes From the Tilt-A-Whirl by ND Wilson.
Do you get nervous before shows? If so, how do you handle it?
Not really anymore. I get nervous before new SITUATIONS… like the first time playing with a new band, or the first time playing on tv, or the first time playing something high-pressure. But if I'm in the middle of a tour with a band and we're playing a show somewhere just like we did last night and just like we're going to do tomorrow night then I don't get nervous. If I am nervous, I just focus on what I need to do. Focusing is really the magic trick in playing music.
I love your light up drums – how did you come up with the idea?
Thanks! I love them too. 🙂 I got the idea from my daughter's night light actually. One evening when she was going to bed I was laying in her bed with her and only her nightlight was one, which was a Disney Princess light that had a full-color LED in it. So it would slowly change from blue to red to purple to yellow to green and back to blue. The whole room would become tinged with whatever color the light was. I thought to myself "man, that would look cool on stage if I could get a drumset that could do that."
If you had to change your career what do you see yourself doing instead?
I would probably teach theology at a college, or else be involved in church leadership somehow.
What is it like being on stage with Carley Rae?
It's funny. She might as well not be onstage with us. Meaning, nothing about my role changes when she's there. Offstage though, she's very sweet. She's kind and personable.
What is it like being on stage with Owl City?
It's a lot of fun. It's different than most of my other gigs because that band has so many legit fans. Most of the time I'm playing music in professional situations where people aren't freaking out about simply laying eyes on our lead singer. 🙂
Fireflies by Owl City The Drummer Seat View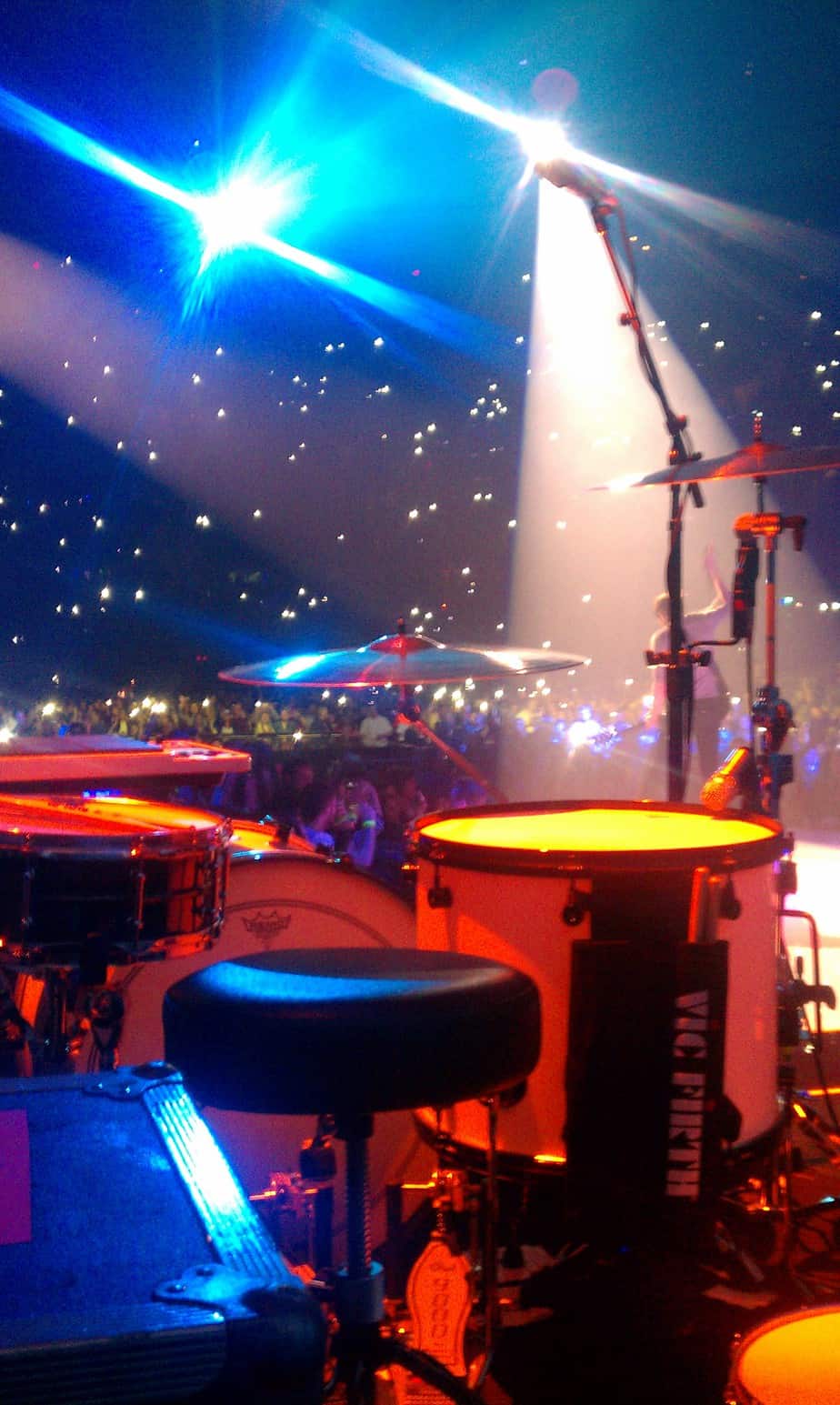 Do you have to share a hotel room when on tour?
Yes. If it's with Owl City then I always share the room with Jasper, our guitarist. If it's with Go Fish then I usually share with one of the crew guys or maybe the guitarist Jeremy Sanoski.
Do you get a lot of free stuff when you are out with the band?
Ha. I guess so. Free meals in the form of catering, and free beverages and stuff in the dressing rooms. And then from time to time I get free merchandise and equipment from companies that use the band to promote their product.
What is the longest amount of time you stayed awake?
Mmmm… probably 48 hours. Back in college.
Were you star struck with anyone one you have met yet?
I remember being starstruck when I first met Chris Tomlin. That's funny because he's a shy dude.
Can you describe your life in one word?
Awesome.
Favorite song to play on the drums?
Jammies by Go Fish.
If you could go to any concert what would you go see?
U2 again.
Best Date Night with your wife?
Sushi in Hawaii. But that doesn't happen very often. 🙂 Most of the time we just watch 30Rock episodes on Netflix and eat Nut-thins, which is always way more fun than it sounds.
What is your favorite movie?
Lord of the Rings trilogy. I watched the Return of the King again on the plane a few months ago and it was so moving!
When you are home what kind of things do you do as a family?
We enjoy going out to eat at El Toro, the Mexican restaurant by our house, and we love to get together with other families. We are very social. We also do a lot of sidewalk chalk. 🙂
When people look back at your life, how do you want to be remembered?
I want people to know that the thing I value the most is bringing glory to Jesus Christ, and helping others to do the same. Music is a great thing, and I get a lot of enjoyment from it, but it mainly just serves as a tool to meet new people and tell them about Jesus. I hope that people who know me will remember me first as a Christian.
Video of Steve talking about Risen Drums and the Kingdom of God
If you can't get enough of Steve here you can follow him at these links below. He is a great writer and lives an interesting life – check him out.
Thanks to Steve for the awesome article/photos and for the amazing sound he puts out there for us all to enjoy.