An old-fashioned street wagon selling hot, buttery popcorn… crafters and vendors displaying their wares… a bubbling fountain splashing delighted children as they dance around its edges. It all sounds so picturesque– and well, that's because it is! Welcome to the Riverwalk Market Fair in downtown Northfield!
Billed as "The art of a summer Saturday," The Riverwalk Market Fair is a meeting of all things small-town. There are farmers selling fresh produce, local artists showcasing their paintings and sketches, and musicians strumming and singing to the visitors. The atmosphere is Norman Rockwell; picture-perfect.
The fair happens every Saturday from June 3rd to October 21st in Northfield. Running from 9:00am to 1:00pm, entrepreneurs sell their wares for 20 Saturdays (except during Defeat of Jesse James Days, Sept. 9th), rain or shine. The purveyors set up their booths in the center of town, Bridge Square.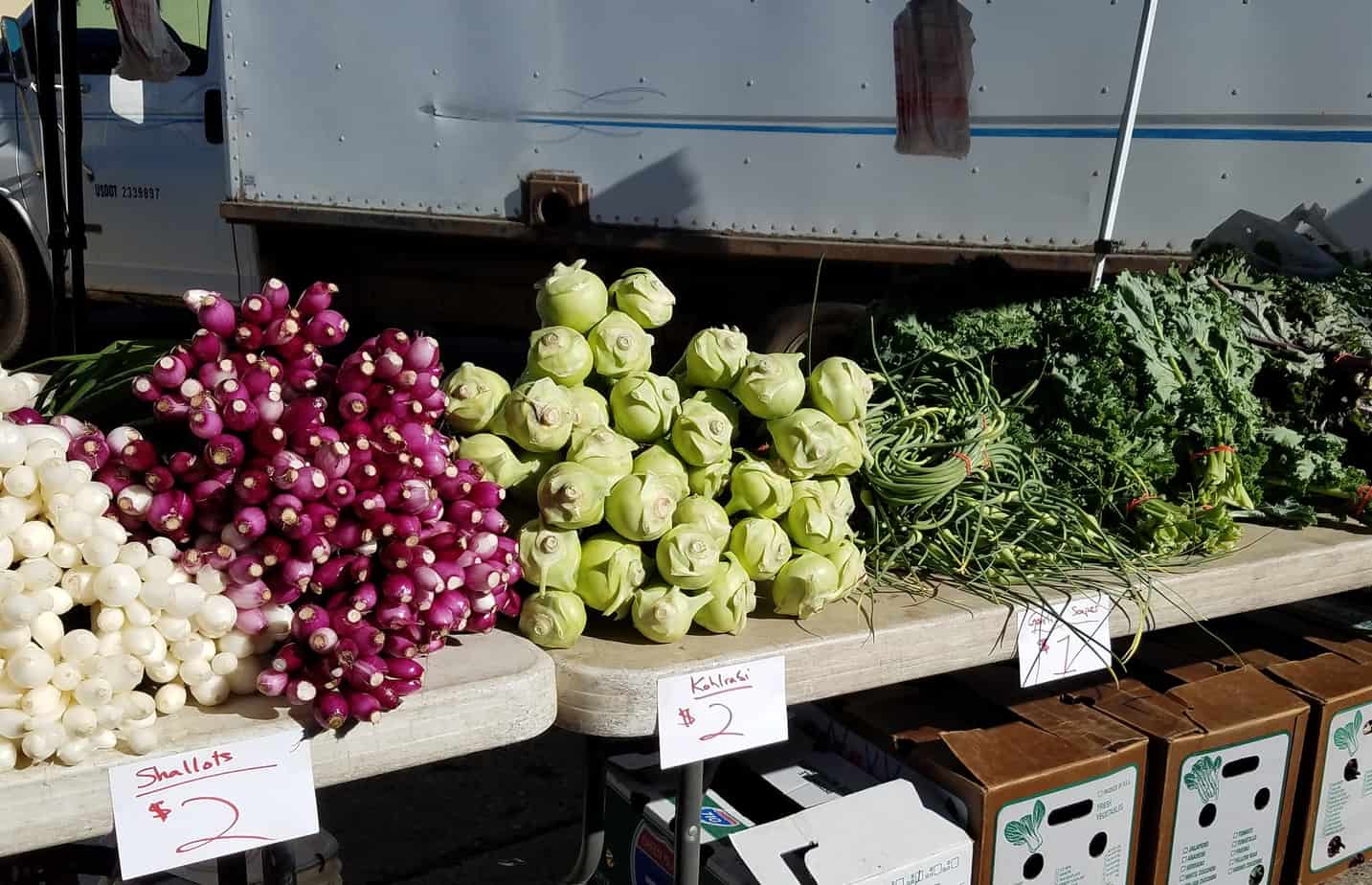 With views of the Cannon River and the roar of the falls in the background, day-trippers can enjoy artisanal coffee and pastries, select freshly-harvested greens to take home, and peek under the tents of artists who sell everything from postcards to purses. Northfield has been voted numerous times as one of the best small towns in Minnesota, and once you've visited the Riverwalk Market Fair, it's easy to see why!
Since its inception in 2010, the Riverwalk Market Fair has earned vendors over $750,000 in revenue, and has also helped increase traffic to the businesses in downtown Northfield. The small hamlet 30 miles south of the Cities is well-known for its historic downtown (the First National Bank of Northfield is famously where brave townsfolk thwarted Jesse James' attempted robbery). Shops, restaurants, and the stunning Archer House River Inn stretch three blocks, with businesses on the west side banked along the Cannon River. The town is also home to two of the best Minnesota private colleges, St. Olaf and Carleton.
The center of all the action is Bridge Square, where the Fair takes place, and just steps away is the fair's namesake: the Northfield Riverwalk. The Riverwalk is a cement walkway that runs the length of the river through Northfield's downtown. Because of the Fair's central location, visitors can easily stroll up and down Division Street after they've taken in the sights and sounds of the fair (a side note: some of the historic buildings do not have handicapped accessibility, and may not be pet-friendly).
Barbara Zaveruha is one of the vendors at the Riverwalk Market Fair (check out Prairie Creek Pottery), and also serves on its all-volunteer board of directors. According to Barbara, the Fair is modeled after the kinds of street fairs seen in France, where artists, farmers, and food vendors all gather in one communal space. She says the fair came about as an effort to highlight the significant amount of art and culture found in Northfield (thanks, in part, to those two esteemed colleges), and help boost the town economy.
"There was a large gathering of people who were divided up into small groups and assigned to brainstorm this issue. The Market was one of the ideas that came out of this effort. Then the idea was taken by a group of people and developed," says Zaveruha. And over the past 7 years, what began as a humble gathering of artists and food vendors has grown into a full-fledged tourist and townie delight– with 34 vendor spots available each Saturday, and upwards of 50 businesses on the vendor list.
Though there are many fan-favorite shops and stops at the Riverwalk Market Fair, frequenters know that Martha's Eats & Treats is a must-stop for scratch-made bakery items. Get in line early because a queue typically forms before they even open for business!
The owner of the popular stand, Martha Schuetzle, started baking commercially about 10 years ago. She joined the Riverwalk Market Fair lineup for the inaugural summer, and has been slinging all manner of breakfast goodies ever since! Thanks in part to her success at the Fair, Schuetzle recently opened a retail shop in the neighboring town of Dundas. Her advice to visitors? "Plan on spending the whole day in Northfield. It's the weekend– what's the rush, right?"
And while you're in Northfield, Schuetzle also encourages guests to plan for a stroll through Carleton College's Cowling Arboretum, 800 acres of natural prairie habitat that can be enjoyed via paved pathways.
Another business gaining a following at the Fair is Groundwire Coffee Roasters, an artisan coffee stand that got its start at the Riverwalk Market Fair three years ago. "I knew I could get in here and get some exposure here," said Cody Larson, owner, and chief roaster. "So that was the catalyst." Groundwire sources mostly international coffee and roasts it by hand to create their signature caffeinations. And while he's creating your Saturday morning cup of joe, Larson says he enjoys getting to know just who's buying his product. "The customers are just cool people," he laughs. "This is like a social thing for me."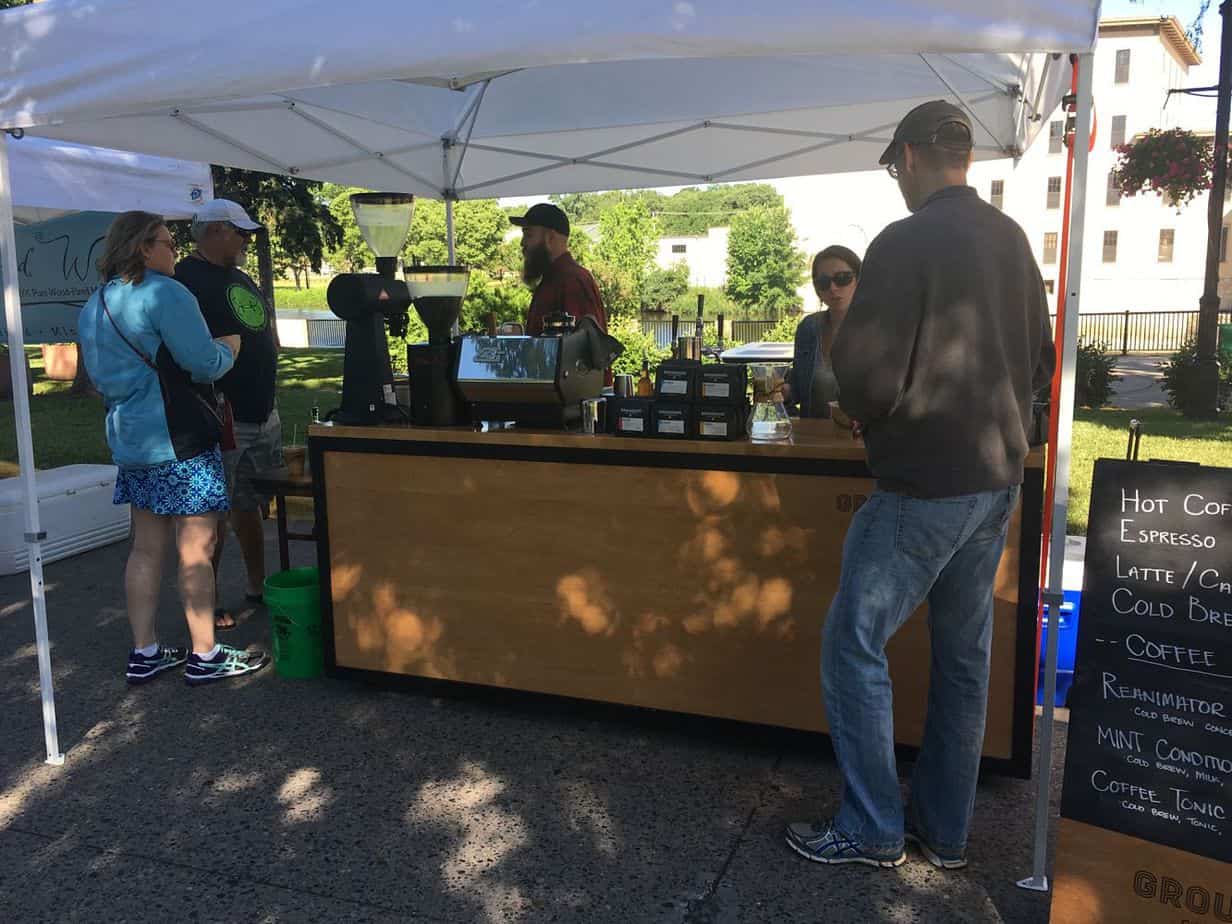 The ease with which vendors can join the Fair is one of the reasons it's so appealing to entrepreneurs looking to fire up a new venture. For Aaron Ray, owner of Enchanted Woods Maple Syrup, signing up to sell at the Riverwalk Market Fair meant he could take what began as a home hobby and launch a full-blown business.
Enchanted Woods sells wood-fired maple syrup, lemonade and eggs from organic-fed, pasture-raised chickens, and it all began as an experiment for Ray in the neighboring farm town of Nerstrand. There, he observed neighbors making maple syrup from their trees, and realized he could do the same thing in the 100-year-old maple grove he'd found himself in.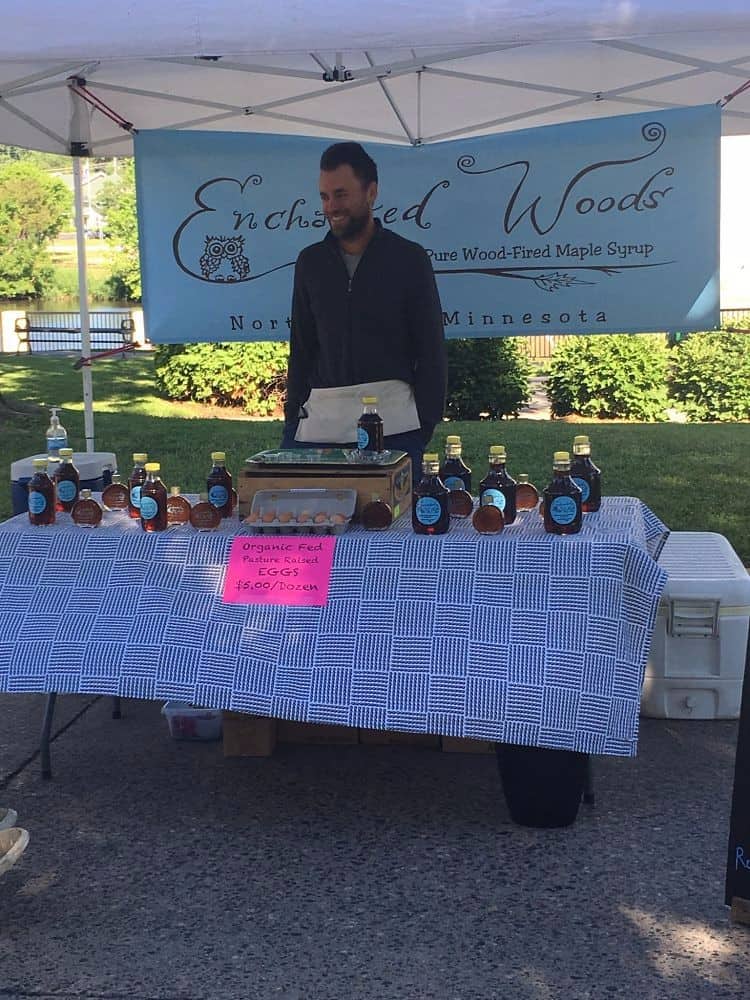 Now, he makes his syrup the old-fashioned way, over a wood fire in a large kettle, and sells it at the fair (he even gives out free samples!). "I also sell at Open Hands Farm," said Ray, "but I wanted more traffic, and this is a bigger, more vibrant market." Now in his second year selling at the Fair, Ray says his favorite part is meeting all the visitors. "It's a bunch of fun people down here, and it's nice to be in the center of town. It's fun to watch kids playing in the fountain, see the families out walking together. I like the community."
For vendors who have been around a long time, seeing the community aspect grow is one of the most rewarding parts of the Fair. Kathy Miller, owner of K. Miller Watercolors, has been around since the very beginning. She wanted to break into the art community 9 years ago when she moved to Northfield, and saw the perfect opportunity arise when the Riverwalk Market Fair began just two years later.
Kathy's works emphasize color, light, and her passion for nature, often featuring locations in and around Northfield. For Miller, the Riverwalk Market Fair has been a rewarding way to grow her business and meet new people. She says her business has grown "phenomenally better" over the years as she has established her art business. "People start to recognize you here, which is fun," Miller said with a smile. "I love to meet people from all over, north, south, east and west. I always ask where people are from, and the answers come from everywhere!"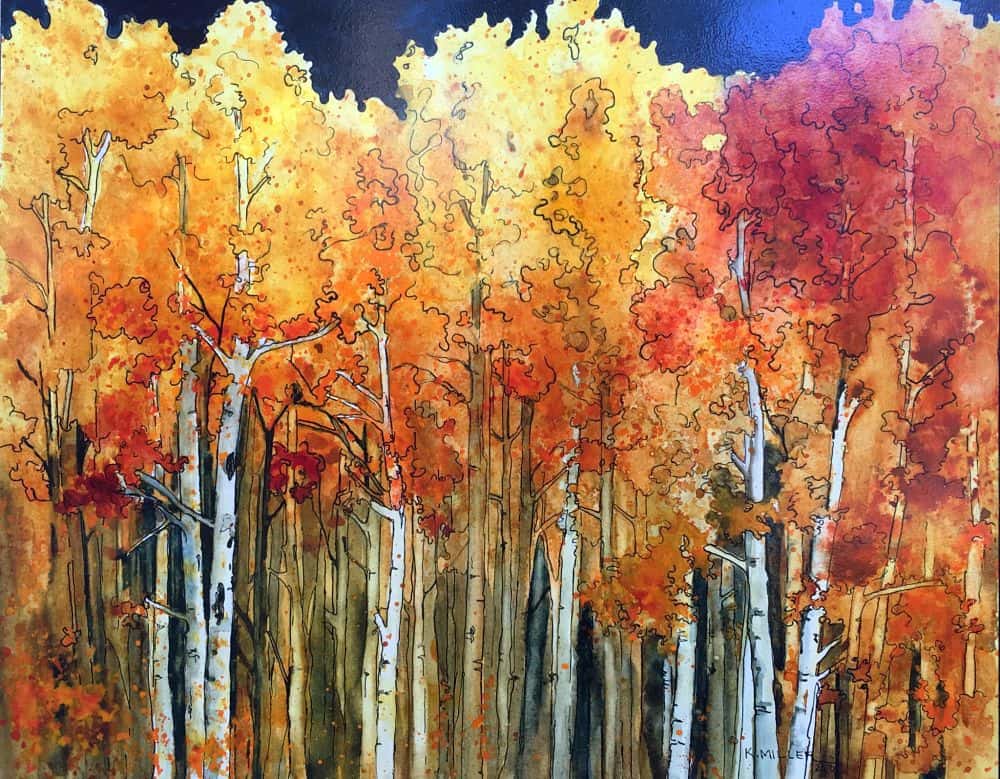 So whether you're into food or art or the ambience of a sunny Saturday morning, the Riverwalk Market Fair is perfect for a weekend day-trip. And after you've sampled all the treats and made some new friends, explore the rest of Northfield's historic downtown district! Between the river, the shops, and the restaurants, there's plenty to see and sample. "That's the joy of summer," reasons Martha Shuetzle. "We get to slow down, be outside, socialize with our neighbors, and take in all of the sites, sounds and sunshine."
Whatever you decide to do, all the vendors agree: take your time. The Riverwalk Market Fair, with its lovingly-created goodies and carefully-crafted art, is not something meant to be rushed. Every vendor seems to have the same advice, best summed-up by Kathy Miller: "Plan on staying the whole morning. Stop at all the booths, talk to everyone. Take the time to enjoy it all."
Looking for some warm weather recommendations? Discover spring and summer in Minnesota for best destinations, travel recommendations, small (and big!) town events, and more!
Looking for more autumnal activities? Then visit our Minnesota Fall page to find inspiration for sweater weather fun!