Don't you just wish you had your very own hairstylist living with you, so every morning you could wake up and have beautiful hair for the day? Growing up with the Jetson's really messed up my hopes for the future. Rosie still hasn't shown up to clean up after my family and my dog isn't anything like Astro, mine doesn't move from the couch, unless I am pouring cat food into the cat's bowl! So, how do we live in such a world without the Jetson's hair robot? To start we get a hairstylist we can trust who can relate to our needs.
Meet Jamie Schumacher
Jamie owns Precision Hair Design in Maple Grove, MN. She is amazing, sweet, talented and she is a Mother to four active children. Jamie has a passion for making her clients feel beautiful, confident, stylish and most of all happy. I have never had a hair stylist who truly spent time listening to what I want my hair to look like and who responded with "Ok, so what I am hearing you say is…", which tells me she was listening, cared and wanted to make sure she understood my needs/desired style. That right there made me like her!
What Made Me Love Her
I was heading out of town with short notice to cover a movie event in L.A. I wanted to look like a fresh Midwest babe, but I didn't feel like I could pull off a younger look with my grey hairs popping out like wired springs. That's when I saw Jamie post a special deal on a Maple Grove Mom Facebook group. I privately messaged her with questions. Like, what does a deal mean? Are you $200.00 and you will color my long hair for $195.00? She messaged me back within moments and she answered each one of my questions without making me feel like I was ridiculous for asking her crazy hair questions. I trusted her with my mop of hair, which by the way I don't trust anyone with my hair, she seemed like she knew what she was talking about and with that I had my first appointment.
My long hair was colored and trimmed and ready to fly South to the land of Bombshell Beauties! I felt as though I fit right in during my shopping spree, of course I couldn't afford much! L.A. shopping is no joke. I came home happy and my hair was looking pretty. However, it wasn't far off before I started to get stuck with the same old hairstyle routine and I needed help from Jamie. Always there with a bright smile Jamie was ready to give me a change that I would LOVE!!
Before Hairstyle
During The Cut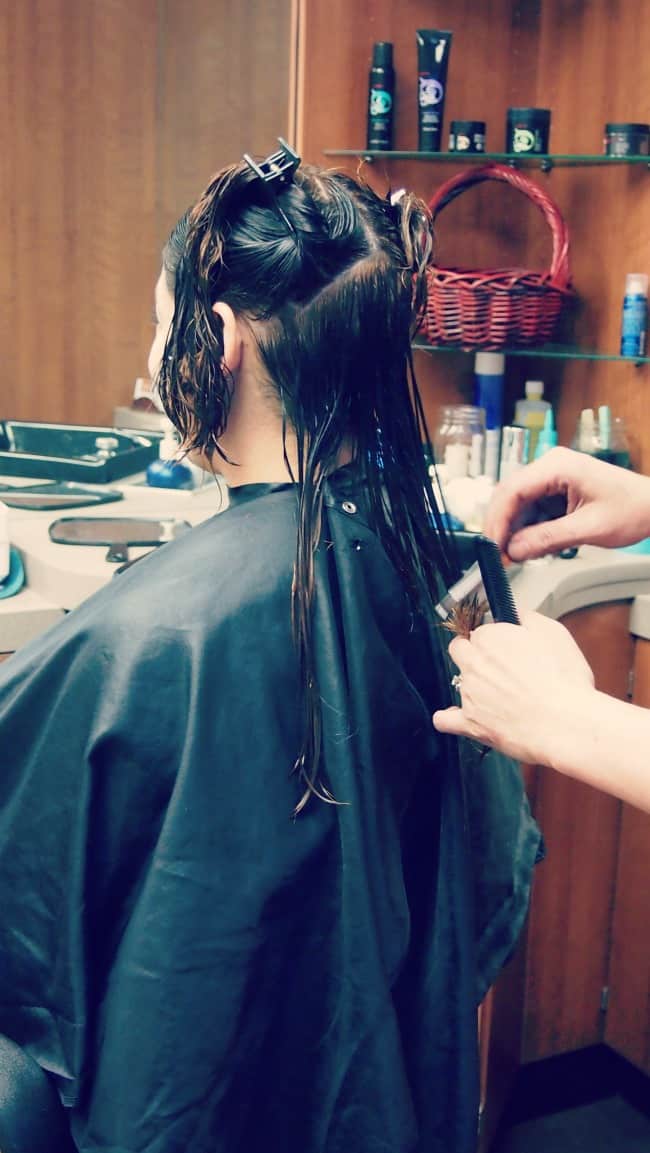 I went with a style I saw on Pinterest, don't you all do that?! During my in between hairstyles stage I had started talking Jamie up to my close friends. That's what I do, if I love something everyone knows it! I talked them into joining me for some easy and cute hairstyles for busy Mom tips from Jamie. We had a ton of fun and we walked away with useful information.
The Perfect Ponytail Tips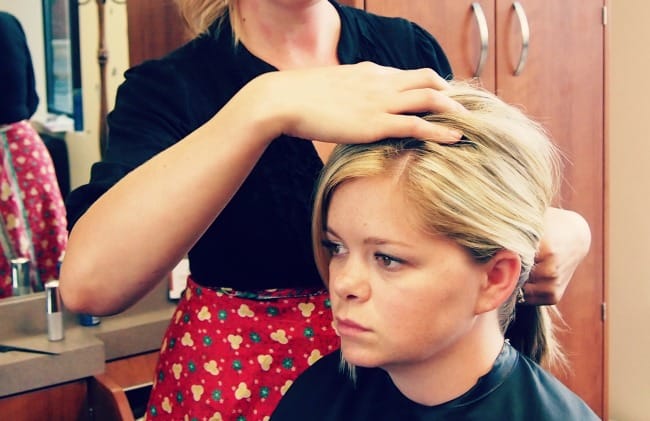 For the teased bump on top of the ponytail take small sections at the crown of your head and then using a small toothed comb pull the hair down half way towards the crown. Make sure you are spraying each section with a light amount of hairspray to hold well. To smooth it all out, comb it all back with the same comb over the top to light make a soft touch finish.
Wrap Your Hair Around The Tie
Sassy Mama!
We also learned how to style short natural curly hair for a fun date night or special event. Heck, date night is a special event!
Mom Of Five Wants Simple
And Fun Hairstyle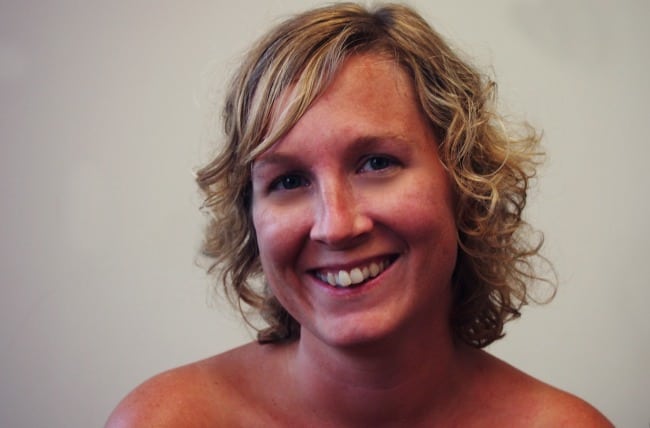 Elizabeth is a busy Mom, wife, photographer, homeschooler and has a full time job in the medical field. I was shocked she had time to hang out with us! She wants something that can go from day to night without a ton of work. Jamie started with pulling the curl out a bit with curling iron. Just wrap the hair around the iron without closing it to give off enough heat to create a soft curl.
To give it a fun flirtatious boost Jamie suggested adding a little braid to the side. She first showed us all a few ways to make a braid flow well with the hairstyle and then she made Liz try it out for herself because Jamie doesn't make house calls!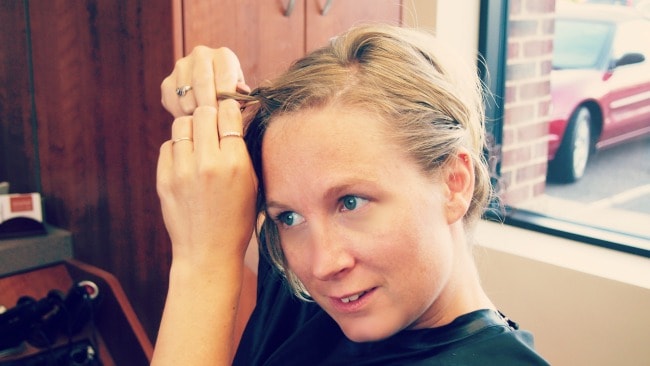 I love having swoop bangs and I now tend to pin them to the side with a tiny braid or with a twist. It helps to break up your normal look without going extreme.
Fall is now here and the scarf fashion is on our doorsteps. Move the colorful scarf design from your neck to your head, like shown here –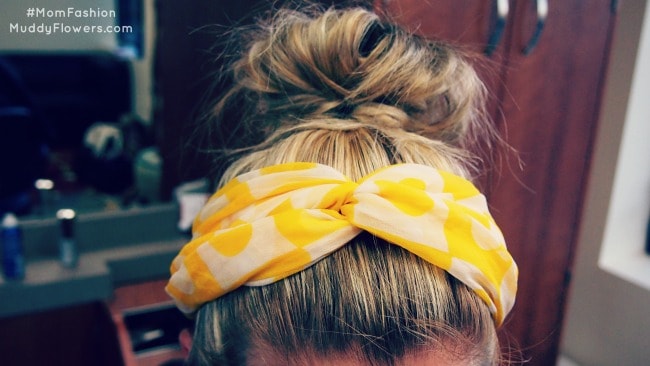 Super cute way to "tie in" a accessory to your overall outfit, plus it makes a messy bun ten times hotter! Ps, feel free to pin these photos like crazy on Pinterest!!
Jamie Rocks!
I have been a big cheerleader for Jamie because she works so hard and she is professional and knows what she is doing. I had no fear when she took off 6-8 inches of my hair.
I requested a beach wave long bob style when I went into Precision Hair Design. What do you think?
From The Backside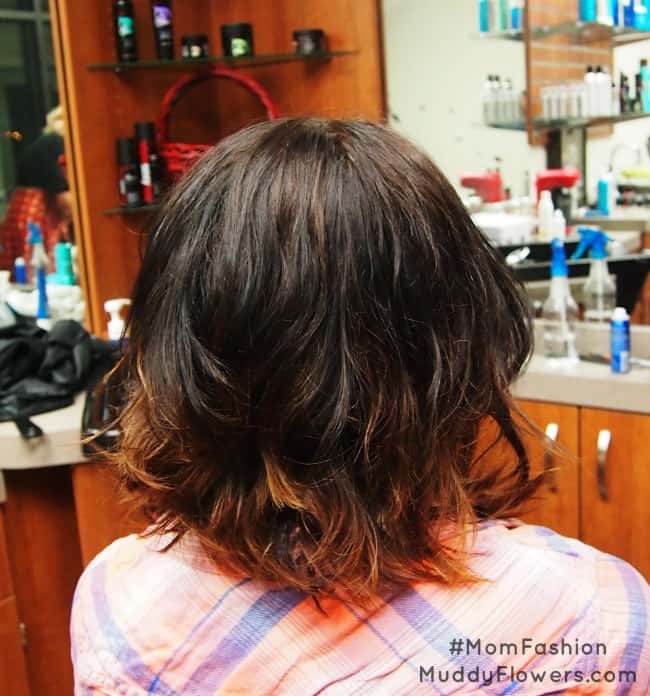 Jamie did a fantastic job. I brought a photo in from Pinterest to show her what I wanted and this is what I got –
My New Do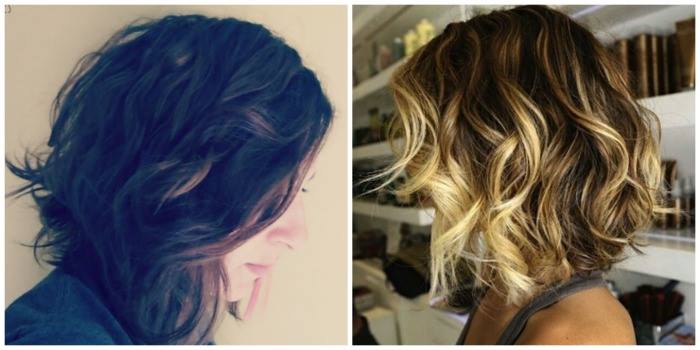 I Adore It!
It's Easy & Super Hot!
If you are in the Maple Grove area you can get your one on one style help from Jamie, too. Check out her WEBSITE and you can also reach her through her business Facebook page where you can also see all her special deals through out the year. Right now she is giving away 15% off for anyone who mentions Muddy Flowers!
Do You Have Questions For Jamie?
Ask & We Will Get Her To Answer Them For You.
Follow #MomFashion for more tips on all things that make Mom's look Amazing!