Close your eyes and envision the entrance to a small town where the American flag greets you as it proudly blows in the wind. Cars drive slowly and folks can cross the street with the ease of a farmer's wave. The buildings' facades are layered brick upon brick and the businesses have been passed down from one family generation to the next. Baseball fields are filled with kids ready to break last year's records. Visitors can sense the strong aroma of community and family values just by breathing in the air. This is one place in Minnesota most would be happy to call home. This charming vision exists in the town of Delano.
Delano was named after Francis Roach Delano, who was the warden of the first State Prison and the first superintendent of the Saint Paul & Pacific Railroad. It currently houses a few over 5,400 residents and it is a delightful town to visit. Join me as I spend the day in this quaint spot on the map of Minnesota.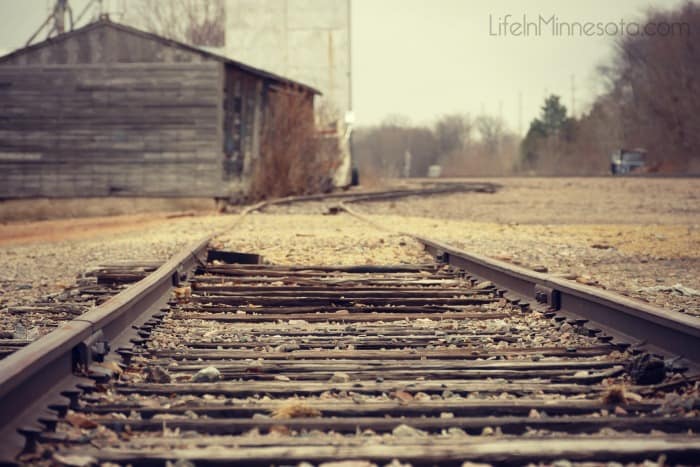 I drove into town from the North, on Highway 17, on a rainy spring day. As I drew near the town's edge I could already feel the All-American dream take hold of me.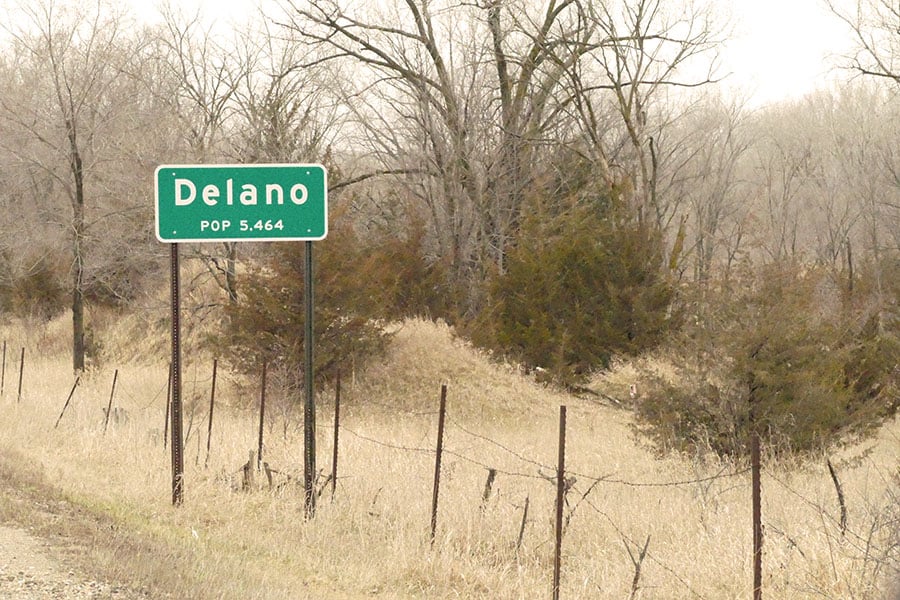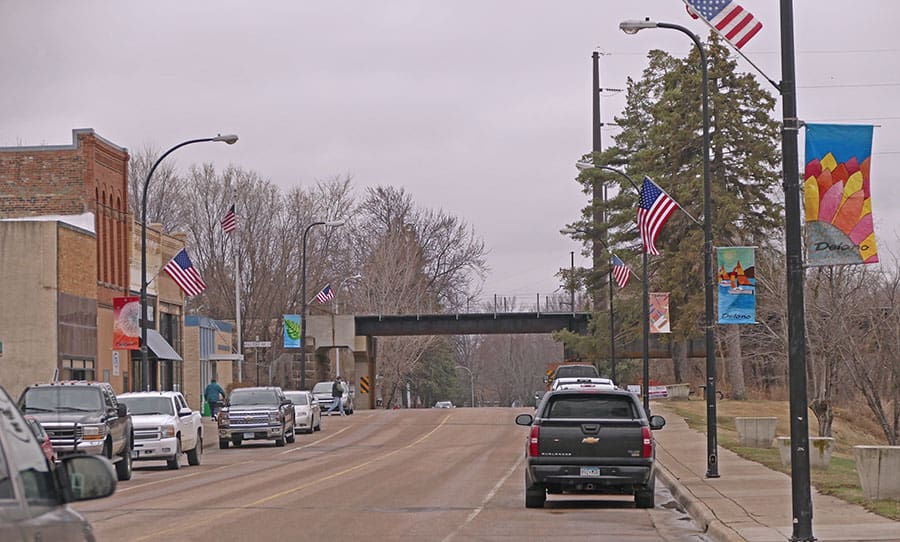 The welcome mat of Delano is a street lined with our country's flag, the back-drop the Delano Municipal Baseball Park, which was awarded the Tink Larson High School Field of the year in 2013 and the Tink Larson Midwest Field of the year last year. It's a pretty impressive place to play ball!
Delano Municipal Baseball Park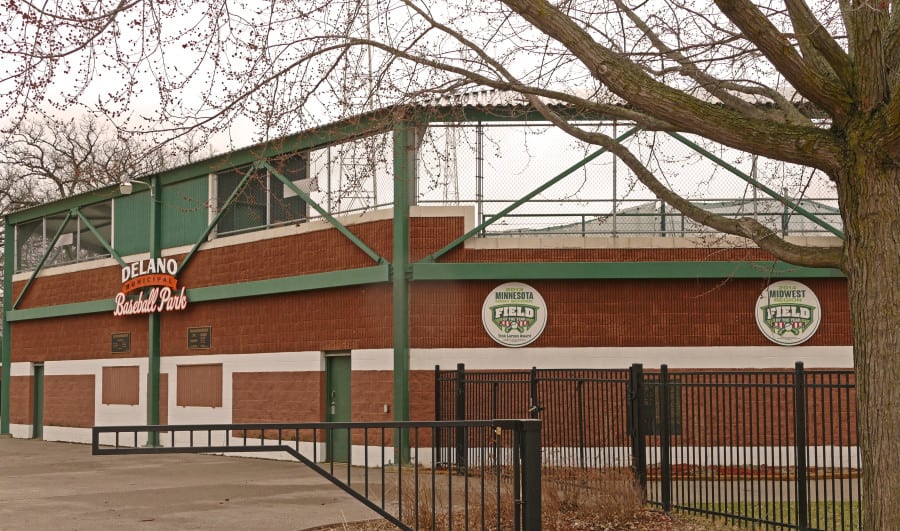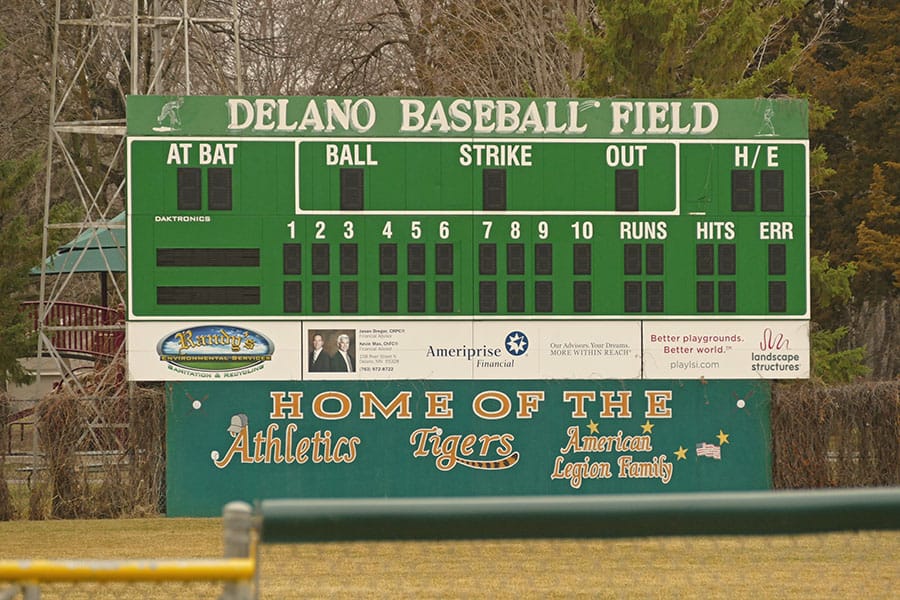 I was scheduled to meet with Alex Roeser, the president of the 4th of July committee, at his American Family Insurance office for a grand tour of his hometown.
Alex Roeser – Our Tour Guide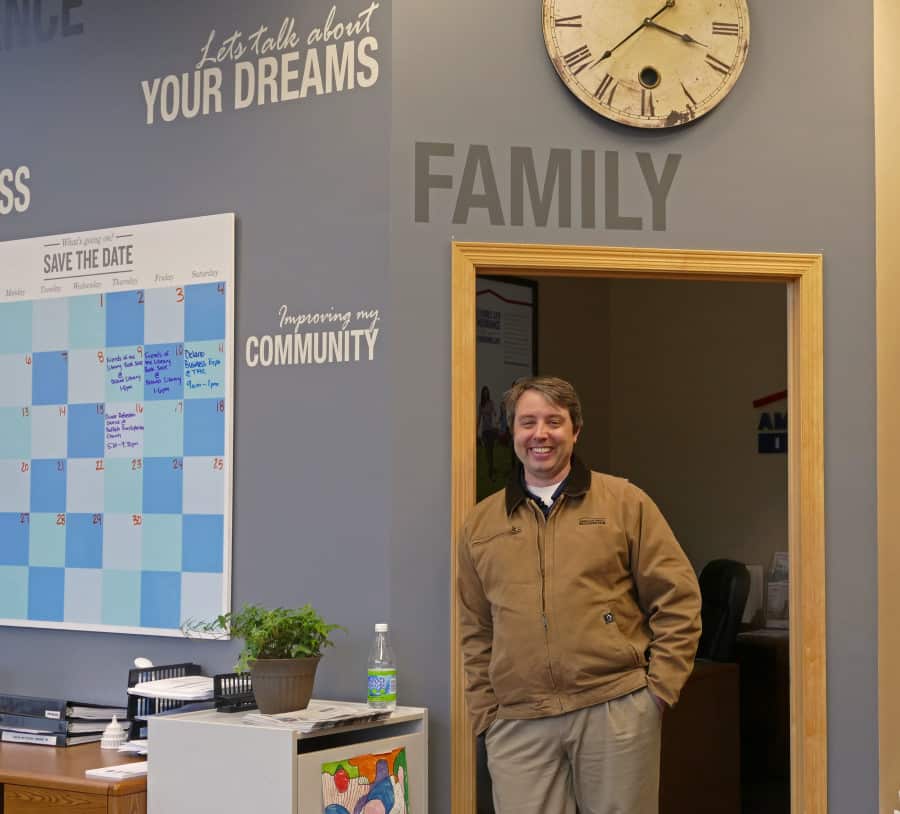 Delano is known for hosting the oldest and largest 4th of July celebration in Minnesota. Over 30,000 visitors flock to this small town every year for the big event. The community really pulls together and completely organizes, operates and supports the attraction. All of the proceeds earned from the four-day holiday go back into the community. There is a huge parade, a 5K race, a softball tournament, the local firemen's waterball game, an entertainment stage, food and much more for the whole family to enjoy!
Largest 4th Of July Celebration In MN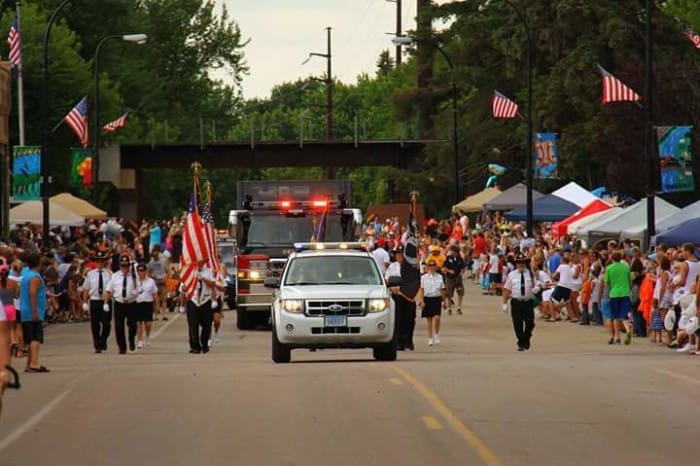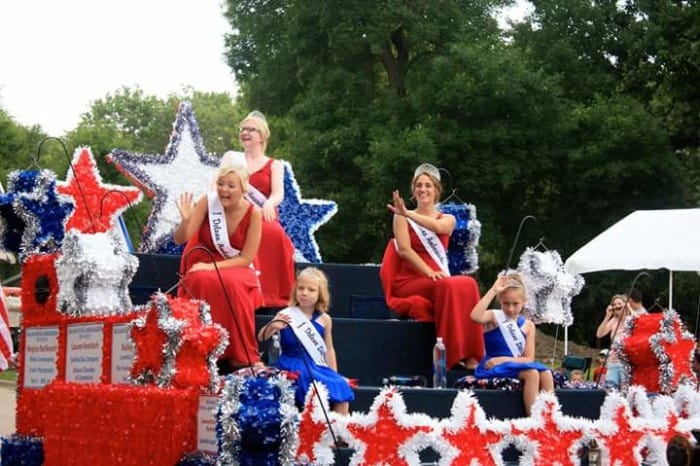 If you are planning on joining in on the activities there is a brand new hotel in town called the GrandStay. Book soon, as I am sure it will fill up fast during the 4th of July.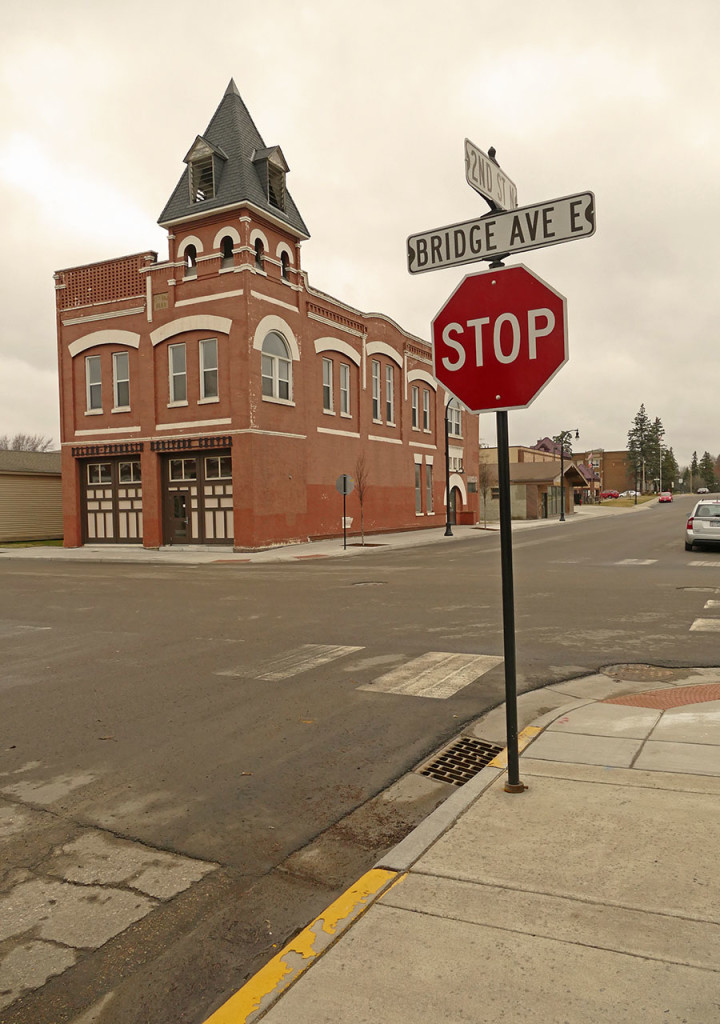 As we made our way towards Main Street, Alex informed me that Delano's downtown was featured in the movie A Simple Plan, in 1998. You might remember "Monster Hockey," an actual store-front, if you have seen the movie. Grumpy Old Men, which I have watched countless times, was also filmed in Delano.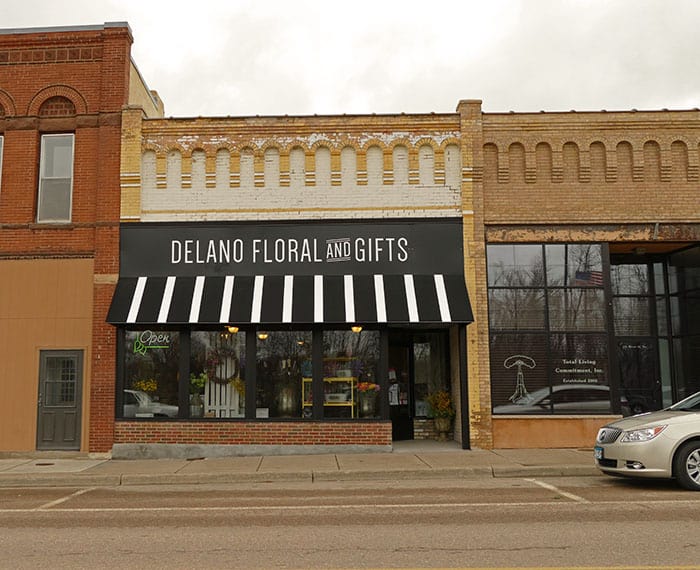 Our first stop was to meet with "Delano Floral and Gifts" owner, Deann Shoutz. She has been a busy lady lately. Deann recently moved her shop around the corner, remodeled, and opened her new doors about two weeks ago. With the help of her precious daughter the store looks lovely and smells amazing.
Deann Shoutz – Delano Floral & Gifts Owner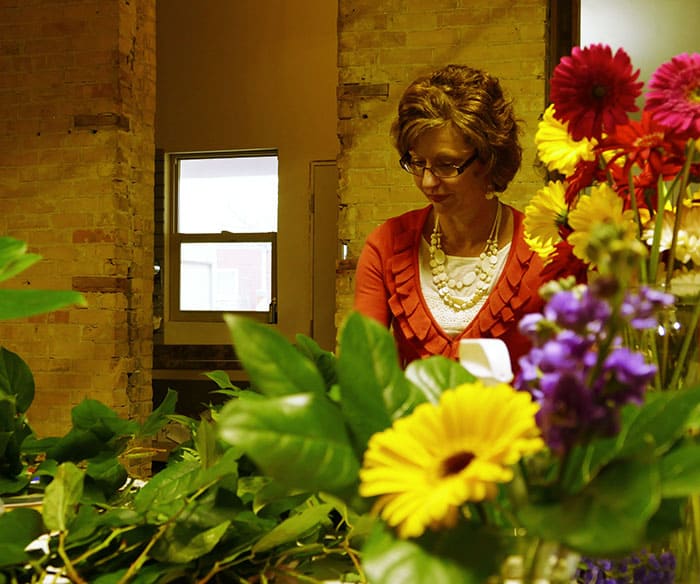 Deann was arranging special pieces for an upcoming funeral. She is also getting ready for Mother's Day and the school prom season. When I asked her what she loved about Delano most she replied, "I love Delano. The people, small town and how there is a connection everywhere you go." We didn't spend too much of her time since she was tending to the flowers.
The Mavericks Of Delano…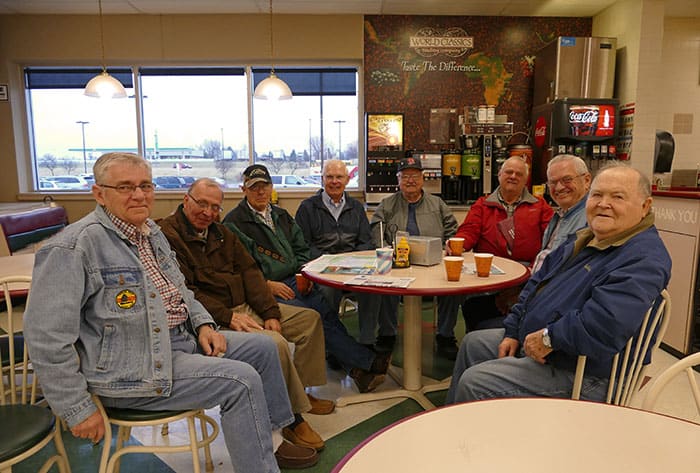 I was also excited to be introduced to a special group of local men who are known as The Coffee Clatch, which meets daily at the local Coborns. The group consists of men of different ages and political views, mostly retired professionals, who are united by their love of a good conversation over a hot pot of coffee. They are a bunch of fun-loving fellows who love to dish out a ton of heck to one another, that is for sure. One of them is planning a trip around Lake Superior this summer and he was getting a full day's worth of teasing; he joked that the rest of the men were beating up on him that morning. It is all good laughs and I could see they liked one another's company.
Downtown Beauty Salon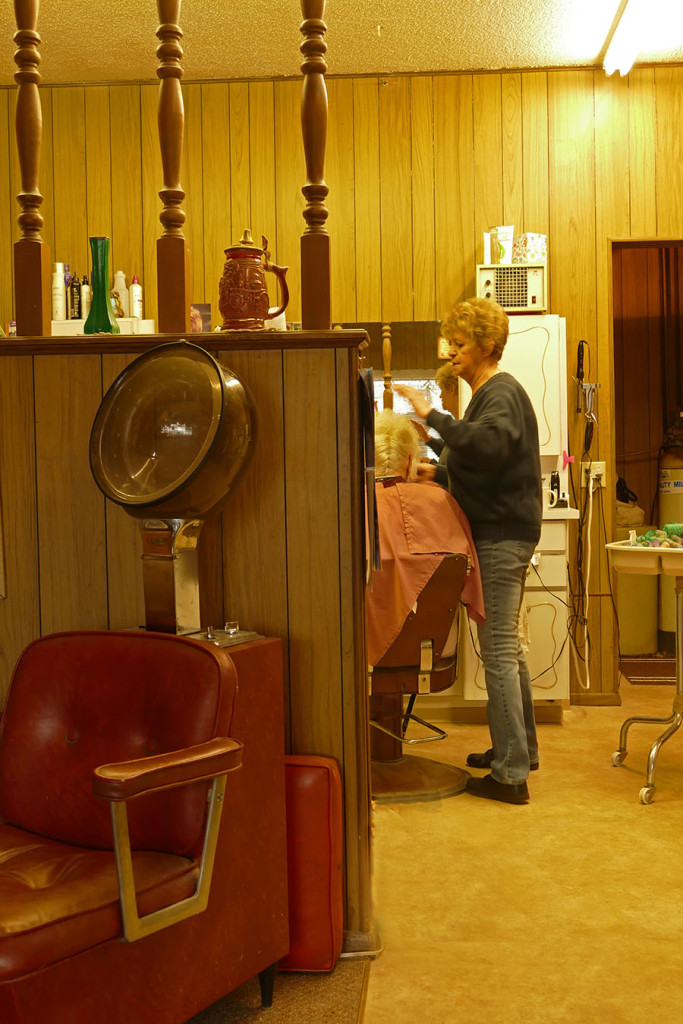 The "Downtown Town Beauty Salon," which was exactly what I would think a small town beauty parlor would be, was filled with friendly ladies chatting away while the stylist pinned back the hair of a lovely woman who was happily seated in her salon chair. They seemed to be enjoying their conversation as I poked around the shop, taking photos of such things as the vintage hair perm machine.
Would You Trust This With Your Hair?!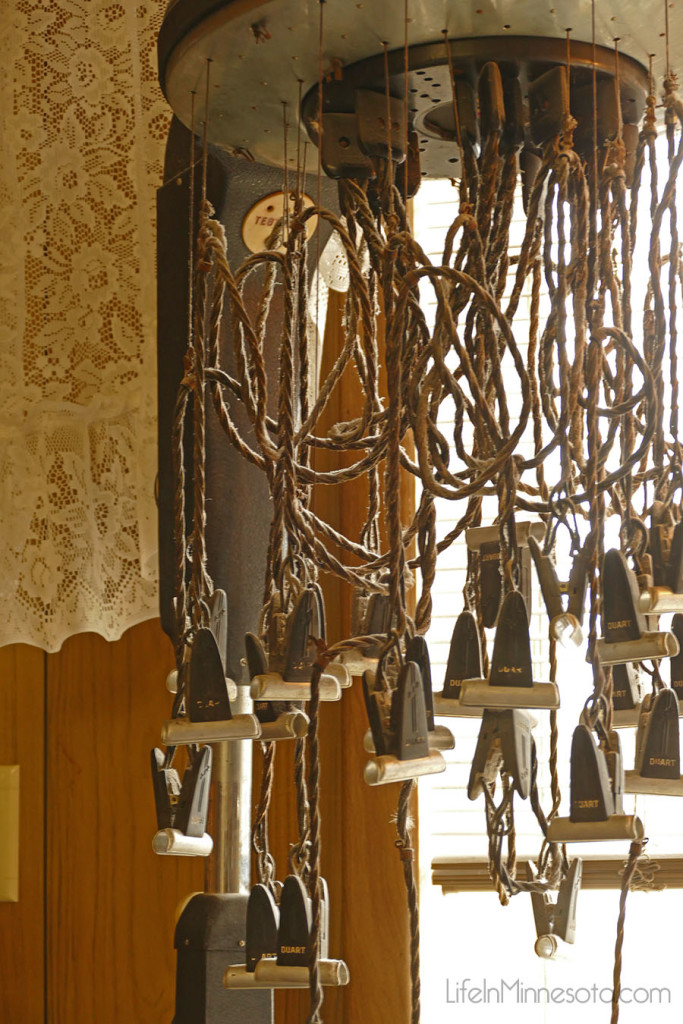 It looked more like a time machine, and hooking up to it would actually transport me back to the 1930's. I was happy to find out they no longer use it, but have it out on display for those in the waiting area.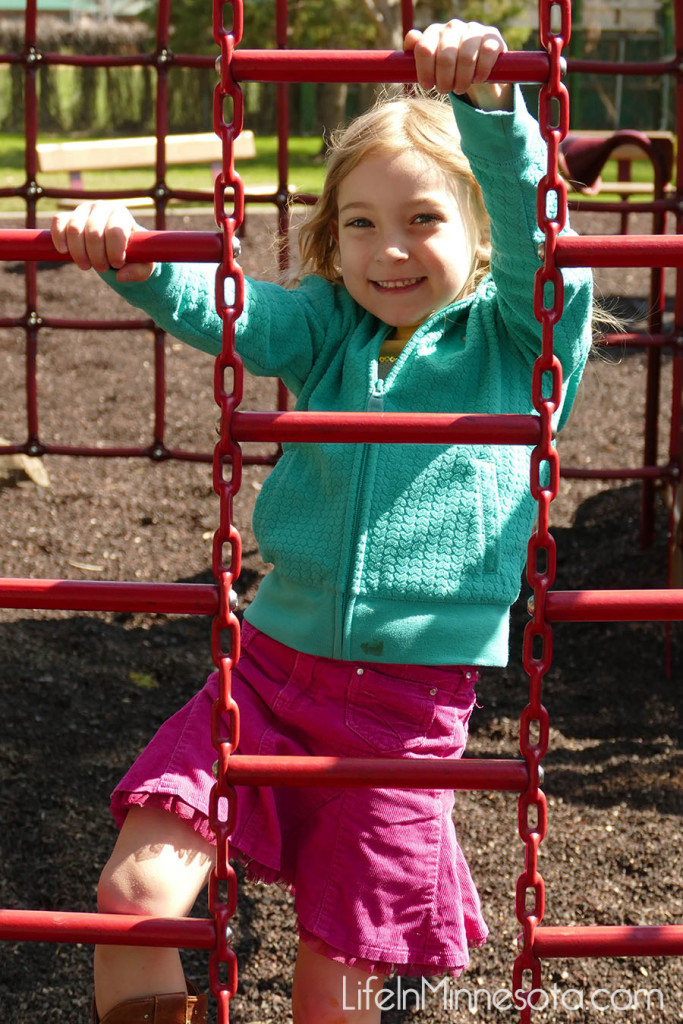 Delano's park system is one of the best in Minnesota. Thanks to the playground equipment company Landscape Structures, which is located in town.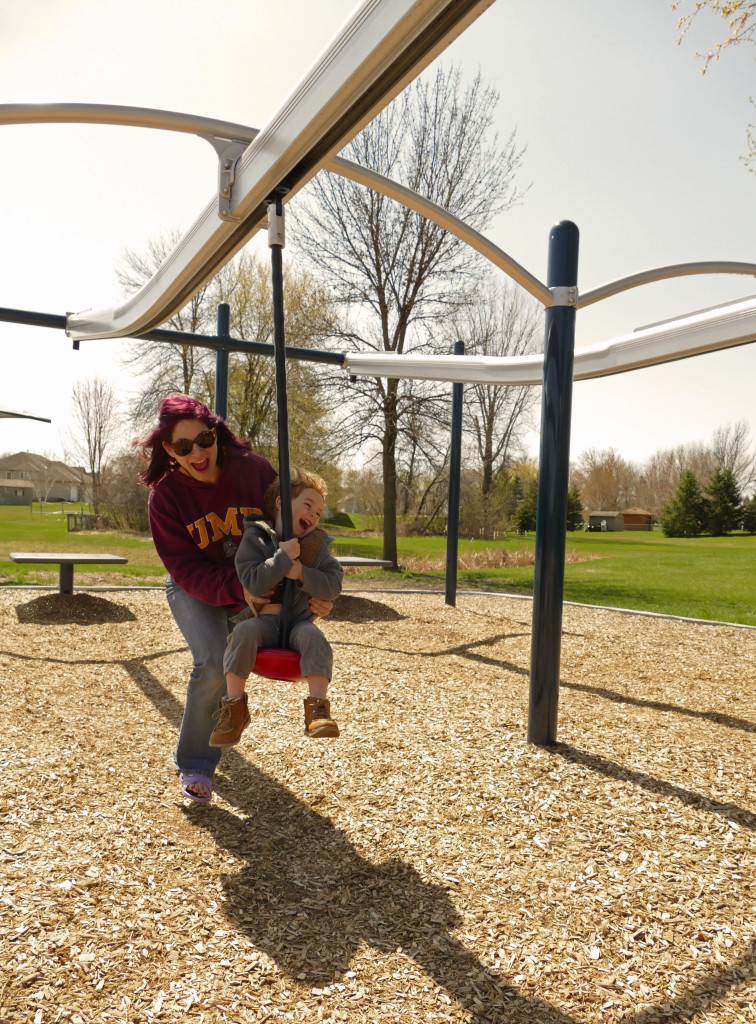 I was amazed by one of the park designs that features a full workout station. I can see myself saying, "Kids go play while mom loses a few pounds" what a great idea! I actually went back to Delano with my kids a few days later, just to go play at their parks!
Family Owned Meat Market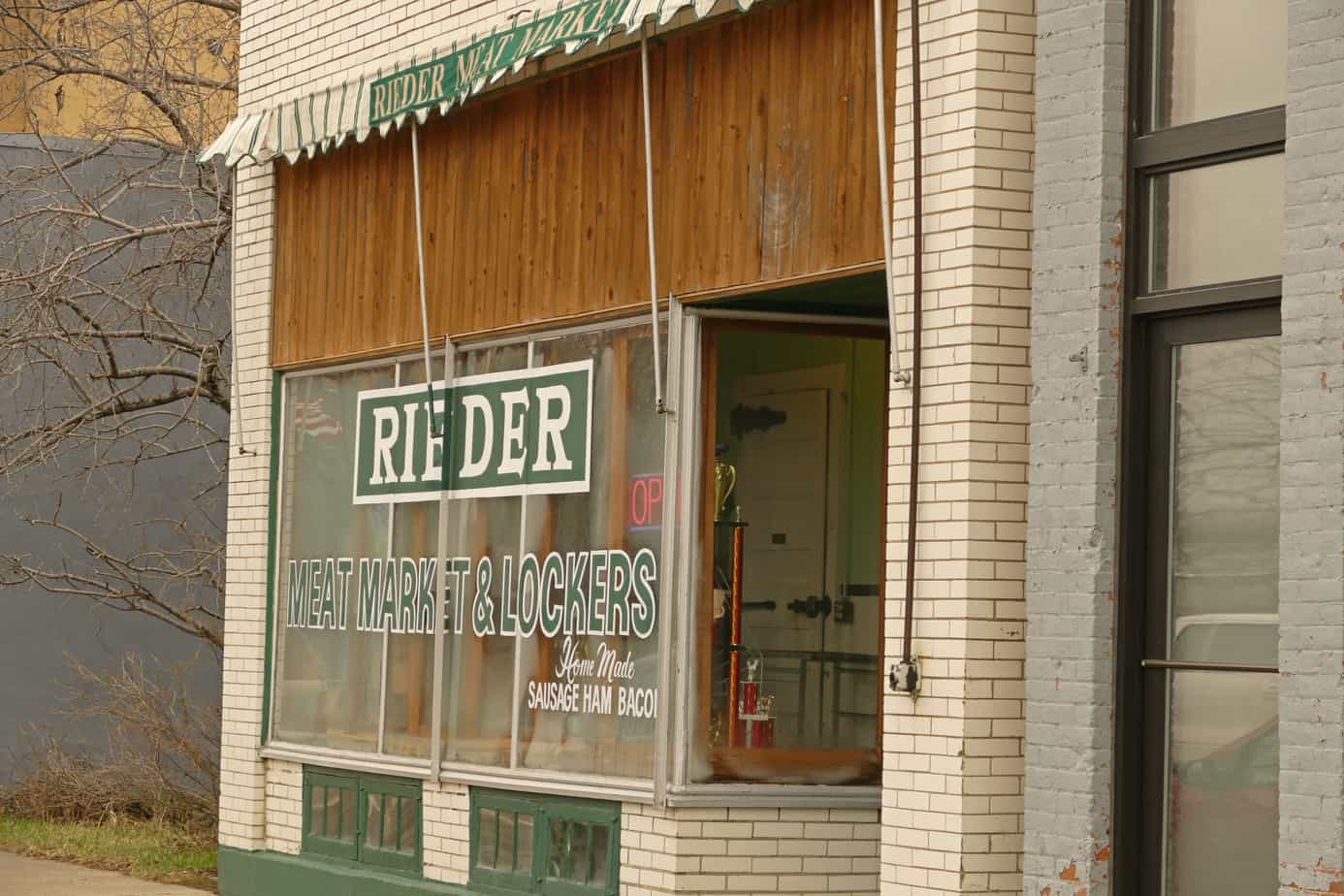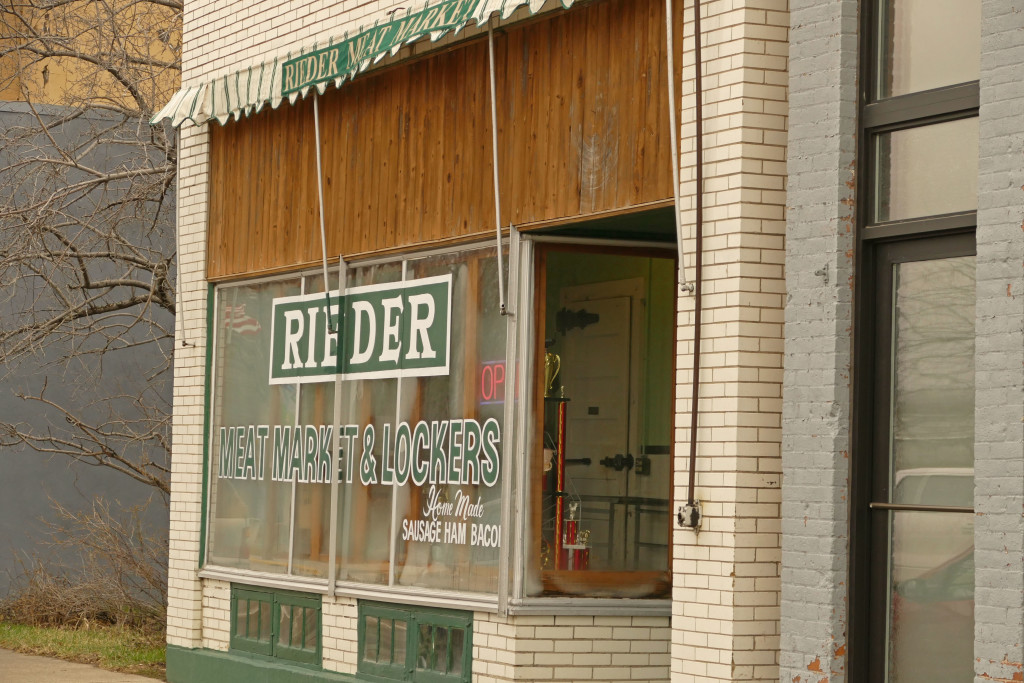 Next I went into "Reider's Meat Market," where I found owner, Bud Rieder, preparing a special treat for a friend. It truly is something else to walk behind the counter of a local meat market and see things done the old fashioned way, by hand. It makes me appreciate my food a bit more.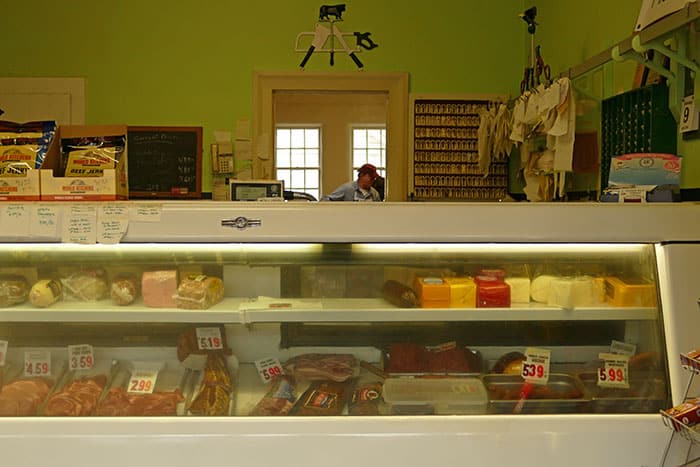 The market has now been in the family four generations, and the Delano Area Chamber of Commerce named it business of the year in 2014. Rieder's is filled with the good old stuff, like the glass case from 100 years ago (give or take a few) and the 70 year old wooden desk that is Bud's junk holder. "You wouldn't believe it, but every drawer has something in it, and if I got rid of it where would I put it all?!" he exclaimed.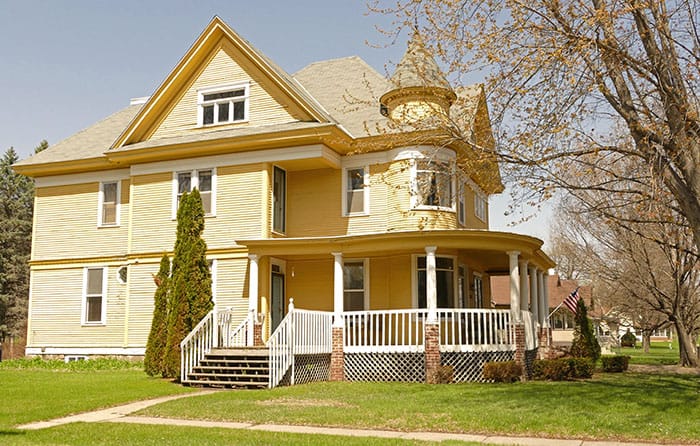 In addition to all these highlights, Delano has a history of having a successful school system. It was named a 2013 National Blue Ribbon School, for educational excellence by the U.S. Department of Education, one of six Minnesota schools that year to be given this award. Many people move here just for the academic excellence. They soon find out all the other treasures it offers.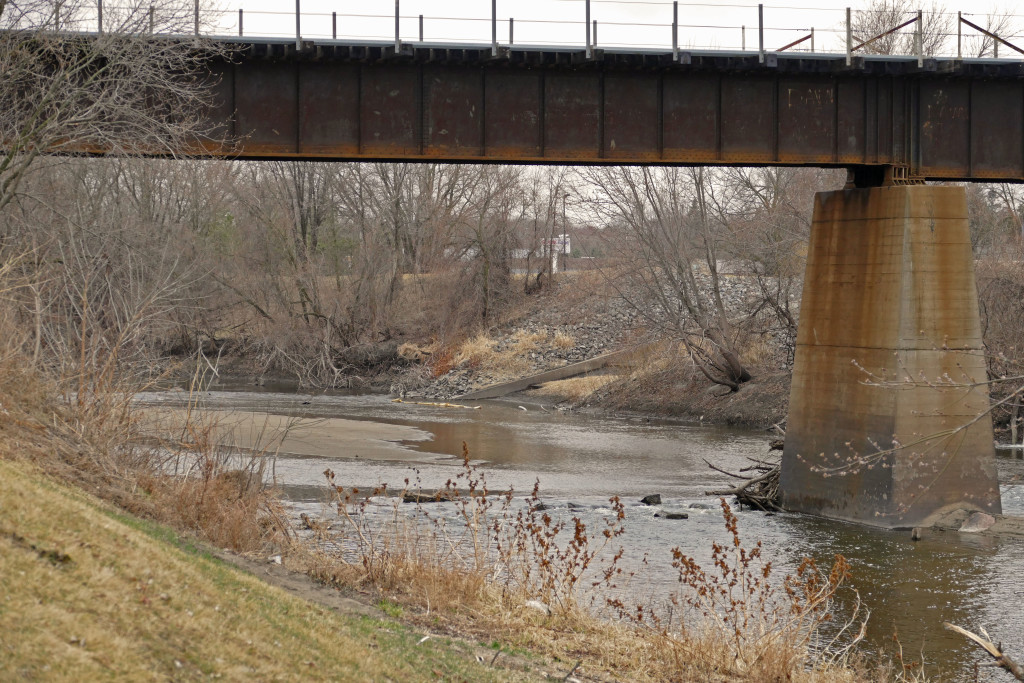 Alex was a wonderful tour guide; perhaps he missed his calling and should turn from insurance agent to travel advisor?
*Note parade photos credit to the town of Delano.
[idx-platinum-widget id="13110-42702″ ]