What could be better than waking up on a bright Saturday morning to the smell of bacon and the sounds of cracking eggs from the kitchen? Not too many things could top it, unless you walk into the enticing breakfast area to find pancakes with a jar of fresh Maple syrup are included on the menu!
Every year in the first part of March a wave of people across Minnesota will venture outdoors with empty pails in hand ready to begin tapping Maple trees for syrup. We had the privilege of spending the day with Jim Morrison, owner of Sapsucker Farms, to see what tree tapping was all about.
It was a typical Minnesota Spring morning, the kind that delivers a number of weather elements throughout the day. We had dressed for sun, rain and snow; however we ended up mainly with grey skies with low temperatures. It didn't affect the overall enthusiasm to spend a good portion of the day tapping a forest of Maple trees. We weren't the only ones who arrived to give the farm a hand that day, either. Rows of cars from North and South of the cities were parked along side of the Sapsucker Farms private home. People who had been there previous years and others, who were curious of how Maple syrup is made, were all ready to give a hand in the first stages of making homemade Maple syrup.
Jim and his wife Debbie started their 172 acre certified organic farm by a simple suggestion from an out-of-town friend who was visiting from Vermont. He truly planted the seed: "You guys have a lot of Maple trees here. Has anyone ever tapped them and made syrup before?" Even today, as Jim plays back this fond memory, his face expresses wonder. The idea of homemade Maple syrup from their very own backyard sounded fun, and from there Sapsucker Farms was born! The first year they started with 35 taps; fast forward ten years to today and they are now busy putting in 1,000 taps, along with raising 80 chickens, beekeeping, running a CSA (Community Supported Agriculture) garden and more!
Jim drives into the woodlands with pallets of starch-white buckets and ropes of tap tubes for his volunteers. He then breaks them off into groups to spread across the landscape. Some guests carry empty buckets, placing them one by one against a large standing Maple. Others will be in charge of drilling holes beneath last year's tap, and the third group will plug the hole with a tap, then run a long tube into the awaiting bucket. It doesn't feel much like a chore as it is fulfilling being to be a part of providing a food source as satisfying as liquid sugar! We could see our pioneer side come to life as we hammered in spouts (taps) into the bark of each tree.
There isn't a set time that can tell you when the tree will start to run sap through its system. It is a matter of weather and timing, and it fluctuates from year to year. It could be twenty-four hours or a week before the buckets are filled. Once they reach the full line Jim and Debbie move about the Maple trees collecting each 5 gallon sap-filled bucket. They don't typically have a collection party like they do for the tapping day. Jim agrees with us when we say this must be a labor of love more than anything. Debbie works hard running the farm and the marketing side of their business, as Jim holds down his "city job" as a jet pilot for Endeavor Air, which is a Minneapolis connection airline for Delta. He is in the air three to four times during the week. Jim told us he had grown up as an Army Brat and after marriage he moved his bride from place to place while he was enlisted in the Navy. It must be nice to have settled down and take on a quiet farm life.
If you like the name Sapsucker Farms all credit goes to Jim's wife, Debbie, who has a marketing background. Jim joked, "If the name was left up to me it would be something really boring like Maple Hill. It would sound more like a graveyard than a farm!" he added as he laughed. Jim is a very humble, down to Earth individual and he loves to connect with people who want to learn more about the organic farming he is doing at Sapsucker Farms. "If I wasn't doing this I would be doing something else, so I might as well be running around in the woods" he commented. Don't let his comment fool you; as much as he loves being in the air, he is beyond delighted to be surrounded by the trees and land.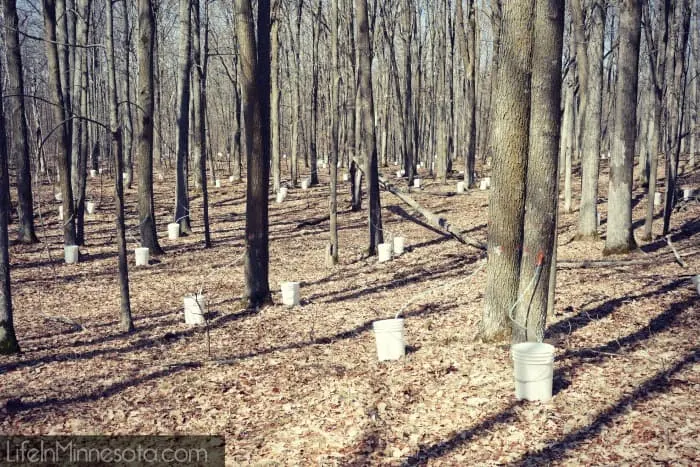 Jim built a workshop where, using wood from his land, he burns off the sap into the rich Maple syrup. He also custom designed the equipment he uses to boil the sap into syrup. It's a pretty impressive place. Additionally, he has a room in the workshop dedicated to making Yellow Belly, their new hard cider, which is on shelves in over forty wine and spirit stores now.
You can find Sapsucker Farms syrup in Whole Foods or go to their website at www.sapsuckerfarms.com to order straight from the farm.