Are you ready to hit the trails, but don't know which of the mountain bike trails in Minnesota to start with? There is a lot to choose from, but we've narrowed down the options to the best trails in northern, central, and southern Minnesota for you in this list.
Whether you're looking for a challenge to video with your GoPro and share with your YouTube followers, or a simple, smooth family trip that even the little ones can safely enjoy, we have the best choices on this list for you. There's even one place that offers mountain biking classes for newbies! Read on to find out more.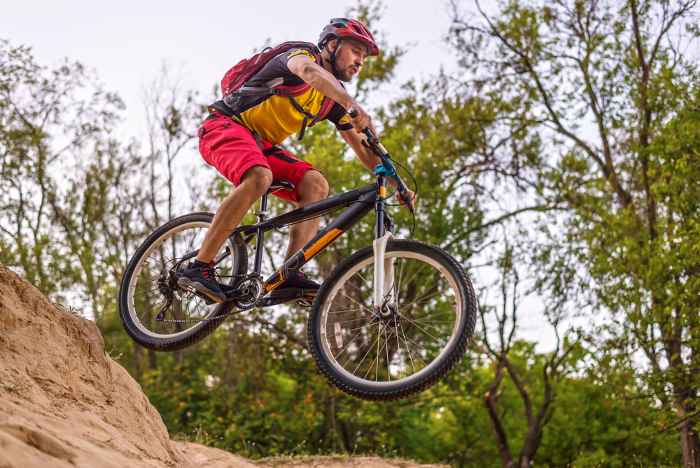 Best Mountain Bike Trails in Minnesota – Northern
1. Movil Maze Recreation Area
Located 5 miles north of Bemidji, Minnesota, Movil Maze Recreation Area contains a network of mountain bike trails that have been constructed with various man-made structures and terrain that are regionally recognized as being challenging for all skill levels. It was named for the series of cross-country ski trails that were originally constructed on it for the first-ever Minnesota Finlandia Ski Marathon held on the premises in 1979.
Horses are permitted on the grounds, but not on the bike trails. The bike trails do become available to snowshoers in the winter. The 913-acre recreation area also has a shelter available for rent from the beginning of April through the end of November each year.
2. Tioga Recreation Area
In the 1950s, more than 3 million tons of iron ore were shipped from the mines in the area now called Tioga. Now, Tioga Recreation Area contains 25 miles of professionally built, single-track trails. These trails contain jump lines, skills tracks, tech trails, downhill flow trails, and miles and miles of XC trails expertly maintained and ready to explore.
There's something for everyone here no matter their skill level, with family-friendly gentle biking loops like Gurley Finn, all the way up to high-skill-level-only double blacks with names like Bloodstone. These trails are also open for snowshoeing in the winter and there are two lake beaches nearby perfect for relaxing or paddle-boating for those friends and family members who come along but aren't into biking.
3. Hayes Lake State Park
Next on our list of best mountain bike trails in Minnesota is Hayes Lake State Park. With only five miles of rugged mountain biking trails, Hayes Lake State Park is a smaller destination for mountain bikers. But if you like to catch a glimpse of local wildlife as you bike, this is the place for you. Moose, black bear, otter, bobcat, pine martin, lynx, and timber wolf have been spotted on these trails. Since some of these animals can be dangerous, it's recommended that you keep your distance and avoid spooking them if possible.
More common wildlife includes deer, fox, raccoon, porcupine, beaver, mink, and skunk. It's best to keep your distance with these as well, but if you're biking with a Go Pro or other camera, you may get a good shot of your wildlife encounters on a mountain biking trip to this area.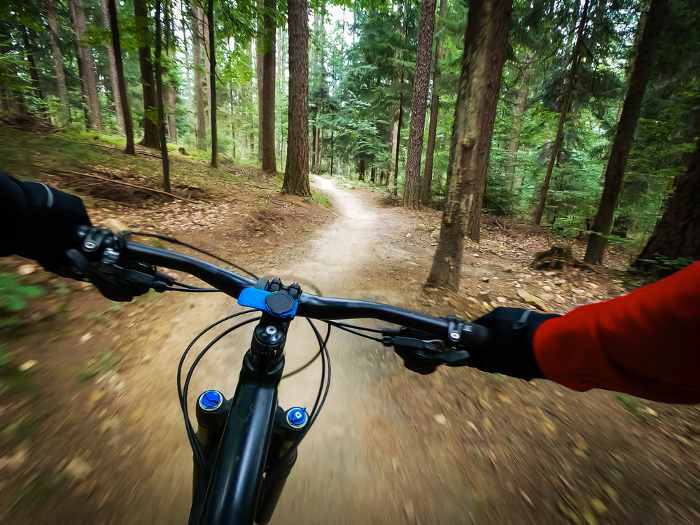 4. Mesabi Trail
With over 145 miles of paved trail, the Mesabi Trail stretches from the Mississippi River to the Canadian Boundary Waters. This massive trail will bring you past lakes and ponds, over creeks and old water-filled iron mines, and through several forests and 28 local communities. When completed, the trail will be over 165 miles long in total.
There are lots of wildlife-spotting opportunities on these trails as well as chances to sample unique local cuisines and learn more about the logging and mining legacies of the area. These paved trails are also good for in-line skating and hiking.
Best Mountain Bike Trails in Minnesota – Central
5. Kensington Rune Stone Park
Located in Douglass County, Kensington Rune Stone Park has several newly dedicated mountain biking trails in addition to the 8+ miles of general use trails. The trails weave through oak, aspen, and maple forests carrying bikers past lakes and beautiful mountain prairie meadows.
The nearby Runestone Museum holds the Kensington Rune Stone, which was found clutched in the roots of an aspen tree in 1898. It was discovered on the farm of Olof Öhman, and since then there has been a lot of debate and speculation over how a stone with runes dating from the 1300s made it to America. But because of this stone, many local businesses use runes or a Viking as a local symbol. This is also where the Minnesota Vikings football team got its name.
6. Milaca Trails
Next on our list of best mountain bike trails in Minnesota is Milaca Trails. Nestled in over 200 acres of woods, hills, and fields along the scenic Rum River, the Milaca Trails stretch over 12 miles. There are both single-track trails and double-track trails here.
The Northwoods, Sky Hill, and Bog Monster are all more challenging trails for the experienced mountain biker, while The Pines and Rum River Run are easier trails for beginners to tackle. 5 of the 12 miles of trails are also maintained in the winter for snowshoeing.
7. Hillside Mountain Bike Trailhead
Within 80 acres of oak forest in the Elk River Recreation area lies 6 miles of challenging mountain biking trails, not for the faint of heart. These trails were recently reconstructed with additional man-made challenges like sharp curves, ramps, and rock piles to leap over.
There's also parking near the Hillside Mountain Bike Trailhead and picnic tables available for bikers to use as needed.
8. Jail Trail (North Loop)
These single-track trails got their name from the nearby correctional facility, but don't let the name steer you away. This narrow, twisty trail has six different difficulty levels for you to choose from and will take you past tree-lined sections, down small drops, through tight turns, and over rock gardens.
This is not a smooth, relaxing trail. Only give the Jail Trail a try if you're looking for some crazy terrain to keep you on your toes the whole time.
Best Mountain Bike Trails in Minnesota – Southern
9. West Lake Marion Mountain Bike Trail
Constructed by the City of Lakeville and the Lakeville Cycles Association, West Lake Marion Mountain Bike Trail is 5 miles in length and includes sections rated for beginner, intermediate, and advanced mountain bikers. This single-track trail features several berms, rollers, and switchbacks to keep things interesting for bikers.
Bikers are asked to be aware of the Juno Trail, which is a general use trail for bikers as well as hikers, walkers, and in-line skaters. When using this trail, bikers should go slower and be respectful of the other individuals using the space.
10. Lebanon Hills Regional Park
The largest park in the Dakota County Park System, Lebanon Hills Regional Park contains over 2,000 acres of woods full of trails. These scenic, wooded, single-track mountain biking trails are open year-round as long as there is no snow.
Some of these trails are very challenging and are recommended for use by only the most experienced mountain bikers. But there are some that are appropriate for newbies, and the park even offers mountain biking classes for those who are new to the sport.
11. Brown's Creek State Trail
Connecting the Gateway State Trail in the city of Grant to the St. Croix National Scenic Riverway in Stillwater, the Brown's Creek State Trail is nearly six miles long and situated on a former railroad grade. The trails are not only for mountain bikers, however. This is a general use trail with dog-walkers, hikers, and horseback riders to share space with.
All users are asked to yield to horses, and mountain bikers will need to slow down and be respectful of other users on the trail. In nice weather when a lot of other people will be out and about, it might be best to look for another less crowded trail. But if it's a dreary day and less crowded, this trail will be great for mountain biking as long as you watch out for loose muddy areas.
12. Big Rivers Regional Trail
The Big Rivers Regional Trail runs for 4.5 miles through Minnesota woods and overlooks the Mississippi and Minnesota Rivers. This trail also links to the 72-mile Mississippi National River and Recreation Area, adding hundreds of miles of mountain biking trails to the area.
The Big Rivers Regional Trail is gentle and paved all the way through. The adjacent trails lead through historical landmarks such as Fort Snelling, Pike Island, and the city of Mendota, which is one of Minnesota's oldest landmarks.
Wrapping Up the Best Mountain Bike Trails in Minnesota
Are you gearing up to hit one of the best mountain bike trails in Minnesota? Whether you're looking for a smooth and gentle ride or a twisty, challenging trail that will keep you on your toes the whole time, we've got several spots on this list for you. Which one are you the most excited about exploring? Let us know in the comments!
Love spending time outside? Then discover the Minnesota Outdoors to continue learning new ways to reconnect with nature!
Ready for more Minnesota advice, info, and guides? Whether you're a local or a passerby, discover the best of Minnesota that our great state has to offer!
Looking for some warm weather recommendations? Discover spring and summer in Minnesota for best destinations, travel recommendations, small (and big!) town events, and more!
Looking for more autumnal activities? Then visit our Minnesota Fall page to find inspiration for sweater weather fun!
About the Author
Latest Posts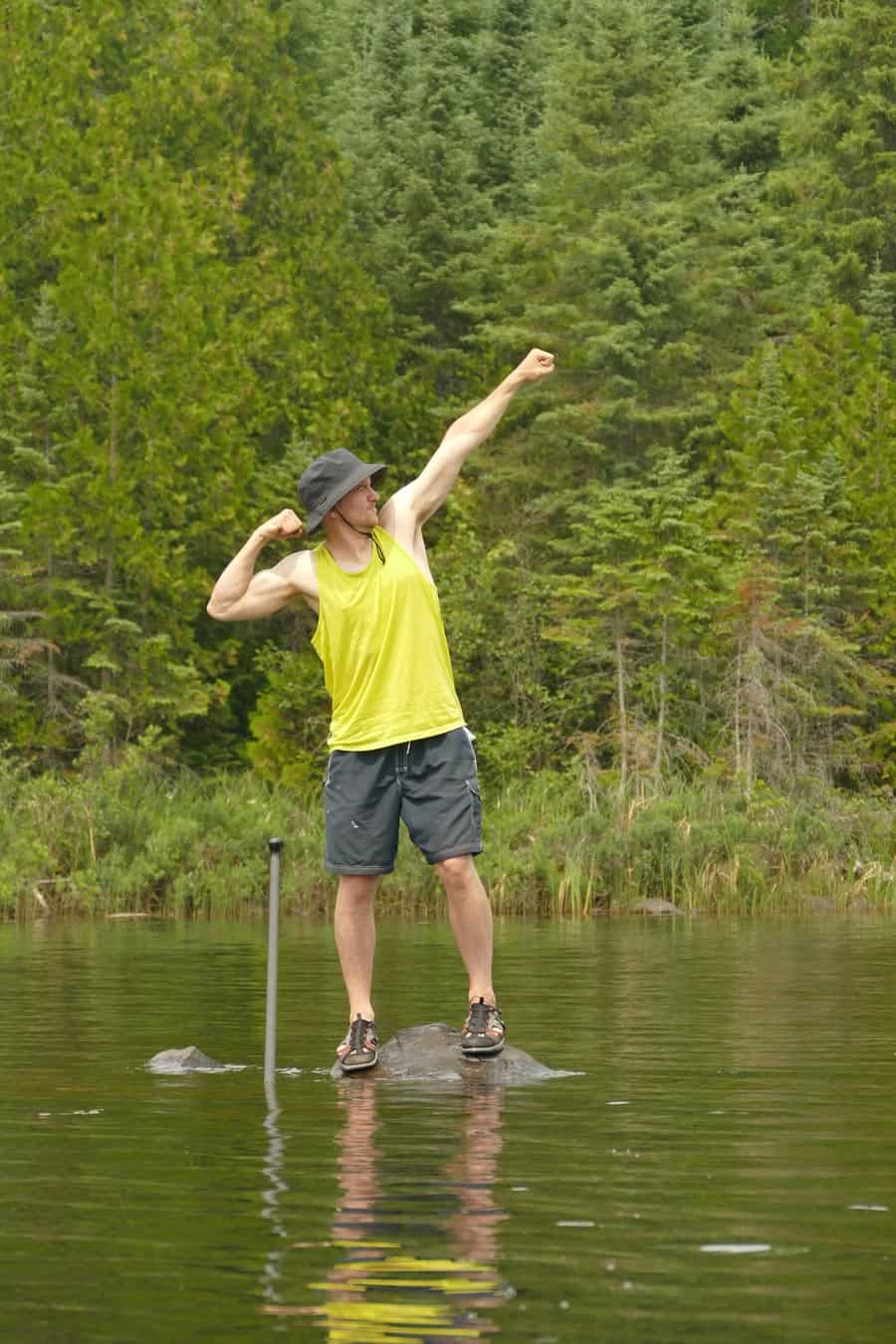 Born in Madelia, MN, to a now 5-generation Minnesota family, Ryan's MN roots go deep.
A painter by day, Ryan founded Life in Minnesota in 2013 with his wife Kelly to chronicle their musings on everything Minnesota. Ryan and Kelly are raising their 7 kiddos in Maple Grove, MN.
When he's not shuttling his kids around to hockey practice, you might find him in the shop working on his leatherwork. Undoubtedly, there will be a family trip to the Boundary Waters Canoe Area every summer, and of course weekends at Grandpa's cabin up north in the summer.