Indoor dining is nice when it's raining, but who wouldn't rather enjoy their meal and chat with their friends with the wind in their hair and the sun on their skin? We've compiled a comprehensive list of all the best patios in Minneapolis so you can find your next favorite place to eat and chill while enjoying the fresh air and the sounds of nature.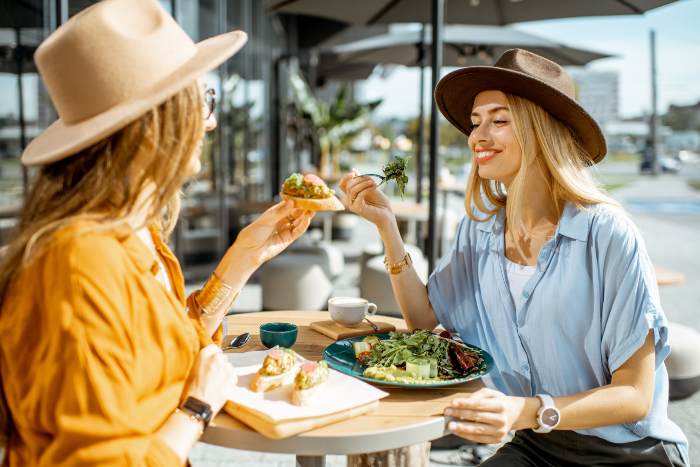 Did you know that a lot of Minneapolis patios allow guests to bring their dogs along? Or that one of the fanciest is also a Nordic sauna? Or that you can get a massage and sip Tao tea potions at another? Whether you're looking for a chance to relax by yourself, hang out with your pooch, or unwind and laugh with your friends, you'll find your place on this list.
Best Luxury Patios in Minneapolis
W.A. Frost and Company
Since 1975, W.A. Frost and Co has been serving award-winning contemporary American cuisine in the historic setting of Cathedral Hill. Guests of the indoor dining room are required to have a COVID vaccine card or proof of a negative test within 3 days. But their extensive outdoor patio welcomes all and offers plenty of room for social distancing.
They have incredible brunch, lunch, dinner, beverage, and dessert menus. Try a duck, bacon, egg, and cheese bowl with pineapple ketchup for brunch, a lamb burger with jalapeno yogurt for lunch, or a braised pork shoulder or grilled octopus for dinner. Their drinks include a number of red and white wines, several beers on tap, and a variety of cocktails including an old-fashioned, Japanese martini, jungle bird, and ginger sour.
Colita
Colita doesn't have a traditional patio, but their entire indoor restaurant converts into a giant open-air patio when the garage-door style walls are lifted. The whole space can be booked for luxury private dining, but most people simply visit the restaurant to enjoy the delicious food and drinks.
Try their charred eggplant tostadas, tempura-fried shrimp tacos, seared scallops, or Kansas city smoked ribs for a culinary delight. They serve a number of red and white wines as well as several types of beer, and they also have an extensive Mexican cocktail list including curado de maracuya, silvanito, and tejuino.
Cedar and Stone Nordic Sauna and Coffee
Enjoy locally sourced beverages in this incredible luxury sauna experience. With indoor and outdoor saunas located right on the edge of Lake Superior, it's worth a short drive from Minneapolis to Duluth to experience this unique type of patio.
With guided sauna tours and delicious healthy beverages to enjoy along the way, this is an especially enjoyable experience for intimate groups, couples, or anyone who would like to enjoy some relaxation by themselves.
Best Dog-Friendly Patios in Minneapolis
Stanley's Northeast Bar Room
There's a special dog-friendly "paw-tio" at Stanley's Northeast Ball Room just for your furry friends. Not only can your dog enjoy Minnesota's only 3-course meal for dogs, but you can also order to-go and delivery for your precious pooch. Dogs even get a "yappy hour" here with $1 off dog entrees from 3:00 PM to 6:00 PM and a complimentary free peanut butter woofer! It's hard to imagine a more fun place for you to take your dog for a meal.
Even if it's cold outside, as long as it's above zero degrees Fahrenheit, the dog paw-tio will be enclosed and heated. When it comes to food for humans, Stanley's serves all-day breakfast, bar food, sandwiches, tacos, burgers, soups, salads, and desserts.
The Upstairs at Stanley's is a whole other experience. Pizza is an additional menu item for order upstairs, and there are gambling games like E-pull tabs and a gambling wheel. They also offer a number of other games for your entertainment including shuffleboard, Nintendo 64, Buck Hunter, Ms. Pac-Man, two dartboards, Nintendo ENS, and Galaga.
The Howe Daily Kitchen & Bar
The Howe Daily Kitchen & Bar is a full restaurant and bar offering lunch and dinner on weekdays and brunch on weekends. With crafted cocktails and 40 beers on tap, they're the talk of the Howe neighborhood in Minneapolis. Not only do they have all that to offer, but they also have a year-round dog-friendly patio.
They also have a special menu just for dogs featuring nine dishes such as Nala's turkey muttloaf, chewy smoked pig's ear, woof woof bowl, and homemade pupcream. For humans, their menu features items like pasta roja, fish and chips, pretzel bites, a turkey club sandwich, healthy veggie bowls, burgers, and salads. They also offer many signature and classic cocktails, mocktails, and several wines.
Unleashed Hounds and Hops
How about a whole dog park instead of just a dog patio? Perfect for the high-energy furry friend, Unleashed Hounds and Hops has a full-fledged dog park right next to their dog patio so your dog can run around and let off some steam while you enjoy your dinner and a beer.
Unleased is committed to providing a safe and controlled environment for well-behaved, friendly dogs all year round. They also work with other local dog businesses and animal rescues and charities. Check out their brunch menu, food menu, and beer and wine menu to see what they have to offer for humans.
Reservations are required for this Minnesota dog patio.
Best Vegan Patios in Minneapolis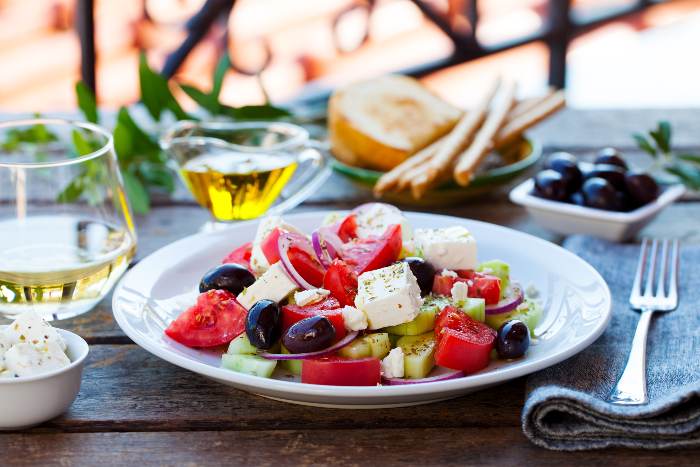 Reverie Cafe + Bar
Serving made-from-scratch, plant-based dinner every day from 4-9 pm and the same quality brunch every Saturday and Sunday from 9-2, Reverie Cafe + Bar also offers curbside pick up, catering, and food truck locations. Their cinnamon roll of unusual size (ie a giant cinnamon roll) and their fancy French toast with mango jerk sauce, coconut-lime creme fraiche, poached sweet pecans, fruit compote, and mint are crowd favorites.
Featuring one of the best outdoor patios in Minneapolis as well as indoor dining, Reverie has options no matter the weather. Their bar includes a rotating selection of local beer, kombucha, wine, switchel, and more plus a full coffee bar as well.
Seed Plant-Based Cafe
Located on West Lake Street, Seed Plant-Based Cafe is the hub for happy people eating plants. They serve breakfast, lunch, and dinner as well as an assortment of wellness smoothies, lattes, and teas. They practice a number of planet-conscious and wellness-focused habits such as providing only compostable to-go containers and providing all of their staff with free yoga classes to encourage their health and wellness.
They do feature a few meals with meat in them for those of you with non-vegan partners and friends, and they have gluten-free options for nearly all of their dishes as well. They've put a lot of effort into including everyone at this cafe.
Trio Plant-Based
Next on our list of best patios in Minneapolis is Trio Plant-Based. The first Black-owned vegan restaurant in Minneapolis, Trio Plant-Based has a touching origin story you should definitely check out on their website. This incredible restaurant is the priciest of our vegan locals on this list and for good reason. With everything from mouth-watering appetizers to vegan burgers, classic soul food, and decadent desserts.
Trio Plant-Based has been featured in Business Insider, Forbes, and Bon Appetit and is a local sensation among healthy eaters and supporters of BIPOC-owned businesses. With menu items like cauliflower wings, BBQ jackfruit fries, buffalo cauliflower mac, and cornbread and maple butter, you can't go wrong with this tasty Minneapolis vegan patio.
Tao Cafe & Herbery
Since 1968, the Toa Cafe and Herbery has been on a mission to share the Taoist philosophy of health achieved through a simple, balanced life in harmony with nature. They offer vibrant, organic menu items and sustainably sourced beverages for those who are hungry or thirsty. They also have a range of holistic health supplements and even massage therapy and acupuncture.
But if you're only visiting for the food, you can order something like the miso mushroom broth, curried sweet nuts, spicy sweet potato burrito, power protein salad, or the coconut curry bowl and enjoy dining inside or outside or ordering to go. If you're looking for some tasty, healing drinks, they have a wide variety of teas, coffees, smoothies, and "potions" including emerald water, turmeric lemonade, fire cider, and kombucha.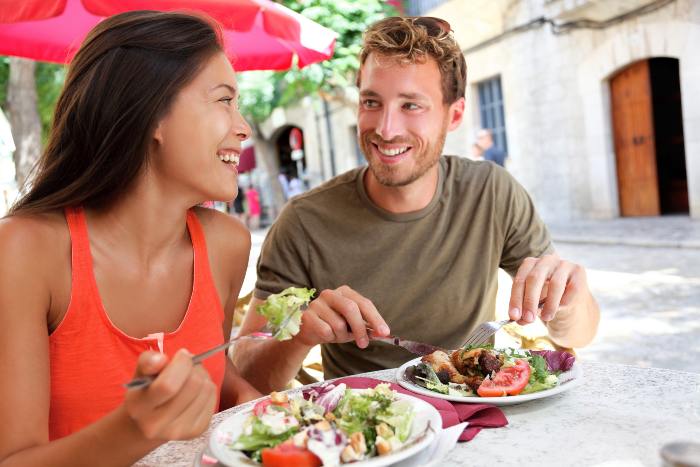 Wrapping Up Our List of the Best Patios in Minneapolis
Are you ready to head over to Stanley's with your furry friend, or visit the Tao Cafe and Herbery for some tea and a massage? Whether you're looking for some relaxing alone time or a fun excursion with friends, you'll find your next favorite hangout on our list of the best patios in Minneapolis.
Which patio sounds the most exciting to you? Where will you go first? Let us know in the comments!
Still hungry? Then continue exploring Minnesota food and drinks for a complete culinary adventure!
Still looking for more fun adventures? Then checkout all the great things to do in the Twin Cities!