My family and I enjoyed a beautiful day on Saturday at the Twin Cities Harvest Festival & Corn Maze.
This is the best corn maze I have ever been too!
It is located in Brooklyn Park right off Hwy. 169 and 109th Avenue. You can't miss it. It is the big patch of corn.
We were also very blessed to have Jen and Levi from Life with Levi join us on this fantastic adventure.
Just to let you all know; Jen and I do look a lot alike, but we are not related – just friends & neighbors.
We were able to meet up with the Farmer who puts the whole thing together Bert Bouwman. He is super down to earth and just talking with him you can tell he puts his heart and soul into making the Twin Cities Harvest Festival & Corn Maze a wonderful place for all families to enjoy.
A ton of work goes into planning and preparing the corn maze. Bert said "It starts at the kitchen table every fall." Throughout the year he is tending to the corn. To get it to grow thick and tall he hand laid 27 miles worth of drip irrigation. It shows because the corn was huge!
We started our morning off with a little touch of makeup. The face painting was airbrushed with stencils onto our faces. Jadis wanted to be a butterfly, Ruth wanted to be a green butterfly, Mikaela got a monkey and I requested flowers.
The face painting couple were super nice. They made the kids feel really comfortable. Plus, I loved the live music playing in the background. The Alzen family were on stage playing some good old bluegrass tunes. I caught myself tapping my feet along with the sweet sounds of the fiddle played by their youngest Tessa Lyn. In fact, our video has one of their songs as the background music.
Jadis was very pleased with her butterfly face.
Ruthie did really well for having cold air blowing on her face.
What a cutie pie.
I like this way of face painting over using a paint brush. It was much faster and the end result is way better.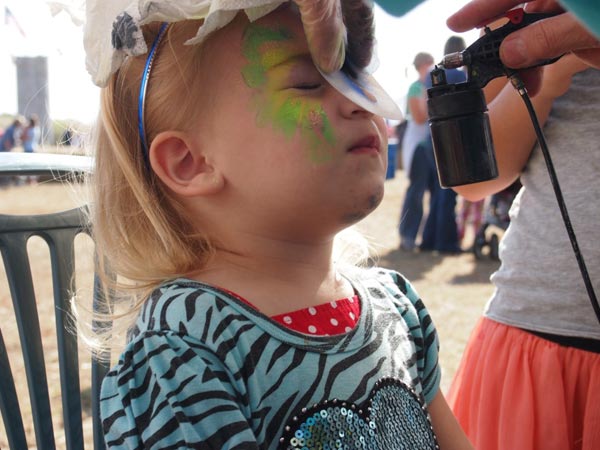 Levi and Jen got their faces painted as well at the Twin Cites Corn Maze.
There were so many activities to do at the Twin Cities Corn Maze you could plan a whole day there. Our next stop along the fun train was a big inflatable bump. All the kids liked climbing up and sliding down as fast as they could.
While we were all walking around enjoying ourselves a helicopter kept flying over the field. You could pay extra to take a ride, but we didn't because it cost $75 for 2 people and $90 for 3 people. It was neat to watch it flying around us.
Another cool event was a jumping trampoline for kids to play on. They were hooked onto a bungee cord making the child go a little higher than normal.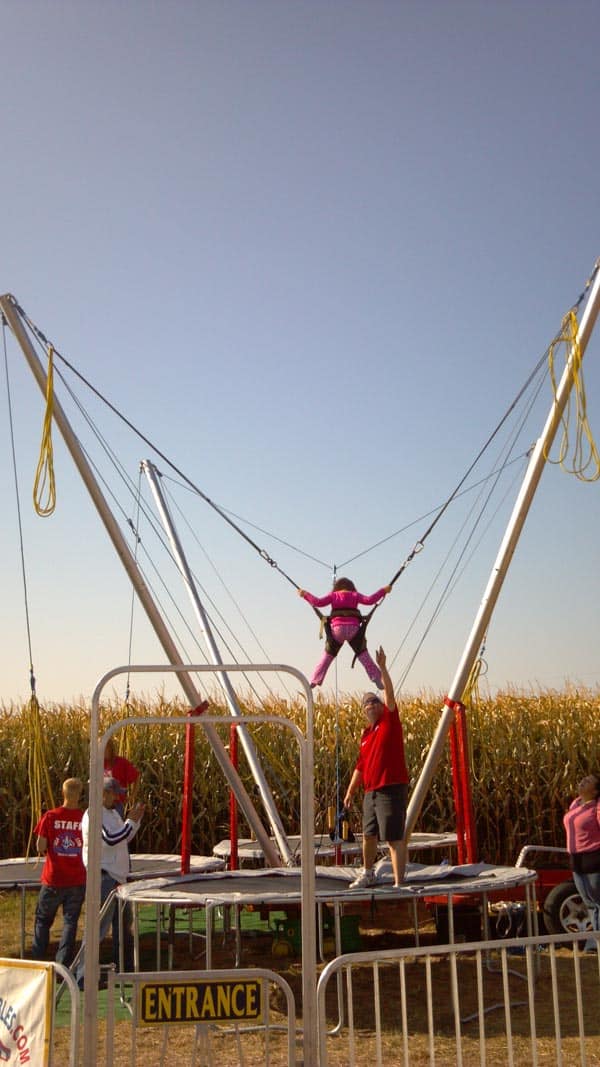 Also, the bigger kids could climb a tall tower and slide down as well as a rock climbing wall. I wasn't kidding; you could spend all day doing stuff at the corn maze.
Here is the big Ginny sack yellow slide. I loved this! I remember my Dad taking me down these when I was a little girl.
The little girls enjoyed a pony ride.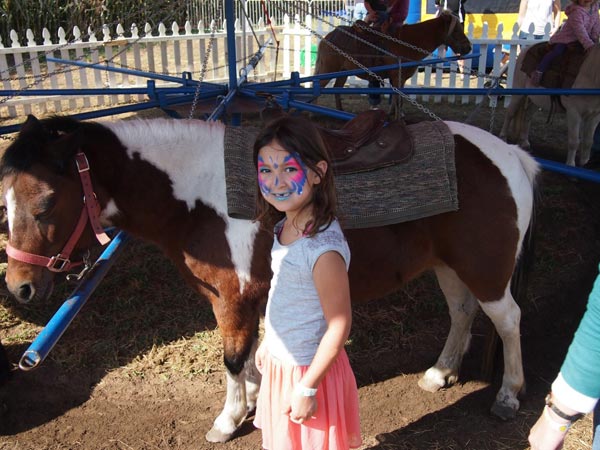 Ruthie and Jadis held hands as we walked around checking everything out. My little sweeties. The big kids were mainly on their own doing the big jumper, pumpkin slinger, climbing wall and the boys ran through the corn maze, too.
Guess what – they have a petting zoo and now I want a milking cow on my someday farm.
Plus goats.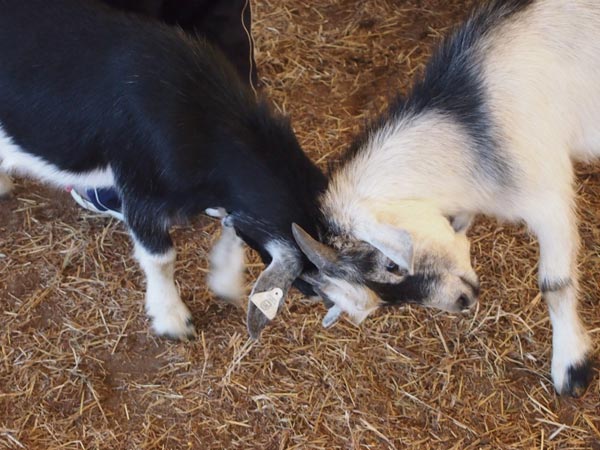 You could feed the animals for an extra buck.
The petting zoo was really clean. Ruth was a bit scared at first, but she warmed up to the animals once she saw the hens running around.
Jadis loved the feeling of the goats eating from her hand.
Ryan liked it, too.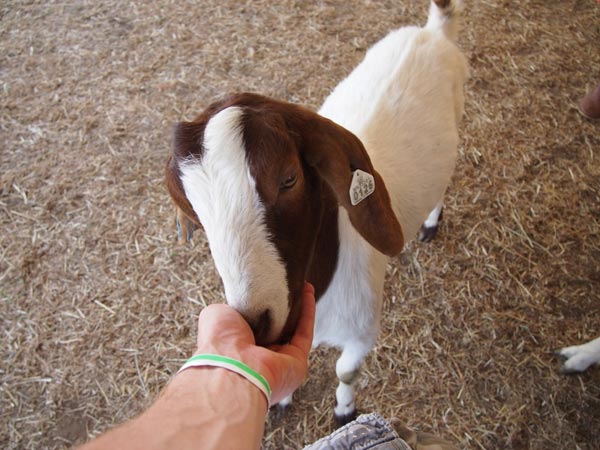 Moving along we left the Petting Zoo we went to the huge corn pit. When I read corn pit on the activity sheet I was thinking it would be a 8'x8′ box for kids to play in, but nope it was HUGE! There had to be at least 30 people kids and adults playing in the pit together. I was also surprised how clean the corn was. My family had a great time in the pit.
Later that night I found corn in my bed!
I think we were in the pit for at least a half an hour. I kinda want one in my backyard.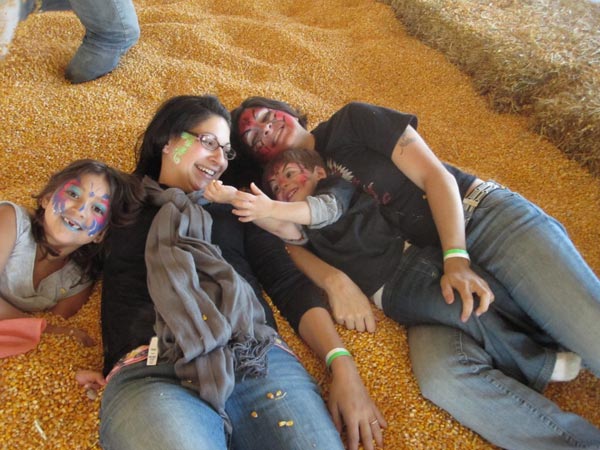 I wonder how much corn it took to fill the pit because it was big and deep.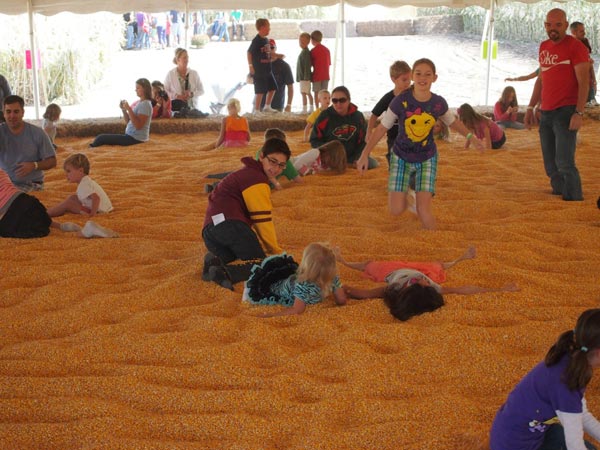 After spending a lot of time making corn angels and covering each other up in corn we stopped to have a snack in the shade. Then we were off to take on the Twin Cities Harvest Corn Maze!
This year Bert designed the corn maze to honor the men and women who have sacrificed their lives for our country. A portion of all the money made will go towards the Minnesota Military Family Foundation this year.
Here is a photo of the maze from up above. Bert told us it should take about an hour to get through the maze. We gave Jadis the map to lead us through. I think we took just under an hour.
We had a ton of fun! I can't wait until next year –
Ruthie was in the car less than 10 minutes…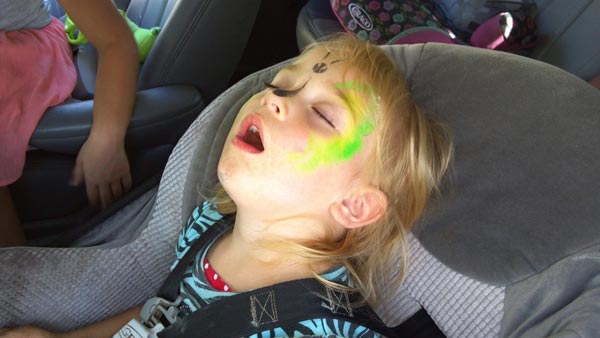 Don't forget to pick up some pumpkins before you leave.
If you are looking for a fun event to go to this month I would highly suggest going to the Twin Cities Harvest Festival & Corn Maze. Go to their website to see discounts. Their facebook page tells you what band is playing and you can also win discounts there as well. It is a super duper fun time no matter what age you are!
Kelly
Still looking for more fun adventures? Then checkout all the great things to do in the Twin Cities!
Looking for more autumnal activities? Then visit our Minnesota Fall page to find inspiration for sweater weather fun!
About the Author
Latest Posts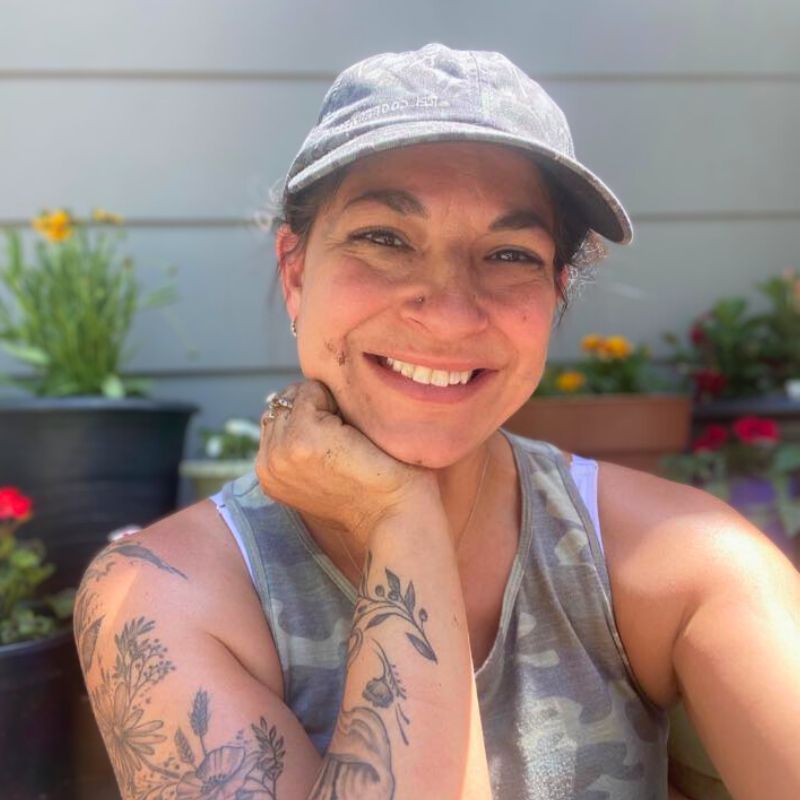 Hi! My name is Kelly and I run Life In Minnesota with my husband, Ryan.
My vision for LIM is that it shares engaging stories of unique Minnesotans and that it's considered a wonderful resource that helps make every life in MN more awesome!
I can be reached at kelly@lifeinminnesota.com
#LoveWhereYouLive #LifeInMN