There's no reason to confine yourself indoors this winter season. Exploring Minnesota's numerous winter activities is a terrific way to keep busy when the snow arrives. Fortunately, there's no shortage of fun winter activities in Minnesota.
Minnesota is known for its renowned winter festivals, its stunning winter sightseeing locations, and of course, its winter sports.
This post will help you discover a collection of options available to you so you can get out of the house and immerse yourself in the best activities Minnesota has to offer in winter. Keep reading to see the top 15 winter activities in Minnesota to try this season!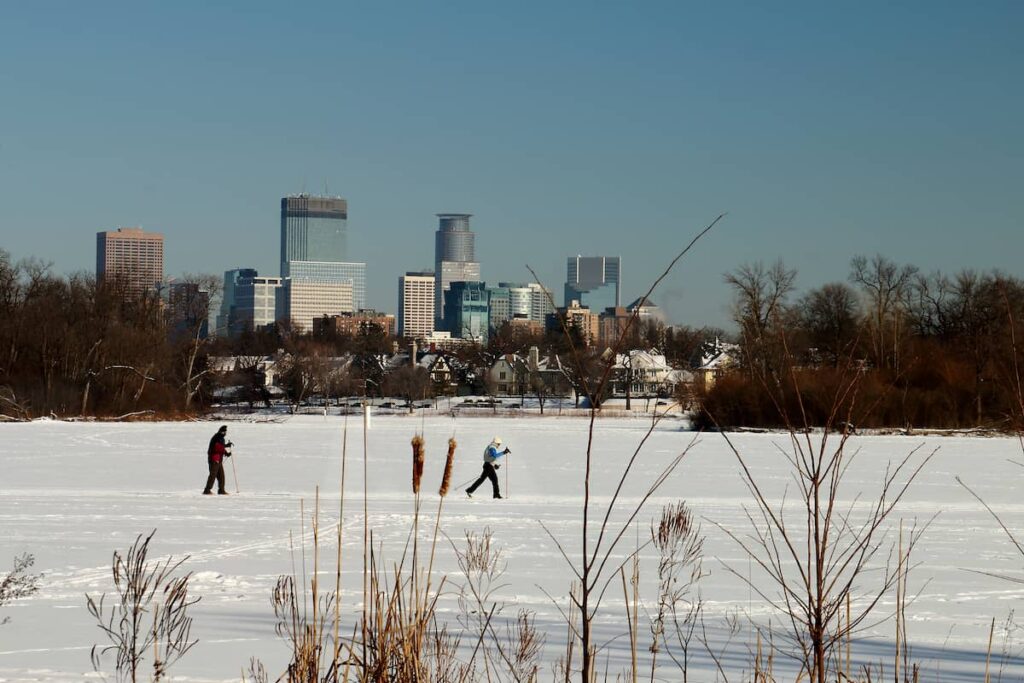 ---
Winter Festivals
Minnesota knows how to put on a winter festival, and you won't have to go far to find one. These are some of the best winter festivals you won't want to miss out on this season.
1. St. Paul Winter Carnival
The St. Paul Winter Carnival in downtown St. Paul has famously entertained locals and tourists since 1886. The majority of the events at the 10-day carnival are free and open to the public.
It kicks off with a Laser Light Show and an ice carving contest. A host of entertaining and family-friendly contests and Minnesota winter activities take place on each day of the carnival.
2. Bentleyville Tour of Lights
The Bentleyville Tour of Lights in Duluth has been a Minnesota holiday tradition since 2003. This event has been held in Bayfront Festival Park since 2009. The first five years were held at founder Nathan Bentley's homes in Esko and Cloquet, Minnesota.
Today, visitors will find over five billion lights decorated on the shores of Lake Superior in downtown Duluth, which they can walk through. Santa Claus is also a permanent guest every night at Bentleyville.
Free treats are provided through the generous donations of businesses and visitors. Treats are distributed at the Cookie House (cookies, hot chocolate, and coffee), Popcorn House (fresh popcorn made all night, every night), and the Marshmallow Hut (free S'mores).
Visitors can hang out under the pavilion to roast marshmallows and read about the history of Bentleyville. A lower grounds gift shop is also available to buy souvenirs. If you're lucky, you might even see a Great Lakes Freighter Ship passing on Lake Superior.
3. WinterFest in Crosslake
WinterFest in Crosslake, Minnesota, has been a tradition since 2002. This event is known for its good old-fashioned Minnesota winter activities for the whole family. The three-day festival takes place on the first Thursday, Friday, and Saturday in February.
Highlights from past events include scavenger hunts, trivia, raffles, live music, bonfires, fireworks, and snowman-building contests. Outdoor Minnesota winter activities are also a huge hit at WinterFest in Crosslake, including sledding and ice skating.
Keep an eye on the Crosslake Events Calendar for more information about the present year's event.
4. Polar Fest
Polar Fest in Detroit Lakes, Minnesota, is a festival of frozen fun that first started in 1996. The February festival is put on by an all-volunteer committee and is affiliated with the nonprofit PropelDL. Festival-goers will enjoy a variety of Minnesota winter activities for all ages.
This 16-day festival features a hotdish cooking challenge, ice golf, snowmobiling and ice fishing derbies, snowga (snow yoga), and so much more. Attendees have the opportunity to try cross-country or Nordic skiing and snowshoeing.
The event also has a kids' writing contest, a poetry walk, and all sorts of food, drink, and wine specials, including samplings from around the state.
5. Brainerd's Jaycees Ice Fishing Extravaganza
The Brainerd Jaycees Ice Fishing Extravaganza is the largest charitable ice fishing contest in the world. Since 1991, the event has been held annually ten miles north of Brainerd, Minnesota.
An estimated 10,000 anglers come out to the ice to compete in this day of fun with family and friends. Contest participants are competing for almost 200,000 worth of prizes, including a new truck, cash prizes up to $1,000, and a host of gift cards and other items.
Random raffle drawings also give out $40,000 in prizes. If you like ice fishing and want to do it for a good cause, this is one winter activity in Minnesota you won't want to miss.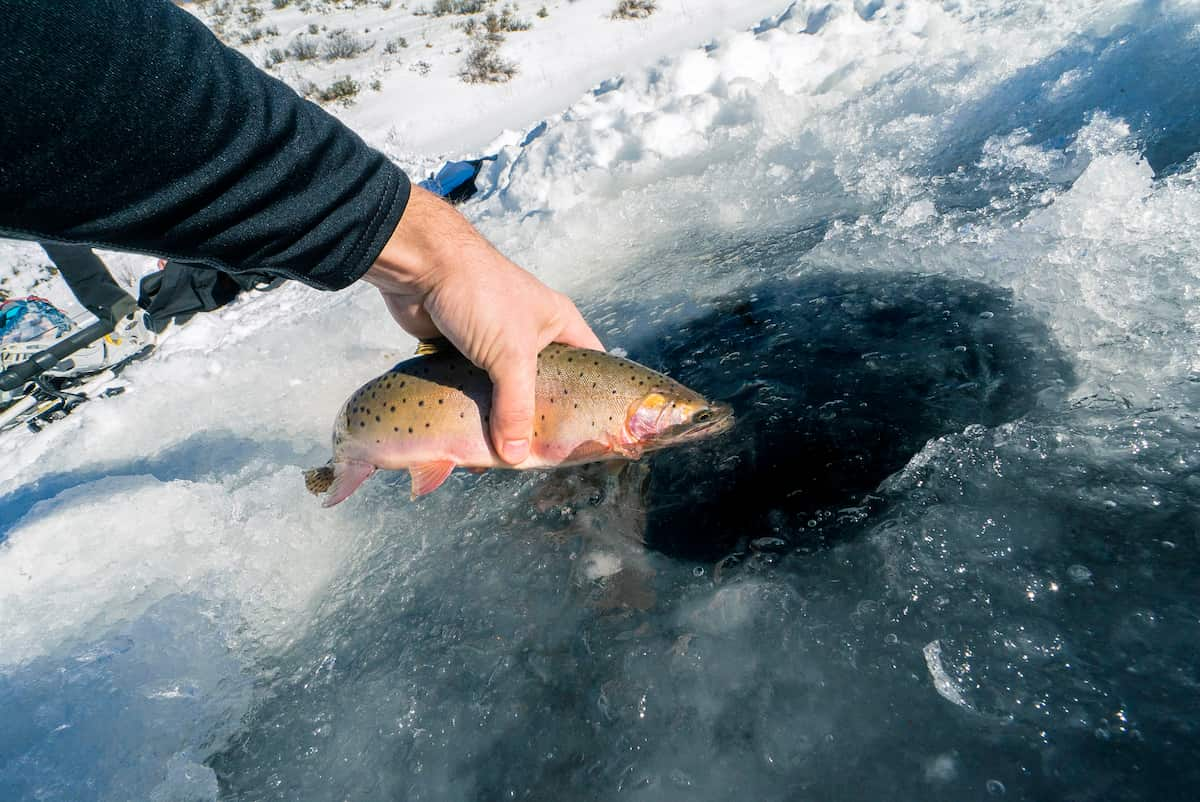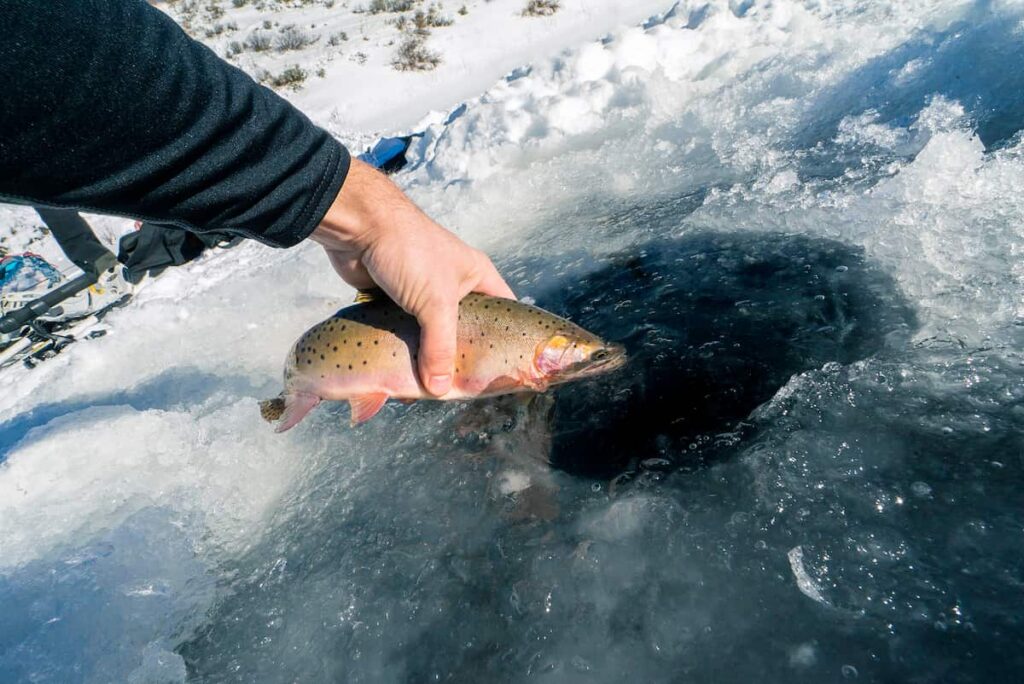 ---
Winter Sightseeing
Winter sightseeing is a favorite Minnesota winter activity among tourists and locals. Grab your camera and head out to the following locations to catch shots of Minnesota's best sights.
6. Ice Castles
Visiting the Ice Castles of Minnesota is a breathtaking winter activity in Minnesota you won't soon forget. These castles can be found in New Brighton, Minnesota, and visitors can see firsthand an ice castle like no other.
These ice castles are crafted of thousands upon thousands of hand-placed icicles, sculpted and placed together by professional ice artists. Then, LED lights are added, lighting up frozen tunnels, fountains, and more. The sight is truly breathtaking and looks like a fairytale come to life.
Visit the Ice Castles at night for the full-lit castle experience.
7. Minnehaha Falls
While most of Minnesota's frozen waterfalls are on its north shore, one frozen waterfall is situated in the heart of Minneapolis: Minnehaha Falls. Minnehaha Falls is a 53-foot drop in Minnehaha Park that stretches from Minnehaha Creek to its source, Lake Minnetonka.
Many consider Minnehaha one of Minneapolis' top photoshoot locations for special events–it's a popular place for winter engagement and wedding photos or family portraits.
8. The Northern Lights
The Northern Lights are a natural light display in the sky that occurs when solar wind hits Earth's atmosphere. They're typically seen in the northern hemisphere and occur randomly for short periods for 30 minutes to every two hours.
On the state's Canadian border, Cook County, Minnesota, is the best place to see the Northern Lights in the lower 48 states. The best time to see the Northern Lights is around midnight between the end of August and mid-April, making viewing them the perfect Minnesota winter activity.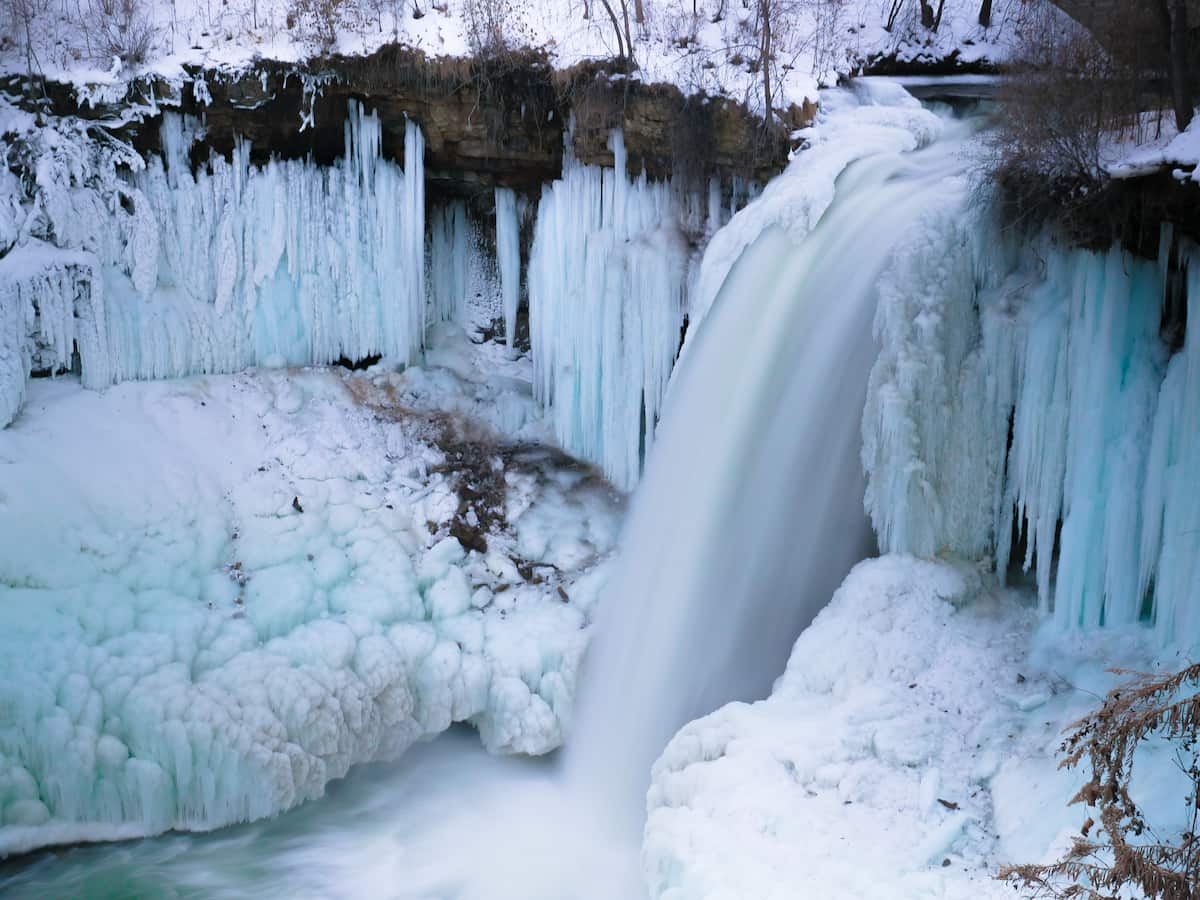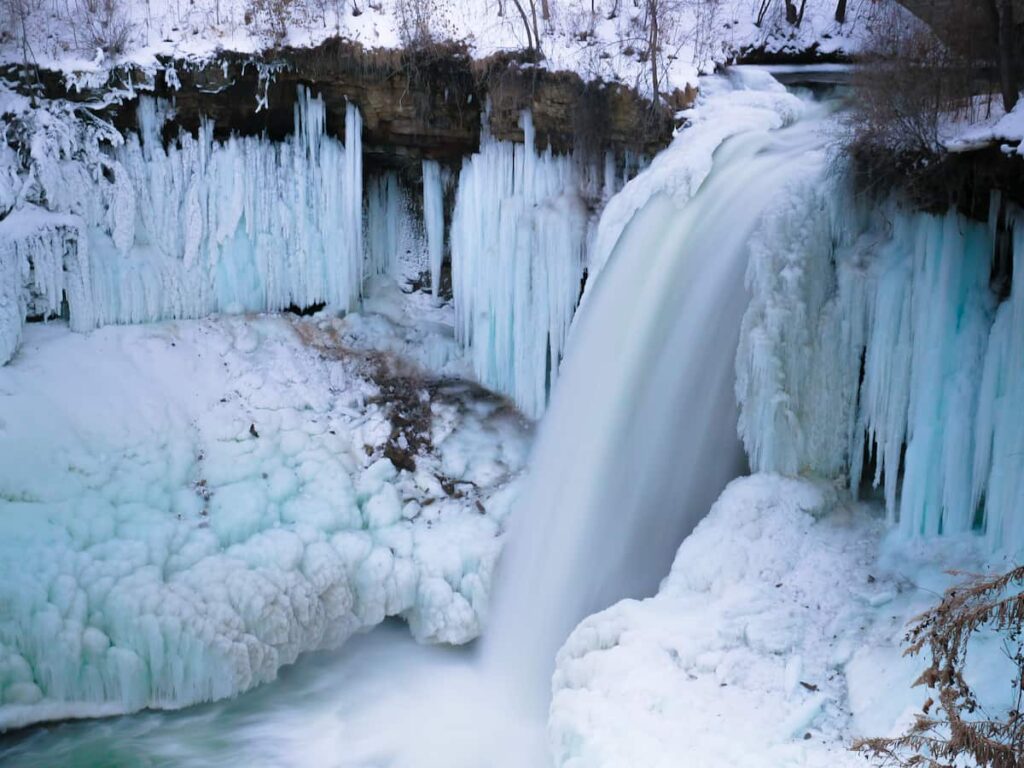 ---
Winter Sports
Cold-weathered sports are some of the most popular winter activities in Minnesota. Give some of these local favorite Minnesota winter sports a try!
9. Skiing
Forget the West Coast–Minnesota is home to the best ski slopes in the Midwest. Whether you're a beginner, mid-level, or advanced skier, you'll find plenty of ski slopes to enjoy. You could even stay at a ski resort to immerse yourself in Minnesota winter activities for a weekend or week-long getaway.
10. Snowtubing
Snowtubing is an exhilarating Minnesota winter activity almost anyone can do because it requires little physical exertion. It's more comfortable than sledding since you have a softer area to sit on.
This Minnesota winter activity is also incredibly easy to prepare for–all you need is a hill and a snow tube. Check out this list of some of the best hills to snowtube down in Minnesota.
11. Ice Fishing
Ice fishing is a winter activity in Minnesota that first comes to mind when the state is mentioned anywhere in the world. Fishing is a year-round activity in Minnesota, and Minnesotans take their ice fishing seriously when we shared about the Brainerd's Jaycees Ice Fishing Extravaganza.
If you prefer ice fishing in solitude (rather than among 10,000 others), check out one of these ice-fishing lakes in Minnesota.
12. Hockey
Hockey is a winter activity in Minnesota integrated into local culture. The Minnesota Wild play from October through April at the Xcel Energy Center in downtown St. Paul. Local Minnesotans won't have a problem finding a local adult hockey team near their hometown to join.
Learn all about the rules of hockey and which gear to buy.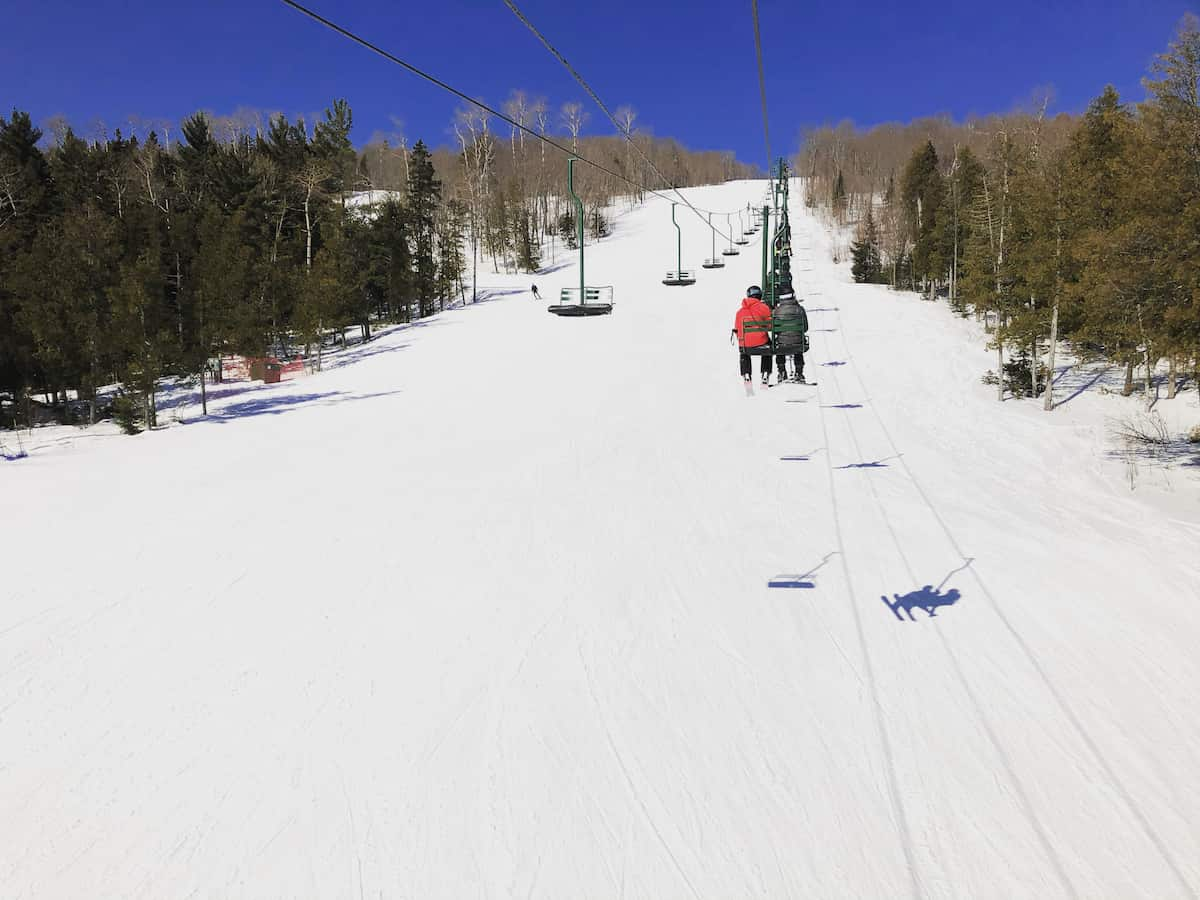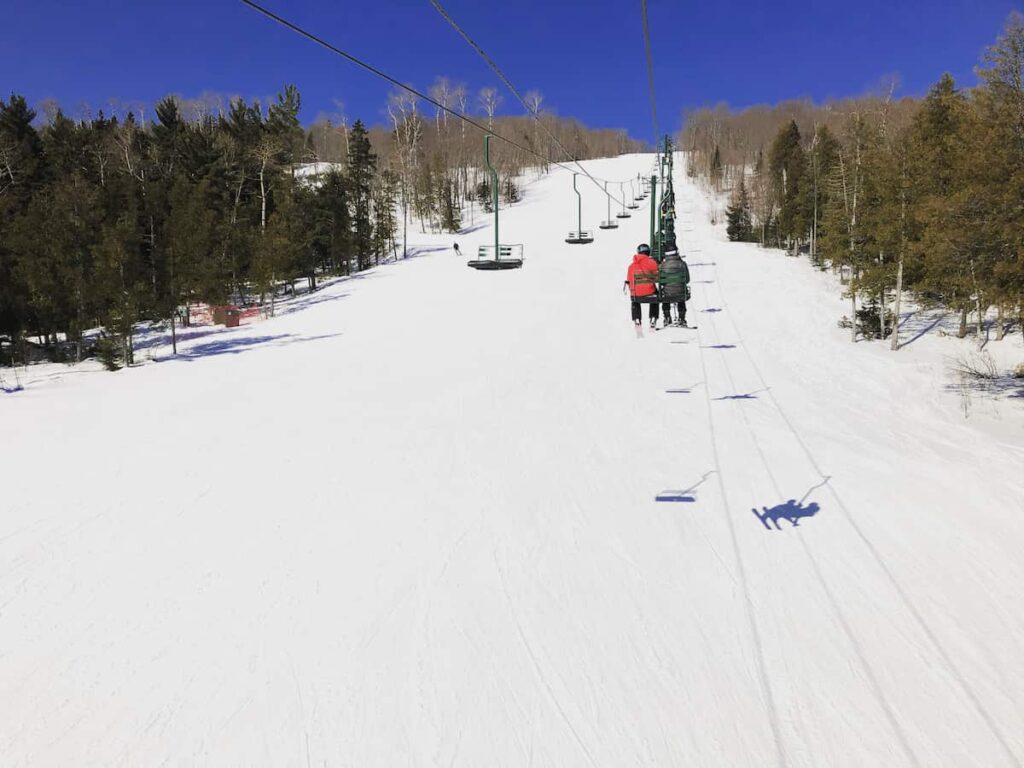 ---
Indoor Activities
Not everyone wants to brace the cold in Minnesota, and that's okay–the state has plenty of winter indoor activities for those who prefer to have access to the comfort of heated buildings.
13. Malls
There's no shortage of malls to Christmas shop or simply hang out and enjoy the attractions. Mall of America is usually what comes to mind when most people think of malls in Minnesota.
You could certainly spend a couple of days at Mall of America at Sea Life, Nickelodeon Universe, and all kinds of other venues and stores. However, did you know Minnesota is home to other amazing shopping malls as well?
Rosedale in Roseville, for instance, is home to SeaQuest–an aquarium that offers a variety of interactive animal experiences (such as parakeet feeding). You'll also find plenty of shops to keep you busy.
The state has other shopping centers filled with entertainment and shops, including outlets and open-air malls. Read all about the best malls in Minnesota you should visit this winter. Indulging in retail therapy is a quintessential winter pastime in Minnesota!
14. Midtown Global Market
Foodies unite! Midtown Global Market is a hidden gem located near Powderhorn Park in Minneapolis.
The market is best known for its cultural diversity and international cuisines from all over the world, served by local vendors. Visitors can sample food from Mexico, Somalia, Japan, India, the Middle East, and more.
The market also hosts several free community events and is a big supporter of local businesses and nonprofits. Groups can also book a group experience, such as a scavenger hunt, chef demo, dance lesson, storytelling, or tour.
Midtown Global Market is the perfect place to stop for lunch on a cold winter day in Minnesota. Learn more about all that Midtown Global Market has to offer.
15. Faribault Mill
Built in 1892, the historic Faribault Mill is a fifth-generation woolen-goods producer. They're most famous for their throw blankets, known for their durable quality. During World Wars 1 and 2, the mill supplied blankets and sleeping bags to US soldiers.
Today, the mill is still going strong after a new start in 2011 and rebranding from Faribault Woolen Mill Company to Faribault Mill in 2022. In 2022, Faribrant Mill acquired a cotton mill in Maine, adding cotton throws and blankets to their product line.
Tours are offered every Friday and Saturday at the mill's home in Faribault, Minnesota. Reservations are encouraged. Group tours are available by appointment.
Learn more about touring the Faribault Mill, a cozy winter activity in Minnesota.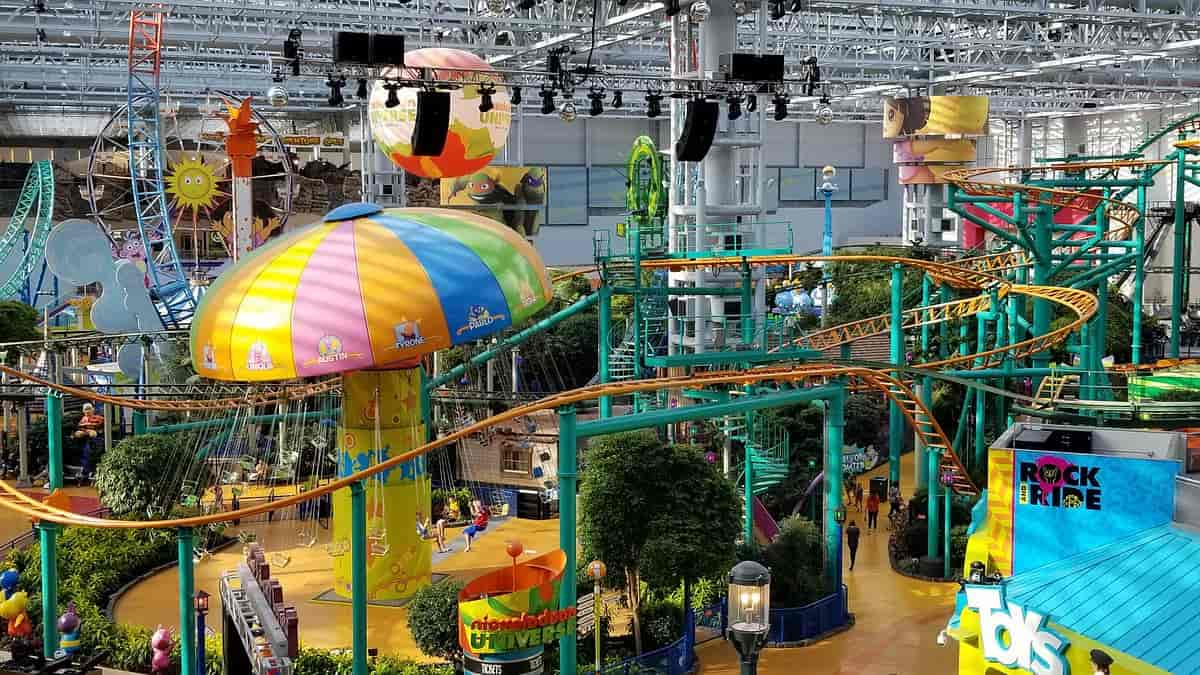 ---
Wrapping up the Top Winter Activities in Minnesota
Winter activities in Minnesota are diverse and cater to people with a variety of interests. Whether you'd prefer to stay active or you'd rather participate in low-impact activities, you're sure to find something to enjoy!
Looking for more to do this winter in Minnesota? Check out our Minnesota Winter section.
About the Author
Latest Posts
Nicole Kinkade loves taking regular road trips with her family around Minnesota. She especially enjoys visiting the Twin Cities area, where she can often be found hanging out at Mall of America and Como Park. Her favorite Minnesota restaurant is Fat Lorenzo's!
With a bachelor's degree in Business Administration and an associate's degree in Media Communication, Nicole is passionate about sharing her experiences with others through writing. She is currently writing full-time and loves every minute of it.
Nicole can be reached at nicolek.author@gmail.com