Minnesota is a wonderful destination for a brief weekend getaway from neighboring Midwest states or an enchanting Christmas break adventure, especially for Southerners eager to experience the magic of snow for the first time.
There's something for everyone in Minnesota, whether you crave outdoor adventure or prefer the warm comforts of indoor settings. You're going to love vacationing in Minnesota in the winter.
Keep reading to learn all about the best places to go in Minnesota and what you must do to experience the best winter vacation. Remember to take notes!
---
Bloomington
Bloomington, Minnesota, a suburb of the Twin Cities, is a popular tourist destination. With plenty of indoor entertainment for your whole family to enjoy, you're going to want to add Bloomington to the top of your Minnesota winter vacation list.
Things to Do
Mall of America
Bloomington is home to the United States' largest mall, the Mall of America. If you're going to Bloomington, you can't pass on visiting the Mall of America.
Mall of America is more than just a shopping mall–it's full of entertainment venues to keep your family busy for days. You could probably spend your entire winter vacation at the Mall of America if you wanted!
Tip: If you have little ones, visit the mall on Tuesday for Toddler Tuesdays exclusive discounts. Kids can enjoy free meals, discounts on activities around the mall, and free entertainment.
We've put together a list of the best stores for shopping at the Mall of America, but as we mentioned, the Mall of America is much more than just a place to shop. Let's talk about some activities that make Mall of America special and you won't want to miss on your Minnesota winter vacation.
Nickelodeon Universe
Don't wait until next summer to take your kids to an amusement park–take them to the indoor theme park at Mall of America to maximize your winter vacation fun.
Mall of America's indoor theme park is one of the largest in the United States. It's home to over two dozen attractions and rides. Enjoy thrill rides, family rides, and rides for the little ones.
You may see characters walking around the park, so bring your cameras for photo opportunities. Make sure to check the theme park's website for information about upcoming events during your winter vacation.
While you're at Nickelodeon Universe, don't forget to visit The LEGO Store directly outside the theme park. Your kids can enjoy the LEGO play tables, thoughtfully provided for them to explore their imaginations.
FlyOver America
FlyOver America is a one-of-a-kind experience that allows you to fly over some of the best landmarks and regions across the United States. This attraction is a fully immersive experience that will enable you to experience wind, mist, and scents during the ride.
Go so much farther than Minnesota during your winter vacation! You can bundle FlyOver America with your Nickelodeon Universe passes to save money.
SEA LIFE Aquarium
Under the Mall of America is Minnesota's largest aquarium, SEA LIFE. SEA LIFE features 1.3 million gallons of immersive underwater species in a 300-foot-long tunnel. Tickets can also be bundled with other attractions at the mall.
The Amazing Mirror
The Amazing Mirror is a unique attraction that challenges visitors to navigate through 2,500 square feet of life-size mirror mazes. It is one of the largest mirror mazes in the world, with unexpected twists and turns at every corner.
Great Wolf Lodge
Like the Mall of America, many vacationers travel to Bloomington just to spend their entire vacation there.
Great Wolf Lodge is more than just a hotel–it's a full indoor resort experience that offers rides and attractions for all skill levels. It's a way for waterpark-enthused vacationers to enjoy themselves in subzero winter temperatures.
There's also a plethora of out-of-the-water experiences for your family to enjoy on their winter vacation!
Places to Stay
Check out seven of the best hotels near the Mall of America.
Places to Eat
Check out seven of the best Mall of America restaurants.
Another restaurant worth visiting is RainForest Cafe, which is a stunning experience with jungle animal decor plus sound and lighting effects to entertain your family while you eat.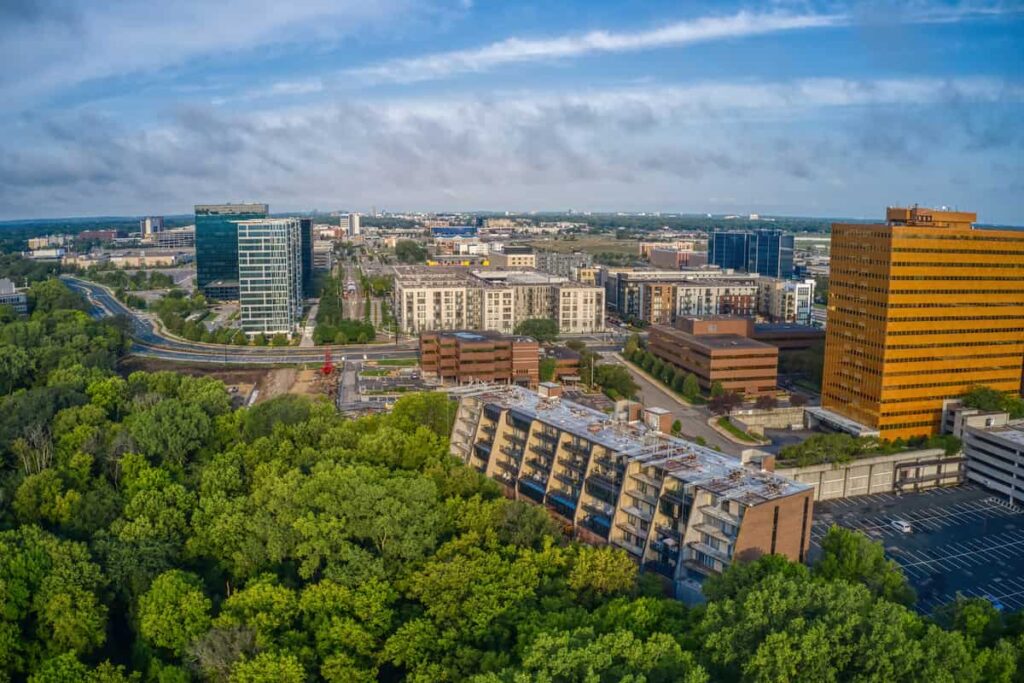 ---
St. Paul
Located just 20 miles from Bloomington, Minnesota's state capital St. Paul is a vacation all on its own. With a skyway system that connects 47 city blocks, you won't have to worry about going outside on cold winter days.
Learn more about the history of St. Paul.
Things to Do
Downtown St. Paul's Skyways
Prepare for your St. Paul winter vacation by studying the Saint Paul Skyway Map. This map shows exactly how to get around the downtown Skyway system, so you can plan your day accordingly.
Minnesota Children's Museum
Located on the skyway is the Minnesota Children's Museum, which offers three floors of fun for children of all ages. Your kids can explore 11 unique kid-inspired play areas. Parents can join in on the fun too!
Treasure Island
Located down the skyway from the Minnesota Children's Museum is Treasure Island. Treasure Island is a hang-out space in the heart of downtown St. Paul and features retail stores, restaurants, the St. Paul Events Center, the TRIA Ice Rink, and more.
The building draws hockey fans from all over the world because it is home to the Minnesota Wild, Minnesota Whitecaps, and Hamline University's hockey program.
Hockey fans may wish to plan their winter vacation around the Minnesota Wild schedule, which can be found here. (Home games are played at the Xcel Energy Center, which is only half a mile from TRIA Ice Rink.)
TRIA Ice Rink can be rented out, so your family can enjoy skating on the same ice where the Minnesota Wild practices.
Science Museum of Minnesota
Also on the St. Paul Skyway system is the Science Center of Minnesota. You won't want to skip the Science Center of Minnesota on your winter vacation. This science center features exhibits and experiences for the whole family plus regular events.
Exhibits include fossils and dinosaurs, a human body gallery, a light gallery, and more. Be sure to check out the events happening at the science center during your winter vacation stay.
Places to Stay
We've put together a list of the best hotels in St. Paul.
Places to Eat
We share restaurant recommendations and things to do in North St. Paul on this list (although some may not be appropriate for your winter vacation.)
Herbie's on the Park, near Xcel Energy Center, is also worth checking out. It features a game-day menu in a retro-inspired restaurant with a cozy fireplace.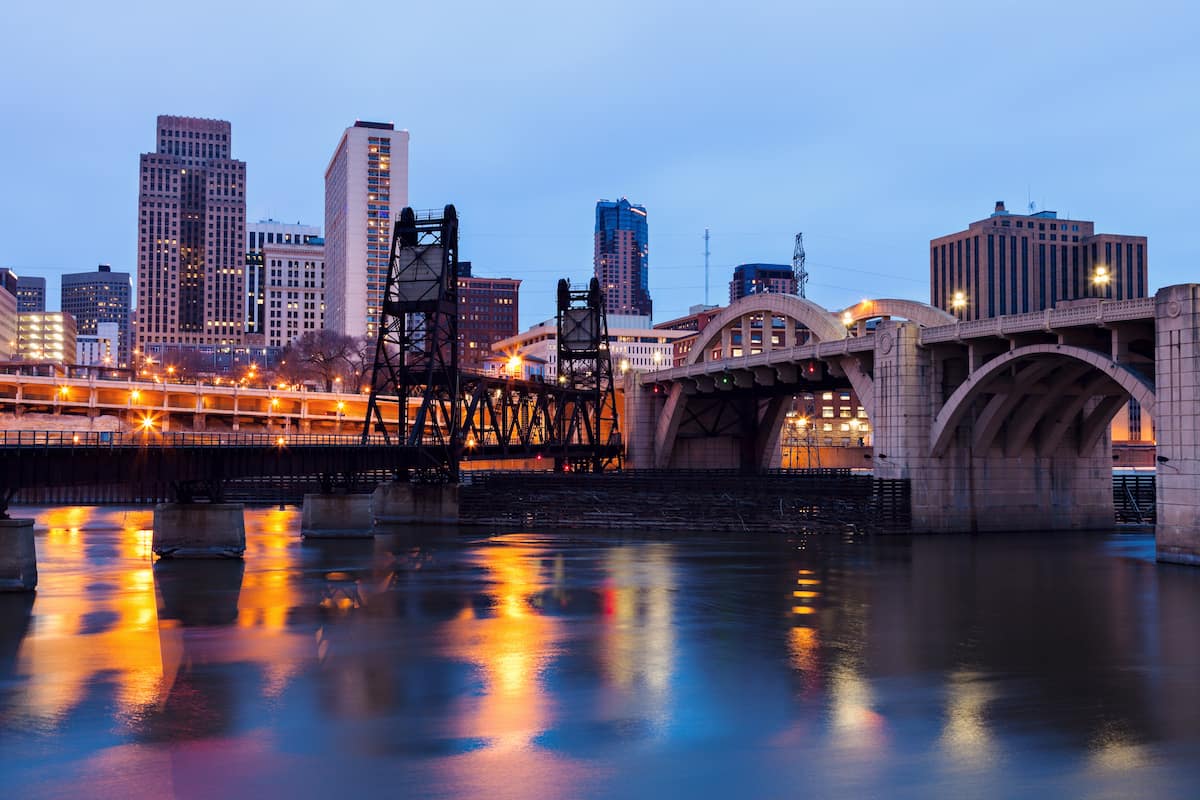 ---
Lutsen
Located on the North Shore of Lake Superior is Lutsen, Minnesota. Lutsen is a popular ski destination and brings tourists from all over each year eager to explore its slopes.
Things to Do
Lutsen Mountain
Lutsen Mountain is the largest ski area in the Midwest, and it offers beautiful views of Lake Superior along with over 1,000 acres and 95 runs of slopes.
You can ski, snowboard, snowshoe, and more across four interconnected mountains, including freestyle paths where you can challenge your friends.
If you're looking for adventure on your winter vacation, Lutsen Mountain is the place to be.
North Shore Winery
Experience the taste of Lutsen at North Shore Winery on your winter vacation. Its wine is distributed all across Minnesota and can be shipped to your home if you live in Minnesota, Wisconsin, or Iowa. While you're in Lutsen, you can experience the taste straight from the winery.
North Shore Winery also hosts events each week, so check their online calendar for the latest updates before leaving for your winter vacation.
Places to Stay
Lutsen Cabins
Fully immerse yourself in Minnesota's winter scenery by staying in a stunning Lutsen Cabin. Some cabins are close to the slopes and provide the option to ski in and ski out.
Lutsen Resort
Enjoy the luxury of staying at Lutsen Resort and experience every winter activity you can think of. Lutsen Resort is located right on Lutsen Mountain and offers ski-in and ski-out opportunities. Lodging options include historic lodge rooms, log cabins, and cozy townhomes.
Bluefin Bay Resort
The Bluefin Bay Resort is located 9 miles southwest of Lutsen Mountain, and it offers a free daily shuttle to Lutsen Mountains.
At Bluefin Bay Resort, your winter vacation will be filled with the luxury of yoga and craft classes, campfires and smores, and nearby winter activities like snowshoeing and cross-country skiing.
Places to Eat
The Strand Waterfront Dining & Wine Bar
Stand means shore in Swedish. This restaurant is located at the Historic Lodge at Lutsen Resort, and it offers a breathtaking view of the Lake Superior shore.
Brunch and dinner are offered daily, and dinner reservations are recommended. Book reservations and view their menus on the Lutsen Resort website.
Lockport Marketplace and Deli
Lockport Marketplace and Deli is a small diner with a store attached, so you can grab a bite to eat or grab supplies you need to bring back to your cabin to cook yourself. Their menu changes with the seasons, so check their Facebook page for recent updates before you go.
---
Duluth
Duluth, Minnesota, lies approximately 2 hours southwest of Lutsen. It also sits on the North Shore, so visitors can enjoy the breathtaking views of Lake Superior. The city features numerous shops and historic sites for vacationers to enjoy.
Things to Do
Duluth is a vibrant city at all times of the year, and we've put together a list of 22 fun things to do in Duluth, Minnesota (though some activities are not available in the winter).
Let's talk about some of our favorite winter activities in Duluth.
Spirit Mountain
A prime winter vacation spot in Duluth is Spirit Mountain. Visitors can enjoy alpine, nordic, and freestyle skiing as well as snowboarding and snow tubing. Ski lessons are also available for individuals of all skill levels!
Great Lakes Aquarium
The Great Lakes Aquarium provides indoor comfort, allowing you to enjoy the attraction even on chilly days. It features exhibits for all ages and special events throughout the year, so check out their Experiences page to see what's happening during your visit.
Fitger's Brewhouse
Fitger's Brewhouse is a unique, historic brewery located in Duluth. It was opened in 1881 and survived Prohibition by selling soda and candy. Enjoy a delicious meal (check out their menu here) with a cold brew!
Virtual tours are now available online.
Places to Stay
We've handpicked the best hotels and cabins for rent in Duluth, so you can discover the coziest places to wind down on your winter vacation.
Places to Eat
Pickwick Restaurant & Pub
Pickwick Restaurant & Pub is a local landmark, serving traditional entrees and grilled meats since 1914. They sometimes host specialty dinners and events, so check their Facebook page for the latest news.
OMC Smokehouse
OMC Smokehouse is famous for its smoked meats, craft beer and wine, and delicious sides. They even have a cookbook you can take home that features the restaurant's most popular recipes.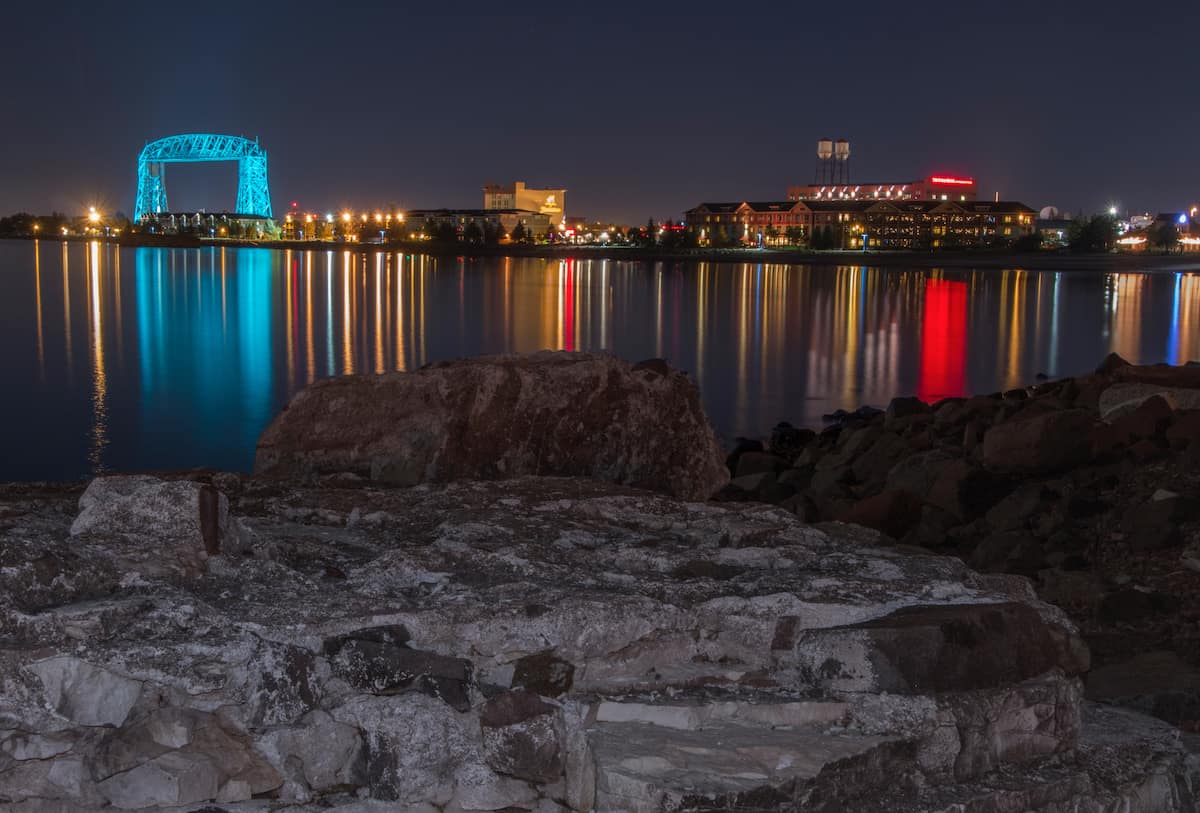 ---
Biwabik
Located an hour north of Duluth is Biwabik, a popular family-friendly ski destination in Northern Minnesota.
Things to Do
Giants Ridge Recreation Center
The Giants Ridge Recreation Center is one of the best places for families to spend their winter vacation in Minnesota. Popular winter activities include skiing, snowboarding, snowshoeing, snow tubing, and fat-tire biking.
They also have lessons and programs for people of all abilities. This recreation center is truly all-inclusive, catering to individuals with disabilities with adaptive skiing. Your entire family can join in on the winter fun!
Honk the Moose Statue
If you're looking for an interesting photo opportunity, you're going to want to visit the Honk the Moose Statue. The real Honk the Moose wandered into Biwabik in 1935 and decided to spend the winter there. He later became a popular character in a local children's story.
The life-size statue was placed in the 1980s to commemorate the past visitor. You can find the Honk the Moose statue at the east corner of Carl Schuster Park.
Places to Stay
Lodge at Giants Ridge
The Lodge at Giants Ridge is located in the heart of Giants Ridge Recreation (although it is separately owned and operated from the recreation center). The lodge offers pet-friendly suites and features a large indoor pool and hot tub, a full-service spa and salon, and an outdoor fire pit.
Unwind and soak up the relaxation after a day on the slopes!
Villas at Giants Ridge
The Villas at Giants Ridge is also owned and operated separately from the recreation center. It features three- and four-bedroom suites as well as one- and two-bedroom suites. Pet-friendly units are also available.
This is the perfect place for families who like their privacy while on vacation to stay.
Green Gate Guest Houses
The Green Gate Guest Houses are within short walking and driving distance of the recreation center. They offer 12 lodging options throughout Biwabik. You can choose your preferred setting–lakeside, the woods, or on Main Street.
Places to Eat
Neighbor's BBQ
Located inside the Lodge at Giants Ridge, Neighbors BBQ is a family-friendly restaurant featuring signature, made-from-scratch recipes. Neighbor's BBQ is known as the birthplace of Minnesota barbecue, and you won't want to miss trying it.
Poor Gary's & Biwabik Pub
The Biwabik Pub is a popular hangout in town, featuring a full-service bar and dart games. After a fire destroyed its location near the Honk the Moose statue, Poor Gary's Pizza moved to the pub.
Poor Gary's Pizza menu features a large selection of pizza, sandwiches, and appetizers. It's a local favorite and a must-visit!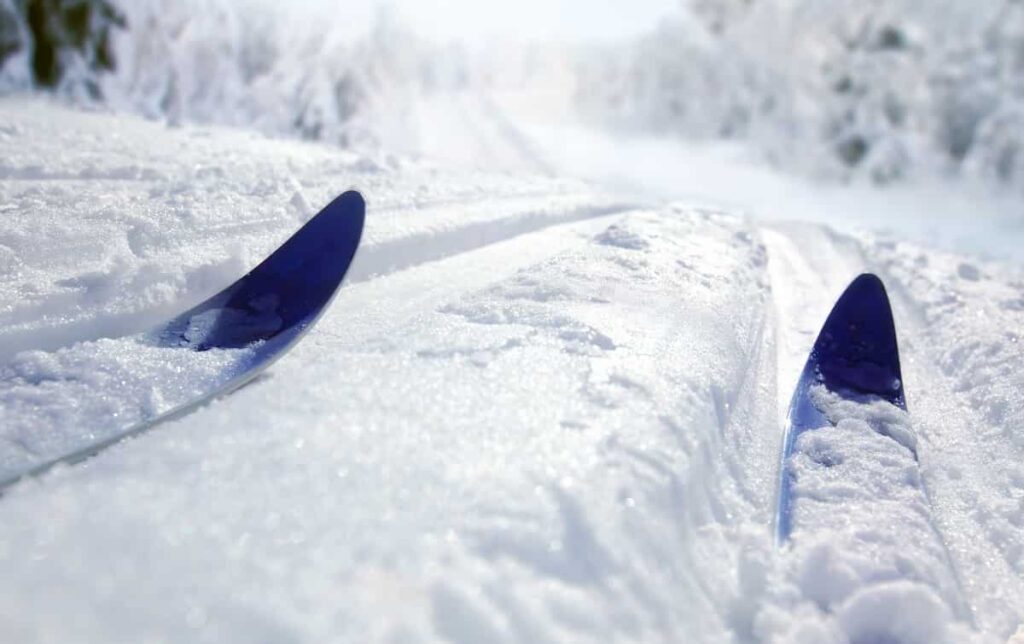 ---
Brainerd
Known for its first-class resorts and hotels, Brainerd, Minnesota, is the perfect family-friendly winter vacation destination.
Things to Do
There's a whole host of activities to enjoy in Brainerd. Experience winter to the fullest by visiting the Snowmobile Center at Cragun's Resort, enjoying a game of laser tag, and making a splash at Three Bear Water Park, an indoor waterpark.
Or if you crave a luxurious experience on your winter vacation, head over to Brainerd's luxury spa resort–The Spa at Madden's.
Places to Stay
Cragun's Resort on Gull Lake
The largest year-round resort in Minnesota and a "top ten" resort awarded by Midwest Living. Enjoy indoor pools and numerous amenities the resort has to offer when staying at Cragun's Resort.
Holiday Inn Express & Suites
Home to Three Bear Waterpark, Brainerd's Holiday Inn Express & Suites is a great hotel for families. All hotel guests receive 2-6 passes per day, with the option to buy additional passes. The hotel also offers free breakfast.
Places to Eat
The Barn
The Barn serves traditional, familiar American dishes in a cozy atmosphere. They're best known for their maid rite. Check their Facebook page for updates and the full menu.
Yesterday's Gone, Hometown Bar & Grill
Famous for its fresh Angus burgers and a large selection of craft beers, Yesterday's Gone is the perfect place to enjoy a game on television. They also host Open Mic nights.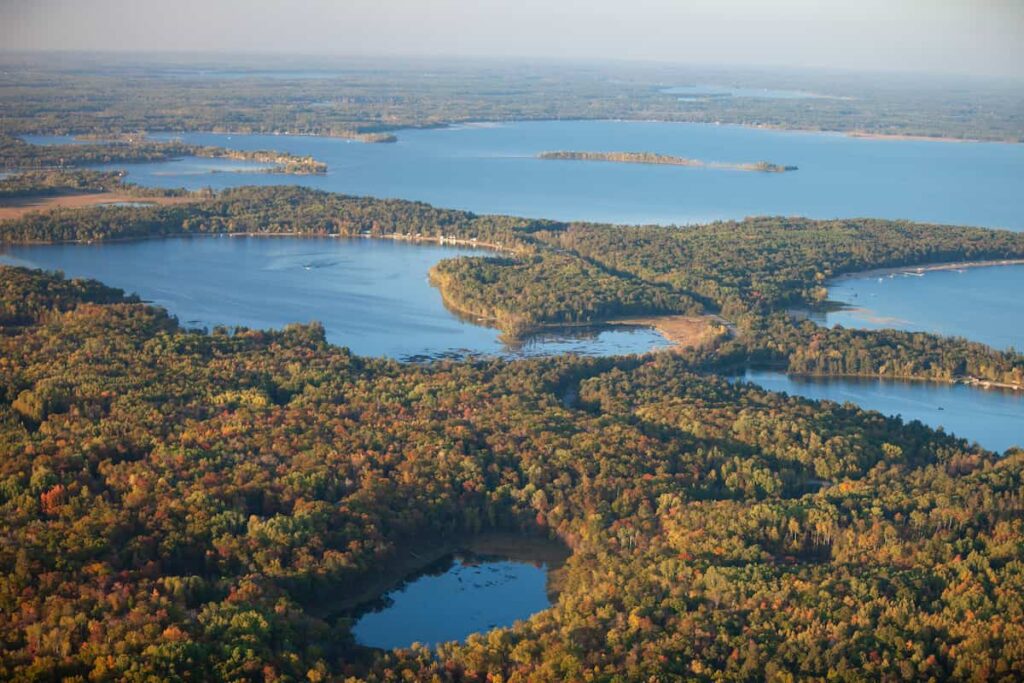 ---
Wrapping up Minnesota's Best Winter Vacations
Minnesota is full of exciting winter fun, from the amusement at the Mall of America to the slopes in Northern Minnesota. Hopefully, this guide to the best winter vacation has helped you select your next destination.
If you're preparing for a trip to Minnesota, be sure to check out our Minnesota Winter page so you can learn all the tips and tricks for making the best of your vacation!