According to the University of Minnesota, Duluth, Minnesota has over 34,000 miles of lakeshore. Some of these are on private land, but the majority are on public land with a lot of opportunities to camp near a lake. If picking the best spot sounds a little overwhelming in the face of so many options, take a look at this list of the best places for Minnesota lake camping.
We've compiled a list broken down into regions that detail points of interest, wildlife info, boating opportunities, and campsites for tents and RVs. Camping grounds with cabins are mentioned as well. So no matter what exactly makes a lake camping site ideal for you, you're bound to find something perfect on this list.
Best Lake Camping Sites in Northern Minnesota
1. Fox Lake Campground of Bemidji
First on our list of best spots for Minnesota lake camping is to visit Fox Lake Campground. This family-oriented campground offers lots of fun activities for the whole family to enjoy. In addition to paddle boating on the lake, Fox Lake Campground of Bemidji also has a playground, Gaga Ball, volleyball area, basketball court, game room, lending library, and pool table. There's also a long dock perfect for dipping your toes in the lake and watching the sunset on the horizon, and a camp store with ice cream for cooling down after a busy day of fun in the sun.
There are no cabins at this campground – only campsites for tents and RVs. Well-behaved dogs are welcome at Fox Lake, however, there is an extensive list of rules regarding dog care and behavior while at the campground, so make sure to take a look at that before bringing your pooch here.
If you're looking for more to do after checking out the campground amenities, consider visiting some of the other local spots of interest like the Mississippi Headwaters at Itasca State Park, which makes for a great day trip. The Movil Maze Recreation Area is just down the road from Fox Lake and is great for hiking or mountain biking, and Concordia Language Village is only twelve miles away.
2. Stony Point Resort
Another family-friendly vacation spot, Stony Point Resort can be found on Cass Lake in northern Minnesota. If you're more of the cabin camping type, then you're in luck! Stony Point has about a dozen cabins to choose from in addition to their several RV hook-up spots and tent camping sites. There are two long channels with extensive dock space for visitors to bring their own boats or to rent pontoons, paddle boats, kayaks, canoes, and aqua bikes.
They also have an indoor pool and hot tub so that resort guests can enjoy swimming even in the cooler months, and The Lodge camp store stocks everything you need for camping out on the lake that you may have forgotten at home. The Lodge also offers canal-side dining in the attached Canal House restaurant. Open since 1939, this resort and campground have been a family tradition for thousands over the last eighty years, and it would make a great new tradition for you and your family as well.
3. Long Lake Park
Have you ever wanted to go scuba diving, but thought you'd never get the chance deep in the midwest away from tropical oceans? Well, at Long Lake Park, you can finally experience scuba diving in the lake itself!
Thanks to the unusually clear water of Long Lake and its uncharacteristic depth, it's been a popular favorite scuba diving spot for years. While most Minnesota lakes are about five feet deep on average, Long Lake gets as deep as eighteen feet, providing more opportunities for scuba divers to see interesting things.
The crystal-clear water also makes it a good spot for family members who fear water-dwelling creatures they may not be able to see. With water this clear, they'll be able to see that they are safe when they step inside.
There are also hiking, fishing, and ice cream socials for other activities to enjoy. Campsites include several single sites, a few RV sites for up to 35-foot units, and two group camping sites. RV sites are handicap accessable.
Best Lake Camping Sites in Central Minnesota
4. Glacial Lakes State Park
The grounds overlook Signalness Lake, a 56-acre body of clear, glacial water. You can't beat the gorgeous view of the lake or of the prairie land blanketed in wildflowers in the spring. Horses are welcome at this campground. Electic-motor boats are allowed in the lake, and canoe rental is available.
At Glacial Lakes State Park, there are thirty-seven drive-up campsites in a cool, shady campground. RVs are allowed up to forty-five feet in length. There are also six cabins on sight for those who don't have an RV and would rather not bother with a tent.
5. Birch Lakes State Forest
Birch Lakes State Forest is one of the smallest state forests, but still an intriguing sight to see. It's situated right on the border of the Minnesota forest lands and prairie lands, providing visitors with beautiful forest views as well as prairie scenery.
At this site, there are four different types of camping available. Individual camping is on a first-come-first-served basis and does not require a reservation. Group camping sites are available upon request. Check out their website for the forest office contact information.
Horse campsites are also on a first-come-first-served basis, but they include pickets for tieing up horses and bins for manure disposal. Lastly, off-road vehicle camping is available in areas where off-road vehicles are allowed. Info can be found at the website linked above.
6. Dower Lake Recreation Area
Next on our list of great places for Minnesota lake camping is Dower Lake Recreation Area. Located two miles west of Staples, Minnesota, Dower Lake Recreation Area is a hidden gem for central Minnesota vacationers. This fifty-four-acre park boasts a softball complex, 9-hole disc golf course, basketball court, swimming beach, sand volleyball court, horseshoe pits, picnic shelter, picnic areas, public lake access, and tons of opportunities to enjoy nature.
There are twenty RV sites with electrical hook-ups, eleven rustic tents sites, and fourteen seasonal sites with full water, sewer, and electrical hookups. Unfortunately, this park doesn't have the ability to accommodate horses, so horses aren't allowed. But dogs are welcome as long as they are kept on a leash at all times.
Best Lake Camping Sites in Southern Minnesota
7. Sakatah Lake State Park
Sakata Lake is a natural widening of the Cannon River, and the surrounding park area covers thirty-nine miles between Mankato and Faribault. Paved trails offer beautiful views of Minnesota's hardwood forests to hikers and bikers in the warmer months and skiers and snowmobilers in the winter.
The lake is full of walleye, largemouth bass, white bass, northern pike, and panfish, for those who would enjoy doing some fishing. Sakatah Lake State Park provides sixty-two drive-in sites, fourteen with electric hook-ups for RVs up to fifty-five feet, five bike-in sites, and two large group camping sites. There's also one camper cabin and seasonally available showers, flush toilets, and dump stations.
8. Forestville/Mystery Cave State Park
Located in historic Forestville, Minnesota, is the great Mystery Cave State Park. The cave itself is full of fascinating stalactites and stalagmites and even some underground pools. Tours of the cave by park naturalists are available in the summer and on weekends in the spring and fall. Several species of gorgeous reptiles and amphibians can be seen inside the cave, which is constantly forty-eight degrees Fahrenheit all year round.
The restored town of Forrestville sits above the cave and is currently maintained by the Minnesota Historical Society. Forrestville was one of the shortest-lived towns in history. It was started in 1853 and flourished until the railroad bypassed it a mere fifteen years later. By 1890, a single man owned the entire town and employed all the residents.
The park supplies fifty drive-in non-electrical campsites, twenty-three drive-in electrical sites (RVs up to fifty feet), fifty-five horse campsites, and two seasonal group campsites. There are also five six-person camper cabins with full electricity and heat available year-round. Pets are not allowed in the camper cabins.
9. Great River Bluffs State Park
Two famous bluffs can be found in this beautiful bluff country: King's Bluff and Queen's Bluff. The King's Bluff Trail offers an unbelievable view of the Mississippi River valley and reaches a height of 660 feet. There's a beautiful oak savanna on the top of Queen's Bluff that descends into white cedars and then a goat prairie. The Queen's Bluff is 500 feet tall at its highest point.
Great River Bluffs State Park offers thirty-one drive-in campsites with plenty of vegetation between them to make them more private from each other than typical drive-in campsites. RVs must be under sixty feet, and unfortunately, there are no RV hook-ups at this time. Showers and flush toilets are available seasonally in the park, with rustic vault toilets available year-round.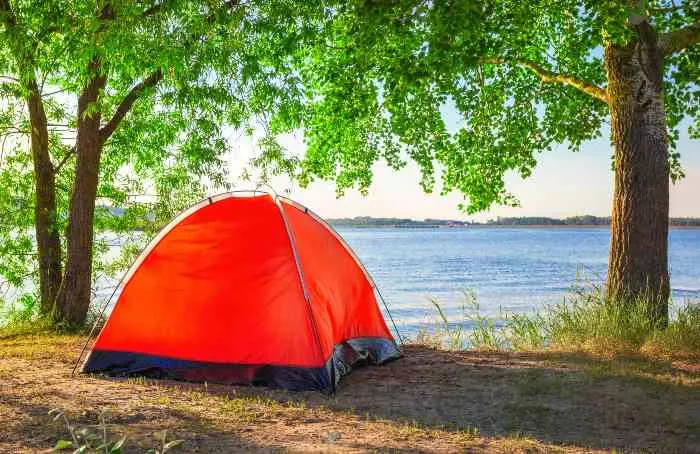 Wrapping Up the Best Spots for Minnesota Lake Camping
So what do you think? Will it be the caves or the bluffs for you? With so many excellent locations for Minnesota lake camping, it can be hard to choose. You can always make a list of your favorites and visit each of them once over the next year or two if it's too difficult to pick just one. Let us know in the comments where you plan to explore first!
Can't get enough of Minnesota lakes? Then keep living the Minnesota lake life with the help of my info posts and guides!
Ready for more Minnesota advice, info, and guides? Whether you're a local or a passerby, discover the best of Minnesota that our great state has to offer!
Looking for some warm weather recommendations? Discover spring and summer in Minnesota for best destinations, travel recommendations, small (and big!) town events, and more!
Looking for more autumnal activities? Then visit our Minnesota Fall page to find inspiration for sweater weather fun!