Compared to almost anywhere else in the United States, Minnesota has some of the most incredible views to offer, no matter the season. Our favorite campgrounds are spectacular covered in snow or wildflowers, and most of them have several activities for either time of year.
Whether you're after the most amazing rugged backpacking experience you can get your gloves on, or a more laidback camping weekend that comes with access to wifi, you will find a perfect location from our list of the best places for tent camping in Minnesota.
Best Tent Camping in Northern Greater Minnesota
Minnesota is sometimes divided into the Metropolitan Area–St Paul and Minneapolis–and Greater Minnesota–the rest of the state. Since Greater Minnesota is so much larger, we've divided it into the northern half and the southern half for the purpose of this article.
1. Lake Carlos State Park
First on our list of best places for tent camping in Minnesota is Lake Carlos State Park. Not only is Lake Carlos a great place to tent camp but it offers snowshoeing, skiing, and even an equestrian camping area. If you want to bring your horse, Lake Carlos is a good camping location.
If you're visiting in the summertime, there's a great beach for swimming as well as hiking trails, bogs, and prairies for exploring, bird watching, and observing other local wildlife.
2. St Croix National Scenic Riverway
A collection of remote campsites along the St Croix and Namekagon rivers, the St Croix National Scenic Riverway is great for camping in a different site every night. Most of the various tent camping sites are only accessible by one of the rivers, making them relatively isolated.
If you enjoy traversing rivers and/or setting up camp in a new location every day, this is a great spot for you.
3. Lake Maria State Park
Next on our list of best places for tent camping in Minnesota is Lake Maria State Park. This colorful state park boasts some of the prettiest wildflowers in spring and most vibrant leaves in autumn. If cross-country skiing is your thing, Lake Maria State Park has special campgrounds you can only reach through cross-country skiing. There are also secluded backpacking campsites as well.
If you visit in the spring or summer, you might catch sight of the Blandings turtle, an endangered species. Osprey and Eagles also make their home in this area, and sometimes have nests full of hatchlings. You might just be lucky enough to catch a glimpse of a parent eagle flying some prey up to its nest to feed the offspring.
4. Boundary Waters Wilderness Canoe Area
Spaning over one million acres, this enormous wilderness area is almost completely explorable by river. Grab your kayak or canoe and hit the waters! Set up camp in a new place every night if you want to.
And out in these remote parts, you're less likely to run into other campers if solitude is your goal. Just be sure to prepare well beforehand, because it will also be harder for Search and Rescue to find you if you get lost in a place like this.
5. Gull Lake Recreation Area
If solitude is your goal, but being hard to find by Search and Rescue in the event of an emergency is an uncomfortable idea, check out the Gull Lake Rec Area. Each camping ground is secluded from others, allowing you the comfort of quietude while still being only nine miles from town.
Great for fishing as well, this spot is well stocked with northern pike, bass, walleye, and panfish, just to name a few.
Best Tent Camping in the Metropolitan Area of Minnesota
The Twin Cities are pretty busy areas themselves, but there are several fantastic tent camping sites located within as little as half an hour to an hour of the downtown area. Check out some of the best close-to-home tent camping in Minnesota locations.
6. Wild River State Park
Located less than an hour north of the metropolitan area, Wild River State Park is home to where the Nevers dam once existed. Long since disappeared, the Nevers dam is no more, but the Nevers Dam Overlook beautiful site to see. Keep your eyes peeled for beautiful local wildlife here.
Boating and canoeing are available on the water, and in winter this is a great place for cross-country skiing. With various picnic shelters and a gorgeous park office, there's always a roof nearby if you find yourself needing a little more protection from the elements than a tent can provide.
7. Ham Lake Resort and Campground
A mere half-hour north of the Twin Cities, Ham Lake Resort and Campground boasts over 115 RV campsites as well as cabin and tent camping.
Multiple playgrounds and even a petting zoo on-site make this a popular choice for families with children.
8. Baker Park Campground
Located inside of the Baker Reserve, Baker Park Campground is about thirty minutes west of the metropolitan area. This park is most well-known for its lovely lake beaches great for swimming and picnicking.
With a golf course and miles of biking and hiking trails, there's lots of ground to cover to keep the family busy on a camping trip here.
9. Afton State Park
If east of the Twin Cities is more ideal for you, check out Afton State Park, also a mere half-hour from downtown. This campsite is extra special because you can only get there by backpacking. Each camping location is about a mile or a little less away from the parking area, but only tents can make it to these spots–no RVs here!
All campsites are far enough away from each other that you get plenty of privacy, but close enough that you may hear a neighbor's campfire song at dinner time. Close enough that you won't feel too alone out in the boonies.
10. William O'Brien State Park
While going somewhat off-grid and taking a break from the outside world is one of the benefits of camping, sometimes you just need to have access to wifi. One of the great things about the William O'Brien State Park is that most of their campsites come with wifi access if you'll need it during your stay.
With a variety of trails and an assortment of free-to-rent equipment for new hikers, this is a great place to first dip your toes into the camping and hiking experience.
Best Tent Camping in Southern Greater Minnesota
Last but certainly not least are the best tent camping in Minnesota locations in the lower half of Minnesota. If you haven't visited any of these places before, you're missing out! Now's the time to explore and enjoy.
11. Camden State Park
With a pier for fishing as well as boat unloading access, Camden State Park is great for boaters and those who enjoy fishing. They have a wide array of local species in their waterways.
Equine enthusiasts are welcome to bring their horses to the equine camp area. There's also a spring-fed pool and a lakeside beach the whole family can enjoy, as well as a playground with slides and swingsets for the younger kids.
12. Minneopa State Park
Want to see some waterfalls? Then Minneopa State Park is the camping ground for you! With several different waterfalls ranging from ten to thirty-nine feet high and various bridges to view them from, this park is as picturesque as they come. There's also a fascinating historical mill on the site that's worth checking out.
There's a bison range nearby with several drivable roadways for viewing the bison in their natural habitat. Bison are beautiful creatures, but can also be dangerous because of their size and horns. So if you take the opportunity to visit the bison range, be sure to follow the rules and give the bison their space.
13. Eagle Cliff Campground
This campground offers camping options to suit any preferences, from tent camping, RV camping, all the way up to staying in the lodge. If you're planning a trip for a large group with varying camping prowesses, Eagle Cliff Campground will have something to suit everyone, no matter how rugged or picky.
Great for family trips, Eagle Cliff also supplies a number of exciting outdoor amusements, such as tubing, canoeing, kayaking, and biking. Equipment for all of the above is available for rental from the campground.
14. Cedar Hill Campground at Whitewater State Park
With multiple rivers and bridges, Whitewater State Park lives up to its name. Full of riverside and pier locations for fishing, the Ceder Hill Campground area is for the more rugged tent campers.
There are over a hundred campsites to choose from, and they're all well-distanced from each other. That makes some of them quite far out, and you'll probably have to hike to get there. If you enjoy more challenging terrain, this will be a great place for you.
15. Split Rock Lighthouse State Park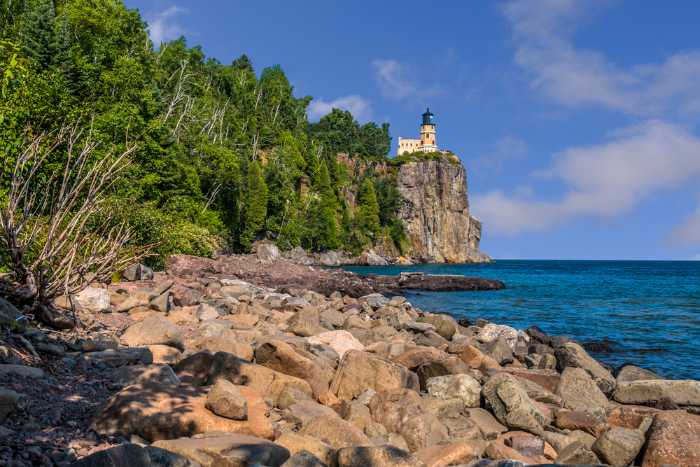 This is another beautiful camping ground that's a bit of a haul from the parking area. Carts are available for carting in your equipment, and the beautiful sites in this area are worth the trouble of the 2,000+ foot hike to each camping spot.
With multiple beaches and breathtaking views from the cliffs and of the cliffs, you'll never forget your experience at Split Rock.
Try One or Try Them All!
If you love tent camping then one of these best places for tent camping in Minnesota should be perfect for your adventures. Try one or try them all, and let your outdoor discoveries begin!
Did we leave out your favorite camping ground? If you know of a great location for tent camping in Minnesota that we missed, let us know in the comments!
Love spending time outside? Then discover the Minnesota Outdoors to continue learning new ways to reconnect with nature!
Ready for more Minnesota advice, info, and guides? Whether you're a local or a passerby, discover the best of Minnesota that our great state has to offer!
Looking for some warm weather recommendations? Discover spring and summer in Minnesota for best destinations, travel recommendations, small (and big!) town events, and more!
Looking for more autumnal activities? Then visit our Minnesota Fall page to find inspiration for sweater weather fun!