There are hundreds of amazing parks in Minnesota, ranging from state parks to playgrounds and everything in between. Of course, the chances of you being able to visit every last one are slim at best.
Fortunately, we've taken the time to narrow down the list to only the cream of the crop. Whether you're a Minnesota native or you're planning a once-in-a-lifetime trip to the "Land of 10,000 Lakes", here are 12 of the best parks in Minnesota you must check out!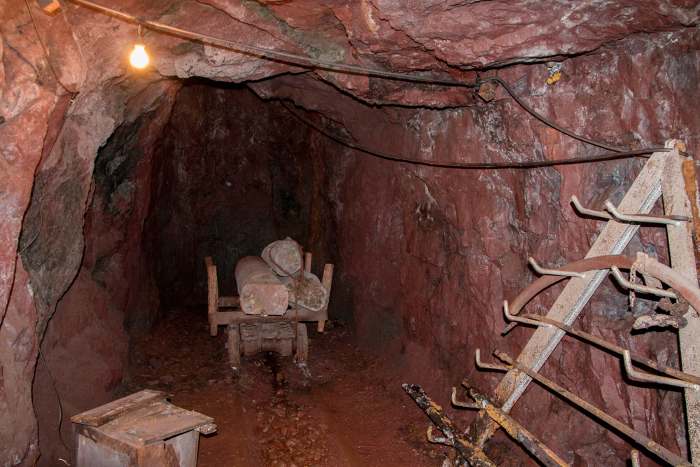 Northeast Region
Lake Vermillion-Soudan Underground Mine State Park
Grab a hard hat and your flashlight for the first stop on our list of the best parks in Minnesota If you're looking to turn one of the parks in Minnesota into a weekend getaway spot, Lake Vermillion-Soudan Underground Mine State Park is the place to do it.
The park offers a handful of accommodation and camping options, from electric sites to camping cabins with full facilities. During your stay, explore the park's hiking and geocaching trails, and enjoy public water access and all kinds of lake recreation activities.
Of course, you can't leave before putting on a hard hat and enjoying a guided tour of Minnesota's first iron ore mine!
Safari North Wildlife Park
If you like the sound of viewing exotic reptiles, birds, and endangered species from five different continents, Safari North Wildlife Park is the outdoor attraction for you!
At Safari North, you and your family members will get the chance to hand-feed giraffes, ride camels, and dig for dinosaur fossils. Walk from exhibit to exhibit in search of your favorite animals, or take a 10-acre train ride to view an assortment of Wildlife.
Once you've exhausted the zoo's exhibits, head over to the amusement park area for a round of slides, carousels, and fresh-squeezed lemonade!
Metro Region
Minnehaha State Park
Minnehaha State Park is one of Minneapolis' oldest and most beloved regional parks. Don't be deceived by its urban backdrop—this park boasts more than 167 acres of serene wilderness, gardens, walking trails, and biking paths.
Beyond traditional outdoor activities, Minnehaha has its very own picnic area, sculpture display, volleyball court, disc golf course, and wading pool. Not to mention, the park is home to a handful of scenic views—including the 53-foot Minnehaha Falls, multiple limestone bluffs, and Mississippi River overlooks.
Be sure to plan your visit carefully, as this popular park sees more than 850,000 visitors each year!
Carver Lake Bike Playground
For novice riders and cycling enthusiasts alike, Carver Lake Bike Playground is the perfect place for anyone to hone their bike riding skills.
This Woodbury attraction offers several tracks that allow riders to advance from one level to the next. The park's more entry-level tracks feature only a few shallow bumps and turns, while the more challenging tracks include steep bumps and more complicated sequences of obstacles.
Schaper Park
We all know how difficult it can be to find popular activities that keep tweens engaged. Schaper Park caters to this often-unreached age group by offering a wide range of competitive challenges and tracks.
Tucked away in Golden Valley, this advanced play area features a "ninja course" that is loaded with creative obstacles and equipment. It also includes a 40-yard dash track where children can put their athletics to the test and try to improve on their own scores.
The playground's sets—while challenging—are built from soft plastic and are laid out on forgiving turf, so that children can play freely without parents fearing a nasty injury.
Elm Creek Park Reserve
There aren't many parks in Minnesota that can compete with the sheer size and scope of Elm Creek Park Reserve. This 4,900-acre park is the largest in Three Rivers and features almost every type of outdoor activity imaginable.
Miles of hiking trails, camping spots, and other conventional pastimes are offered; but the park also features horseback riding, archery, geocaching, and tubing, among other sports and games.
While most parks are largely vacant during the winter months, Elm Creek keeps its visitors active with winter activities like skiing, snowboarding, sledding, and even snowmobiling. Whether temperatures are warm or frigid, you can be sure that there will be plenty of seasonal activities to enjoy at Elm Creek!
Hyland Play Area
Next on our list of the best parks in Minnesota is Hyland Play Area. Given the sheer scale of this 16,000 square-foot playground, it's easy to mistake Hyland Play Area for a life-size game of chutes and ladders.
While children of all ages enjoy sprawling staircases, 50-foot slides, and netted obstacles galore, parents get to watch on from the comfort of a shaded recreation area with concessions and restrooms close by!
Round Lake Park
If you're passionate about your outdoor sports, pencil Round Lake Park into your shortlist of must-visit parks in Minnesota.
To start, this Eden Prairie staple has its own basketball court, baseball field, softball field, hockey rink, tennis court, sand volleyball court, and skate park. While you organize a competitive sports game with family and friends, your children will enjoy time spent at the park's playground and splash pad!
What's more, Round Lake's very own sandy beaches are complete with a boat ramp, fishing pier, and swimming area!
South Central Region
Kerfoot Canopy Tour
For the outdoor thrill-seeker, there's arguably no better park in Minnesota than Kerfoot Canopy Tour.
Rated the #3 Aerial Attraction in the U.S. in 2020, Kerfoot Canopy Tour offers three exciting recreational activities. Its main attraction is a 14-line zipline tour that takes you 175 feet above the ground. This tour also features a 170-foot suspension bridge that overlooks the gorgeous Minnesota River Valley.
Then there's Adventure Park—a jungle of 60 rope challenges that are suspended in the air. As the course is self-guided, navigate it at your own pace and skill level. Finally, wind down with the Ball Run—a 450-foot sloped course where you can watch your very own wooden ball be launched through a series of creative obstacles!
Minneopa State Park
Visit Minneopa State Park and you'll enjoy no shortage of camping, fishing, and hiking opportunities.
What's more, a stroll along the park's main walking trail and limestone stairway will allow you to descend to the base of Minneopa Falls—a 39-foot waterfall that meets the Minnesota River.
What really separates Minneopa from your run-of-the-mill state park, however, is its enormous bison habitat. Traverse this 331-acre conservation to spot herds of large bison in all of their glory!
Southeast Region
Colvill Park
Need a popular spot that will keep the whole family entertained? Look no further than Colvill Park.
From tennis and volleyball courts to shuffleboard tables and horseshoe pits, this Red Wing mainstay has it all. Children will have a ball while exploring the park's multiple play structures and universal playground!
Catch your breath with a relaxing stroll along Colvill's mile-long walking path or through its vibrant discovery garden. Feel free to bring a packed lunch, as the park boasts a spacious picnic area that runs parallel to the Mississippi River!
Forestville/Mystery Cave State Park
Last, but not least on our list of best parks in Minnesota is a bit mysterious. At Forestville/Mystery Cave State Park, you'll have the opportunity to explore both above and below the earth's surface.
The park offers multiple camping sites, trout streams, historic sites, and horseback riding trails. The park's greatest highlight, however, is undoubtedly its cave tour. Mystery Cave is the longest cave in all of Minnesota, boasting more than 13 miles of chilly caverns and rock formations!
Keep in mind that Mystery Cave tours, while self-guided, are often limited. Visit the park's website to view available tour times!
Embrace Your Inner Adventurer at the Best Parks in Minnesota
Minnesota is the perfect destination for you to kick back, explore the great outdoors, and enjoy incredible views with close friends and loved ones alike. Now that some of the best parks in Minnesota are on your radar, be sure to etch a few of these favorite spots into your itinerary! Which would you like to try first?
Ready for more Minnesota advice, info, and guides? Whether you're a local or a passerby, discover the best of Minnesota that our great state has to offer!
Looking for some warm weather recommendations? Discover spring and summer in Minnesota for best destinations, travel recommendations, small (and big!) town events, and more!
Looking for more autumnal activities? Then visit our Minnesota Fall page to find inspiration for sweater weather fun!