You've worked hard and played hard. Now it's your turn to enjoy your retirement, so why not choose Minnesota? With its mountains and 10,000+ lakes and everything in between, Minnesota offers lots of opportunities for you to enjoy your retirement. Choosing where to settle depends on finding the best places to retire in Minnesota.
How do you choose the best place to retire?
When you think about retirement, don't think about what has ended, and you are leaving behind. Consider where you are going and what you are going to do.
When you choose the best place to retire to, you will need to take into account some basic things like healthcare and housing, but it is also important to find a place that suits your lifestyle and your strengths.
If you enjoy water sports, then a town on the bans of one of Minnesota's 10,000 lakes, like Hibbing, will be a great choice. If you are interested in discovering new winter pursuits, like dogsledding, then Grand Marais would attract you.
Jackson
| | |
| --- | --- |
| Population | 32193 |
| Average Income | $41050.00 |
| Average Age | 44.3 |
| Average Home Price | $129200.00 |
First on our list of the best places to retire in Minnesota is the town of Jackson, in Jackson County, Minnesota. It has a quiet, suburban atmosphere and the lifestyle is generally conservative. You will be assured of having a generally peaceful life, but don't assume there will not be any nightlife for you. There are some bars and attractive eateries in the town. If you are looking for outside venues, then there are some lovely park areas in the town, including Dann's Island Park. You can also enjoy the facilities at Ashley Park, which will suit you if you are a biking enthusiast, or enjoy playing tennis.
On a more practical note, Jackson offers good healthcare, with various family practitioners who will provide all forms of medical care. Hospitals, such as Sanford Jackson Medical Center and Southwestern Mental Health Center will cater for possible medical conditions and needs.
Grand Marais
| | |
| --- | --- |
| Population | 1341 |
| Average Income | $42,000.00 |
| Average Age | 51.4 |
| Average Home Price | $235,300.00 |
One of the greatest attractions of Grand Marais, in Cook County, is the dog-sled racing in winter, which is icy and cold. Summer, on the other hand, is hot and offers activities ie boating, salmon, and trout fishing. The nearby Superior National Forest is a lovely place for walking and taking long hikes.
Grand Marais has lots to offer in terms of arts and social activities which soundly places it on our list of the best places to retire in Minnesota. You could take art classes, such as ceramics and print-making, at the Grand Marais Art colony, or watch productions at the Community Theater at Grand Marais Playhouse, or concerts put on by the North Short Musical Association.
There are good basic healthcare facilities in Grand Marais, such as the Sawtooth Mountain Clinic. For specialists and surgery, though, you will have to go to nearby Duluth.
Albert Lea
| | |
| --- | --- |
| Population | 17733 |
| Average Income | $37,576.00 |
| Average Age | 44.8 |
| Average Home Price | $88,200.00 |
Albert Lea is on the shores of Albert Lea lake, in Freeborn County. This town is a really great choice for outdoor enthusiasts. Myer Big Island State Park offers you 8 miles of shoreline, with boating, camping, fishing, and walking trails.
You can explore the history of the area in the Freeborn County Historical Museum, Library, and Village. The Marion Ross Performing Arts Centre will entertain you with a range of drama, music, and dance items. Fountain Lake Park offers you the opportunity to achieve your 10,000 steps along any of the walking paths.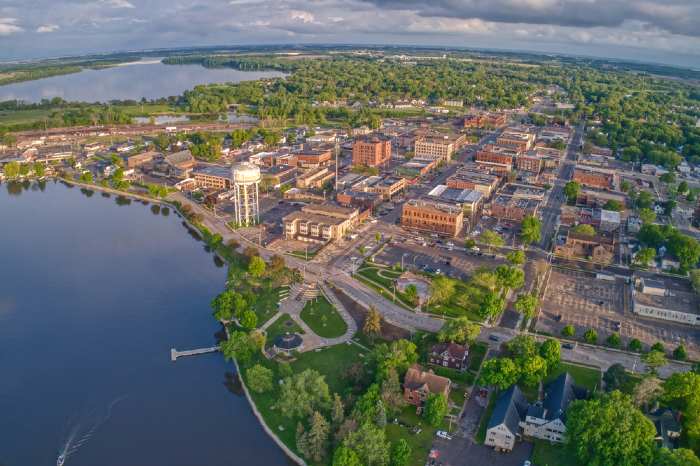 In the town, there are shopping malls and cinema complexes, but you may want to explore a more rural feel of shopping, like at the Farmers Market in Fountain Lake Park.
Albert Lea offers a number of health facilities, including the Mayo Clinic, Marathon health, Albert Lea VA outpatient clinic. There are also family practices for the everyday and common ailments.
Hibbing
| | |
| --- | --- |
| Population | 15716 |
| Average Income | $38,112.00 |
| Average Age | 40.2 |
| Average Home Price | $490,400.00 |
Next up on our list of best places to retire in Minnesota is Hibbing. Located in St Louis County, this location will give you a quiet rural environment, that is perfect for active adults. Hiking, biking, and boating are popular activities. There is beautiful scenery and lovely parks, such as Maple Hill park, where the 133 hectares offer Hardwood trees, established hiking trails through the woods, a woodland lake, and a hill created by glaciers. You can go to the park to picnic, hike, mountain bike, practice geocaching, ski, and bird watch.
in town, you could take an art class at the Borealis Art Guild, or keep fit by practicing martial arts and dancing. Your health and wellness will be looked after by healthcare facilities, such as the Fairview Range Medical Center and Regional Health Services
Mendota Heights
| | |
| --- | --- |
| Population | 11433 |
| Average Income | $90,098.00 |
| Average Age | 49 |
| Average Home Price | $412,700.00 |
Mendota Heights, in Dakota County, is a great place to retire, scoring high in terms of lifestyle, affordability, healthcare, and activities, The town has a dense suburban feel, with various restaurants, coffee shops, and parks.
The Sibley historic site will expose you to the stories and history of the area. Lilydale regional park is a 636 acre, floodplain forest, with urban trees and shrubs. Another attraction is Harriet Island, a recreation facility, which will allow you to keep fit and healthy.
To make sure that any of your medical conditions are looked after, there are healthcare facilities, such as the Minnesota Hospital, Regions Hospital, Minneapolis VA Health Care System.
Fergus Falls
| | |
| --- | --- |
| Population | 13758 |
| Average Income | $41,977.00 |
| Average Age | 40.4 |
| Average Home Price | $138,200.00 |
Fergus Falls is a popular small town in Otter Tail County and has a strong sense of community. It is one of the best places to retire in Minnesota as it has many outlets and activity opportunities for seniors.
Fergus Falls Center for Arts offers a year–round program of performances by local and touring companies, showcasing music, theater, and dance.
The Otter Tail County Historical Society offers a museum and library, to feed your more academic interests. The Health and Wellness Hub and Crossfit gym aim to help retirees to keep fit.
There are multiple opportunities for different aspects of healthcare in Fergus Falls, with healthcare centers and medical professionals available, including Fergus Falls Historic state hospital; Lake region healthcare clinic Services, Lake Region Healthcare Walk-in Clinic, and the Healthcare Cancer Care and Research Center
Fergus Falls offers you long, warm summers and cozy, snowy winters
Willmar
| | |
| --- | --- |
| Population | 19891 |
| Average Income | $42,033.00 |
| Average Age | 35.2 |
| Average Home Price | $160,900.00 |
Willmar, in Kandiyohi County, will appeal to your appetite for arts and culture, with facilities such as the Barn Theater, the Pro-Ed Minnesota art gallery, and the Sonshine Festival.
If you enjoy outdoor activities, then the parks in Willmar will be something to look out for. Robbins Island Regional Park is Willmar's largest park, with 55 acres of hills, trails, forests of oak trees. The park also offers Sandy beach on Willmar Lake.
There are various senior living centers in Willmar, including Lake Place II apartments, an apartment complex, with amenities that cater to health and wellness, and recreation. Medical centers in town include the Carris Health — Rice Memorial Hospital, Carris Health — Willmar Main Clinic, Carris Health — Dental Clinic.
New Ulm
| | |
| --- | --- |
| Population | 13141 |
| Average Income | $45,911.00 |
| Average Age | 41 |
| Average Home Price | $161,500.00 |
New Ulm, in Brown County, in southeastern Minnesota, is known to be a friendly city, so you will be welcomed as new residents. The winters are snowy, which is perfect for skiing and skating, while the summers are hot, perfect for outdoor recreation and activities
With its German heritage, New Ulm offers a Great Oktoberfest celebration in Schonlau Park, as well as beautiful and varied German shops downtown
There are senior living facilities in the town, with excellent rental rates. The cost of stand-alone homes is also affordable which is great when searching for one of the .best places to retire in Minnesota.
You will definitely find something that caters to your artistic taste. The Grand Kabaret will allow you to explore art, music, and food, while you can enjoy work by local artists, musicians, and actors at the Grand Center for arts and culture. There is also the opportunity to become involved in Arts Education.
Fitness and health are always a priority and the New Ulm Recreation Center is a great fitness area with strength and cardio equipment, a walking track, and a swimming pool. Healthcare is available at facilities such as the New Ulm Medical Center: experts in family medicine, physical therapy, and related disciplines. The specialists at Axis Chiropractic will look after your backs.
Minnetonka
| | |
| --- | --- |
| Population | 56370 |
| Average Income | $80,068.00 |
| Average Age | 44.7 |
| Average Home Price | $340,000.00 |
Minnetonka is in Hennepin County, west of Minneapolis, so you will have the convenience of suburban living, with city amenities within easy distance. If you are looking for a generally conservative lifestyle, this is a place to choose to retire. The climate will give you really cold winters and lovely, hot summers.
Summer is perfect for boating on Lake Minnetonka, while it gives you a really lovely place to go for a drive around it in winter.
Last but not least on our list of the best places to retire in Minnesota is Minnetonka. There are a lot of amenities in Minnetonka that cater to a range of interests. It boasts five community parks and 44 neighborhood parks. The Big Willow Community Preserve and Athletic complex is 95 acres. It has open spaces and plenty of space for walking, with biking trails too. Civic Center Park offers plenty of off-street parking, which is convenient for the picnic area, outdoor amphitheater, walking, and biking trails. The park is completely handicap accessible.
Minnetonka Center for the Arts offers a variety of classes and there are fitness centers, such as Anytime Fitness and SOTA fitness.
FAQs
Is Minnesota a good place to retire?
Minnesota is known as a friendly state and will welcome retirees. It has 10,000 lakes and mountains, so it is a perfect place for those interested in the outdoors to retire. This includes boaters, anglers, and hikers.
What do I need to consider when looking for a place to retire?
Retirement is a new phase of life, but you are not leaving behind everything meaningful to you, so you should look for a place that will allow you to pursue your interests. You also need to think about healthcare and the cost of living.
Consider Minnesota
Minnesota is one of the best places to retire to, with its natural attractions, opportunities for being active, and affordable cost of living. Among the places to retire, there are nine that you really should consider. When you decide on where you will end up living, make sure that it is the best place to suit you and what you are looking for.
Ready for more Minnesota living advice, info, and guides? Whether you're a local or a passerby, discover the best of Minnesota that our great state has to offer!
About the Author
Latest Posts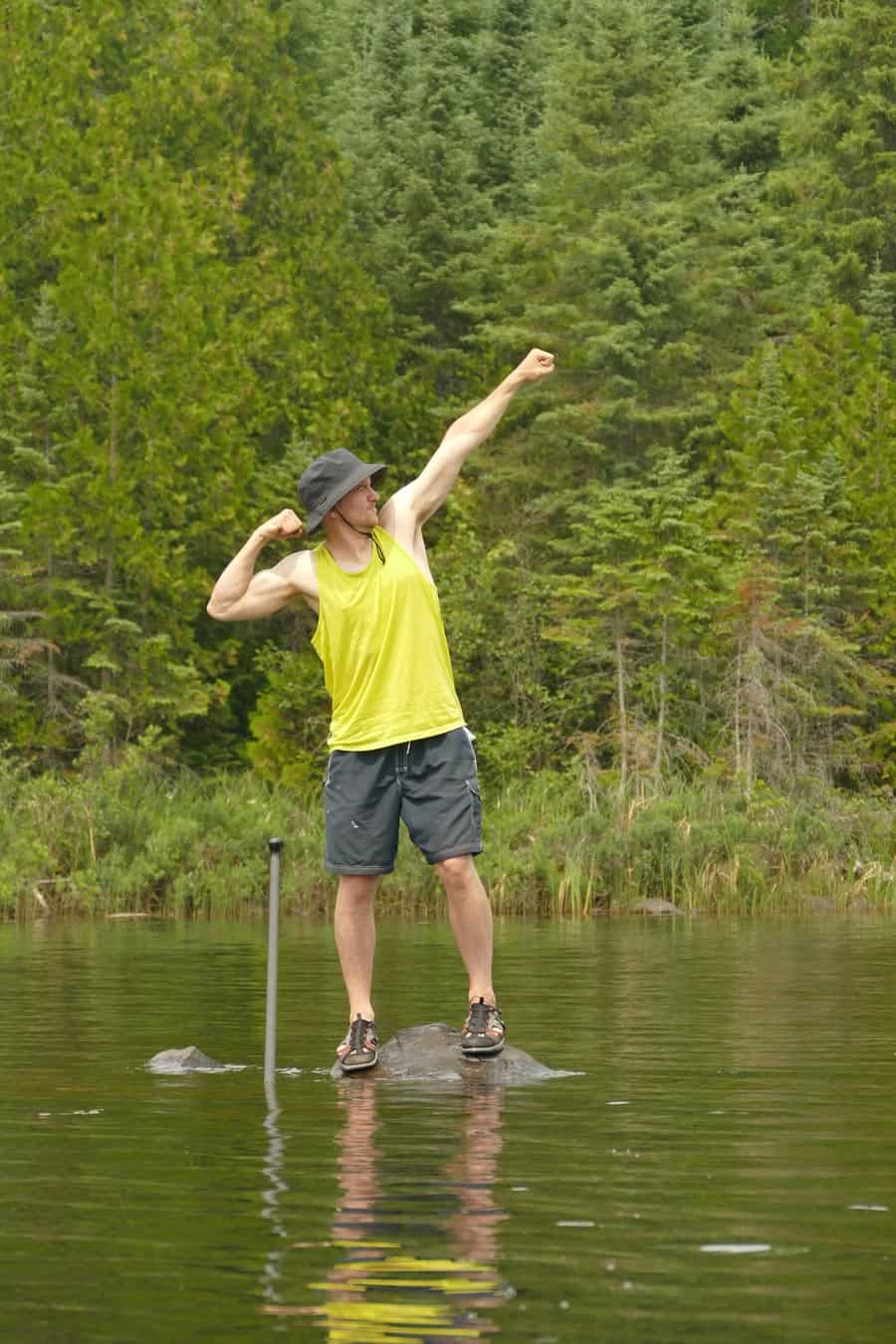 Born in Madelia, MN, to a now 5-generation Minnesota family, Ryan's MN roots go deep.
A painter by day, Ryan founded Life in Minnesota in 2013 with his wife Kelly to chronicle their musings on everything Minnesota. Ryan and Kelly are raising their 7 kiddos in Maple Grove, MN.
When he's not shuttling his kids around to hockey practice, you might find him in the shop working on his leatherwork. Undoubtedly, there will be a family trip to the Boundary Waters Canoe Area every summer, and of course weekends at Grandpa's cabin up north in the summer.