The number of places to stay while visiting Downtown Minneapolis is what you would expect to find from any other large metropolitan region. However, there is one hotel that we would like to bring before you to show how they are making their way to the top of our Best MN Hotel List. It's name is the Millennium Hotel and we were able to take a night off from the kids, which it felt like it had been a thousand years since Ryan and I had a good getaway, to enjoy the comforts of their hotel.
Take A Tour With Me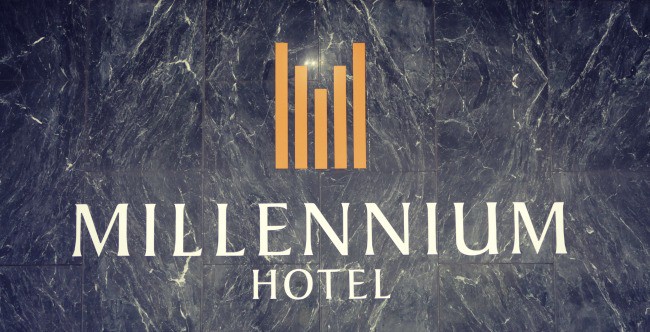 Our tour started with checking in at the front desk. Let me explain to you that I look very closely at all aspects while reviewing for our blogs. I look at reviewing like I am telling my best friend what I truly think of whatever it may be that I am talking about because with my closest friends I pretty much don't hold back. It wouldn't be fair to tell you it's great if it wasn't, so when I say I love the Millennium Hotel and would plan on staying there again in the future that is true. I really think it is an outstanding hotel for those staying in Minneapolis.
I saw the staff on duty engaging with each guest with bright smiles and more than willing to make the guest feel welcomed during my entire stay. The front desk help was cheerful and I felt like they really were interested in which areas of the world guests were visiting from because while I stood in line waiting for my turn to check in it was a common conversation between employee and guest. Once the communication began to flow they continued to ask questions and talked kindly as the check-in process moved along. Just to point back a bit to how the staff works hard to over deliver while we were visiting they surprised a bride and groom with the Penthouse! It doesn't get much better than that, right?!
Dining – North
45* Restaurant and Bar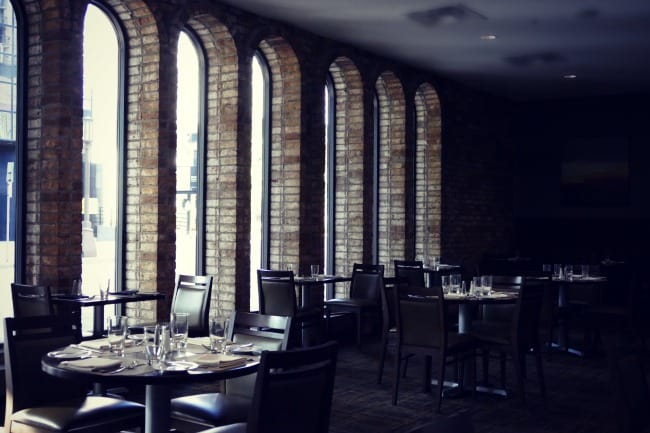 I feel in love with the original brick lined windows creating the wall in the North 45* Restaurant and Bar inside the Millennium Hotel. The atmosphere of made it easy to lose track of the time. We ended up ordering dinner from the menu. I had the Salmon and Ryan went all out and requested a.. wait for it… cheeseburger. He is so classy!
My dinner was seriously one that makes you think the chef must have a passion for cooking because I have never had a Salmon as mouthwatering as the one in the photo above. It was cooked to perfection and I paired with a tall glass of wine. The cheeseburger was alright, too!
The Millennium Hotel Has Room To Entertain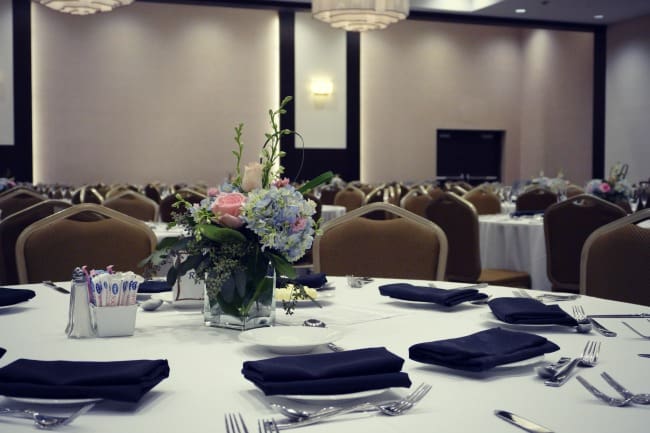 If you are looking for space to hold a conference or throw a graduation party the Millennium can provide you with 22,000 square feet to hold any event. The venue they have made me wish I could have a New Year's or Wedding party. Not only did the bride and groom get upgraded to the penthouse suite, as mentioned earlier, they also threw an all night top of the city reception in the Millennium Dome! That's right it's a glass dome overlooking the Minneapolis Downtown skyline.
The Millennium Dome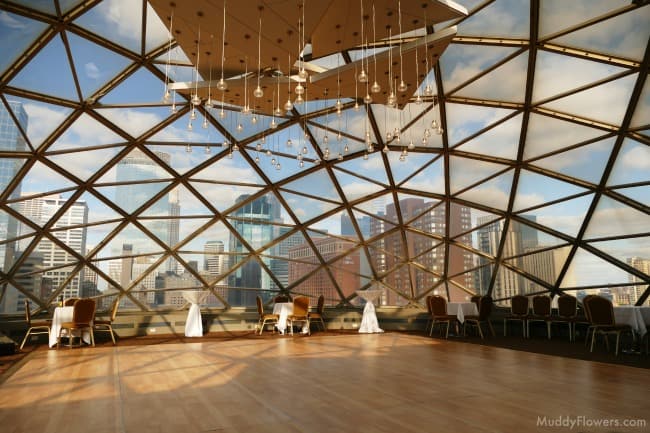 Views As The Night Sky Slowly Moved In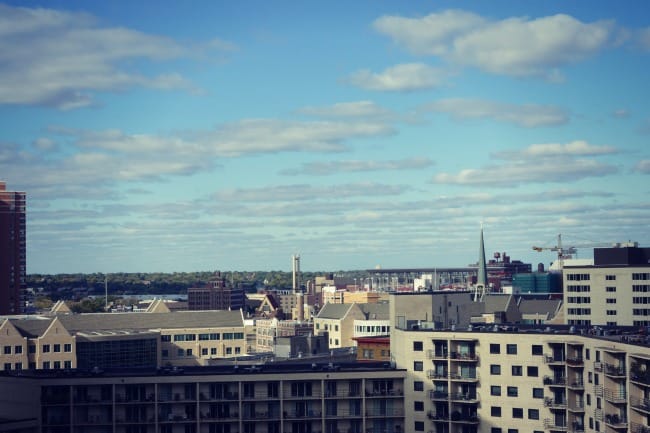 Can't you see yourself dancing the night away under the stars there? I was very impressed by the wedding space on the fourteenth floor of the Millennium Hotel. I would love to see a photo of a bride being tilted backwards as her newly married husband comes in for a sweet kiss under those lights with the Minneapolis buildings holding their places as the backdrop. If you have a photo like from here like that, please share it!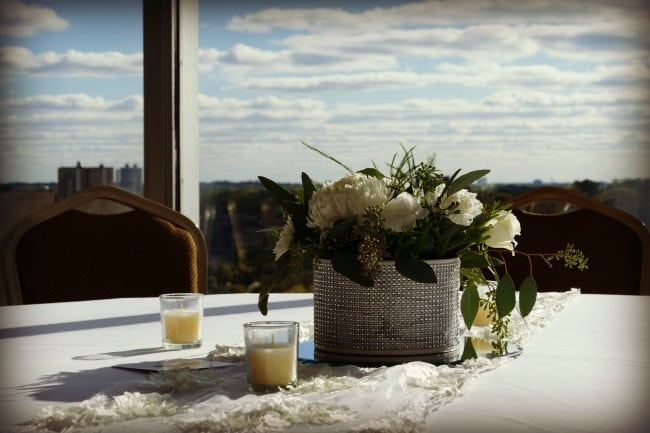 The Rooms At The Millennium Hotel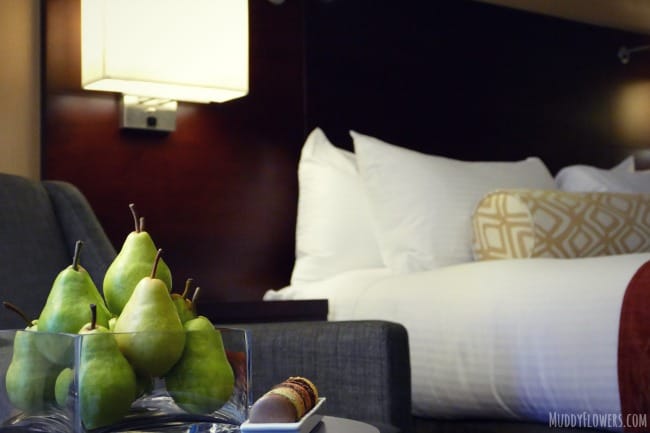 We were staying in one of their Club Room Suites. When you have a Club Room you also get a pass for the Club Lounge during your stay, which I will show you in a bit. First, let's take a look at our room.
We had a lovely arrangement waiting for our arrival. At first I wasn't sure if I was suppose to help myself or if it was part of a mini bar, either way it was really good. I was hungry when I got to the hotel because I skipped my lunch so I could get the kids out the door to the sitter's house before heading Downtown. I was happy to see a tray of treats.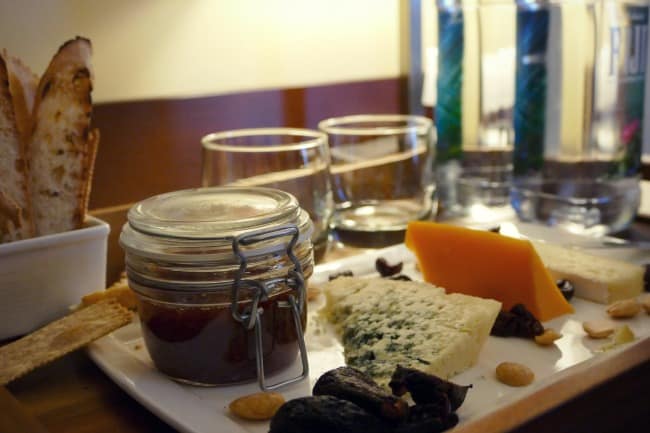 View From Our Window
The Club Lounge
All guests who are staying in a Club room or Suite at the Millennium receive full access to the Club Lounge. This area hosts a beverage and food display. Enjoy spending time with your friends with more space than if you were to stay in your room and away from the busy dining room noise. In addition to the private getaway, the Club Lounge is catered with a complimentary continental breakfast and refreshments.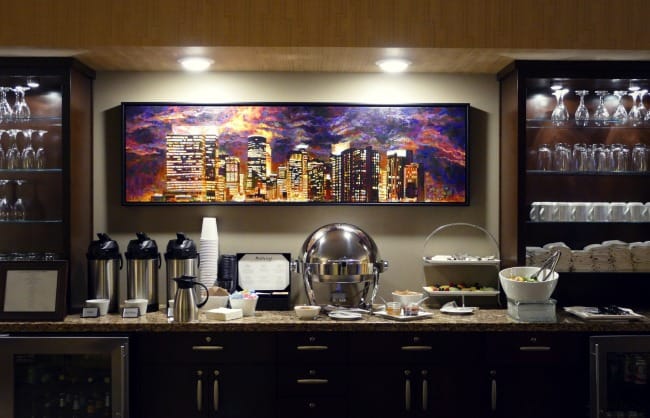 Junior Suite
Amenities And Guest Services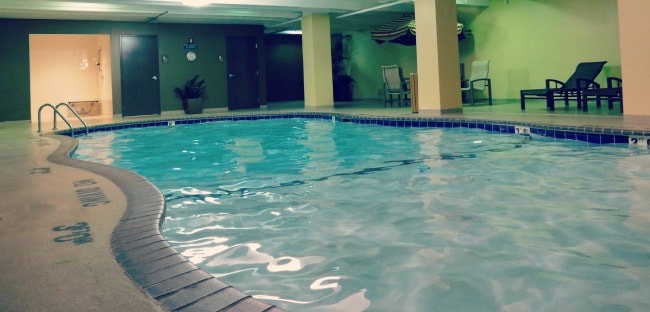 Millennium Hotel in Minneapolis recently has been updated and now has designed the hotel to accommodate all needs for any type of traveler, wither it be a family, business, romantic getaway or a simple night in the city you are sure to find the amenities you enjoy and a staff member willing to accommodate your stay to your needs.
Ask Alfred Children's Concierge
Not only does the Millennium Hotel, Minneapolis care about their guests – they also are doing more for the community through special outreach programs. Today I am going to highlight their Ask Alfred event. You can help the Millennium Hotel and Resorts give back with this fun add-on amenity to any of your room choice for $15.00 per child. Your small child will receive a special Ask Alfred cinch bag filled with goodies, including:
Exclusive Ask Alfred cuddly Teddy Bear for keeps
12 Ask Alfred Color Me collectible postcards
Alfred's lovable stickables
Surf Sweets® natural and organic Gummy Bears
Melissa & Doug® coloring activity book and triangle crayons
Ask Alfred cinch backpack
Millennium Hotels and Resorts will donate $2 from each amenity sold to The Dream Factory, which grants the dreams of critically and chronically ill children. The large teddy bear in the photo above will be donated at the end of the year to one special home.
If you are planning a trip to Downtown Minneapolis, MN soon, I highly suggest staying at the Millennium Hotel. It was a fun and relaxing experience for both Ryan and me. The best part about the trip was sleeping in on the luxurious king sized bed! Book your stay right HERE!
Follow the Millennium Hotel on their social media outlets –
Note: Thank you to the Millennium Hotel for supporting LifeInMinnesota.com
Still haven't found your perfect getaway? Then keep learning about unique places to stay in Minnesota to book the perfect reservation for your next trip!
Still looking for more fun adventures? Then checkout all the great things to do in the Twin Cities!